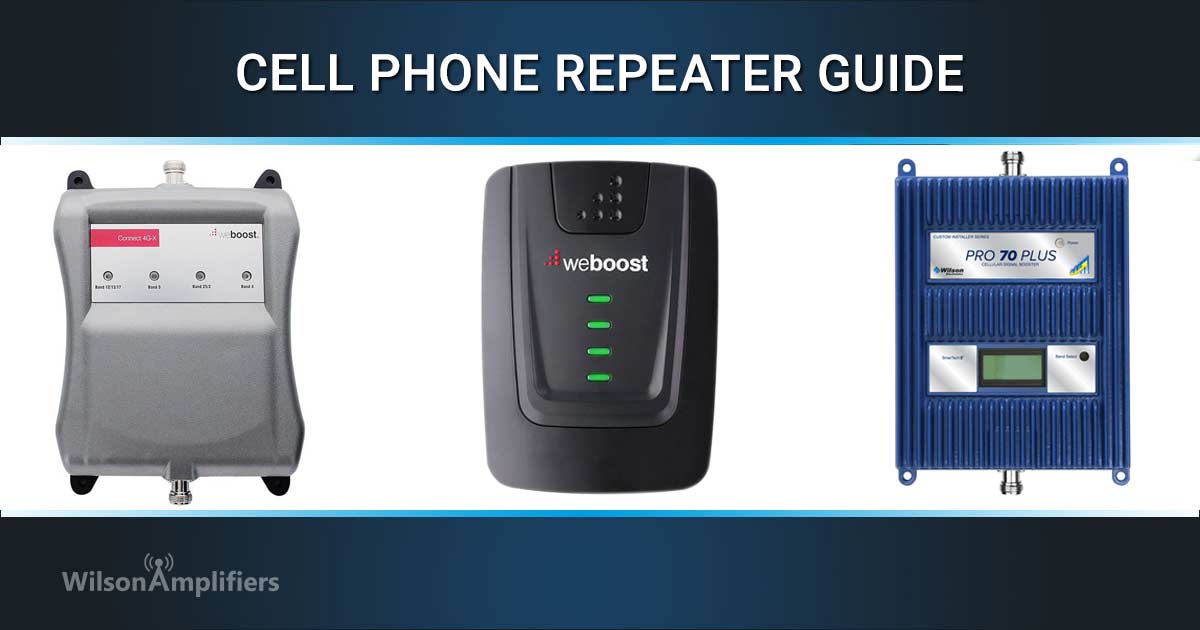 What is a Cell Phone Repeater?
A cell phone repeater (also known as cellular repeater) is a three-part system that pulls in weak signal, amplifies (or repeats) the signal, and then broadcasts the signal to an area in need such as your home, office, or vehicle. They consist of:
A "donor" antenna - also called a "outdoor" antenna - which receives signal
A bi-directional signal amplifier, which amplifies the signal
One or more "broadcast," or "indoor" antennas
These systems are also called cellular amplifiers, or, most commonly, cell phone signal boosters. Follow this link if you'd like to know more about how cell phone repeaters work.
If not, read on.
---
Why Do You Need a Cell Phone Repeater?
Cell tower distance, trees, mountains, metal, glass, concrete, thick walls, even weather– a variety of things can interfere with your cell phone coverage everyday.
A cellular repeater improves your 3G & 4G LTE signal strength so that your phone and cell tower are more reliably connected.
Think of a cellular repeater like a megaphone. It takes what you have and multiplies the performance.
Why Trust Wilson Amplifiers?
Wilson Amplifiers is the leading independent provider of Wilson Electronics (weBoost & WilsonPro) cell phone signal repeaters with over 121,000 signal repeaters provided for all types of homes across rural and urban America.
About our cell phone repeaters:
Works for 3G & 4G LTE service.
Works for all carriers: Verizon, AT&T, T-Mobile, Sprint and other major carriers.
Works for all phones & cellular devices.
Complete kits, easy to install.
No monthly fees, no need to connect to wifi.
---
Whole Home Coverage (up to 5,000 sq ft)
Whole home coverage:


Improves 4G LTE & 3G coverage up to 5,000 sq ft (most homes).

Most popular home booster:


Trusted by hundreds of thousands of people across rural & urban America.

High-powered range:

Up to +65 dB gain for 32X stronger signal.
---
The The weBoost Connect 4G has been the most recommended home cell phone repeater for nearly 5 years in a row for good reason. It's a dependable performer that covers most homes for better service.
The average home size in North America is around 2,500 sq ft. Under absolute best conditions, the Connect 4G covers up to 5,000 sq ft with great outside signal and an open-spaced layout home.
Real world results and customer reviews put it around 2,500 to 3,000 sq ft, a little less for rural areas.
Great option for most homes, small offices, farm houses, and buildings under 5,000 sq ft wide. If you're getting some spotty reception, we'd recommend to start with this first since this tends to be the Goldilocks or "just right" model.
Only at
FREE shipping, no minimum purchase.
90 Day money back guarantee.
Lifetime support.
Or buy from
Large Home Coverage (up to 7,500 sq ft)
1 Room Coverage (up to 1,500 sq ft)
Cars & Trucks
RVs & Campers
Commercial Vehicles
Boats & Yachts
Small Business
Enterprise
M2M (Machine to Machine)
FAQ
How May We Help You?
Wilson Amplifiers is the leading provider of cell phone signal boosters. Cell phone boosters amplify 3G & 4G LTE for any phone with any carrier for home, office, or vehicle.
We seriously hate dropped calls and poor coverage, so it's our goal in life to stomp on spotty signal like the little roaches they are:
Free consultation (ask us anything) with our US-based customer support (sales@wilsonamplifiers.com) or call us or at 1-800-568-2723.
Free shipping.
Better signal or industry-leading 90 money-back guaranteed. No questions asked.
We want everyone to be satisfied, so we provide lifetime technical support and a 2-year warranty for all products.
Ask us anything and we'll be glad to help.