The Wilson 460108 Mobile 4G cell phone signal booster is one of the bestselling car signal boosters in North America. It works with all phones on all carriers and effectively ends dropped cars, poor voice quality, stuck text messages, slow internet, and lost connection. Instead, thanks to Wilson Electronics industry leading wireless engineering, 3G, 4G LTE, talk, text, and internet all get boosted.
From poor cell phone signals to more bars in an instant, that's better talk & text, faster internet, and stable reception. In other words, your life goes on without interruptions. And in today's world, that last thing we need is another interruption (unless it's free pizza or ice cream).
While the Wilson Mobile 4G comes in a complete kit and with the updated, powerful and compact Wilson 301126 4-inch Mini Magnet Antenna, there are other upgrades to consider: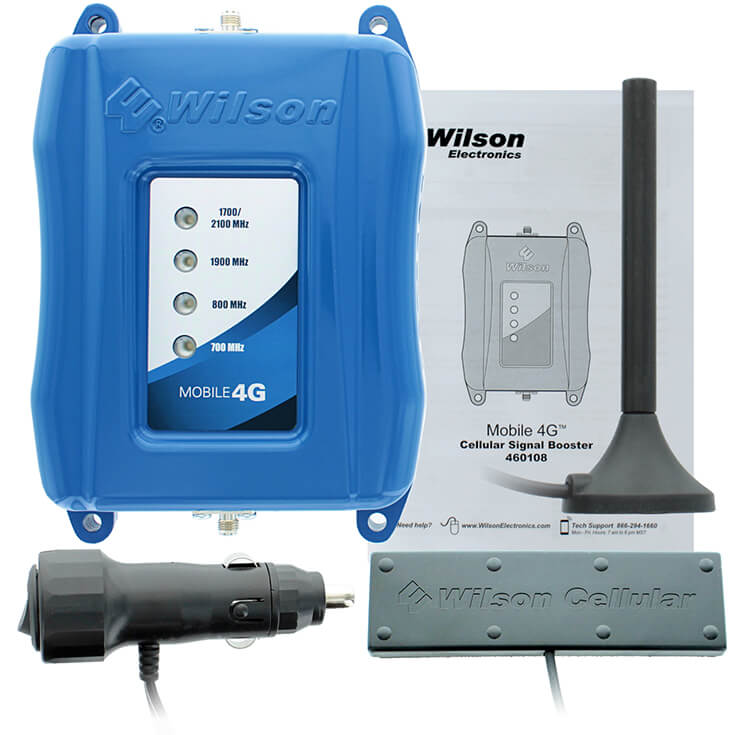 Wilson 311103 12" Magnet Mount Outside Antenna
It's more powerful than its 4" cousin, but also bigger. If you're looking for more decibel gain (up to 6.12 db) without needing to conceal your antenna length, the Wilson 311103 12" Magnet Mount Antenna should provide more signal boost.

Wilson 311104 Non-Magnet-Option (NMO) Mount Outside Antenna
Exactly the same as the Wilson 311103 but it does not use magnets, requiring drilling a hole on the roof or hood of the car. This option is often used on police cars, fire trucks, ambulances, service trucks, and other dedicated vehicles.

Wilson 311130 Marine Outside Antenna
It's chrome-plated and fiberglass-encased, making it weatherproof and salt-water resistant. Like the other upgrade antennas, it features up to 6.12 decibel gain. Perfect for boats, yachts, and ships.

Wilson 311101 Trucker Outside Antenna
Made from stainless steel with a built-in ground plane that allows it to be used on any surface: metal, fiberglass, wood, etc. It's the tallest of all the upgraded antennas (19 inches) allowing it to rise above obstructions. Great for RVs, large trucks, 18-wheelers, and other specialized vehicles.

For more questions, comments, and information, please call us at 1-800-568-2737 or email us at sales@wilsonamplifers.com. We'd be glad to help.
Also, check out our FAQ page if you're new to cell phone signal boosters.