Are Cell Phone Signal Boosters Illegal?
There are lots of misconceptions about the legality of cell phone signal boosters in North America.
Are Signal Boosters Illegal?
In certain countries. However, in the United States and Canada, there is an FCC-approval process for signal boosters. When the boosters meet certain criteria, they become FCC Certified. FCC Certified boosters are pre-approved by all the major carriers and are completely legal to use. All signal boosters sold by Wilson Amplifiers are FCC Certified.
We fix poor cell phone signal! Find the right signal booster for you:

For Home

For Vehicle

For Business

For Commercial
Unfortunately, not all signal boosters are FCC-compliant. Proliferation of non-compliant boosters is likely why you're reading this article in the first place. Because they have no oversight, they are either made incredibly weak or far too powerful, resulting in ineffective, weak, or completely unusable products.
How Can I Check if a Booster is FCC Certified?
A label will be present on any FCC compliant signal booster, and registration will be required for them.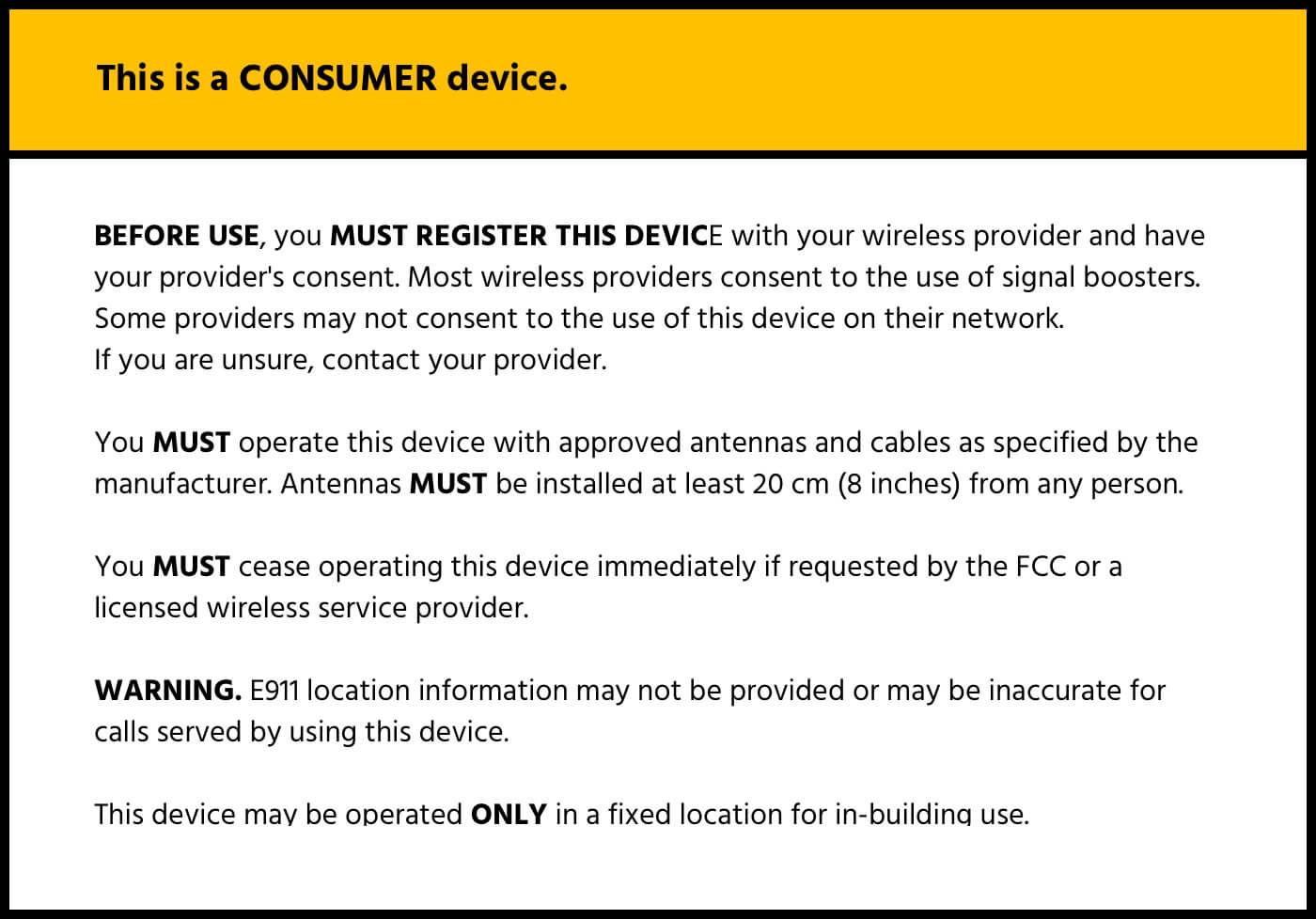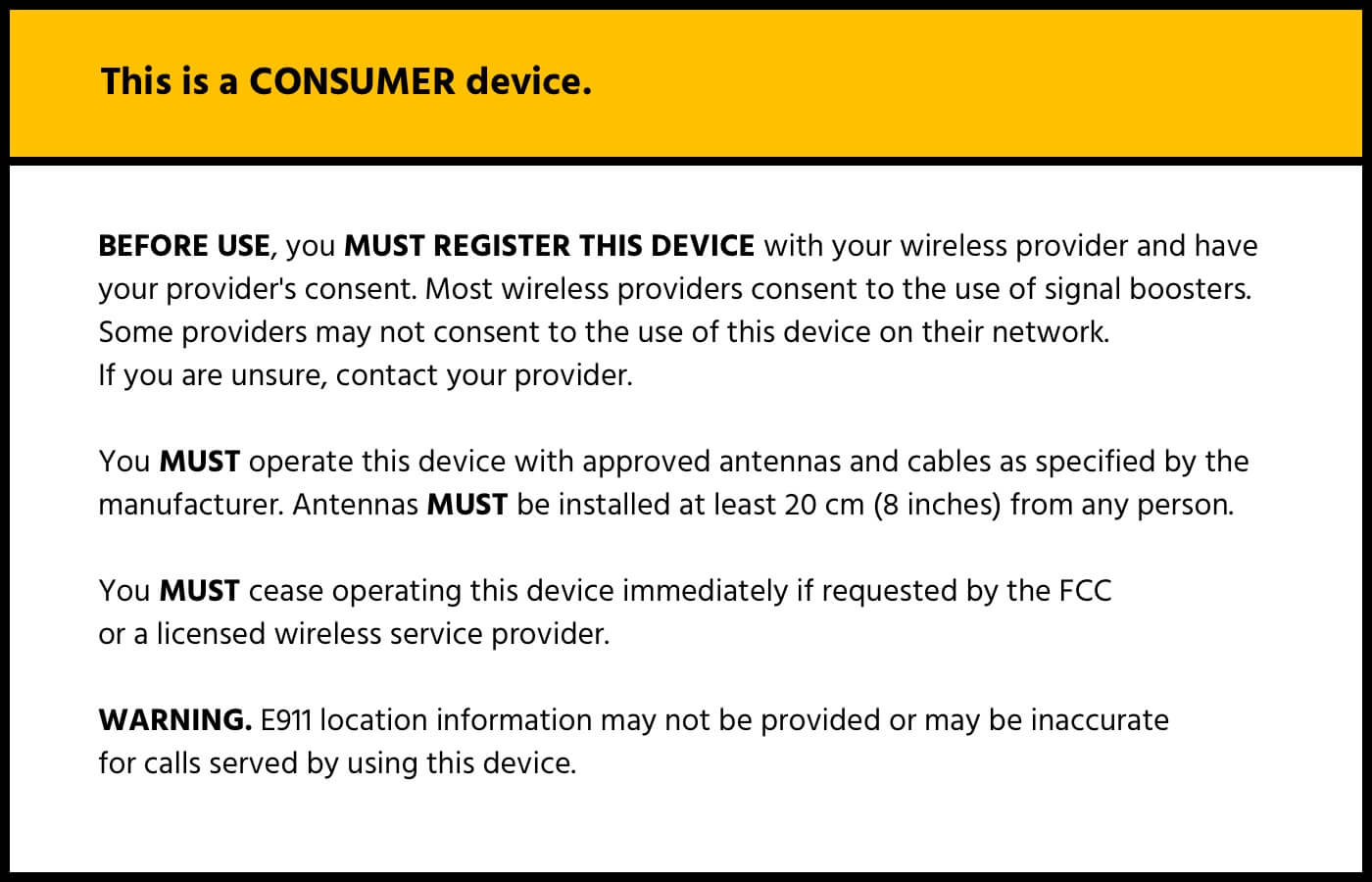 Registering your signal booster is free and easy and will ensure you have an FCC-compliant device.
Why is the Certification Process Needed for Signal Boosters?
Cell phone signal boosters are illegal in certain countries because boosters with too much power have the potential to disrupt the cellular network. The FCC regulations we follow today are a result of a compromise between the need for boosters in certain areas and carrier's desire to maintain the integrity of their networks.
Today, manufacturers must undergo an approval process before selling any new signal boosters. There are a few general rules for signal boosters under these new regulations.
Cell Signal Boosters Must Be Sold as a Complete Kit
There are three main parts to any signal booster kit: an amplifier (or booster), an indoor antenna, and an outdoor antenna.
If you browse around our site, you'll notice that, while you can buy individual indoor or outdoor cellular antennas, you cannot buy any amplifiers on their own. It is illegal for amplifiers to be sold individually.
The FCC states: "[a]ll consumer boosters must be sold together with antennas, cables, and/or coupling devices." You can use all kinds of antennas, cables, and accessories to customize your setup, but the amplifiers must be sold as a kit.
Home Signal Boosters Must Be Limited to a Max of +72 dB gain
+72 dB is the highest power rating you will see on any FCC compliant signal booster. That number is the result of a compromise between network providers, the government, and consumer advocates. It provides enough power while not interfering with the networks.
Mobile Signal Boosters Must Be Limited to +50 dB of gain
One of the major bones of contention when devising the regulations were mobile signal boosters.
Before the rules, many people retrofitted powerful home boosters for use in their vehicles. This caused enormous issues. It's one thing to plan coverage around stationary boosters, but making those same boosters mobile made them impossible to stop. Truckers barreling down the highway with extremely powerful amplifiers could take down cell towers in rural areas for hours, and carriers had little to no recourse.
Still, there was undeniably a need for such boosters. Therefore, the FCC and consumer advocates agreed to the +50 dB limit on mobile boosters. This is enough power to fill the entire cabin of nearly any class of vehicle, yet is not powerful enough to take down network towers. That's why we sell two distinct lines of signal boosters: home, and vehicle.
Signal Boosters Must Automatically Shut Down if There is Too Much Oscillation
Oscillation between antennas was the primary culprit for the network disruptions signal boosters caused. Before the rules, oscillation would continue unabated. Today, if oscillation is detected, signal boosters will automatically reduce their power.
When purchasing a signal booster today, it is important to provide sufficient spacing between indoor and outdoor antennas to prevent this power loss.
Why Do We Need Signal Booster Regulations?
A lot of people see the word "regulation" and shake their heads. You may be one of them. If you're wondering why these regulations exist, put your mind at ease: they do serve a purpose. And no, we're not being paid to say that. They exist to protect the wider consumer cellular network that we all rely on.
We touched on it a bit earlier, but before the regulations went into effect in 2014, there were times when signal boosters would interfere with regular cellular network operation. This was caused by oscillation between the amplifier and the cell tower.
If that sounds a bit theoretical, imagine if your cell phone stopped working every tenth time a truck went by, and you had to wait an hour or two before service was restored. That was reality in many areas of the country. On top of that, there were numerous stores and homes blasting powerful signal boosters, which required time and money for the carriers to shut down. In short: it was a mess. Carriers wanted to make signal boosters completely illegal.
Yet, the FCC identified there was clearly a need. Making signal boosters illegal would dramatically reduce our country's integration and leave millions of Americans at the mercy of these large carriers. Signal boosters provided extended connectivity for consumers, cellular networks, and public safety personnel when properly installed.
In 2011, the FCC began looking into the issue. They met with manufacturers, carriers, and various groups to hear their proposals. The goal was to reach a compromise between these disparate parties to create cell phone signal boosters that would not interfere with the network.
The above rules were agreed upon in 2013, and in 2014 the FCC released new guidelines to ensure the boosters were manufactured to these standards. Initially, they required a decent amount from the consumer as well: potential buyers needed permission from their carrier to own and operate the booster and required registration.
In 2017, the rules were amended, and potential buyers no longer needed permission from their carrier to own and operate a booster. However, registration is still required.
If I Buy a Signal Booster, Will I Be Asked to Shut It Down?
While carriers reserve the right to ask anyone to shut down their signal boosters, with FCC compliant boosters it almost never happens. There is effectively zero chance it will happen. But in the off chance it does, yes, you will be required to shut it down. If the booster is registered and under warranty, feel free to return it.
Interested in an FCC-Compliant Signal Booster?
Wilson Amplifiers is the leading provider of cell phone signal boosters.
We seriously hate dropped calls and poor coverage. Our one goal is to eliminate them from your life.
Free consultation (ask us anything) with our US-based customer support (sales@wilsonamplifiers.com) or call us at 1-800-568-2723.
Free shipping.
Better signal or industry-leading 90 money-back guaranteed.
We want everyone to be satisfied, so we provide lifetime technical support and a 2-year warranty for all products.
Ask us anything and we'll be glad to help.
Interested in Learning More? Check Out Our Signal Boosting Info Center
THE WILSON AMPLIFIERS ADVANTAGE
FREE SHIPPING No Minumum Purchase
90-DAY
Money Back Guarantee
LIFETIME
Technical Support