weBoost Drive Reach Review
weBoost Drive Reach vs weBoost Drive 4G-X: Which is Better?
The weBoost Drive Reach (470154) is out now, and makes some pretty bold claims as to its power. But while it might be newer, is it actually better than the weBoost Drive 4G-X?
We conducted several thorough tests to figure out the answer to this question, and we're happy to share them with you here in our official weBoost Drive Reach review.
We fix poor cell phone signal! Find the right signal booster for you:

For Home

For Vehicle

For Business

For Commercial
The Tests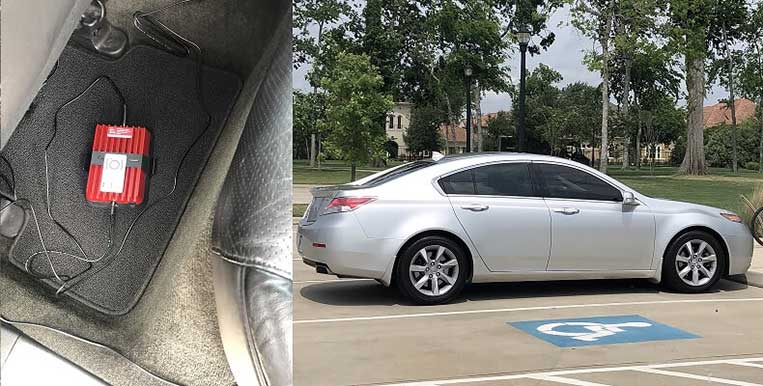 For this test, we went to a suburban area that was in the process of being developed in the southwestern Houston area. The outdoor signal was consistently less than -110 dBm for all carriers, owing to the distance from the nearest cell tower. As you can see, we installed the Drive Reach under the back seat, and did the same for the Drive 4G-X, to ensure similar coax cable runs.
We also tested both vehicle boosters while driving around a forested area, which are notorious for spotty signal.
For these tests, we used exactly what came in the box for both signal boosters. We tested all carriers, but for the sake of space, we'll only show AT&T and Verizon images.
The Results
weBoost Drive 4G-X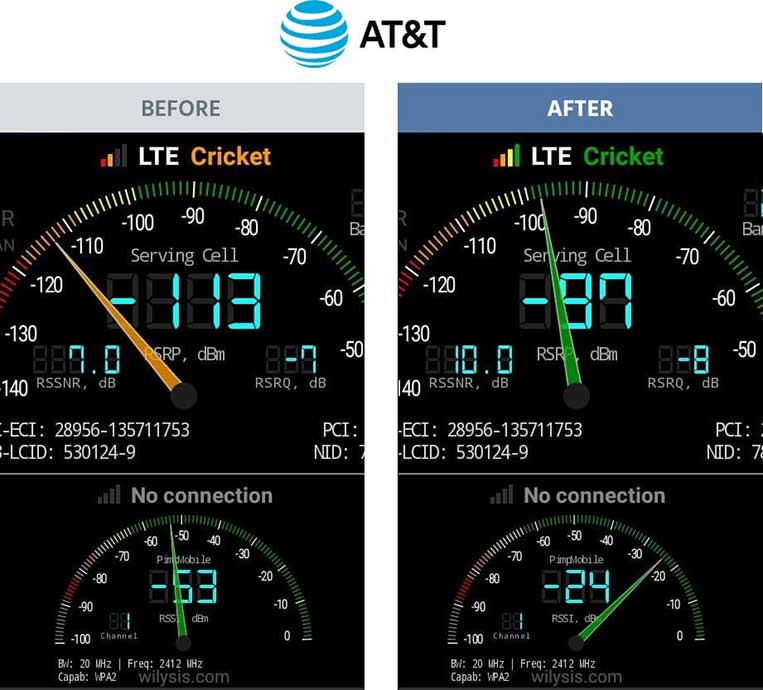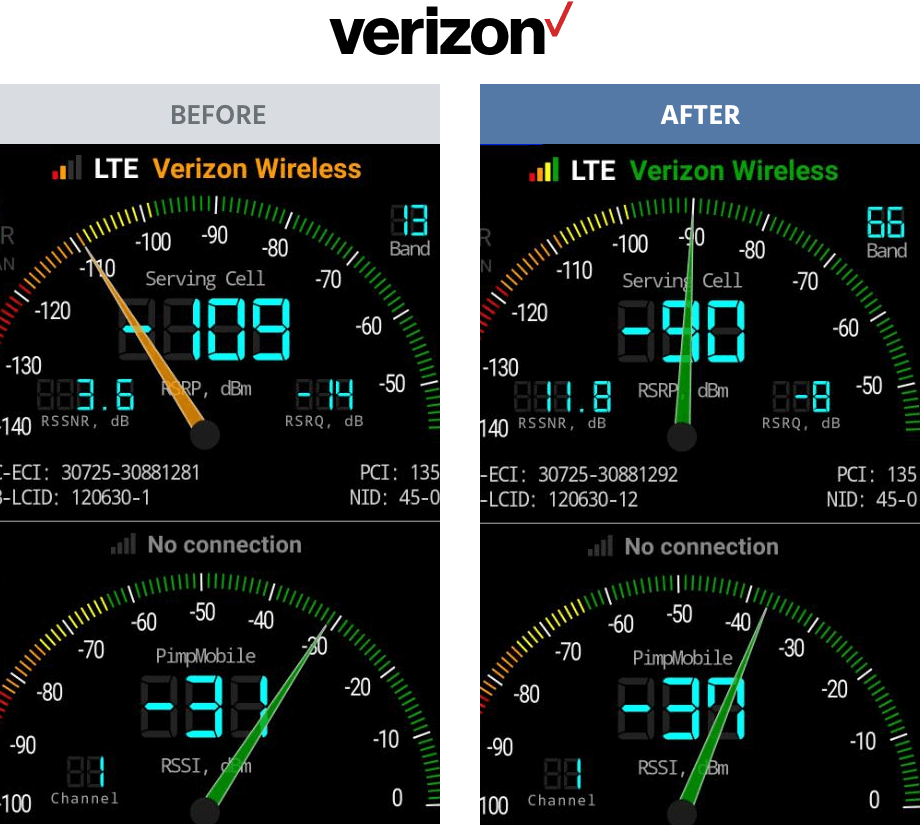 T-Mobile - Before: -120, After: -108
Sprint - Before: -113, After: -90 (does not include Band 41, which means it fluctuates wildly)
As you can see, the Drive 4G-X gives moderately boosted signal, being brought from the -100dBm to the -90dBm range, turning unusable signal into usable signal. It particularly performs best on Verizon. It's definitely better than having no booster at all in a weak signal area.
weBoost Drive Reach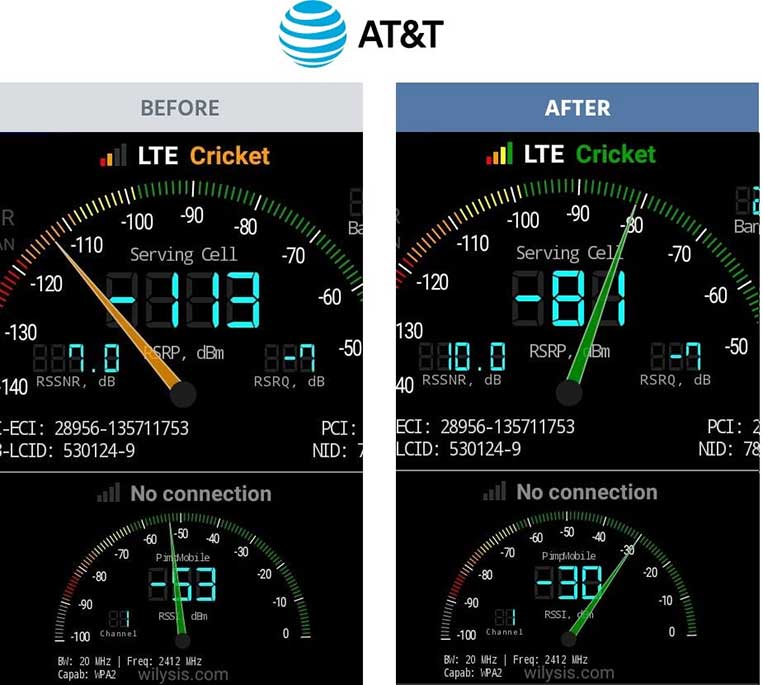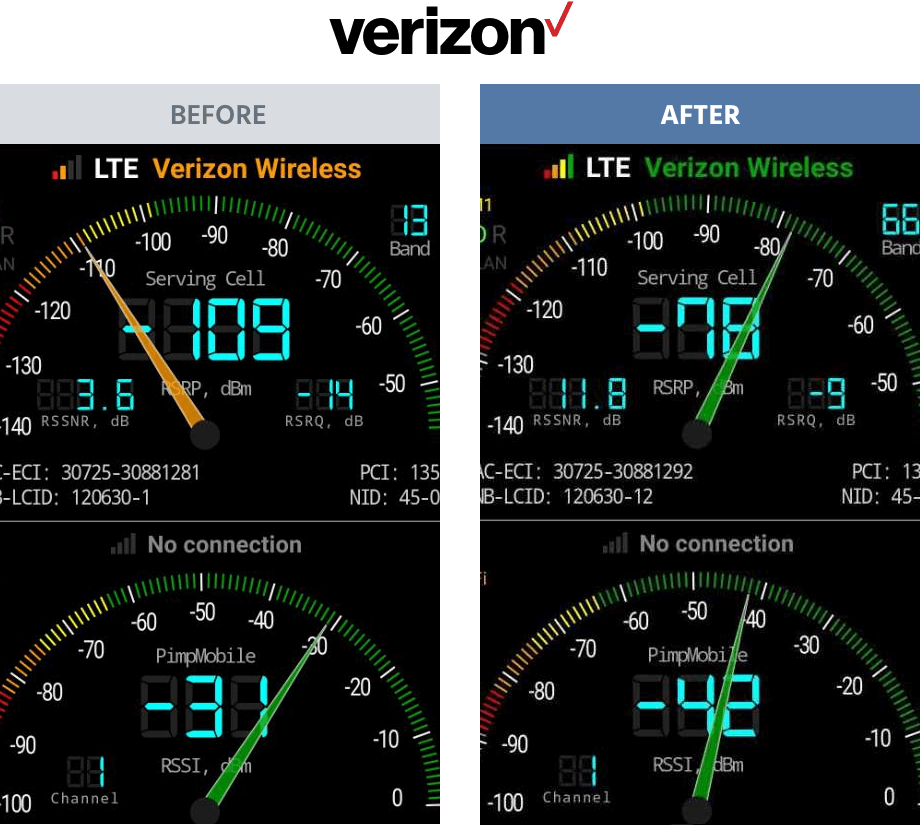 T-Mobile - Before: -120, After: -108
Sprint - Before: -113, After: -95 (this includes Band 41, so this reading is stable)
While Moving (AT&T) - Before: -102, After: -76
While the Drive 4G-X gave decent results, it's clear the Reach is able to do more. The worst signal we received with the Reach active was -95 dBm from Sprint, which was -90 dBm with the Drive 4G-X but lacked consistency. Each and every other reading was superior.
Conclusion
If you really value your signal on the road, the Drive Reach is a no brainer. It may cost $50 more, but it is simply a better product than the Drive 4G-X. Wilson Electronics has truly created an impressive booster here.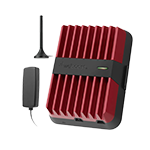 Up to +50 dB of gain - the max allowed for a mobile signal booster in North America
Highest uplink output of any vehicle booster
Works for all phones and all carriers
Boosts 698-716 MHz, 729-746 MHz, 777-787 MHz, 824-894 MHz, 1850-1995 MHz, 1710-1755/2110-2115 MHz cellular radio frequencies.
Sleek, metallic exterior designed to displace excess heat for peak performance
Custom bracket for under seat or in-truck mounting options
Easy to use SMB connectors
Better talk, text, and data speeds guaranteed
FREE shipping, no minimum purchase.
90 Day money back guarantee.
Lifetime support.
Please let us know what you think of this review or the weBoost Drive Reach in the comments below.
How May We Help You?
Wilson Amplifiers is the leading provider of cellular signal boosters. Cell phone boosters amplify 5G, 4G, and LTE for any phone with any carrier for home, office, or vehicle.
We seriously hate dropped calls and poor coverage, so it's our goal in life to stomp on spotty signal like the little roaches they are:
Free consultation (ask us anything) with our US-based customer support ( sales@wilsonamplifiers.com ) or call us at 1-800-568-2723 .
Free shipping.
Better signal or industry-leading 90 money-back guaranteed. No questions asked.
We want everyone to be satisfied, so we provide lifetime technical support and a 2-year warranty for all products.
Ask us anything and we'll be glad to help.
Interested in Learning More? Check Out Our Signal Boosting Info Center
THE WILSON AMPLIFIERS ADVANTAGE
FREE SHIPPING No Minumum Purchase
90-DAY
Money Back Guarantee
LIFETIME
Technical Support