At WilsonAmplifiers.com, we deal mostly with online and ecommerce. However, on rare occasions, we'll have the random customer pop up in our office. Often, these wonderful people have great stories to tell, but one particular story really stuck with us. A retired couple, grandparents, had watched their children grow and finally have children of their own. Instead of playing golf or enjoying their long deserved golden years, they decided to sell their home, buy an RV, and travel around North America until, as the Missus put it, "God comes calling.".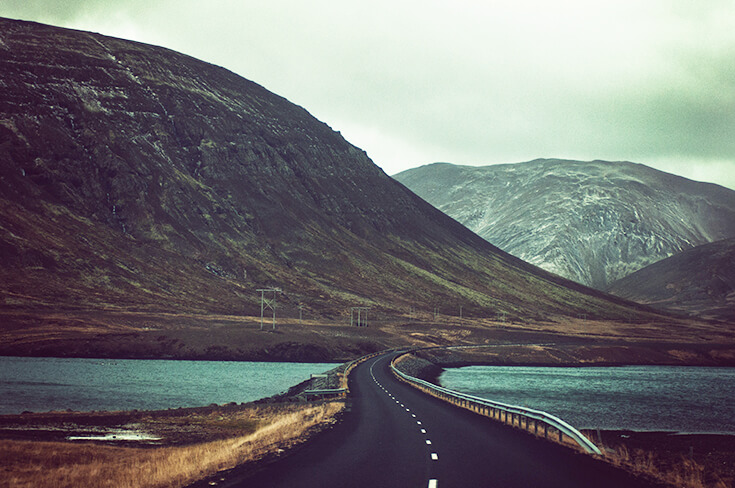 It was the true meaning of a second life.
But besides sharing their wonderful stories with us, they needed better cellular reception for their cross country travels. And we couldn't have recommended a better resolution, the Wilson 460108 Mobile 4G. It's the best cell phone signal booster for cars, trucks, RVs, and boats, simply because it's the only amplifier that can boost 4G for multiple users. And if you're going to be in an RV with your significant other for a long time, having ample internet speed for Google Maps, Skype, and Instagram is a must. Her Facebook photos of Fort Bragg in California were amazing.
Anyway, while our Wilson 460107 Sleek 4G is a great option for road warrior, having a significant other, kids, other family and friends means you have to play fair. The Sleek 4G can only boost one cellular device. However, the Mobile 4G can boost up 4 users. That's faster talk, text, internet, 2G, 3G, 4G LTE for everyone on any phone with most carriers.
Installation of the Wilson 460108 Mobile 4G
Installation is straightforward and easy to set up. But it's always recommended to do a soft install, meaning placement of components and testing before finalizing installation. But with no screws, bolts, and nails to be worried about, products can easily be adjusted.
There are four components: Mobile 4G amplifier, outside antenna, inside antenna, and DC Power Adapter. The outside antenna is a 4" mini-magnet mount that will stick to the metal roof of your car. Don't be fooled by its small size. This is an upgraded version that significantly pulls in more signal for all carriers and it has a strong magnet base. It is the only component that is located outside the vehicle. It attaches to the Mobile 4G amplifier by a SMA connector.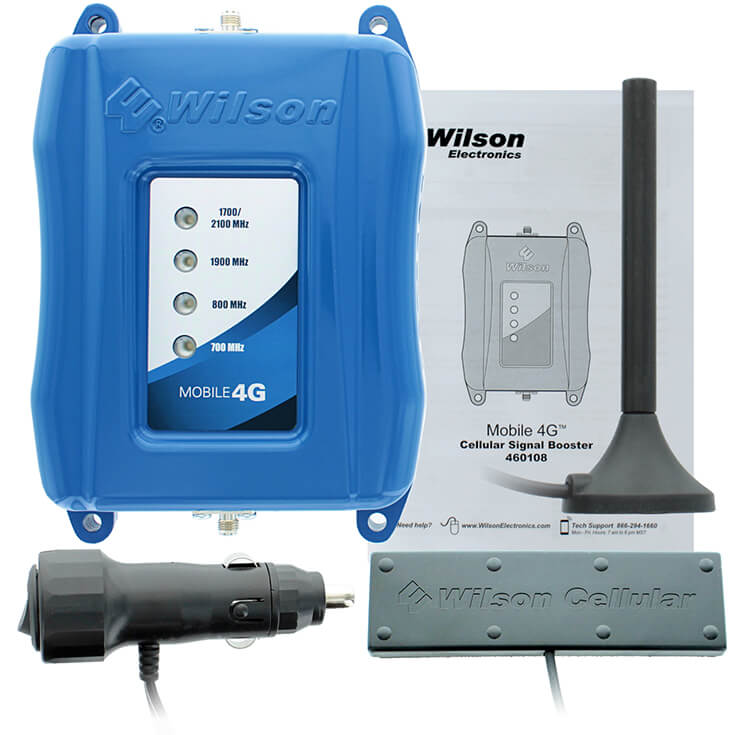 Inside the car, placement for the Mobile 4G amplifier should be away from excessive heat, direct sunlight, and moisture. It also needs to have proper ventilation. Recommended locations are underneath a seat or under the dashboard.
After connecting the outside antenna to the amplifier and finding a suitable place for the amplifier, attach the inside antenna to the amplifier and THEN plug in the power adapter to your amp and to your vehicle's DC Power Supply. Flip a switch on the back of the power adapter and the Mobile 4G will turn on.
The inside antenna comes with a Velcro back that attaches to a selected location on your car seat. After you've adjusted your inside and outside antennas and get the signal boost you're looking for, then it's time to finalize installation and you're done.
More bars and faster internet, anywhere at any time.
Why Mobile Internet Matters
It's a funny thing. Fifteen years ago, the majority of Americans were just getting home internet. We were tethered to our computers which eventually allowed the work machine to slowly become our entertainment center. Once cell phones turned into smartphones and "light" mobile internet became full-fledge internet, people have never looked back.
Did we really drive to places with printed maps? Did we really have to bring a portable music player, camera, and phone back on vacation in the 2000s? Was there really a time you had to wait to go home to watch videos, read emails, and search for things? Wait, you read books… on paper?! Life before smartphones... yes, it existed.
Times change. And while we can marvel at the past and how much it's changed, we have to find a way to change with it. Because somewhere in North America, there's a lovely old couple, traveling, experiencing, eating new foods and creating new memories. They've experienced several wars and several periods and cultures, but they keep moving forward and they keep sharing their stories. We can't wait for them to share their next chapter. And we hope everyone is doing the same.
Purchase the Wilson 460108 Mobile 4G here or email sales@wilsonamplifiers.com with any questions or comments. We'd be glad to hear from you.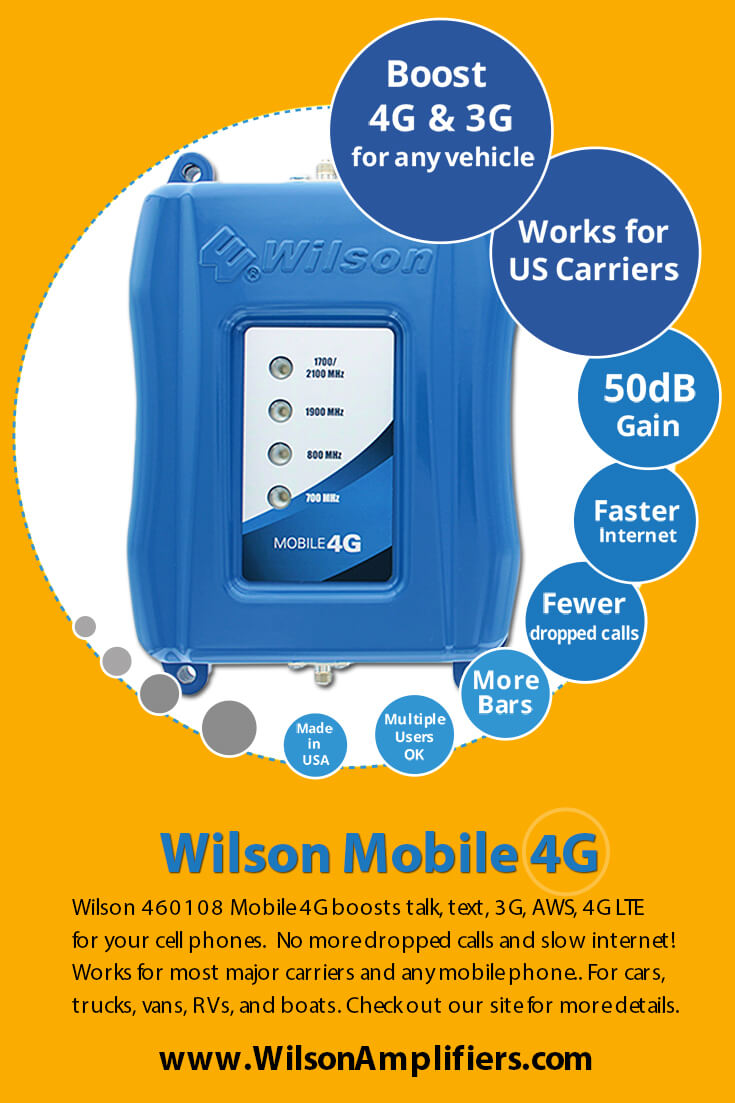 For more information about Wilson products and the latest news around the industry, sign up to our newsletter or check out our blog.