UPDATE: The Wilson AG Pro 4G (461104) has been updated to the weBoost Connect 4G-X (471104). In terms of performance, both are exactly identical except for a new name and cosmetic changes. So this review holds true to both models. [January 18th 2016]
When you absolutely, positively have to cover 4G and 3G in very large space, accept no substitutes. The Wilson AG Pro 4G (461104) is Wilson Electronic's best cell phone signal booster. You name it, it gets boosted: talk, text, high-speed internet, 2G, 3G, AWS, and 4G/LTE for all major North American carriers (US and Canada). It covers large homes or offices, up to 10,000 sq ft and if you already have a strong outside signal, the AG Pro 4G could boost up to 20,000 sq ft! With 70 decibels of gain, it's Wilson Electronics's top-of-the-line showstopper.
Unboxing the Wilson 461104 AG Pro 4G
Unlike the rest of the Wilson line of cell phone amplifiers, the AG Pro 4G does not come in retail packaging. It's nested inside a big nondescript cardboard box. It's the quiet, confident type that doesn't need fancy packaging and a box description to define what it does well. Yes, the AG Pro 4G is the Clint Eastwood of signal boosters.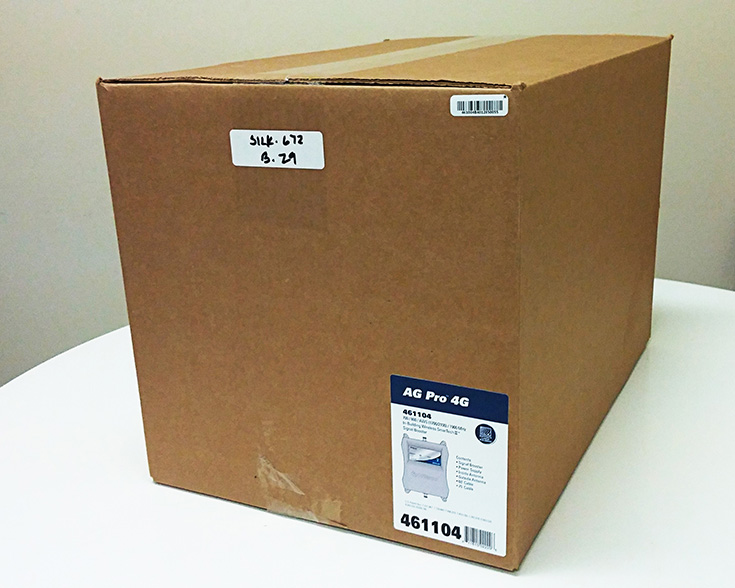 Inside you'll find the 5-Band amplifier, indoor wall antenna, outdoor yagi antenna, one 60-foot LMR400 cable, one 75-foot LMR400 cable, A/C power adapter, and instruction manual. The amplifier feels hefty (in a good way) and has a thick or slightly chubby design. It's not going to win in a design contest against Apple, but the silver grey color is simple and the four blue adjustable gain knobs are efficient and usable.
Both the indoor and outdoor antennas are fairly light in weight and colored slightly off-white. The two LMR400 cables come in black and because LMR400 cables are used for commercial purposes, they have a very high quality look, feel, and thickness to them. Just look at the N-connectors on them!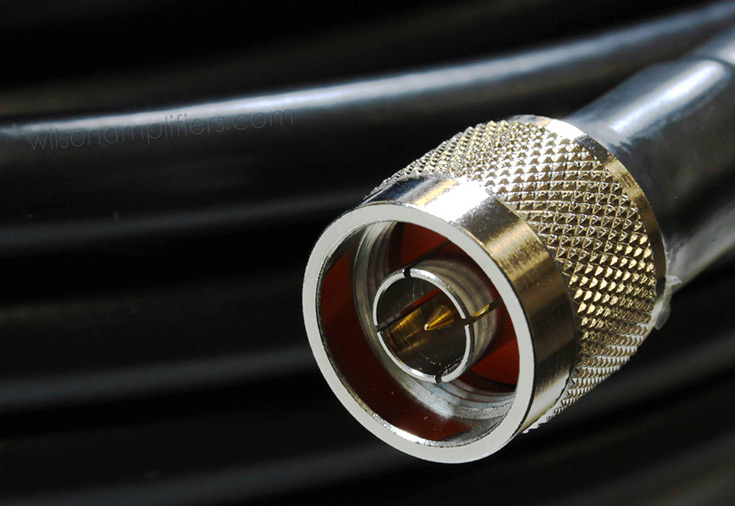 Why You Need the AG Pro 4G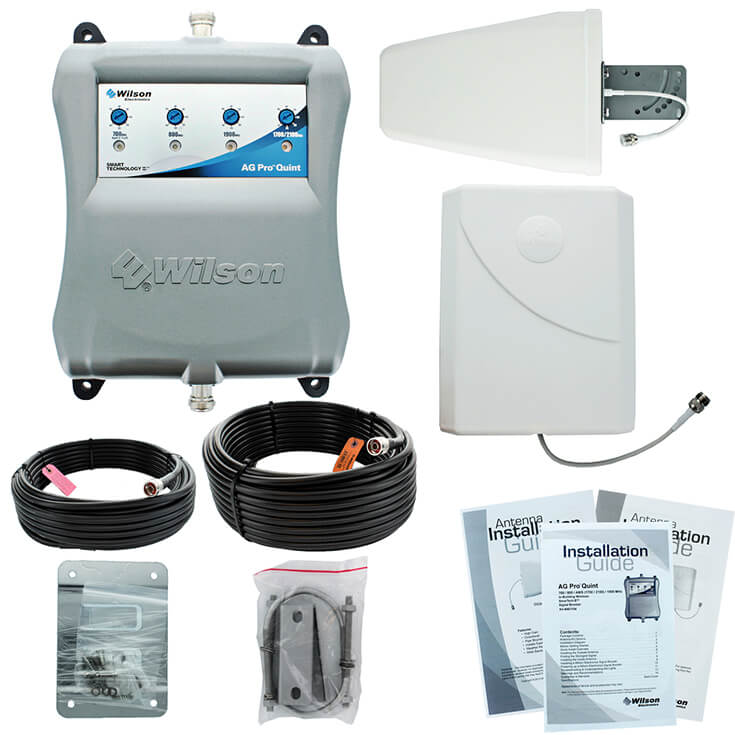 There are many reasons for getting the AG Pro 4G. Some people live a large area and need the absolute best coverage. While it's understandable why a spacious rural area with some distance from a cell phone tower needs a signal booster, but these days, urban areas need it just as much. With modern developments come various interferences. Metal structures. Tall buildings. Thick insulated rooms. They all alter or interrupt the signal from the cell phone tower to your cellular device.

And despite the growing number of cell phone users hungering for fast internet, the ability to build 4G LTE towers currently does not meet demand, which means it's a small pool of water and every creature of every sorts is crammed at the source. Not a pretty sight.

But cell phone signal boosters, especially with spotlight products such as the AG Pro 4G, allow users to pull in more signal from the cell tower than non-signal booster users. In the end, if you need more bars, either camp out next to a cell phone tower or get a cell phone signal booster.
Installation of the Wilson 461104 AG Pro 4G
Installation is very straightforward and simple. The outside antenna is placed high on the roof or (mounting pole if you have one) pointed towards the cell tower. Finding the cell tower may sound daunting, but luckily, we've already written a guide on locating your nearest cell tower. But for technically minded or just curious, your cell phone signal is measured in decibel (dB) gain from -50 to -113. -50 is a great signal and -113 is no reception or dead zone. So when you point your AG Pro 4G outdoor antenna towards a cell phone tower, your dB Gain should move closer to zero. Remember, any reading moving towards zero means you're getting better reception.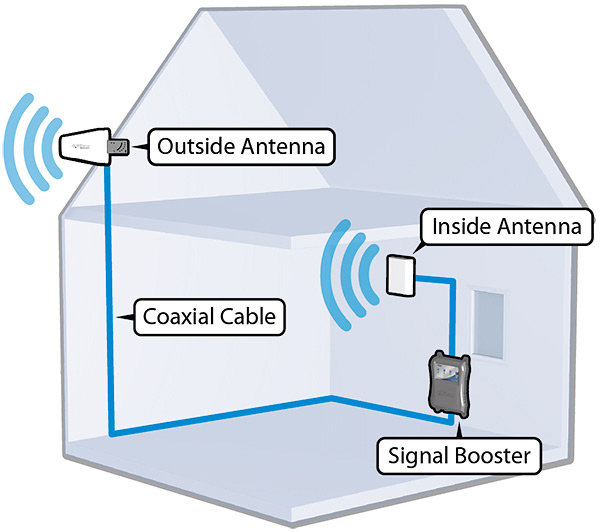 Inside antenna isn't so hard to install. Just find the center location of your house where the signal needs to be amplified. Just make sure that's some distance between both inside and outside antennas because of oscillation issues. Wilson Electronics recommends a minimum separation of 20 vertical feet or 50 horizontal feet. Probably the most difficult part of the installation is dealing with the cables. With two LMR400 cables measuring over 60 feet, trying to manage and line cables from your rooftop to inside your home may sound daunting. If you'd rather have a professional deal with the installation, it's rather easy. Any general profession that deals with cables like an electrician, cable tv installer, home technician, or handyman can run the cables for you. Likewise, you may already have an existing cable line from your old cable or satellite TV provider. Just following suit may ease the installation process.

Also, check out Wilson Electronics installer page for a list of custom installers near you.

Wilson Electronics recommends doing a soft install, testing product locations before finalizing installation, so don't worry if things look a bit messy at first. What's most important is getting better reception. After verifying both the inside and outside antennas are connected to the amplifier, it's time to power it on.

Adjusting the Wilson 461104 AG Pro Amplifier
The AG Pro 4G amplifier has four adjustable knobs. They are already adjusted for the highest gain possible. However, if your signal is still weak, it could be for the several reasons: 1) The outside antenna isn't directly pointing at the nearest cell tower. 2) There are natural or man-made obstructions such as trees, hills, buildings, mountains, weather, stucco, concrete and metal walls. 3) The cables are not fitted correctly.

If the lights on the amplifier are green. You're good to go and should have a boosted signal. Red lights mean oscillation issues, meaning there's not enough separation between your inside and outside antenna. Orange lights mean overload issues, it's too close to the cell tower and the boosted signal is too powerful and disruptive, so you'll need to power it down with the adjustable knobs.

For other issues and troubleshooting, we recommend thoroughly reading the Wilson 461104 AG Pro 4G Installation Manual.

The Results
Before: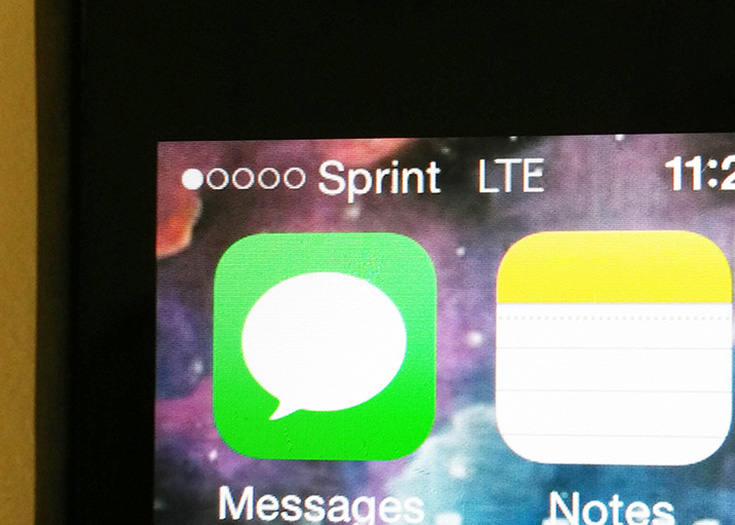 After: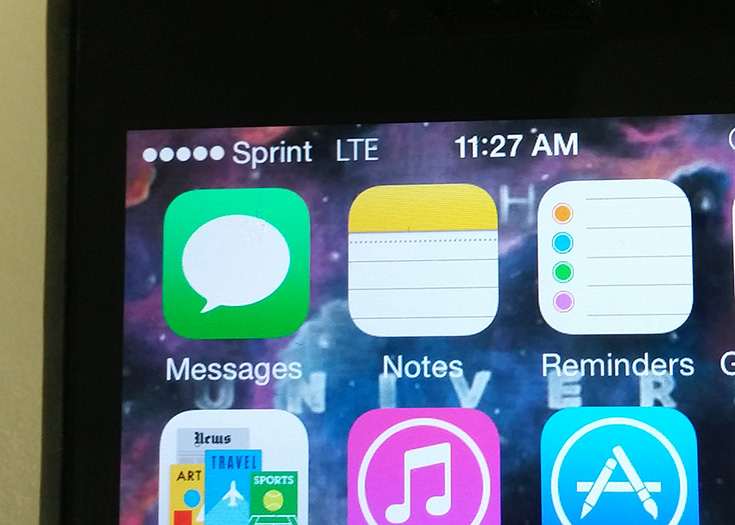 Very, very happy with these results. With coverage up to 10,000 sq ft, this signal should be consistent throughout the place. Data is loading faster. YouTube videos load quickly. Streaming Pandora music doesn't miss a beat. Text, talk, and internet are all good to go, too. This is one happy customer. Now it's time to finalize installation, organize the wires a bit, and enjoy a few episodes of The Wire on Amazon Prime.

For more information about Wilson products and the latest news around the industry, sign up to our newsletter or check out our blog.

Purchase the Wilson 461104 AG Pro 4G here or email sales@wilsonamplifiers.com for more information.