Wilson Amplifiers Memorial Day Sale
Improve Your Cellular Reception with weBoost RV Signal Boosters
Summer is right around the corner, and what better way to enjoy it than with a strong cellular connection in the comfort of your mobile home, camper, trailer, or RV? You'll be able to stay connected with family, friends, and the almighty internet while stationary in remote areas or on the road to your next destination.
Starting NOW through Monday, May 31, 2021, get 10% off select weBoost RV cell phone signal boosters with promo code GORV10!
Simply add the weBoost Destination RV, Connect RV 65, Drive Reach RV, or Drive X RV, to your cart and add the promo code GORV10 at checkout to save up to $65… but most importantly, to improve talk, text, and data speeds anywhere.
See complete cell signal booster kits for your situation:

Home / Small Office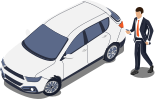 Car / Truck / RV / Boat

Commercial Building
All participating RV cell phone signal boosters:
Are compatible with any RV model – Class A, Class B, Class C, and any version of Towable RVs
Work with every North American carrier – AT&T, Verizon, T-Mobile, Sprint, U.S. Cellular, and more
Support ALL cellular devices – iPhones, Androids, Samsungs, Tablets, iPads, and Hotspots
Are 5G Ready – Will work for the next decade and beyond
About the weBoost Destination RV & weBoost Connect RV 65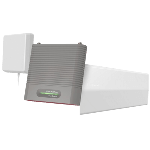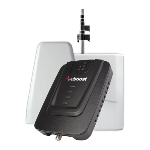 The weBoost Destination RV and the weBoost Connect RV 65 are powerful cell phone signal boosters available for parked or stationary RVs, campers, mobile homes, and trailers.
Both feature high gain capabilities, up to +65 dB, and can communicate with far away cell towers for superior cellular signal in remote campgrounds and parks. The main difference between the two is that the Destination RV offers increased uplink/downlink outputs, making it slightly more powerful, which allows for further reach to and from cell towers.
Both kits include a 25-foot telescoping pole, secure mounting brackets, and powerful indoor and outdoor directional antennas for maximum coverage. After attaching the wideband Yagi antenna to the telescoping pole, extend it as high as needed to capture the strongest signal possible.
They will work best in large RVs since the antennas need adequate separation to prevent oscillation, but will work with any RV. In addition, they can also be used as home units. The installation process is simple and does not require mounting the antenna on the roof or drilling holes through the walls.
About the weBoost Drive Reach RV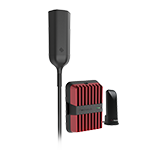 The weBoost Drive Reach RV offers superior cellular coverage while driving and/or at a campsite, though it might not be as powerful as its stationary counterparts – the Destination RV or Connect RV 65.
It features gains up to +50 dB, the maximum allowed by the FCC for vehicles in motion, with twice the uplink/downlink power of other vehicle boosters – up to 28.7 dBm uplink and 5.1 dBm downlink. In other words, the Drive Reach RV can reach cell towers located twice as far and deliver twice the signal strength throughout the entire cabin of any RV, ensuring constant communication anywhere.
It's perfect for people who frequently drive through the most rural of roads and highways, as well as those who camp in the most rural of campsites. However, the amount of coverage it delivers is determined by the strength of the outside signal. In remote areas with extremely poor reception, the amplified signal will be localized closer to the inside antenna.
If you prefer to have a consistent cellular signal while driving or resting at a campsite, the weBoost Drive Reach is a no brainer.
About the weBoost Drive X RV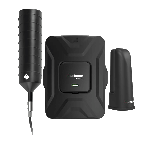 The weBoost Drive X RV is a great multi-user vehicle booster for RVs, trailers, and campers, in motion or parked in rural or urban areas.
This kit pairs the weBoost Drive X with the best-in-class indoor and outdoor OTR (over-the-road) antennas for improved coverage while moving. It features up to 50 dB gain with an average of 23.7 dBm uplink and 2.48 dBm downlink. As a result, it can communicate with relatively far distance cell towers and deliver superior cellular signal for multiple cellular devices.
Great for those who have a Class B camper as it should cover most of the interior space, but can be used for Class A, Class C, and towable trailers as well.
How May We Help
Wilson Amplifiers is the leading provider of FCC-approved weBoost and WilsonPro cell phone signal boosters. Cell phone boosters amplify 4G, LTE, and 3G for any phone with any carrier for home, office, or vehicle. They are 5G ready and will be able to be used until 2030 and beyond.
We seriously hate dropped calls and poor coverage, so it's our goal in life to stomp out spotty signal:
Free consultation (ask us anything) with our US-based customer support (sales@wilsonamplifiers.com) or call us at 1-800-568-2723.
Free shipping.
Better signal or industry-leading 90 money-back guaranteed. No questions asked.
We want everyone to be satisfied, so we provide lifetime technical support and a 2-year warranty for all products.
Ask us anything and we'll be glad to help.
THE WILSON AMPLIFIERS ADVANTAGE
FREE SHIPPING No Minumum Purchase
90-DAY
Money Back Guarantee
LIFETIME
Technical Support