Great News: The WilsonPro 70 Plus is Now $1099.99!
Your WilsonPro Upgrade Has Officially Arrived
Effective immediately, the WilsonPro 70 Plus is now more affordable than ever, dropping from $1299.99 to $1099.99!
The ultimate cell phone signal booster for city and urban centers (featuring up to 25,000 sq ft of coverage) just got better.
With this price drop, the WilsonPro 70 Plus costs a mere $200 more than the WilsonPro 70 - which, by comparison, covers up to 15,000 sq ft and lacks of automatic attenuation. Springing for the Plus over the basic Pro 70 is recommended if you have weak outdoor signal, or overpoweringly strong outdoor signal and need to cover a large area. Now, the upgrade is more possible than ever.
Get your better signal and savings now!
See complete cell signal booster kits for your situation:

Home / Small Office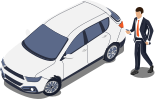 Car / Truck / RV / Boat

Commercial Building
WilsonPro 70 Plus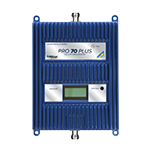 Coverage up to 25,000 sq ft.
Works for all carriers: AT&T, Verizon, T-Mobile, Sprint, etc.
Works for all 4G LTE and 3G cellular devices: phone, tablet, laptop, hotspot, etc.
No monthly fees, no need to be connected to wifi.
30-day money back guarantee, 3-year manufacturer's warranty
Was $1,299.99. Now: $1,099.99
The Wilson Pro 70 Plus is a mid-level commercial signal booster featuring up to+70 dB gain and +10 dBm downlink power. Under best conditions, it can cover up to 25,000 sq ft; however, real-world averages put it around 10,000 to 15,000 sq ft. Depending on the outside signal and building material, you may get more or less coverage.
The Wilson Pro 70 Plus features the same technology as the Wilson Pro 70 with one key difference: better attenuation.
What does this mean?
A key downside to the Wilson Pro 70 is that it can be overwhelmed by powerful signal such as being too close to the cell tower and pulling in TOO much signal and overwhelming the repeater.
The Pro 70 Plus comes with superior attenuation processes which allows the amplifier to handle overly strong signals and still perform optimally.
For these reasons, we highly recommend this unit for city and urban centers rather than the Wilson Pro 70 - and with its new, much lower price, it's a more attractive option than ever, even as a possible consumer kit.
| | |
| --- | --- |
| Number of Bars | Estimated Coverage |
| With 5 bars (-80 dB) of outside signal | 25,000 sq ft |
| With 3-4 bars (-90 dB) of outside signal | 15,000 sq ft |
| With 1-2 bars (-100 dB) of outside signal | 5,000 sq ft |
---
Want to learn more about cell phone boosters? Read more with our definitive guide:
---
How We Can Help:
Wilson Amplifiers is the leading provider of cell phone signal boosters. They amplify 3G & 4G LTE for any phone with any carrier for home, office, or vehicle.
Free consultation (ask us anything) with our US-based customer support (sales@wilsonamplifiers.com).
Free shipping.
Better signal or money-back guaranteed.
We want everyone to be satisfied, so we provide lifetime technical support and a 2-year warranty.
Read real reviews from our customers.
Ask us anything and we'll be glad to help.
---
Need help? Email us today ( sales@wilsonamplifiers.com) or give us a call at 1-800-568-2723. A cell phone signal expert will gladly assist you in getting better signal instantly.
THE WILSON AMPLIFIERS ADVANTAGE
FREE SHIPPING No Minumum Purchase
90-DAY
Money Back Guarantee
LIFETIME
Technical Support