5G vs 10G Networks: What You Need to Know
5G vs 10G
You've likely heard of 5G. The newest generation of mobile networks. It's meant to deliver faster speeds, lower latency, and more capacity than 4G (fourth generation). In 2022, Comcast debuted its 10G network. Though, it's probably not what you think it is.
We fix poor cell phone signal! Find the right signal booster for you:

For Home

For Vehicle

For Business

For Commercial
Aside from both networks sharing a "G", they are not related at all.
5G represents the fifth-generation technology standard for cellular networks.
Seeing the G behind the 10 makes many people think that Comcast's 10G network is an evolution of 5G. However, that is not the case.
The G in 10G stands for gigabytes, not generation. It represents the maximum speed of Xfinity's next generation of cable broadband internet. The traditional acronym for gigabytes is Gbps, but Xfinity decided to just go with a G, adding confusion to an already confusing tech space.
So, no need to worry about getting rid of your new 5G phone and hunting down a nonexistent 10G capable phone.
What is 10G?
10G is Comcast's newest, fastest, internet technology that uses a traditional cable connection. This allows cable ISPs to upgrade their network without having to install new infrastructure. In areas where fiber is not an option, it also allows more customers to enjoy fiber-like speeds and performance.
The goal is to deliver multigigabit upload and download speed of 10 Gbps to ensure all devices get the speeds they need. It's also meant to deliver lower latency and better security.
While Comcast is making progress at reaching its goal, they are not quite there yet. One of their last published tests shows download speeds hitting 6 Gbps and upload speeds reaching 4 Gbps. In practice, you won't get speeds anywhere near that.
The max speeds you can get depends on your plan and gateway. Xfinity's highest plan offers up to 1200 Mbps, which is the equivalent of 1.2 Gbps. Their latest internet gateway, the xFi Advanced Gateway, has a maximum data throughput of 2.5 Gbps. Their network is currently not built to provide 10Gs to its customers.
According to Comcast, all Xfinity internet plans are on the 10G network. Existing customers are already connected to it. New customers can get 10G connectivity when they join Xfinity.
While you may not get those 10 Gbps speeds anytime soon, the implementation of 10G tech will, in theory, make your connection smoother and more reliable.
Advantages of 5G Cellular vs. 10G Internet
More and more people are cutting the cord on their internet connection and moving to cellular. That's because it offers great advantages, even over 10G internet.
1) Fast Speeds
5G cellular offers incredible speeds. On the low end of the 5G frequency spectrum, speeds can be as low as 50 Mbps. But on the high end of 5G, peak speeds can reach up to 20 Gbps down and 10 Gbps up, making it faster than Xfinity 10G under optimal conditions. Xfinity's 10G network would cap out at 10 Gbps down and up. Real-world results, though, will vary due to interferences and location for both cellular and WiFi.
2) No Cables Needed
Completely wireless, you are not confined to one location for fast-speed connectivity. You can stream, game, video chat, and more from the palm of your hand anywhere you go. Plus, you don't have to worry about your house being wired for broadband or running cables throughout.
3) Can Be Boosted
With the help of a cell phone signal booster, you can enhance your cellular service to enable speeds as fast or faster than Xfinity's 10G at home, in the office, or on the go. For more information, here is how cell phone signal boosters work. When it comes to internet, there is no true way to boost your connection.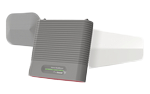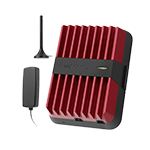 4) Costs Less
Depending on your carrier and needs, cellular service costs can range from $35 to $105 per month for one line. This includes talk, text, and data. Xfinity 10G internet can range from $61 to $113 per month after the one-year contract and without autopay.
How Can We Help?
Wilson Amplifiers is the leading provider of FCC-certified cellular amplifiers. Our home units work with all North American carriers and devices. Once installed, phones, tablets, and other cellular devices will receive enhanced cellular signals for better performance. If you have any questions, please call us (1-800-568-2723), email us (sales@wilsonamplifiers.com), or chat with us. We're happy to help!
---
Interested in Learning More? Check Out Our Signal Boosting Info Center
THE WILSON AMPLIFIERS ADVANTAGE
FREE SHIPPING No Minumum Purchase
90-DAY
Money Back Guarantee
LIFETIME
Technical Support