WilsonPro 710i: Wilson's First 5G Signal Booster for Businesses
5G Commercial Signal Booster
WilsonPro has announced the impeding release of their first 5G signal booster for business, the WilsonPro 710i, available this summer!
The Pro 710i is an industrial class, single-band cellular amplifier designed for boosting cellular signals on the (600 MHz) Band 71. It's designed to be paired with one of WilsonPro's other commercial offerings, such as the WilsonPro 1100, WilsonPro Enterprise 1300, or WilsonPro Enterprise 4300. It complements, not replaces, these boosters, and cannot work on its own.
Wilson Amplifiers provides complete in-building
commercial signal booster installation services:
Future Proofing Your Business
The WilsonPro 710i is for discerning businesses who foresee 5G connectivity being a major part of their plans in the near future. From healthcare and financial services to public safety, retail and education, almost every industry will benefit from 5G's transformative technology. 5G promises a faster, more responsive, low-latency cellular network that will further promote the Internet of Things (IoT) thanks to its ability to connect multiple smart devices using much faster download speeds and higher bandwidth.
The WilsonPro 710i boasts up to 100,000 square feet of indoor coverage, making strong, reliable 5G available for an entire building's tenants, employees and visitors who subscribe to carriers who utilize Band 71. This will support the ongoing rollout of 5G on Band 71 for US Cellular, T-Mobile, and other carriers. All of this means lightning-fast download speeds, dramatically reduced latency and the ability to connect more IoT-enabled devices, finally making the long-awaited promise of 5G a reality.
Like most WilsonPro amplifiers, the Pro 710i features eXtended Dynamic Range (XDR) technology to automatically adjust to any changes in outdoor signal quality, ensuring that the amplifier will never experience signal overload or shut down. The Pro 710i also includes a 30-day money-back guarantee and a best-in-class manufacturer's warranty by WilsonPro that protects the product for three years.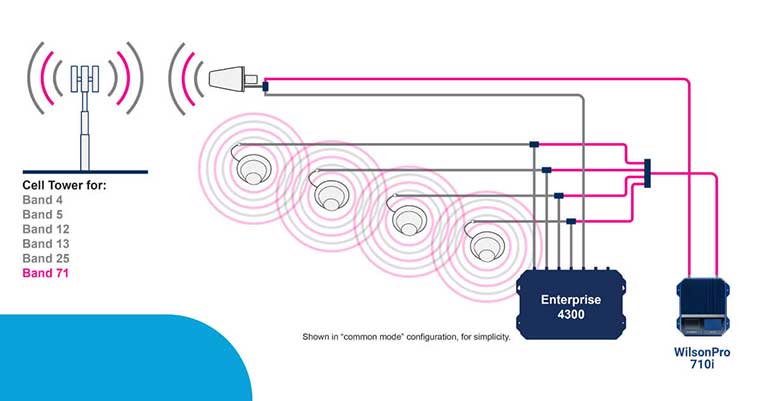 Why Do I Need a 5G Booster?
5G, just like 4G, experiences issues with signal and attenuation. The wireless industry, not to mention the world, will be changed by 5G – as long as it's usable. Unfortunately, while it's already known that 4G signal is blocked by many building material, 5G is slated to be even worse, making cellular amplifiers even more important.
There are a lot of myths surrounding 5G at the moment, but like with 3G and 4G before it, it promises to make our lives ever more convenient.
The WilsonPro 710i appears to be an excellent first step toward making 5G available across the country, and it couldn't come at a more opportune time.
The WilsonPro 710i will be released soon. Call us at 1-800-887-1961 for more information.
How May We Help You?
Wilson Amplifiers is the leading provider of cell signal boosters. Cell phone boosters amplify cellular signal for any phone with any carrier for home, office, or vehicle.
We seriously hate dropped calls and poor coverage, and it's our mission to eliminate them from every day life. We provide:
Free consultation (ask us anything) with our US-based customer support (

[email protected]

) or call us at 1-800-887-1961.
Free shipping.
Better signal, guaranteed, with a 30-day money back guarantee on all WilsonPro units.
We want everyone to be satisfied, so we provide lifetime technical support and a 2-year warranty for all products.
Ask us anything and we'll be glad to help.
THE WILSON AMPLIFIERS ADVANTAGE
FREE SHIPPING No Minumum Purchase
90-DAY
Money Back Guarantee
LIFETIME
Technical Support