In-Car 4G Wifi Services: Signal Boosting Solutions
When Car WiFi Goes Wrong
So you've got a connected car with full WiFi services from OnStar, Zubie, a mobile hotspot, or built-in WiFi or dongle provided by AT&T or Verizon.
Whether you're on the move or stuck in traffic, you have the comfort of the internet and connection to keep you (and the kids) busy.
But not all is a jolly good old time when you're suffering from unreliable connection which shutters your streaming and downloads and slows everything to a halt.
Disconnected is not what we're paying for.
But it's a reality and you're at the mercy of the 4 things that disrupt your 3G & 4G LTE cellular in-car WiFi:
Cell tower distance
Outside interference: Trees, hills, mountains, valleys, and tall structures.
Car material: Metal, glass, energy-efficient material, and other conductive material (electrical or magnetic)..
Even weather (yup).
All it takes is just one or any combination of those factors to say goodbye to your car WiFi.
But there's something you can do about it.
See complete cell signal booster kits for your situation:

Home / Small Office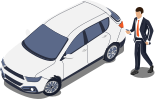 Car / Truck / RV / Boat

Commercial Building
The solution:
Everything changes with a cell phone signal booster.
A cell phone signal booster takes any existing 3G & 4G signal and amplifies up to 32X and then rebroadcasts the boosted signal into car.
If your in-car WiFi uses 3G & 4G, then yes, it will improve your signal and wireless experience.
Faster download speeds and reliable reception. Check & check.
And nothing else beats the best cell phone booster name in the market: weBoost by Wilson Electronics.
Wilson Electronics has been the market leader for years, providing cellular solutions for hundreds of thousands of people suffering from poor cell phone signal.
And it's backed by guarantees:
Better 3G & 4G LTE speeds and coverage. Period.
And added bonuses?
Works for all cellular devices that use 3G & 4G LTE
Carrier-proof: works on any carrier in North America.
One-time purchase, no monthly fees
No need for WiFi connection, it takes your existing weak 3G & 4G LTE and amplifies it!
Get better calls, internet, and coverage today!
Cell Phone Signal Booster For In-Car Wifi
For the City:
The weBoost Drive X is a popular choice for those in urban and suburban areas. With its +50 dB of gain, your cellular in-car WiFi system will definitely receive a boost when commuting in the city or while stuck in traffic. And, if you ever decided to cancel your vehicle's WiFi subscription or accidentally forgot your mobile hotspot at home, the Drive X has you covered – it can boost up to 4 devices at the same time from any cell phone carrier. Prepare to say goodbye to dropped calls, unresponsive data services, and spotty in-car WiFi, and hello to a reliable connection on the go.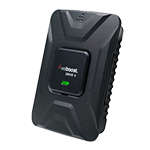 For Rural Areas:
The weBoost Drive Reach is one of the most powerful vehicle signal boosters available. When compared to the Drive X, the Drive Reach outperforms it even though they both have a maximum gain of +50 dB. So, what makes the Drive Reach stronger and more powerful? It features the highest vehicle uplink power. This allows the booster to reach far distanced towers to provide your in-car WiFi system, as well as cellular devices, the best possible signal, making it a fantastic performer in rural areas. Never again will you, nor your passengers, have to deal with poor cell reception and slow WiFi speeds while driving through rural roads or city highways.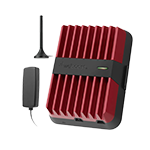 For Recreational Vehicles:
The weBoost Drive X RV is ideal for those who want to boost their in-vehicle WiFi system while driving and/or at a campsite. Great for Class A and Class C RVs, but can also be used for Class B. Keep in mind, though, that the coverage area can be impacted by the strength of the outside signal. If you have great cellular signal while driving or camping, you can expect about 10 ft of coverage. However, in areas with weak cell signal, you'll probably have to be much closer to the inside antenna than anticipated to get better reception. For best results, the inside antenna must be strategically placed in the area where you need better cell coverage.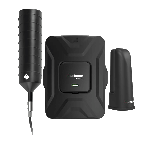 Since the Drive X RV works while stationary, it's worth mentioning that it's not as powerful as the weBoost Connect RV 65 (stationary only model). But, if you're always moving and needing a reliable signal on the go, the weBoost Drive X RV is the easy choice.
How May We Help You?
Wilson Amplifiers is the leading provider of cell phone signal boosters. Cell phone boosters amplify 3G & 4G LTE for any phone with any carrier for home, office, or vehicle.
We seriously hate dropped calls and poor coverage, so it's our goal in life to stomp on spotty signal like the little roaches they are:
Free consultation (ask us anything) with our US-based customer support (sales@wilsonamplifiers.com) or call us at 1-800-568-2723.
Free shipping.
Better signal or industry-leading 90 money-back guaranteed. No questions asked.
We want everyone to be satisfied, so we provide lifetime technical support and a 2-year warranty for all products.
Ask us anything and we'll be glad to help.
THE WILSON AMPLIFIERS ADVANTAGE
FREE SHIPPING No Minumum Purchase
90-DAY
Money Back Guarantee
LIFETIME
Technical Support