Best Way to Get Better Cell Signal in A Metal Building
Whether in a house with a metal roof, a barndominium, or commercial warehouse, you may have noticed cell service tends to be more reliable outdoors. Metal buildings of all shapes and sizes notoriously get bad cellular reception inside.
The best way to improve cell service in a metal building is with a cell phone signal booster. They'll improve cell reception throughout your home or business for all cellular devices, such as phones, tablets, hotspots, and cellular routers.
We fix poor cell phone signal! Find the right signal booster for you:

For Home

For Vehicle

For Business

For Commercial
Why You Have Poor Cell Phone Signal Inside Metal Buildings
Anything and everything under the sun affects cell phone signal strength as it travels from your closest cell tower to your devices. Metal (aluminum, brass, copper, steel, iron, etc.) being the most disruptive. It severely blocks and degrades cellular signals trying to get inside.
On average, signal strength, measured in decibels-milliwatts (dBm), ranges from -50 dBm to -120 dBm. The closer you are to -50 dBm, the better your signal. At -120 dBm, signal is basically nonexistent. Metal, in particular, weakens incoming cell signals by up to -50 dBm.
So, if your outside signal strength measures -90 dBm, which is about average, indoor signal strength may be -140 dBm. Metal roofs and walls are enough to make the inside of your business or barndominium a dead zone. Of course, severity will depend on how much metal surrounds your building.
Signal boosters for metal buildings strengthen signal and deliver it even stronger inside.
Cell Phone Boosters for Metal Buildings: Top Way to Improve Cell Signal in a Metal Building
The right booster for your metal home, barndominium, or business will depend on your outside signal situation and coverage footprint. Areas with weak outside signal will require more powerful units than those with strong outside signal. The same goes for those who want to cover large areas.
Below are our top recommendations, ordered by the size of your metal building and your outdoor signal strength.
For Small to Midsize Homes with Metal Roofs and Walls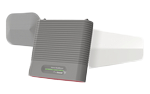 Complete Coverage for Multiple Rooms – 5G Ready
Covers up to 5,000 Sq Ft
Offers up to +65 dB Gain, with 21 dBm Uplink & 12 dBm Downlink
Customizable for Max Coverage
Compatible with all Carriers Across Multiple Devices
Outdoor Yagi Antenna & Indoor Panel Antenna Configuration
The weBoost Home MultiRoom is our top recommendation for most homes with metal roofs and small barndos. It lies at the sweet spot of price, performance, and aesthetics.
It can boost your existing cell signal by up to +65 dB. That's the lowest amplification power you should consider for metal homes in weak signal environments. With high uplink, unit is far-reaching, making it ideal for rural and urban applications. Offering up to 5,000 sq ft of coverage, it's capable of covering an entire home or multiple rooms. Though, results will vary depending on your existing outside signal.
Included antennas are powerful and nice looking, which is a plus if you value aesthetics. Its tool-free installation makes set-up quick and easy.
For Medium to Large Homes with Metal Roofs and Walls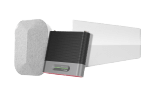 Superior Cell Phone Service for Your Entire Home – 5G Ready
Covers up to 7,500 Sq Ft
Offers up to +72 dB Gain, with 24 dBm Uplink & 12dBm Downlink
Customizable for Max Coverage
Compatible with all Carriers Across Multiple Devices
Outdoor Yagi Antenna & Indoor Panel Antenna Configuration
The weBoost Home Complete is the most powerful consumer line booster you can get for your metal building. With an additional +5 dB over the Home MultiRoom, it's roughly a shade over 3x more powerful. And with its 24 dBm uplink and 12 dBm downlink, it can reach far-distance towers and provide wider in-building coverage.
It's designed to blanket larger barndominium with reliable talk, text, and data for all cellular devices. Under perfect conditions, it can cover areas up to 7,500 sq ft. Since cellular signals are not perfect, most people get between 4,000 – 6,000 sq ft. If you live in an area with extremely weak signal, this is your best option for decent coverage. You'll probably get 1,500-3,500 sq ft from it.
Included antennas are the same as those kitted with the Home MultiRoom, powerful and inconspicuous. To maximize indoor coverage, additional indoor antennas are required, especially if you're trying to cover more than one floor.
Home Complete requires a Do-It-Yourself installation. However, if you prefer a professional to do all the work for you, consider the weBoost Installed Home Complete.
For Small and Midsize Business Buildings with Metal Roofs and Walls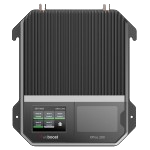 Supercharges the Whole Workplace – 5G Ready
Covers up to 35,000 Sq Ft
Offers up to +72 dB Gain, with 25 dBm Uplink & 15 dBm Downlink
Extended Dynamic Range Ensures Continuous Connectivity
Expansion Kits Available for Large Scale Installations
Compatible with all Carriers Across Multiple Devices
50 and 75 Ohm Variants
The weBoost Office 200 is a commercial-grade metal building signal amplifier for small to mid-size businesses. It'll enhance your signal by up to +72 dB and cover up to 35,000 sq ft with four indoor antennas. That means fewer dropped calls, better voice quality, and faster data speeds for all devices throughout.
Its high uplink makes it ideal for metal buildings in extremely rural areas. Featuring Extended Dynamic Rage Technology, the Office 200 does not overload due to strong incoming signal. So, it's also a great choice for businesses in urban settings.
It's available with different cellular antenna configurations. Choosing the right kit for your business will depend on your signal environment. The Omni Dome Kit is best for metal buildings with strong outside signal, while the Yagi Panel Kit is best for weak outside signal.
This is a self-install unit. For a professionally installed version, consider the weBoost for Business Office 200 Installed. It offers the same features and benefits, but with an additional indoor low-profile dome antenna.
For Large Commercial Buildings with Metal Roofs and Walls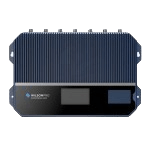 Superior Wall-to-Wall Coverage – 5G Ready
Covers up to 100,000 Sq Ft
Offers up to +70 dB Gain, with 26 dBm Uplink & 17 dBm Downlink
Features 3 Outdoor Antenna Ports and 4 Indoor Antenna Ports
Extended Dynamic Range Ensures Continuous Connectivity
Remote Monitoring via WilsonPro Cloud
Expansion Kits Available for Large Scale Installations
Compatible with all Carriers Across Multiple Devices
The WilsonPro 4300 is the most powerful commercial booster for large metal buildings anywhere. It can cover up to 100,000 sq ft. Metal will no longer hold your business back.
This unit features four amplifiers in one housing, ensuring superior signal boosting. Its three built-in outdoor antenna ports allow unit to receive cell signals from multiple cell towers at the same time. This is difficult to achieve when using a single directional antenna. The four independent indoor antenna ports reduce the amount of cable needed during installation. You can easily monitor performance via the LCD screen or the WilsonPro Cloud. Extended Dynamic Range ensures always-on connectivity for all your business needs.
The WilsonPro 4300 comes with a system design and a professional installation. Based on your needs, our installers will put together a custom kit that'll guarantee improved reception in the areas that matter.
How Do Cell Phone Boosters Improve Signal in Metal Buildings?
Cell boosters capture your existing outside cell signal, weak or strong, through a powerful outdoor antenna. Coaxial cable is used to connect the outside antenna to the amplifier located inside. The cable helps relay cell signal into your metal building for boosting. An indoor antenna, also connected to the amplifier via coax cables, fills your metal building with reliable cell signal.
With a signal booster, metal roofs or walls no longer prevent your household or business from running smoothly. Cellular devices are able to maintain calls and reliable data speeds.
Do Signal Boosters Really Work in Metal Buildings?
100% yes.
As long as you have usable signal outside, a signal booster will work in any metal building.
Take one of our customers, NYPRO, a JABIL company, as an example. They have an all-metal 250,000 sq ft building. Signal strength in most areas was -100 dBm or worse. Two WilsonPro 4000R signal boosters were used to bypass the all-metal construction. Indoor signal strength significantly improved to -60 dBm. That's almost perfect cell signal.
Wilson Amplifiers: The Trusted Name in Boosting Signal
Wilson Amplifiers always has the answer. Depending on the size, scope, and situation, the experts at Wilson Amplifiers can tailor a custom solution for you in time, under budget, and professionally installed.
Services we provide:
FREE floor plan analysis with detailed heatmaps & coverage expectations.
FREE consultation adhering to your requirements and budgets.
Equipment selection from only the best.
Site survey from certified wireless technicians.
Complete professional active and passive DAS installation & expert project management.
Contact us today via phone (1-800-568-2723) or email (sales@wilsonamplifiers.com) to get the best solution for improving your 4G and 5G cellular signal indoors.
Interested in Learning More? Check Out Our Signal Boosting Info Center
THE WILSON AMPLIFIERS ADVANTAGE
FREE SHIPPING No Minumum Purchase
90-DAY
Money Back Guarantee
LIFETIME
Technical Support