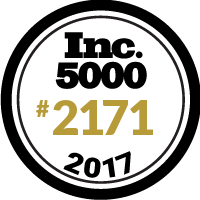 Another big thank you from Wilson Amplifiers
For the third year in a row, Wilson Amplifiers has landed on the Inc 5000 Fastest Growing Private Companies.
We would like to thank all our customers, partners, and team members for enabling us to do what we love: providing solutions.
While most companies like to start out the day talking about profits and losses, the team at Wilson Amplifiers leads with our ICE model: integrity, customer service, and excellence.
When we realize we're not the best solution in a particular case, we'll gladly refer customers to a more appropriate answer. No one likes losing a sale or leaving money on the table. But we're in the business of trust and providing the best and most efficient solution.
With that type of mentality from top to bottom, we feel that's what allows us to grow year after year while serving the community and staying true to our core.
So what did we do right this year?
1. Growing into the B2B space
Starting in 2016, we began growing our B2B division. It now houses nearly a dozen in-house members with RF, technical, and integration backgrounds. With 5G on the horizon, we predict the B2B space to grow rapidly as more enterprises invest in cellular solutions.
It also helps that commercial repeaters have improved tremendously in the past two years going from 25K sq ft of coverage up to +100K and with our own installation team & partners installing commercial solutions nationwide in US and Canada.
2. More customer support and live help
In 2016 we had a bit of a bottleneck when it came to immediately responding to phone calls and emails. Since then we've added dedicated support for emails, live chat, and even foreign languages in Spanish and French while adding more members to handle the phones.
In the backend, we've invested in a robust CRM (customer relationship management) software to tie all calls, emails, and submitted materials together. This allows for faster responses and our reviews have improved because of it.
3. Updated website design & experience
Beginning in late 2016 and continuing to the end of 2017, our website has gone through very subtle changes for better customer experiences. We shuffled and improved navigational menus. We added a dedicated support page. We've been very proactive in getting more customers to share their reviews. And we focused on faster loading times and improved mobile experiences.
One of the most helpful changes is the expected indoor coverage by sq ft. For example, while saying up to 5,000 sq of coverage indicates anything between 1 to 5,000 sq ft, many readers were confused by exactly how much coverage they should expect to get.
Now we provide a handy expected indoor coverage chart based on your outside signal for each signal booster.
4. More targeted brand awareness
Our marketing campaigns have been more focused and varied than ever. From direct mail to Facebook campaigns, we've increased awareness of our products and services. We've also doubled-down on understanding the type of users that would need better cellular signals to do their jobs.
These campaigns focused on problem/solution ads have increased traffic to the website and calls to our customer support. In general, our online presence and word-of-mouth has grown tremendously in the past few years.
5. Certified refurbished models
We began providing certified refurbished models last year and the response has been overwhelming. All the models are factory check and re-certified, so they're basically cheaper versions of their unopened cousins.
6. Sandra