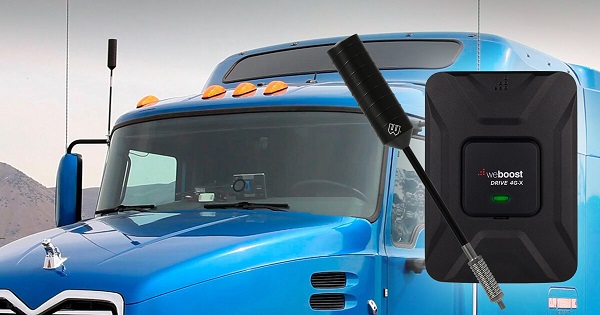 Do You Use Your Cell Phone More, or Your Radio?
Big rig trucks are designed with symmetry in mind. From the cabin to the undercarriage, all the most popular brands of Over The Road truck (Cascadias, Kenworth W990s, and more) keep this simple framework.
That extends to truck antennas, as well. Most truckers use a CB radio, which have to use a CB radio antenna to be of any use. Due to this, many trucks have two CB radio antennas, one on either side of the cabin.
But we've found that, with the rise of cell phones, CB radios have become less popular among truckers. That second CB antenna becomes more and more of a relic of the days before cell phones each day. Many truckers use their cell phones over their radio almost every time.
That's where a cell phone signal booster for trucks come in.
A Simple Change
If you drive an OTR truck and use your cell phone as much - if not more than - your CB radio, there's simply no excuse not to have a trucker cell phone signal booster. They boost weak 4G LTE and 3G signal for all major carriers (AT&T, Verizon, T-Mobile, Sprint, and more) and all phones (iPhone, Android, Samsung Galaxy, and more). You'll see a dramatic reduction in dropped calls and slow texts, and an increase in reliability to where you'll be amazed you ever lived without it.
What's more, the OTR signal booster antenna can go where your second CB radio antenna is placed, keeping that nice symmetry while giving you the cellular signal you need. Win-win.
Trucker Signal Boosters
Our Pick
Boosts voice, text message, 3G & 4G LTE data
For multiple cell devices
Up to +50 dB gain
OTR antenna made especially for trucks
Pro model: Up to 60% more reach from and to cell tower
Works with all carriers, networks, and phones
---
Our Review:
The weBoost Connect Drive 4G-X OTR is the most powerful over-the-road commercial truck cell phone signal booster.
This kit pairs the weBoost Drive 4G-X with best-in-class durable and rugged outside omnidirectional antenna to withstand all elements while driving on the road. This unit is a fixed installation for the outside antenna which includes a 3-way mount, so great for fleet services needing cellular boost in the field.
Only at
FREE shipping, no minimum purchase.
90 Day money back guarantee.
Lifetime support.
Or buy from
Cradle Option
Boosts Voice, Text Messages, 3G & 4G LTE Data
For a single smartphone
Up to +23 dB Gain
---
Our Review:
The weBoost Drive Sleek is about price and performance for the single user.
It uses a magnetic vent mount and when paired with a bluetooth headset, it really shines for regular talk & text and hands-free navigation.
Smartphone has to be in the cradle to get maximum signal boost. New design allows for wider smartphones and small tablets.
Only at
FREE shipping, no minimum purchase.
90 Day money back guarantee.
Lifetime support.
Or buy from
Trucker Signal Booster Antenna Options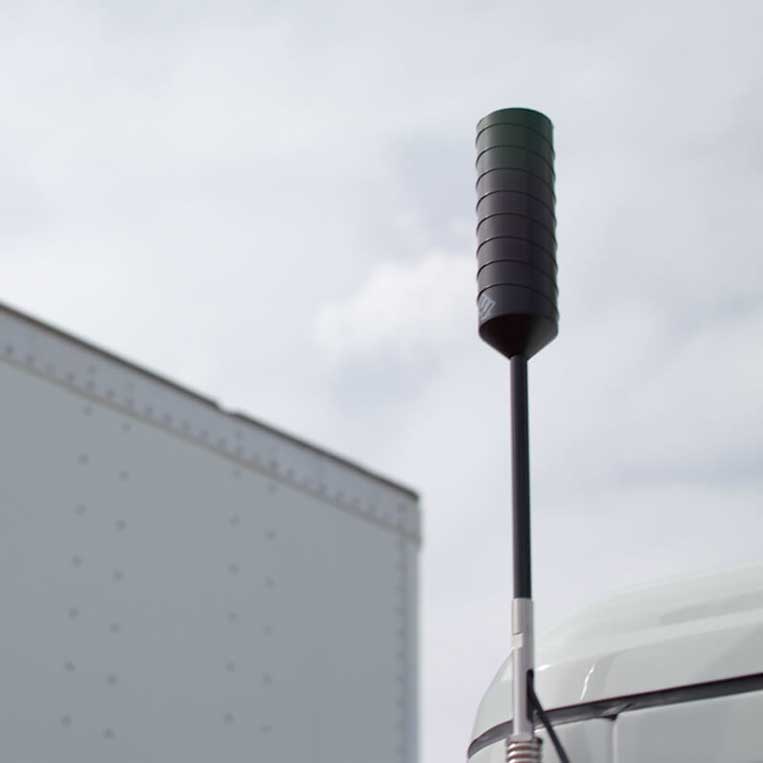 We definitely recommend the Over The Road antenna for any truck, even if you don't have an OTR vehicle. It has higher power than a typical vehicle antenna, so it will reach farther and give better consistent signal throughout your vehicle. It can be easily mounted on any Ford F150, Chevy Silverado, Dodge Ram, Toyota Tacoma, or GMC Sierra.
If you have an OTR vehicle, this antenna is a no-brainer. As mentioned, the OTR antenna can go alongside or easily replace one of your CB antennas to give you boosted signal. We at Wilson Amplifiers offer truck-specific mounts for Cascadia Freightliners, M2 106 Freightliners, Kenworth W990s and T680s, Peterbuild 579s and 389s, Volvo VNRs and VNLs, and Anthem and Pinnacle Mack Trucks.
In addition, we carry mounts for all semi-trucks (except Volvo) to allow for placement of the antenna on the passenger side spot mirror using the M6 Bolt, and all semi trucks at the back of the cab using an M8 Bolt.
How Does a Trucker Cell Phone Signal Booster Work?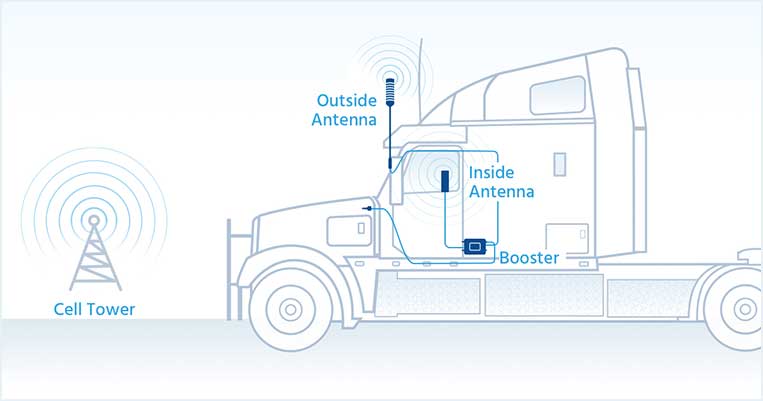 A trucker cell phone signal booster snatches existing outside signal, amplifies it up to 32x, and then broadcasts the boosted signal within a confined space. This is why your truck is perfect for these devices. A complete signal boosting kit typically consists of an outside antenna to snatch signal, the amplifier (or cellular repeater) itself, an interior antenna to broadcast the signal indoors, and cable to attach them all together.
The amplifier also needs access to a power supply, but can plug directly into your truck's AV power source.
Hope this helps. If you have any further questions or concerns, please leave them in the comments. We try and answer every single one!
How May We Help You?
Wilson Amplifiers is the leading provider of cell phone signal boosters. Cell phone boosters amplify 3G & 4G LTE for any phone with any carrier for home, office, or vehicle.
We seriously hate dropped calls and poor coverage, so it's our goal in life to stomp on spotty signal like the little roaches they are:
Free consultation (ask us anything) with our US-based customer support (sales@wilsonamplifiers.com) or call us at 1-800-568-2723.
Free shipping.
Better signal or industry-leading 90 money-back guaranteed. No questions asked.
We want everyone to be satisfied, so we provide lifetime technical support and a 2-year warranty for all products.
Ask us anything and we'll be glad to help.