on December 15, 2016 Alex Thompson
US Cellular is the country's fifth largest full-service wireless carrier and offers an expansive 4G LTE network that purportedly reaches roughly 99% of their 4.8 million customers.
And while the network might technically cover many of these customers, the number that actually have a strong enough signal to fully access 4G is a different story entirely.
So, in order to take full advantage of 4G LTE as well as 3G, you first need to find out how to boost your weak cellular signal.
The Predicament:
Are you having trouble figuring out why your cell isn't hopping onto 4G, leaving you with lackluster reception and unpredictable coverage? You've probably got a weak signal.
Many people think a weak signal simply comes from being too far away from a transmitter tower. And though being on the edge of a coverage area will definitely leave you with spotty reception, the true culprit is more than often interference.
There are a wide range of both objects and forces that can interfere with your phone's signal. Solid, dense material like the metal, concrete, and rebar found in most buildings are a pretty common cause of signal interference. And when you combine that with the lack of reception in tunnels and subways, city-dwellers may have an especially hard time connecting to 4G LTE.
It's not just manmade objects either. Mountains, forests, clouds, precipitation and even abnormal changes in temperature can easily deflect, warp, and significantly weaken your cell signal, leaving you with choppy calls and snail's pace downloads.
The Solution:
So how the heck are you supposed to get the reception you signed up for if practically everything around you causes interference? By using a US Cellular Signal Booster.
These nifty little devices boost the strength of your weakened cellphone signal up to 32 times its original power, giving you the coverage you need in especially hit-or-miss areas like your basement or your vehicle.
See the Top 6 US Cellular cell phone signal boosters right now right now.
Just think about all the different benefits a stronger signal will give you:
Steady service.
Quicker internet speeds including faster downloads and uploads.
A wider coverage area – no more "dead zones" around your home.
Reception you can depend on – say goodbye to dropped calls.
No more static and finicky service.
You may have heard the term MicroCell thrown around when it comes to the topic of signal boosting. Let's be clear: these are not MicroCells! MicroCells usually require a landline internet connection with monthly landline internet fees.
And although US Cellular doesn't sell these MicroCells as it is, don't be fooled into thinking you should have to pay your cellular company even more monthly fees just to get the kind of service you were promised in the first place.
Signal boosters on the other hand don't require any landline connection or fees. Instead, they use the signal your device itself is creating and extend it by amplifying it up to 32X the original power.
If you want a stronger signal on your terms then, your best bet is a signal booster.
That's where we come in:
In the world of FCC-certified signal boosters there are plenty of choices out there: some provide a bargain-based product that may or may not do as it claims, others charge an exorbitant price for devices that fail within their first year.
But when it comes to best-in-class US Cellular cell phone boosters that offer power and peace of mind backed up by a money-back guarantee, weBoost by Wilson Electronics has proven itself to be an industry leader for years.
That means you don't have to switch carriers to get rid of those pesky half-full loading bars, far-too-frequent dropped calls, or the weak, muffled voice quality that you deal with day in and day out.
One of the best things about weBoost signal boosters from Wilson Electronics is the fact that they're so versatile. If, for instance, you end up leaving US Cellular you can use these same amplifiers with AT&T, Verizon, Sprint and other major carriers.
What about different phone types you ask? Well, weBoost extends the same signal boosting power across every cell phone brand.
That means iPhones, Androids, Samsungs, LGs, Blackberrys and more (basically all phones) are all fully compatible with weBoost signal boosters.
If you can't seem to get a signal in the heart of a sprawling metropolis or in your miles-from-civilization hideaway, our US Cellular approved cell phone boosters will blast through the concrete jungle and extend to that far-off tower to give you the power and accessibility you need.
And better yet, we offer a variety of low-cost options, scaling from 1-2 room catered boosters all the way up to commercial-grade coverage at 100,000 sq ft!
And don't forget about our vehicle signal boosters either. From cars and sedans to RVs and boats, our signal boosters will supercharge your cell signal no matter what kind of vehicle you're in.
Your Guarantees
At Wilson Amplifiers, our motto is simple: "Provide solutions. Don't sell boxes." And nothing stand more true to this motto than our risk-free policies:
Completely free consultation with our top-notch customer support team based in the US (sales@wilsonamplifiers.com).
Free shipping.
Better signal or money back guarantee.
2-year manufacturer's warranty. Anything happens, we'll take care of it.
No taxes outside the state of Texas.
All of our satisfied customers are provided with lifetime technical support. And in the unlikely event you do run into a problem, our dedicated support staff will help you find a solution by actually listening to the details of your problem, not just blurting out a pre-made one-size fits all response.
We believe in our products, which is why we do everything we can to ensure you do too.
Our years of experience have led to over 45,000 satisfied customers and an industry expertise in how to fix your weak cell phone signal.
Don't just take our word for it though. Just have a look at these reviews from some of our past customers.
Our commitment to high-quality service as well as our premium US Cellular wireless network extenders are a few of the reasons we've landed on the Inc 5000 Fastest Growing Companies List for two years in a row.
Listed below are the six most popular US Cellular wireless boosters. They're ranked from good to better to best and are in two categories: home cell phone boosters and car cell phone boosters. So have a look, and take your signal power into your own hands!
---
US Cellular Cell Phone Signal Boosters For Home & Office
GOOD: weBoost Home 4G (Coverage 1-2 Rooms)
PROS:
Boosts talk, text, internet, 3G & 4G LTE data.
Works for all phones on US Cellular & other carriers.
Coverage range from desktop range (5-8 feet) up to 1-2 rooms (250-500 sq ft) sq ft depending on signal.
Entry-level model model
+60 dB gain
CONS:
Generally for people with good signal outside, poor signal inside.
Limited range, best for SOHO (small office, home office) scenario.
Our Take:
A sturdy and respectable choice for home-based signal booster. While the peak performance might get you 1-2 room coverage, some customers have reported needing to be closer to the antenna than they thought they'd have to be.
Those looking for a more consistent range estimate might find that it'll perform well in a single office, home office (SOHO), and other small areas like cabins and apartment with good outside signal, but poor inside signal. Those need more power should look to the next item on our list.
---
BETTER: weBoost Connect 4G (Coverage: Whole Home)
PROS:
Boosts talk, text, internet, 3G & 4G LTE data.
Works for all phones on US Cellular & other carriers
Coverage range from 500 sq ft to 5000 sq ft depending on signal.
Most popular model
+65 dB gain
CONS:
Good for most homes at 3-4000 sq ft. Rural areas and homes over 5,000 sq ft will need a stronger booster.

Our take:
This may be our most popular US Cellular signal booster. While some may find they're able to get coverage of up to 5,000 sq ft, these results are common only under the best conditions depending on your current outside signal.
Customer surveys and reviews put the average around 2,500-3,000 sq ft. This is one of the best options out there for most size homes and small offices, farm houses, and building with less than 5,000 sq ft.
In general, this is the best bet for anyone out there who's noticed dropped calls, off-and-on reception, and a typically weak signal.
---
BEST: weBoost Connect 4G-X (Coverage: Large Home)
PROS:
Boosts talk, text, internet, 3G & 4G LTE data.
Works for all phones on US Cellular & other carriers.
Coverage range from 2,000 to 7,500 sq ft depending on outside signal.
Most powerful consumer unit.
+70 dB gain
CONS:
Expensive. May be needed for areas of extremely limited service.
Our take:
When it comes to US Cellular 3G &4G signal boosters, it doesn't get any more powerful than this.
With a maximum range of up to 7,500 sq ft and most customers with poor signals experiencing an average range of 5,500 sq ft, the weBoost Connect 4G-X is perfect for anyone with an especially weak signal. If you're living or working in remote areas or multistory buildings, you'll find this signal booster particularly useful.
---
US Cellular Cell Phone Signal Boosters For Cars & Vehicles
GOOD: weBoost Drive 4G-S
PROS:
Boosts talk, text, internet, 3G & 4G LTE data.
Works for all phones on US Cellular & other carriers.
Cradle booster (phone must be sitting on top cradle to get boost)
Entry-level unit
+23 dB gain
CONS:
Phone must be sitting on the dock to get any boost.
Our take:
This bargain-based car signal booster is a quality product for a cheap price that's right at home one your dashboard. For best results, your smartphone should be placed in the cradle to get the maximum signal boost; could be a tight fit with wider smartphones though. Pair it with your Bluetooth headset for the best results!
---
BETTER: weBoost Drive 4G-M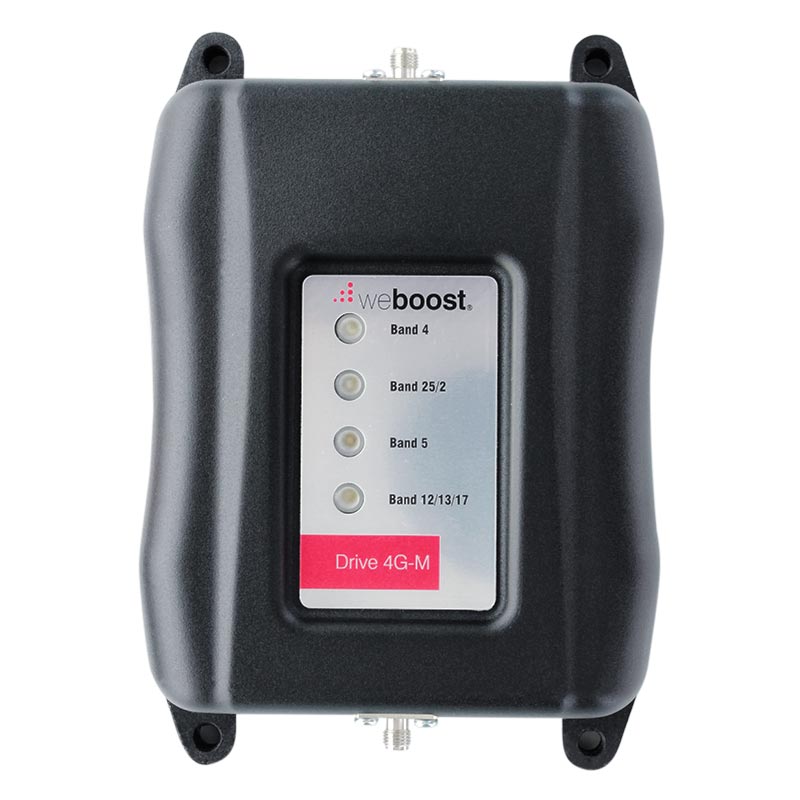 PROS:
Boosts talk, text, internet, 3G & 4G LTE data.
Works for all phones on US Cellular & other carriers.
For the city & other areas
Most popular unit
+50 dB gain
CONS:
Great performer in the city, average to good performer in rural areas.
Our take:
A barely noticeable inside antenna and a discrete outside antenna help make the Drive 4G-M our most popular car signal booster by far. And although some customers reported they had to be closer than expected to the antenna, the majority reported at least a 2 to 3 bar increase in signal strength.
---
BEST: weBoost Drive 4G-X
PROS:
Boosts talk, text, internet, 3G & 4G LTE data.
Works for all phones on US Cellular & other carriers.
For rural, remote, off-the-grid areas.
Most powerful unit.
+50 dB gain.
CONS:
Expensive. But needed for very rural areas.
Our take:
With maximum uplink power at 2x compared to other boosters, this leads to about 30-60% more reach to the cell tower. This leads to better reception, stronger signal, and reliable connections. If you want the best call quality you can get, even in extremely rural areas, the 4G-X is the way to go.
---
Need to learn more? Check out our Definitive Guide to Signal Boosters:
---