Hotspot Signal Booster: Improve Your Portable WiFi and Cellular Router
How Can I Boost My Mobile Hotspot Signal?
Call them what you want: Jetpack, Mifi, Mofi, AirCard, Cradlepoint router, cellular router, USB internet stick, mobile WiFi... these are all essentially 4G/5G cellular routers (hotspots) that use the same technology.
They're all mobile broadband devices that use 5G, 4G, and LTE cellular networks to create a private WiFi for your cell phone, tablet, and laptop. Though, sometimes your cell signal may not be strong enough to deliver reliable WiFi.
We fix poor cell phone signal! Find the right signal booster for you:

For Home

For Vehicle

For Business

For Commercial
What is a Mobile WiFi Hotspot and How Does it Work?
A mobile WiFi hotspot is a device that uses the cellular network to create a reliable WiFi connection for phones, computers, tablets, and more. These devices are typically cell phones, cellular routers, and standalone mobile hotspots. They do this using SIM cards with active data plans.
The reliability and speed connected devices receive will all depend on the strength and quality of your mobile network.
What's the Difference Between Standard WiFi and a Mobile Hotspot?
WiFi is the technology that lets devices access the internet wirelessly. The internet source can be an internet service provider (ISP) or a cellular signal. Most WiFi networks found in buildings are wired to ISPs. Devices can only wirelessly connect when they're near or in the building.
With a mobile WiFi hotspot, you can keep multiple devices connected anywhere cellular service is available. Your connection isn't fixed to one location. Think of a mobile hotspot as portable WiFi. It's ideal for connecting a laptop, tablet, or game machine to the net while on the go or where WiFi cables have a hard time reaching.
Why is My Hotspot Slow?
Your hotspot is slow because of bad cell service.
While the ability to connect anywhere and everywhere is the biggest highlight of using a hotspot, there is a big limitation beyond just data usage.
When the incoming cellular signal is good, then yes, your hotspot WiFi performs as fast as any broadband landline internet.
When it doesn't?
Spotty WiFi connection
Slow internet speeds
Dropped VoIP (Voice over IP) calls
Several minutes to load a single page
Limited streaming range
Lucky for you, there's a solution.
It's called a hotspot signal booster. It boosts the 4G and 5G signal your hotspot uses to broadcast reliable WiFi.
How Does a Hotspot Signal Booster Work?
Portable WiFi hotspots and cellular routers work by taking existing cell signal and converting it to WiFi. A WiFi hotspot amplifier enhances the received cell signal and rebroadcasts it to an area in need. For example, the room where your mobile hotspot is most used.
It does this with 3 components:
The Outside Antenna pulls in cellular signal.
The Amplifiers boost the cellular signal.
The Inside Antenna rebroadcasts the stronger signal inside your home or vehicle.
Stronger 5G, 4G, and LTE mean better coverage, smooth internet, faster streaming, and consistent service.
If your hotspot has a port or adapter for an external antenna, with the right connector you might be able to DIRECTLY connect to the amplifier for maximum signal boost.
So, what are the guarantees?
Works for all carrier hotspots (AT&T, Verizon, T-Mobile, Sprint, etc.)
Works for all cellular devices and routers (Netgear, Cradlepoint, Peplink, Linksys, Digi, etc.)
One-time purchase, no monthly fees
Independent device does not need to be connected to landline internet
Better signal or 90-day money-back guarantee
What Types of Hotspot Signal Boosters Are Available?
We carry two types of hotspot boosters.
The first type is a typical cell phone booster, which will boost cell signals throughout a space. These not only boost the output power of your hotspot, but also eliminate other problems such as dropped calls. We recommend these to people who want better signal for more than just their hotspot or cellular router at home or on the go.
The second type plug directly into a cellular router or mobile hotspot. They dramatically improve performance. These are for those who have trouble getting internet and want to leverage the cellular service they receive at home. Even if your existing cellular router works, buying specialized antennas and hotspot M2M boosters can significantly boost WiFi speeds.
Below are our top choices for improving hotspots ranging from home to car to commercial use:
Top Cellular Router and Hotspot Signal Booster for Homes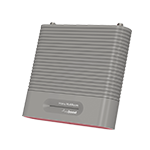 The weBoost Home MultiRoom is designed to blanket multiple rooms or a whole single-story, midsize home with reliable cell signal. This is the best option for those who want to boost more than just their mobile hotspot signal in their home.
This is the unit we recommend for most people. It's powerful and can communicate with far away cell towers. Under perfect conditions, it can cover up to 5,000 sq ft. Whether you live in the suburbs or on the network's edge, it'll keep your mobile hotspot and other necessary devices online.
For those in extremely rural areas, this is the lowest grade signal booster for hotspots you should consider.
Top Cellular Router and Hotspot Signal Booster for Vehicles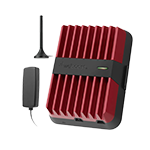 The weBoost Drive Reach is the most powerful vehicle booster and an ace at boosting signal for portable hotspots. Featuring the highest uplink of any multi-carrier booster, it can reach farther cell towers. It's the best unit for urban and rural driving.
A slim outside antenna picks up signal, and a discreet inside antenna rebroadcasts it inside. With improved cell reception, your hotspot can easily keep your tablet or laptop connected on the go.
There is a Drive Reach for any vehicle type. Keep your mobile hotspot running smoothly in a car, pickup truck, SUV, RV, boat, or semi.
Top Cellular Router and Hotspot Signal Booster for Businesses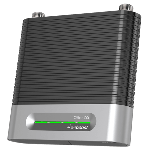 The weBoost for Business Office 100 is a powerful commercial grade signal booster for small businesses and large homes. It features leading amplification capabilities and output powers for superior cellular signal indoors. It can cover areas up to 25,000 sq ft.
All cellular devices within the unit's range will receive stronger signal. This includes cellular hotspots and routers. Connected devices will experience improved WiFi speeds, reliability, and performance. With XDR technology, the unit adapts to your signal environment, ensuring continuous uptime. Mobile hotspots will not have any issues keeping devices connected.
So, if you want to amplify cellular coverage for all cell phones and improve your mobile hotspot's performance, the Office 100 is a great investment.
Top Direct Connect Cellular Router and Hotspot Signal Booster
The Hotspot M2M Signal Booster Bundle complements TS9 cellular routers and portable hotspots. It's ideal for those who have trouble getting internet and strong cell signal in their home. Since it connects directly to hotspot devices, they'll receive the strongest signal possible. This'll allow for superior WiFi broadcasting. If that's all you're looking for, this is the setup to get. However, this will not provide cellular signal to any other device than the one it's plugged into.
With most cellular hotspots being carrier specific, the Yagi antenna bundle is recommended, especially for fringe areas. They can reach further towers and receive a clearer signal.
Important Note about Hotspot M2M Boosters:
The bundles are structured around connectors. Make sure you get the right connector for your cellular router or hotspot. NETGEAR routers tend to utilize TS9 connectors, whereas Cradlepoint, Linksys, Peplink, etc. tend to use SMA. This is not universal, however, and will vary between routers, so please check before purchasing.
Top Cellular Router and Hotspot Antenna Expansion Pack
This Hotspot Antenna Expansion Pack does not include an amplifier. It simply provides a more powerful cellular antenna that can replace your current ones. This setup allows those with problematic building materials to bring their cellular signal inside easily and without spending too much money. However, if you're looking for maximum boost, definitely go for the Hotspot M2M Signal Booster.
Important Note about Cellular Antenna Expansion Packs:
The bundles are structured around connectors. Make sure you get the right connector for your cellular router or hotspot. NETGEAR routers tend to utilize TS9 connectors, whereas Cradlepoint, Linksys, Peplink, etc. tend to use SMA. This is not universal, however, and will vary between routers, so please check before purchasing.
How to Improve Weak Cell Phone Signal for Your Hotspot
Wilson Amplifiers is a leading provider of home, commercial, and vehicle hotspot signal boosters. They significantly amplify 4G, LTE, and 5G for all phones and mobile hotspots across all carriers. We can help you improve your mobile hotspot's performance.
We seriously hate poor connectivity, and it's our mission to educate people on ridding it from their lives:
Free consultation (ask us anything) with our US-based customer support (sales@wilsonamplifiers.com) or call us at 1-800-568-2723.
Free shipping.
Better signal or industry-leading 90 money-back guaranteed. No questions asked.
We want everyone to be satisfied, so we provide lifetime technical support and a 2-year warranty for all products.
Ask us anything and we'll be glad to help.
Interested in Learning More? Check Out Our Signal Boosting Info Center
THE WILSON AMPLIFIERS ADVANTAGE
FREE SHIPPING No Minumum Purchase
90-DAY
Money Back Guarantee
LIFETIME
Technical Support