Hotspot Signal Booster: Improve Your Portable WiFi and Cellular Router
How Can I Boost My Mobile Hotspot Signal?
Call them what you want: Jetpack, Mifi, Mofi, AirCard, Cradlepoint router, cellular router, usb internet stick, mobile WiFi... these are all essentially 4G routers that use the same technology.
They are mobile hotspot devices that use cellular signals & data (5G, 4G, LTE, 3G) to create a personal WiFi for your cell phone, tablet, and laptop.
It's not a matter of MiFi vs. Wifi, but a matter of convenience.
We fix poor cell phone signal! Find the right signal booster for you:

For Home

For Vehicle

For Business

For Commercial
What is a Hotspot?
A mobile hotspot is a WiFi connection that comes from your phone, or dedicated device. You're able to connect to this WiFi from multiple devices.
Think of a mobile hotspot as portable WiFi. This is fantastic for connecting a laptop, tablet, or game machine to the net while on the go or where WiFi cables have a hard time reaching.
How Does a Hotspot Signal Booster Work?
A hotspot works by taking existing cell signal and converting it to WiFi.
Essentially, your cell phone or cellular router uses the same signal it always does and rebroadcasts it as WiFi. Bear in mind that using your phone as a hotspot can eat away at your data quickly, especially as more devices use the connection.
Why is My Hotspot Slow?
Your hotspot is slow because of bad cell service.
While the ability to connect anywhere and everywhere is the biggest highlight of using a hotspot, there is a big limitation beyond just data usage.
When the incoming cellular signal is good, then yes, your hotspot WiFi performs as fast as any broadband landline internet.
When it doesn't?
Spotty WiFi connection
Slow internet speeds
Dropped VoIP (Voice over IP) calls
Several minutes to load a single page
Limited streaming range
Lucky for you, there's a solution.
It's called a hotspot signal booster. It boosts the 4G signal coming to your hotspot.
How to Make Your Hotspot Faster?
The best method is a hotspot signal booster.
A hotspot signal booster (also known as a cell phone signal booster or cellular repeater) takes the incoming cell signal, amplifies it, and then rebroadcasts the signal to an area in need (i.e. your hotspot router).
It does this with 3 components:
The Outside Antenna pulls in cellular signal.
The Amplifiers boost the cellular signal.
The Inside Antenna rebroadcasts the stronger signal to an area in need.
Stronger 4G, LTE, and 3G means better internet connection, faster streaming data, consistent service, and wider coverage area.
Depending if your hotspot has a port or adapter for an external antenna, with the right connector you might be able to DIRECTLY connect to the amplifier for maximum signal boost.
So what are the guarantees?
Works for all carrier hotspots (AT&T, Verizon, T-Mobile, Sprint, etc.)
Works for all cellular devices and routers (Netgear, Cradlepoint, Peplink, Linksys, Digi, etc.)
One time purchase, no monthly fees
Independent device, does not need to be connected to landline internet
Better signal or 90-day money back guarantee
What Types of Hotspot Signal Boosters Are Available?
We carry two types of hotspot boosters.
The first type is a typical cell phone booster, which will boost signal throughout a space. These work really nicely as not only will they boost the output power of your hotspot, but will also eliminate other problems such as dropped calls. We recommend these to people who don't plan on using a hotspot or cellular router as their primary internet source, or those who are most interested in using a hotspot while on the go. For those people, we recommend vehicle boosters.
The second type plug directly into a cellular router and give dramatically improved performance. These are for those who have trouble getting internet otherwise, and want to leverage the cellular service they receive at home. Even if your existing cellular router works, buying specialized antennas and M2M boosters for them can see dramatic increase in WiFi speeds.
Below are our top choices for improving hotspots ranging from home to car to commercial use. Start boosting your WiFi hotspot signal instantly:
Cellular Router and Hotspot Signal Booster for Homes
The Best Direct Connect Hotspot Signal Booster for Cellular Routers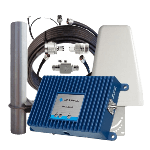 Boosts cellular signal by directly connecting to your cellular router or modem
Customizable - numerous antenna and connector setups for your exact router
Best for buildings that block cellular signal
Provides guaranteed increase to WiFi speeds
FREE shipping, no minimum purchase.
90 Day money back guarantee.
Lifetime support.
Our Review:
The Hotspot M2M bundle is designed specifically for cellular routers and those who have trouble getting Internet and strong cell signal in their house. It's the ideal hotspot signal booster, too - as long as you get it to connect.
You can realistically expect this setup to provide the maximum amount of power for your cellular router, as it connects directly to it. If that's all you're looking for, this is the setup to get. However, this will not provide cellular signal to any other device than the one it's plugged into.
IMPORTANT NOTE:
Our bundles are structured around connectors. Make sure you get the right connector for your cellular router. NETGEAR routers tend to utilize TS9 connectors, whereas Cradlepoint, Linksys, Peplink, etc. tend to use SMA. This is not universal, however, and will vary between routers, so please check before purchasing.
Hotspot Signal Boosters For Vehicles
The Best Hotspot Signal Booster for Vehicles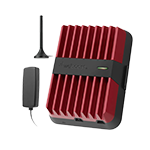 Up to +50 dB of gain - the max allowed for a mobile signal booster in North America
Highest uplink output of any vehicle booster
Works for all phones and all carriers, including hotspots
Sleek, metallic exterior designed to displace excess heat for peak performance
Better talk, text, and data speeds guaranteed
FREE shipping, no minimum purchase.
90 Day money back guarantee.
Lifetime support.
Our Review:
The weBoost Drive Reach is the newest, most powerful vehicle booster from Wilson Electronics, and is an ace at boosting signal for your hotspot while on the go.
A slim outside antenna picks up signal. A discreet inside antenna (usually Velcroed to the driver seat) broadcasts signal inside. You have to be about an arm's length to get the boosted signal, so it's best for your typical sedan, truck, or SUV. It does not connect directly to your hotspot, but it will provide boosted cellular signal for up to four simultaneous devices.
This is the best booster no matter where you live, as not only does it reach farther to the cell towers for rural areas, but it does a better job handling more noisy, urban environments than other hots pot signal boosters on the market.
Expansion Pack
Budget Cellular Router or Hotspot Signal Booster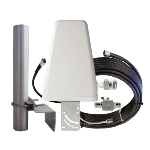 Brings strong outside cellular signal inside
Attaches directly to a cellular router
Perfect for any cellular router or hotspot
Guaranteed to increase cellular router internet speed
FREE shipping, no minimum purchase.
90 Day money back guarantee.
Lifetime support.
Our Review:
This is a bundle without an amplifier, and simply provides powerful antennas for your router. This allows those who have problematic building materials to bring their cellular signal inside easily and without spending too much money. However, if you're looking for maximum boost, definitely go for the Hotspot M2M Signal Booster.
IMPORTANT NOTE:
Our bundles are structured around connectors. Make sure you get the right connector for your cellular router. NETGEAR routers tend to utilize TS9 connectors, whereas Cradlepoint, Linksys, Peplink, etc. tend to use SMA. This is not universal, however, and will vary between routers, so please check before purchasing.
Cellular Router and Hotspot Signal Booster for Commercial Buildings
Up to 25,000 Sq. Ft.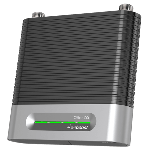 5G-Capable
Boosts talk, text, and data speeds
Up to +72 dB of gain
Up to 24 dBm uplink and 12 dBm downlink
Works with multiple cellular devices across all carriers
Expansion kits available to extend coverage
Available in 50 Ohm and 75 Ohm variants
Great for urban and rural areas
FREE shipping, no minimum purchase
90 Day money back guarantee
Our Review:
The weBoost for Business Office 100 is a powerful entry-level signal booster for small commercial buildings and large homes. It features leading amplification capabilities and enhanced output powers for superior cellular signal indoors. All cellular devices, including portable hotspots and cellular routers, inside your home or office will receive a stronger signal, which will improve data speeds and performance. Thus, not only will your cellular device receive a reliable cellular connection, but all WiFi-dependent devices (laptops, cameras, tablets, etc.) will also receive a reliable wireless internet connection from your cellular router. If you want to simultaneously amplify cellular coverage for all cell phones inside your building and improve your cellular router's performance, the Office 100 is a great investment.
How to Improve Weak Cell Phone Signal for Your Hotspot
Wilson Amplifiers is the leading provider of cellular signal boosters. Cell phone boosters amplify cell signal for any phone for any carrier for home, office, or vehicle.
We seriously hate dropped calls and poor coverage, and it's our mission to educate people on ridding it from their lives:
Free consultation (ask us anything) with our US-based customer support (sales@wilsonamplifiers.com) or call us at 1-800-568-2723.
Free shipping.
Better signal or industry-leading 90 money-back guaranteed. No questions asked.
We want everyone to be satisfied, so we provide lifetime technical support and a 2-year warranty for all products.
Ask us anything and we'll be glad to help.
THE WILSON AMPLIFIERS ADVANTAGE
FREE SHIPPING No Minumum Purchase
90-DAY
Money Back Guarantee
LIFETIME
Technical Support