Cell Phone WiFi Signal Booster
Improving Your Cellular WiFi Internet Service
You get internet service through two ways.
We fix poor cell phone signal! Find the right signal booster for you:

For Home

For Vehicle

For Business

For Commercial
Method 1:
Connecting to a router that uses landline internet provided by internet service providers such as Time Warner Cable, Comcast, Verizon Fios, and AT&T Uverse.
This is known as wireline internet.
[Ed's Note: If you're looking for a Wireline Wifi Signal Booster, we'd recommend the AmpliFi HD, Netgear Orbi, or Google Wifi System.]
Method 2:
Connecting to 4G, LTE, and 3G services provided by cell phone carriers such as Verizon, AT&T, and T-Mobile/Sprint.
This is called wireless internet.
Wireless Internet
While the majority of Americans still depend on wireline home internet, the shift to going truly wireless has grown tremendously. A recent Pew Study showed that over 12% of the population is strictly smartphone-only, with 50% growth from 2015-2018 - and that's before 5G launched.
In short, 4G LTE (and soon 5G) speeds have caught up and are successfully bridging the gap between both technologies and helping people cut the cord and embracing their smartphones & cellular devices as the hub of their digital activities.
But, as they say, every rose has its thorn.
WiFi Signal Boosters: "Hello, Can You Hear Me Now?"
The beauty of using cellular services to connect to the internet is that it's everywhere. You're not tethered to the WiFi router. Moving from inside the home to the car to literally anywhere around the town is effortless.
But it's all dependent on one thing: quality signal.
What is a WiFi booster?
Browsing the web, streaming video, text messaging, posting the latest pics on Facebook or Instagram, you're going to need fast internet. One bar of 4G signal isn't going to cut it.
Luckily, there's a solution.
It's called a cell phone signal booster.
A cell phone WiFi booster takes outside cellular signal, amplifies it, then rebroadcasts the signal to an area in need inside your home or car.
More bars, more speed, always connected.
Cell Phone Signal Booster? I'm here about WiFi!
That may be true, but wouldn't you love to have a portable WiFi router with you, anywhere you need signal? A cell phone WiFi signal booster can function not only to boost your cellular signal, but can become an extremely powerful hotspot signal booster if you decide to use your phone to provide wireless network connectivity to your other devices.
How Does a WiFi Booster Work?
A WiFi booster snatches the existing cell signal broadcast by your carrier, rebroadcasts it, which allows it to reach your phone or cellular device. This device then converts cellular to WiFi signal, and rebroadcasts it in the vicinity of your phone or hotspot, providing a portable, convenient WiFi router wherever you are.
What is the Difference Between a WiFi Booster and WiFi Extender
A WiFi extender makes no use of cellular signal, meaning you'll need existing WiFi signal before an extender will work. Essentially, a WiFi router (with, let's say, a cable connection) broadcasts its signal in a confined area, then an extender is placed strategically to pick up and then rebroadcast that signal around walls and through homes and buildings to "extend" the range of the WiFi signal.
The downside to an extender is exactly that: it needs cabled WiFi to exist at all. So in more remote areas, where getting anything cabled into your house is a chore, this can be prohibited. But if you have any cellular signal on your property at all, a cell phone WiFi signal booster will still be able to function.
But Why Should I Pay Extra for Something I Should Already Be Getting?
In the long run, a cell phone WiFi booster is all about convenience and empowerment. Even if you are living right next to a cell tower, you'd still might not get quality signal.
Here's why:
Cell phone signals are radio waves, the AM-FM kind. Like all radio frequency waves, they are easily susceptible to interference. Almost everything under the sun can alter, absorb, and disrupt your cellular service.
For example:
Cell tower distance
Outside interference: Trees, hills, mountains, valleys, and tall structures.
Building material (the LEADING cause of poor cellular service): Metal, glass, concrete, brick, energy-efficient material, and other conductive material (electrical or magnetic).
Internal building obstructions: Thick walls, plaster, drywall, wood and electrical devices & clutter, etc.
Even weather (yup).
It just takes one or any combination of these problems and you can say goodbye to any decent signal.
And we all know that gut-wrenching frustration when nothing is loading.
The question to you then is "What's the price?"
What's the price you'd pay to avoid spotty reception, slow or no internet, constant loading scenes, emergencies, peace of mind, etc. everyday for the rest of your life?
Well, that's what a cellular WiFi signal booster does for you:
Helping you cut the cord, save monthly on landline internet, getting faster internet 24 hours a day.
Below are our top choices for cellular WiFi solutions for use inside your home or car:
Cell Phone Wi-Fi Signal Booster for Home
The Best Cell Phone WiFi Signal Booster for Home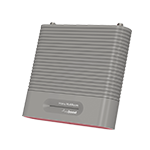 5G ready. Boosts talk, text, and 4G LTE and 3G data
Up to 5,000 sq ft of cell phone WiFi coverage under best conditions
Up to +65 dB of gain, with 21 dBm uplink and 12 dBm downlink
Multiple accessories for maximum coverage and customization (sold separately)
Complete coverage for multiple rooms or midsize home for all carriers across multiple devices
Outdoor yagi antenna and indoor panel antenna configuration, with stylish fabric front
The weBoost Home MultiRoom is designed to cover several rooms, an entire floor, or a whole midsize, one-story home with cell phone WiFi signal. As its name suggests, you can expect multiple rooms of coverage with the unit assuming decent outside cellular signal. Assuming flawless outside signal, you can expect up to 5,000 square feet of coverage, but in most situations you can expect 2,000-3,000 square feet of indoor coverage. If you live in a rural area with very weak outdoor signal, expect significantly reduced coverage. In fact, if you're in an area with next to no signal, this is the lowest grade signal booster you should ever consider buying.
It features a nice, clean look, with an indoor antenna that won't stand out amid your existing home decor.
The weBoost Home MultiRoom boosts signal for all major North American carriers. Should you ever change carrier, the weBoost Home MultiRoom will still work.
If you live in an extremely weak signal area, or have a really big house you want to cover, consider its sister product, the weBoost Home Complete.
The Most Powerful Cell Phone WiFi Signal Booster for Home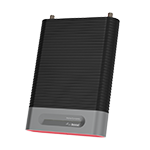 Superior cell phone service for your entire home. 5G Ready
Up to 7,500 sq ft of coverage under best conditions
Up to +72 dB of gain, with 24 dBm uplink and 12 dBm downlink
Multiple accessories for maximum coverage and customization (sold separately)
Complete coverage for entire home for all carriers across multiple devices
Outdoor yagi antenna and indoor panel antenna, with stylish fabric front
The weBoost Home Complete is the most powerful consumer line booster you can get. With an additional +5 dB over the Home MultiRoom, it's roughly a shade over 3x more powerful. And with its 24 dBm uplink and 12 dBm downlink, it can reach far distanced towers and provide wider in-building coverage. Perfect for people who live in large homes with strong outside signal or midsize homes with weak outside and want whole-home coverage.
Coverage is determined by how strong or weak your outside signal is. Under perfect condition, it can cover areas up to 7,500 sq ft. Most people, however, get between 4,000-6,000 sq ft of coverage. If you live in an area with extremely weak cell phone WiFi signal, this is your best option for decent coverage - you'll probably be getting 1,500-3,500 square feet from it.
To maximize your coverage, additional antennas are required, especially if you're trying to cover more than one floor. Not to mention, it features an aesthetically pleasing design to fit in with your home décor.
If you want to take advantage of all the benefits the weBoost Home Complete offers but don't want to worry about installing the unit yourself, consider the weBoost Installed Home Complete. It's the only consumer booster on the market that includes a professional residential installation.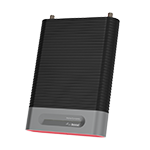 The Most Affordable Cell Phone WiFi Signal Booster for Home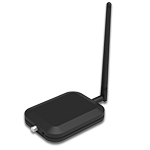 5G ready booster. Amplifies 4G LTE and 3G signals
Up to 2,000 sq. ft of coverage under best conditions
Up to +60 dB of gain
Compact design, fits on any flat surface
The weBoost Home Studio is the most affordable home booster for those who are on a budget and only want to improve their cell phone WiFi signal in small areas. It works with multiple cellular devices and amplifies cell phone WiFi signals for all major US carriers.
Under perfect condition, meaning a strong outside signal and minimal cellular signal interference, the Home Studio can cover areas up to 2,000 sq ft, enough for a small home, office, apartment, dorm, or condo. If you live in an area with weak outside signal, you'll probably get around 200-500 sq ft – enough for 1-2 rooms. Extreme remote locations will receive much less coverage.
For those extreme cases, consider the weBoost Home MultiRoom or the weBoost Home Complete for extended coverage.
Cell Phone WiFi Signal Booster for Car
The Best Cell Phone WiFi Signal Booster for Vehicles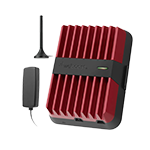 5G ready. Better talk, text, and data speeds guaranteed
Up to +50 dB of gain - the max allowed for a mobile signal booster in North America
Highest uplink output of any vehicle booster
Works for all phones across allcarriers, including WiFi hotspots
Sleek, metallic exterior designed to displace excess heat for peak performance
Extremely customizable: variants for any type of vehicle and setup.
The weBoost Drive Reach is the most powerful vehicle booster from Wilson Electronics, and is an ace at boosting cell phone WiFi signal.
A slim outside antenna picks up the signals, and an indiscreet inside antenna (usually Velcroed to the driver seat) broadcasts the signal inside your vehicle. For optimal results, you have to be about an arm's length from the inside antenna to get the boosted signal, so it's best for your typical sedan, truck, or SUV, but will work with any vehicle.
This is the best booster no matter where you live. With its increased uplink power, it can reach cell towers that are 2x further for twice the signal strength, making it much more powerful than its competitors and a strong performer in rural areas.
Highly recommended for heavy cellular hotspot users.
The Most Affordable Cell Phone WiFi Signal Booster for Vehicles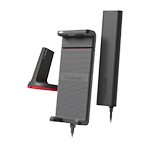 Amplifies talk, text, and data. 5G ready.
For a single smartphone
Cradle signal booster
Up to +23 dB Gain
Works with all cellular devices across all carriers
The weBoost Drive Sleek is about price and performance for the single user.
The kit includes a magnet mount antenna that can be easily installed on the roof of any vehicle and an adjustable cradle vent mount designed to hold any size smartphone or small tablet. To benefit from the boosted signal, your cellular device has to be in the cradle. And when paired with a Bluetooth headset, it really shines for hands-free calling and navigation.
It'll work best in urban and suburban areas but is not the strongest performer in extremely remote locations. If you tend to drive through areas where you have little to no signal, the Drive Sleek might not provide the results you're looking for. So for those extreme cases, consider upgrading to the weBoost Drive Reach.
Cell Phone Wi-fi Signal Booster for Commercial Buildings
The Most Popular Cell Phone WiFi Signal Bostter for Commercial Buildings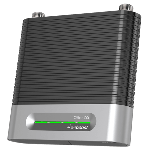 Boosts Voice, Text, 4G/LTE/3G Data. 5G Ready.
Commercial signal booster
Up to 25,000 sq ft of coverage under best conditions
Up to +72 dB gain
Automatic gain control to prevent overload
Works with all cellular devices across all carriers
Expansion kits available to maximize coverage
Great for urban and rural areas
The weBoost for Business Office 100 a powerful pro-grade signal booster designed to amplify cell signals for smartphones and cellular WiFi devices inside small business buildings. If your clients typically use mobile or portable WiFi hotspots inside your establishment, or you use a cellular router to cover your office with a reliable internet connection, the Office 100 has you covered with its leading amplification capabilities and enhanced output powers.
Even though the Office 100 is designed for commercial use, it's also a great choice for people with large homes who don't have reliable WiFi. This could be due to poor cellular coverage making it impossible to use mobile hotspots or reliable internet service providers not servicing the area.
With the Office 100, all cellular devices, including WiFi hotspots and cellular WiFi routers, will receive a stronger signal, improving performance and data speeds throughout your office or home.
Who are you and how can you help me?
Wilson Amplifiers is a leading provider of home, commercial, and vehicle cell signal boosters, devices that amplify 4G & 3G LTE for any phone with any carrier for home, office, or car. We've boosted over 10,000,000 sq ft of signal for homes, buildings, and vehicles across America and Canada.
Free consultation (ask us anything) with our US-based customer support. Email: (sales@wilsonamplifiers.com). Phone: 1-800-568-2723.
Free shipping. Usually ships same day.
90-day (seriously) money back guarantee. You want to make sure you're satisfied.
Our goal is simple: keep people connected. Ask us anything and we'll be glad to help.
THE WILSON AMPLIFIERS ADVANTAGE
FREE SHIPPING No Minumum Purchase
90-DAY
Money Back Guarantee
LIFETIME
Technical Support