Hotspot M2M TS9 Yagi Antenna Signal Booster Kit
Designed for Machine-to-Machine Communication
The Hotspot M2M Yagi Antenna Kit (for TS9 Routers) is a perfect complement to any cellular hotspot, as long as it can be plugged in via your cellular antenna port. It will greatly increase the power of your signal, bypassing building material and bringing enhanced signal directly to your hotspot. This results in more reliable internet service for you and your family via the cellular network.
Compatible cellular routers include, but are not limited to:
NetGear NightHawk models
...and any other router with at least one TS9 connector port.
The Wilson Pro IoT 5-Band (SKU: 460119) is the premier 4G M2M and Internet of Things signal booster. With up to +15 dB gain of power, it greatly enhances 4G LTE and 3G cell signal for any machine-to-machine device. There are no monthly fees nor does it need to be connected to any internet source (wifi or landline) to work. It simply amplifies your existing cellular service up to 32X for faster, more reliable data and Internet of Things communication.
Yagi donor antennas capture signal in a 45 degree "flashlight" radius, allowing for higher gain at a point of entry than their cousins, the omni-directional antenna. This requires a little more work to aim, but is frequently the best option for getting you improved signal, as these can work far better than an omnidirectional antenna when set up properly. This kit has a wideband outdoor antenna that captures existing cellular signal across the 698-2800 MHz frequencies.
Best used in rural and suburban areas, or anywhere outside signal is weak.
Who Is This For?
This expansion kit is designed for those who rely primarily on cellular signal to connect to the internet or want to set up a parallel network. The outside antenna bypasses troublesome building material to bring the existing outdoor cell signal directly to your router, greatly increasing its output. This pack is designed for routers with TS9 connector ports.
We recommend this yagi pack primarily for rural or suburban areas. For areas with weak outside signal, we recommend one of our M2M cellular modem kits.
Which Carriers Does It Support?
USA
...and other major US carriers.
Frequency & Brands
700 MHz (Band 12, 13, and 17)
850 MHz (Band 5)
1700/2100 (Band 4)
1900 MHz (Band 2)
Note:Does not support Sprint LTE Plus (formerly known as Spark), 2.5 Ghz spectrum. Other Sprint 3G & 4G LTE bands are supported.
How does it work?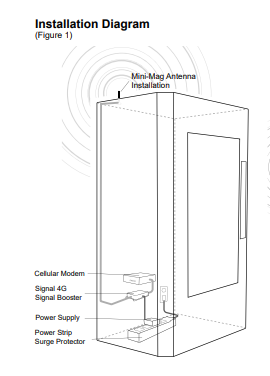 The external adapter plugs into the included antenna extension cable and directly into a socket on the cellular device. The provided donor antenna is placed atop or near the machine to pull in the existing signal, where it is brought to the booster, where it is amplified up to 32X.
The Signal 4G acts as a booster between your device and a cellular modem, providing uninterrupted signal.
Cell phone signal booster benefits
Eliminates dropped calls
Crystal clear voice
Quick text messages
Faster uploads & downloads (Internet)
Reliable reception
Wider coverage
Consistent connections
Reduces dead zones
Longer battery life
More bars, period!
What's included in the kit?
Each kit comes with everything you need for a complete installation.
M2M Amplifier/Repeater
Item # 460019
TS-9 to N-Female Jumper Cable
EXPECTED Coverage area
Your outside signal strength, especially the roof or fasica where you install the outside antenna, has a large impact on the amount of coverage area you get from a signal booster. It is important to know that there many unique factors that go into determining coverage area, so actual results may vary from these estimates.
To learn more about accurately reading getting your outside signal strength, please see our guide on Finding your true cellular signal: It's all about dB.
Product Specifications
Hotspot M2M TS9 Yagi Antenna Signal Booster Kit
FREQUENCY
BAND 12/17 - 700 Mhz; Band 13 - 700 Mhz;
BAND 5 - 850 Mhz; BAND 4 - 1700/2100 Mhz;
BAND 2 - 1900 Mhz
MAX GAIN
15 decibels (dB)
POWER
5V DC, 1A
CONNECTORS
SMA-Female/TS9
DIMENSIONS
3.3 x 1.9 x 0.8 in / 8.4 x 4.8 x 2.0 cm
WEIGHT
0.18 lbs / 0.08 kg (amplifier only)
UPC
850016974440
FCC Notice
This is a CONSUMER device.
BEFORE USE, you MUST REGISTER THIS DEVICE with your wireless provider and have your provider's consent. Most wireless providers consent to the use of signal boosters. Some providers may not consent to the use of this device on their network. If you are unsure, contact your provider. You MUST operate this device with approved antennas and cables as specified by the manufacturer. Antennas MUST be installed at least 20 cm (8 inches) from any person. You MUST cease operating this device immediately if requested by FCC or a licensed wireless service provider.
Wilson Signal 4G M2M Specifications Sheet (PDF)
Installation Instructions: Videos
Part 1 of 6:
Where to Install Your Booster.
Part 2 of 6:
Installing the Outside Antenna.
Part 3 of 6:
Running Cable into Your Home.
Part 4 of 6:
Installing the Inside Antenna.
Part 5 of 6:
Installing the Booster.
Part 6 of 6:
Troubleshooting & Checking Your Signal.
INSTALLATION GUIDES (PDF)
The product is easy to install. Everything is included in the kit.
If you have questions or require assistance, please call our customer and tech support at 1-800-919-7442 or email at sales@WilsonAmplifiers.com. We will be happy to assist you in every step of the way.
Proposition 65 Warning for California Consumers
WARNING: This product can expose you to chemicals including Nickel (Metallic) which is known to the State of California to cause cancer and Bisphenol A (BPA) which is known to the State of California to cause birth defects or other reproductive harm. For more information go to www.P65Warnings.ca.gov