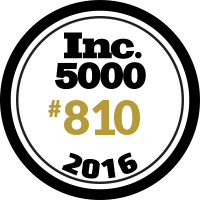 A big thank you from Wilson Amplifiers
For a second year in a row, Wilson Amplifiers has been included in the Inc 5000 Fastest-Growing Private Companies in America with a three-year growth of 492% (2012-2015).
Here's a quick summary:
#810 of 5,000 companies in America
Top 100 in Texas
#1 in Houston (yea!)
And also Top 50 for our category in Consumer Products & Services.
But enough patting ourselves on the back. Let's focus on the real reason why we've been fortunate enough to be here:
YOU complete us
Wilson Amplifiers started as a two-man startup in 2011 and since then has touched the lives of the 50+ people who've walked through our office doors.
From the beginning, the CEO's motto was clear as day: "Provide solutions. Don't sell boxes."
And it was you, the 45,000+ customers who've supported our credo as we tried our absolute best to serve your every need.
So from the whole family at Wilson Amplifiers, we want to say a BIG THANK YOU to everyone who have gotten us this far.
Getting on the Inc 5000 list makes us happy, but it doesn't make us proud.
We're proud of the thoughtful messages from our customers, thanking us for literally saving their lives and improving their living conditions.
We're proud of the interns we've sent to college to become contributing young men & women.
We're proud of being an equal-opportunity employer with a flat hierarchy. Everyone has a voice no matter the position.
And lastly, we're most proud of the growing family celebrations under our watch: one wedding, two ridiculously cute babies, four college graduations, four Christmas parties, 8 wedding anniversaries, 16 ping-pong tournaments, and about 70-80 breakfast taco runs.
And it's just the beginning
So far, we think we've done a good job, but we're still learning, because good isn't enough for you and us. We all want to be great. Our culture is about transparency, so let's talk about what we've done well this year and what we also need to improve.
What we've done right:
1. A good place to start
Learning about cell phone boosters & especially choosing the right booster is a hard task. That's why our Definitive Guide to Cell Phone Boosters has been very helpful and popular for people who are just starting out.
2. Commercial-grade boosters
We've grown our enterprise team to handle commercial & industrial cellular coverage. Since then, our Wilson Pro line of pro-grade signal boosters have been a big hit.
3. Everyone is unique
We've double-downed on understanding our niche markets. From RV owners to cabin & cottage owners, there is no one-size-fits-all strategy, and focusing on understanding our customer's pain points have helped us grow.
4. Saving you money
Yes, cell phone boosters aren't the cheapest things to buy. That's why we provide coupons & discounts or encourage shopping for refurbished signal boosters. And of course, we provide free shipping within the contiguous USA, too.
5. Our helpful guides:
What we need to improve:
1. Picking up the phone immediately
Despite doubling our in-house customer support, we're often playing phone tag. One missed callback after another and the frustrations mount.
Why does this happen?
One, we didn't anticipate such an explosive growth in our niche. Two, customer support also has to handle emails, pre-support, and post-support which slows down our service.
What are we going to do about it?
One, we're in the process of hiring more trained customer support. Two, we are internally focusing on how to divide calls into pre-support (enquiries, sales, Q&A) and post-support (troubleshooting, optimizing, FAQ) for better time management and response. Three, we are investing in an online knowledge base that should hopefully ease pre-support service.
2. More accurate square foot coverage
All our signal boosters have a potential coverage up to its rated value. However, 'up to' and what you're getting can sometimes be different.
That's because everyone's situation is unique. Poor cell phone signal isn't just one single cause but multiple causes such as distance from cell tower, outside interference, inside interference, weather, and building material.
And these problems affect potential coverage boost differently.
What are we going to do about it?
We're empowering customers and potential customers to find their cell phone signal strength in dB values before purchasing a booster. Sometimes, cell tower distance is the biggest culprit and customers might need a more powerful booster to get their desired sq ft coverage or maybe live with less coverage with a cheaper booster.
Other times, building material is the biggest culprit, so we can recommend with certainty when you can move around freely in your home without being "tethered" to the inside antenna.
So instead of saying 'up to' a certain sq ft coverage. We're going to give a range of coverage depending on your dB reading for better accuracy.
3. Installation woes
Installing a cell phone booster takes a certain level of handiness. It's not that difficult; however, when people hear of drilling holes and running cable, it's more than enough to saying, "No mas!"
What are we going to do about it?
One, we're in the processing of creating the end-all-be-all installation guide/ knowledge base with simple steps, detailed information, and everything we can share to ease the install process.
Two, we're currently in talks with several installers in major metros who can easily install your signal booster for a small fee.
Three, the biggest fear is running cable from the outside antenna to the amplifier (from outside the home to inside the home). So we're recommending to avoid drilling.
4. Shipping times & tracking orders
About 90-95% of our products ship the same day. However, when demand outpaces supply, we sometimes find shipping times fall to 2-3 days or even 5-7 days. Despite that, Wilson Amplifiers needs to get better with informing and real-time updating customers about the day-to-day availability of back-ordered items.
What are we going to do about it?
It's going to be a long process, but we're currently implementing automated systems that update the website and immediately send emails to paying customers about their wait or shipping times with tracking numbers and estimated delivery dates.
5. Pre & post customer support
With a rating of 4 out of 5 stars and a 5% returns rate, you'd think we'd be pretty satisfied, but actually, we're not. We feel that addressing the first four problems listed above, we'd be at 4.5 stars or better with a returns rate at under 3%.
Our Cell Phone Signal Booster Guide? It's good. But like we mentioned earlier. Good isn't enough. Many customers who have purchased a booster come to the guide looking for troubleshooting issues and find that the information is lacking.
Many of our potential customers find the info they're looking for, but need just a pinch more to nudge them in the right direction.
What are we going to do about it?
We're establishing a clear knowledge base that will aim for the 3 stages of buying a booster:
Informational (e.g. what's a signal booster?)
Transactional (e.g. which signal booster is right for me?)
Support (e.g. how do I get more signal into my bedroom?)
Conclusion
2016 has been a good year. And we're certain 2017 & beyond will be even better. And that's all thanks to your support.
Behind every website page, email, phone call, and social media post is a person: a man, a woman, a family member, a college student, a single mom, a grandfather, a newlywed, an iPhone addict, a jazz music historian, an army vet, etc.
We're people.
And you are, too.
So when you come to our home, we make certain to treat you like the special person you are.
Thank you & stay in touch.
How May We Help You?
Wilson Amplifiers is the leading provider of cellular boosters. Cell phone boosters amplify 3G & 4G LTE for any phone with any carrier for home, office, or vehicle.
We seriously hate dropped calls and poor coverage, so it's our goal in life to stomp on spotty signal like the little roaches they are:
Free consultation (ask us anything) with our US-based customer support (sales@wilsonamplifiers.com) or call us at 1-800-568-2723.
Free shipping.
Better signal or industry-leading 90 money-back guaranteed. No questions asked.
We want everyone to be satisfied, so we provide lifetime technical support and a 2-year warranty for all products.
Ask us anything and we'll be glad to help.