WilsonPro 710i: Wilson's First 5G Signal Booster for Businesses
First 5G-Specific Commercial Signal Booster
WilsonPro has released their first 5G signal booster for business, the WilsonPro Pro 710i!
The Pro 710i is an industrial class, high-gain, single-band cellular amplifier. It's exclusively designed to enhance Band 71 – a 600 MHz low-frequency spectrum of 5G. You can pair it with one of WilsonPro's other commercial offerings, such as the WilsonPro Enterprise 1300 or WilsonPro Enterprise 4300, or use it on its own.
Wilson Amplifiers provides complete in-building
commercial signal booster installation services:
Future Proofing Your Business with 5G
The WilsonPro 710i is for discerning businesses who foresee 5G connectivity being a major part of their plans. Almost every industry will benefit from 5G's transformative technology. 5G promises a faster, more responsive, low-latency cellular network. Thanks to its ability to support more smart devices than LTE, it'll further promote the Internet of Things (IoT).
As mentioned, pair the 710i with a WilsonPro system for a 5G/LTE solution or install it as a stand-alone unit. It boasts up to 100,000 square feet of indoor low-band 5G coverage. Strong, reliable 5G will be available throughout for those subscribed to carriers who utilize Band 71. This will support the ongoing rollout of 5G on Band 71 for T-Mobile, US Cellular, and other cell providers. Carrier approval must be obtained to operate the WilsonPro 710i.
What does this mean for your business? More capacity, reduced latency, and the ability to connect more IoT-enabled devices. With up to 90 dB of gain and up to 25 dBm output powers, it works in even weak signal environments.
Like most WilsonPro amplifiers, the Pro 710i features eXtended Dynamic Range (XDR) technology. It automatically adjusts to any changes in outdoor signal quality. This ensures that the amplifier never experiences signal overload or shut down. You can easily monitor performance and adjust settings using the LCD touch screen.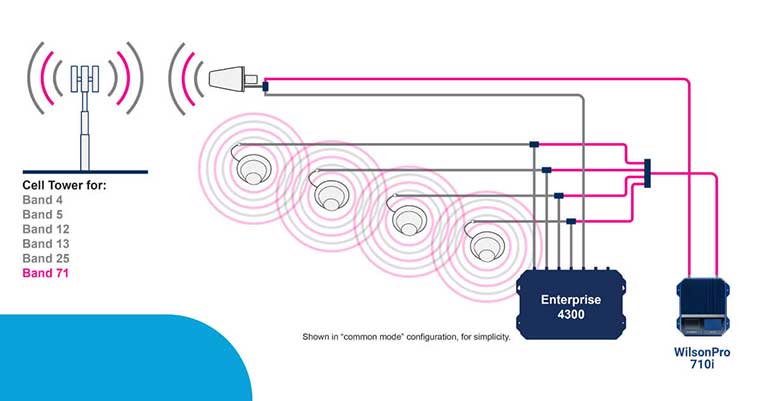 Why Do I Need a 5G Booster?
5G, just like 4G, experiences issues with signal and attenuation. The wireless industry, not to mention the world, will be changed by 5G. Unfortunately, while it's already known that 4G signal is blocked by many building materials, 5G is even worse. Thus, making 5G cellular amplifiers even more important.
The WilsonPro 710i is an excellent first step toward making 5G available in buildings across the country.
What's in the Box?
The WilsonPro Pro 710i comes with:
1x Pro 710i Amplifier (462127)
1x AC/DC 12V/3A Power Supply (850023)
Kit does not include antennas because it's predominately designed to be integrated with an existing booster system. For stand-alone installations, antennas must be purchased separately. You'll need Band 71 compatible cellular antennas.
WilsonPro Pro 710i Frequently Asked Questions
How Much Band 71 Coverage Can I Expect from the Pro 710i?
Coverage is largely impacted by outside signal strength and internal building material. Thus, results will vary across applications. Reference the chart for estimated results.
| | |
| --- | --- |
| Current Outside Signal: | Estimated Coverage: |
| 5 Bars (-40 to -70 dB) | Up to 10,000 sq. ft. |
| 4-5 Bars (-70 to - 80 dB) | Up to 7,500 sq. ft. |
| 3-4 Bars (-85 to -95 dB) | Up to 5,000 sq. ft. |
| 2-3 Bars (-95 to -105 dB) | Up to 3,500 sq. ft. |
| 1-2 Bars (-105 to - 115 dB) | Up to 1,500 sq. ft. |
| No Signal (-120 dB) | Most likely no coverage. |
Which Cellular Antennas Work with the WilsonPro 710i?
Since the Pro 710i exclusively boosts Band 71, Band 71 compatible cellular antennas are required. Here are our recommendations:
Inside Antennas:
Outside Antennas:
How Can I Get Permission to Use the WilsonPro 710i?
To purchase you need approval from your Band 71 carrier to use the Pro 710i.
For T-Mobile customers, download and complete their rebroadcasting agreement. Email completed agreement to rebroadcastagreements@tmobile.com and wait for approval.
If you are not a T-Mobile customer, contact your Band 71 provider for approval instructions.
What is Pro 710i's Warranty Policy?
The Pro 710i is backed by our 30-day money-back guarantee and a best-in-class 3-year manufacturer's warranty by WilsonPro.
How May We Help You?
Wilson Amplifiers is the leading provider of 5G and LTE cell signal boosters for homes, offices, or vehicles.
We seriously hate dropped calls and poor coverage, and it's our mission to eliminate them from everyday life. We provide:
Free consultations with our US-based customer support. Email us (pro@wilsonamplifiers.com), call us (1-800-887-1961), or chat with us.
Free shipping.
30-day money-back guarantee on all WilsonPro units.
Best-in-class manufacturer's warranty on all WilsonPro units.
Ask us anything and we'll be glad to help.
Interested in Learning More? Check Out Our Signal Boosting Info Center
THE WILSON AMPLIFIERS ADVANTAGE
FREE SHIPPING No Minumum Purchase
90-DAY
Money Back Guarantee
LIFETIME
Technical Support