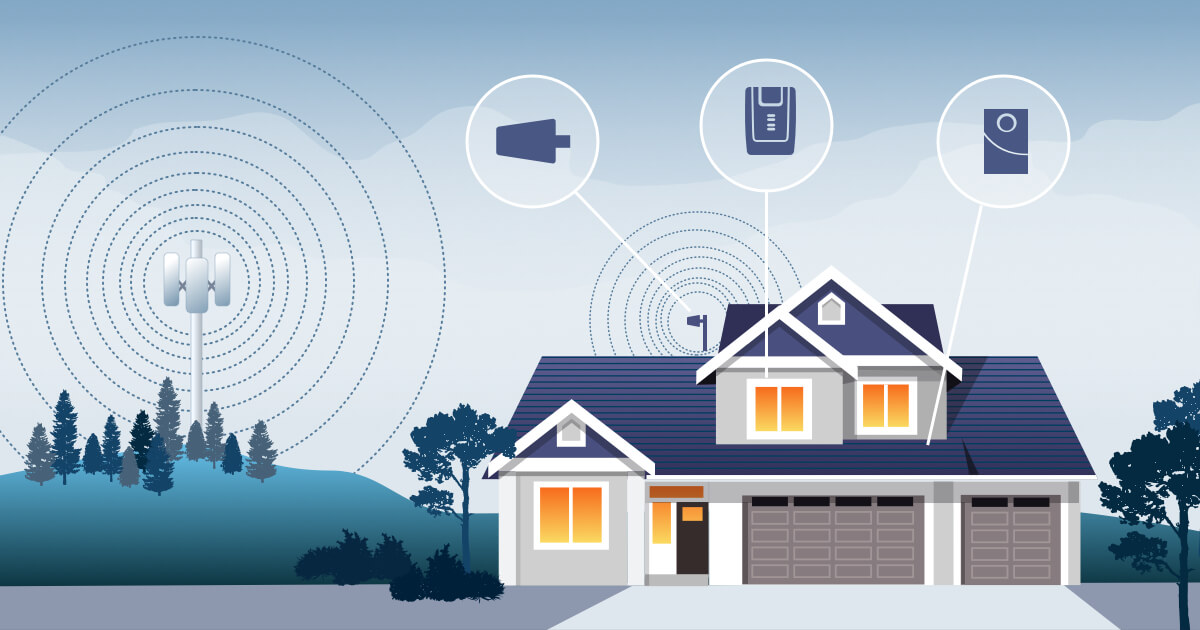 One of the most common concerns our customers have is whether or not their signal booster will be difficult to install.
While installation is a multi-step process, each of these steps are simple on their own. Your booster manual provides a nice starting point for your individual installation, but we're here to help with a step-by-step breakdown all the same.
Wilson Amplifiers provides complete cell phone signal booster installation services:
---
There are five main steps to installing a home signal booster system:
Find the Best Outside Signal
Install Outside Antenna.
Connect to the Amplifier.
Install Inside Antenna.
Power on.
The most "difficult" part is installing the outside antenna, which requires climbing onto your roof, mounting the antenna, weatherproofing, and running cable into your home.
You also need some tools, but nothing unusual. A ladder, your smartphone, a Phillips-head screwdriver, an adjustable wrench, and a little bit of elbow grease - and you'll be enjoying better signal in no time!
Let's start!
01. Find the Best Outside Signal
Start by finding the best signal outside your house. Locating the side of your home with the best signal is the MOST CRUCIAL step of the installation process. This is done by walking around the perimeter of your home and either using the number of bars on your phone (ok method), smartphone apps (good method), or Field Test Mode (great method).
Check out our blog on How to Read Cell Phone Signal Strength the Right Way for more.
02. Install Outside Antenna
Mount the outside antenna in the area where you have the best signal. Place the antenna as high as possible - ideally on the roof with a mounting pole, although the fascia or gable is acceptable. It's important that the outside antenna should be on or near the edge of the roof pointing away from the house toward your nearest cell tower.
See our guide on Finding Cell Tower Locations for the optimal way to point your antenna.
03. Connect to Amplifier
Once the outside antenna is mounted, connect a coaxial cable (one will be included in your booster kit) to the outside antenna and run it into your home where you keep your amplifier. Some run cable into the attic, others prefer using the window entry cable. Pick whichever works best for you, and ensure your amplifier is stored in a well-ventilated area.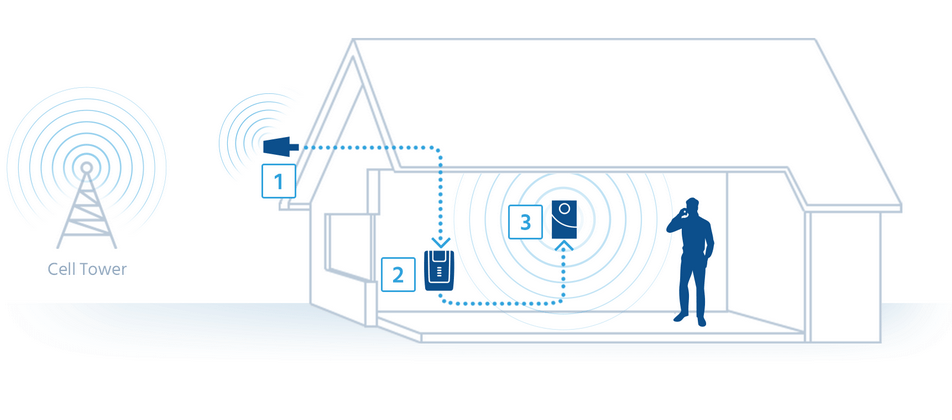 04. Install Inside Antenna
Figure out where in your home you need signal the most, and place the inside antenna either on the wall or on the ceiling in that area. Run the other included cable to the amplifier.
Make sure there is at least 20 feet vertical or 50 feet horizontal distance between the outside and inside antennas to prevent oscillation, which will cause your amplifier to automatically shut down.
05. Power On
Plug in the power supply to the amplifier and to the wall outlet. The amplifier will sync up and if you see all green lights, you're in business. Check near the inside antenna how much boosted signal you're getting.
Any post-installation adjustments will require rebooting the amplifier - simply unplug the power supply for 5-10 seconds (much like resetting your WiFi router) and replug to reboot the system.
And that's it! Enjoy your boosted signal!
How May We Help You?
Wilson Amplifiers is the leading provider of cell phone signal boosters. Cell phone boosters amplify 3G & 4G LTE for any phone with any carrier for home, office, or vehicle.
We seriously hate dropped calls and poor coverage, so it's our goal in life to stomp on spotty signal like the little roaches they are:
Free consultation (ask us anything) with our US-based customer support (sales@wilsonamplifiers.com) or call us at 1-800-568-2723.
Free shipping.
Better signal or industry-leading 90 money-back guaranteed. No questions asked.
We want everyone to be satisfied, so we provide lifetime technical support and a 2-year warranty for all products.
Ask us anything and we'll be glad to help.