Enhance Cellular Service Inside Parking Garages
Why is it Difficult to Get Reliable Cell Reception Inside Parking Garages?
Parking garages are notorious for horrible cell phone reception. This is mainly due to their concrete and steel construction. These building materials are king at weakening or killing cellular signals, leading to limited or non-existent coverage in parking garages. Other factors, such as cell tower distance and surrounding structures, also affect cellular coverage. Underground parking garages face even more challenges.
Poor cellular reception compromises public safety as well as your bottom line. As a parking garage owner or property manager, improving cellular reception in your parking garage should be a priority.
With improved cellular coverage:
Users feel safer day and night.
Criminal activity decreases.
Mobile parking and EV charging station apps can be accessed.
Transaction challenges significantly decrease.
Smart parking data updates in real time even during internet outages.
Customer satisfaction skyrockets, increasing usage and profits.
Wilson Amplifiers provides improved cellular coverage for parking garages. Our professional signal booster installers will visit your surface or underground garage to conduct a site survey. They will take note of cellular signal strength, cell tower location, layout, size, ideal antenna spots, and problem areas to develop a customized system design that meets your needs.
Need Better Cell Signal in Your Parking Garage? Get in Touch.
Why is Reliable Cell Phone Signal in Parking Garages Vital?
#1: Safety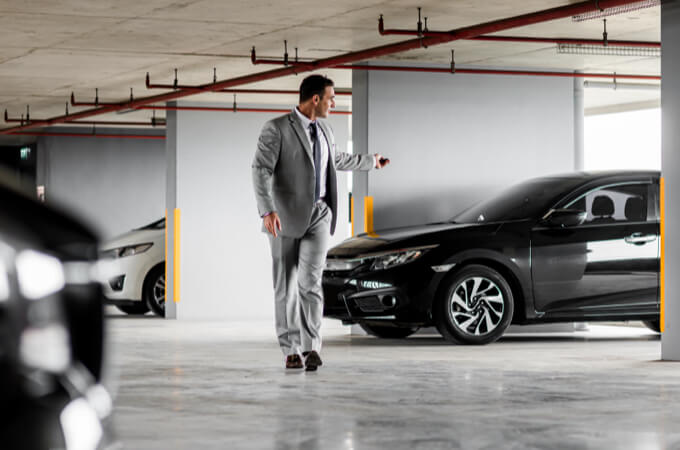 Poor cellular coverage in parking garages is a huge safety risk. By enhancing cell service throughout with a cellular signal amplifier, you'll increase safety and peace of mind for those using your parking garage. You may also avoid lawsuits by taking preventive measures to keep your garage safe with reliable two-way communication.
If a visitor is the victim of a crime or receives serious injuries from a vehicle accident, they'll want to contact first responders. Without a reliable cellular connection, contacting emergency services may be difficult. As a result, crucial seconds are lost to save a life or catch a criminal.
While it's true that people can make emergency calls even when they don't have signal, the call will not go through when in a total dead zone. Available cellular signal from any carrier is needed to successfully make that call. Even if your parking garage offers emergency phones for assistance, most people don't know to look for them. Plus, finding them often means looking for the elevator banks – and in certain situations, that is not feasible.
#2: Facilitates EV Charging Station Payments, Smart Sensors, and More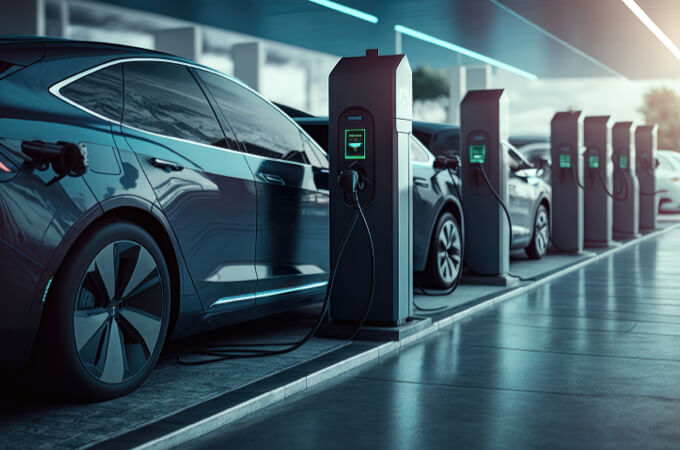 Security cameras, EV charging stations, parking ticket machines, smart parking sensors, smart parking maps, smart parking signage, and other smart parking technologies require reliable connectivity for real-time data transmission. Normally, these tools are all powered by broadband internet.
However, broadband internet is not always reliable. Network congestion and outages can make it difficult for customers to park and pay. Smart parking technology will not efficiently guide customers to vacant parking spots. Customers will have trouble paying for EV charging stations.
You can leverage cellular to keep your parking garage running smoothly with zero downtime. You can use it as a backup network for your whole garage or certain machines. When your broadband connection drops, cellular automatically kicks in, protecting customer satisfaction and your bottom line. Unreliable smart parking tech and slow transactions will be a thing of the past.
#3: Better Parking Experience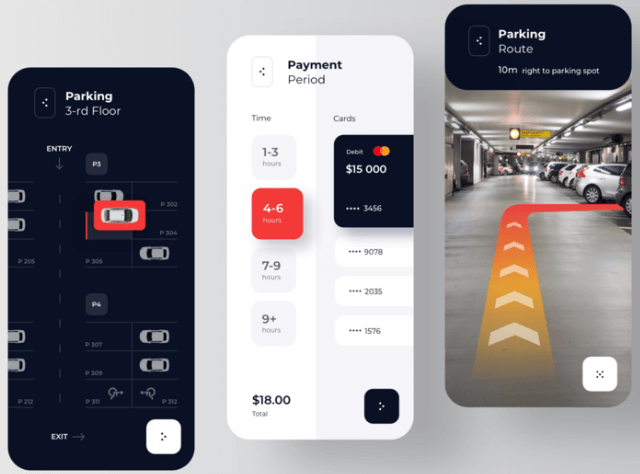 Image Source: emizentech
Finding a parking spot or even an EV charging station is time-consuming. Parking apps and EV charging station apps help customers easily find or book a sport in advance. They do not have to aimlessly wander around, wasting precious time and gas, looking for a spot.
To enhance the user experience, workers, clients, and visitors need a reliable cellular connection to take full advantage of these revolutionary apps.
For those garages with mobile order pick up sections, customer satisfaction and efficiency will skyrocket with reliable cellular signals.
Without data, the necessary applications won't load. Thus, users may struggle to find their reserved spot. There could be issues accessing and leaving your garage. Charging a vehicle may be unnecessarily challenging. Customers won't be able to check in to pick up their mobile order. All this leads to frustrated drivers, low ratings, and loss of profit in the long run.
Installing a cell phone repeater will enhance cellular data allowing the necessary applications to function as needed for an exceptional experience.
Cell Phone Signal Boosters for Parking Garages
Cell phone signal boosters, also known as passive distributed antenna systems (DAS), improve cellular coverage for all carriers throughout parking garages.
They use:
Powerful Outside Antennas – Capture existing cell signals from multiple carriers.
An Amplifier – Amplifies received cellular signals.
Indoor Antennas – Broadcast amplifier cellular signal.
High-Grade Coaxial Cables – Relay cellular signals between components. Help bypass signal blocking building materials.
Due to the nature of parking garages, it's likely you'll need multiple amplifiers to cover multiple levels. The concrete and steel reinforcement between each level prevents cellular signals from covering multiple levels with a single system. Plus, each amplifier can only support a certain number of indoor antennas without affecting performance. Trying to use a single amplifier to cover the entire parking garage will lead to weaker signal distribution and limited coverage.
Out of all cellular signal boosting options, cell phone signal boosters are the most cost-effective. The other options are Active DAS and Hybrid DAS.
Active DAS offers the best and most costly options. They receive analog cellular signals from cell towers or directly from the core network, convert them to digital signals, and then back to analog. The equipment used allows the transmission of the strongest signal possible without signal loss across long distances. This makes it perfect for very large parking garages. Depending on your setup, carrier approvals may be needed per carrier. Because installation is more complex, deployment time can take months.
Hybrid DAS is a combination of Passive and Active DAS. It's able to achieve longer cable runs than Passive DAS, allowing for greater coverage. Deployment time and cost are much lower than Active DAS. This is a great solution for any size parking garage, but most popular amongst mid to large-sized garages.
Give us a call at 1-800-887-1961 to discuss which DAS solution is best for you.
Recommended Cell Phone Signal Boosters for Parking Garages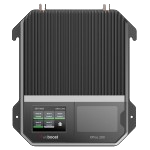 The weBoost Office 200 is a high-performance pro-grade amplifier, perfect for small parking garages.
Featuring up to +72 dB gain, it offers the strongest cell signal possible on all available networks. With up to +25 dBm uplink and +15 dB downlink outputs, it has great reach to distant cell towers and provides coverage up to 35,000 sq ft. Coverage will depend on outside signal strength and the number of indoor antennas used.
The kit includes an omnidirectional outside antenna and two indoor dome antennas. This setup would work best for parking garages in the city with decent outside cell signals. For parking garages in poor cell signal areas, upgrading the antennas to directional ones will yield better results.
Once installed, customers will have a safer and better experience when using your parking garage. The easy-to-read LCD screen makes it easy to monitor and manage performance.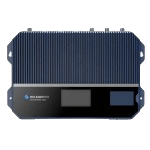 The WilsonPro Enterprise 1300 is amongst the most powerful commercial-grade cellular amplifiers for medium to large parking garages. Wall mount and rack mount options are available.
It has up to +70 dB gain with up to +26 dBm uplink and +17 dBm uplink. Compared to the weBoost Office 200, it has farther reach to cell towers and offers more coverage (up to 40,000 sq ft).
To help maximize coverage for all cellular providers, it features three outdoor antenna ports. Each antenna can be set up to communicate with different cell towers to amplify cell signals from multiple carriers simultaneously. And with XDR technology, you are guaranteed constant signal uptime without experiencing system shutdowns due to signal overload.
You can monitor and manage performance via the LCD screen.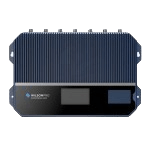 The WilsonPro Enterprise 4300 is hands down the most powerful commercial signal booster on the market. Instead of one amplifier, it houses four independent amplifiers in one unit. Under perfect conditions, it can cover parking garages up to 100,000 sq ft.
Similar to the Enterprise 1300, this unit features up to three outdoor antenna ports. When installed properly, each antenna can pick up different frequency bands to amplify signals from multiple towers. Unlike the Enterprise 1300, the Enterprise 4300 also features up to four independent indoor antenna ports to maximize coverage. The amplifier offers up to +70 dB gain with up to +17 dBm downlink on each indoor antenna port, and up to +26 dBm uplink.
Through the WilsonPro Cloud, you're able to remotely monitor the booster's performance, make adjustments to the system, receive updates on your phone, and so much more.
To choose the best booster for your garage, check out our Office 200 vs WislonPro 1300 vs WilsonPro 4300 review.
Recommenced Cellular Amplifiers for EV Charging Stations, Paying Stations, Other IoT Devices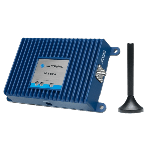 The WilsonPro IoT 5-Band is a direct connect IoT signal booster that'll provide a cell signal boost to individual EV charging stations, payment stations, and the like. It connects directly to cellular modems used to keep IoT devices connected. One unit is needed per IoT device.
These devices do not broadcast boosted cellular signals. Do not expect other devices to get better reception with the IoT 5-Band amplifier. That's the job of a commercial cell phone signal booster.
Boost Parking Garage Cell Reception Today!
Wilson Amplifiers has been improving cellular signals in buildings since 2011. Our expert can tailor a custom solution for your parking garage based on the size, signal situation, and budget.
We provide:
FREE consultation adhering to your requirements and budgets.
Floor plan analysis with detailed heatmaps & coverage expectations.
Equipment selection from only the best.
Site survey from certified wireless technicians.
Professional cell phone signal booster installation & expert project management.
Better signal or industry-leading 90 money-back guaranteed. No questions asked.
Lifetime technical support and a 2-year warranty for all products.
Call us at 1-800-919-7442 or email us at (pro@wilsonamplifiers.com) today to get the best solution for superior cellular signal in your parking garage.
Need Better Cell Signal in Your Parking Garage? Get in Touch.
Interested in Learning More? Check Out Our Signal Boosting Info Center
THE WILSON AMPLIFIERS ADVANTAGE
FREE SHIPPING No Minumum Purchase
90-DAY
Money Back Guarantee
LIFETIME
Technical Support