M2M Signal Boosters and the Internet of Things
The future is upon us. The Internet of Things, or IoT, is poised to bring us more smart appliances, smart cars, and amazing technologies beyond smartphones and tablets to enhance the way we work, live, and play. These smart products are enabled to "speak" to each other for real-time data sharing via Machine to Machine (M2M) technology. But none of this can happen without a good, fast, and reliable internet connection.
We fix poor cell phone signal! Find the right signal booster for you:

For Home

For Vehicle

For Business

For Commercial
Most M2M connectivity solutions depend on WiFi and cellular signals. While most in-home and consumer products will probably use WiFi, big businesses, enterprises, and industries count on cellular for their unattended devices, such as security systems, vending machines, ATMs, smart parking meters, and more.
Unfortunately, many things can block or impede cell phone signals: building materials, cell tower distance, or other means of electrical or physical interference. If your smart devices are located in an area or building that doesn't receive consistent cellular signal, an M2M signal booster may be just what you need.
What is M2M?
Many new technologies use M2M communications. One device talks directly to another through a communication channel that could be wired or wireless. Special applications are programmed to let the devices share data and tell each other how the data should be used. After setup, no human interaction is necessary for day-to-day operations.
With smartphones being an essential part of our daily lives, they've become somewhat of a gateway to an IoT future - from controlling light bulb colors and dimness, monitoring machine performance, to even self-driving cars.
What is IoT?
The Internet of Things is a network of physical objects such as devices, vehicles, buildings, and other items that are equipped with software and hardware that allows it to talk to and exchange data with other devices. These technologies are often called "smart" devices or "smart" applications. Using M2M communication, they do not need human interaction to work.
Applications that use this technology are expanding exponentially in numerous industries, as well as with home applications.
M2M communications can touch almost every area of our lives. For individuals, think of "smart" cars, Bluetooth or WiFi capabilities, the ATM tied right to your bank account for instantaneous transactions, or the electric company monitoring your meter without having to come to your property.
Business applications are infinite. Industries such as healthcare, manufacturing, agriculture, the military, or parking garages can use M2M technology for closed-circuit networks, relays, vending machines, fleet traffic, or factory floors. From simple to more complex applications, M2M is necessary to compete in the world economy. Automation saves time and money as well.
In order for these things to work properly and effectively, they often need a good, strong, reliable internet signal, which is more frequently being provided by cellular networks.
What is a Signal Booster?
Signal boosters, in their simplest form, boost poor cellular signals and bypass signal blocking material.
They utilize a powerful outdoor antenna that attaches to the outside of your home, vehicle, or business. This allows the booster system to capture the available, but perhaps weak, cellular signal. Coaxial cable is used to relay the outside signal to the amplifier for boosting. An indoor antenna rebroadcasts the amplified 5G (on select frequences), 4G, and LTE signals in the desired areas.
With a home amplifier, you can boost signals in one room or your whole house, depending on the booster's configuration. Businesses amplifieris can boost the signal in one area of the office or a whole warehouse, depending on the strength of your booster and your indoor antenna setup.
What are M2M Boosters?
M2M boosters are direct-connect units, meaning that they directly connect to the cellular modem or router feeding cellular data to your smart devices or large applications to facilitate reliable data transfer.
Through the outdoor antenna, which can be upgraded for more power, the unit is able to capture the available cellular signal and transmit it to the signal amplifier. The enhanced signal is fed to the cellular router/modem to improve data upload and download speeds, keeping the machine running efficiently without delay.
Essentially, with lots of moving parts internally and externally, monitoring real-time data is a crucial part of any business that depends on cellular M2M. Being connected 24/7 and having reliable service is about efficiency, speed, and the bottom line.
Cellular M2M boosters will help enhance:
Remote monitoring & security
Long-distance product control
Fleet management: transport logistics & telematics
Real-time device-to-device communications
Automated two-way quality assurance solutions
Depending on your application and how much data you are downloading, there are different types of M2M boosters. Check the specs carefully and remember, a customer support representative is available to help you choose the right one as well.
Best M2M Signal Booster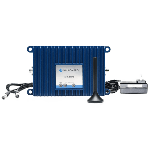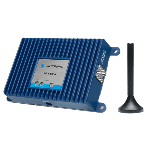 5G Ready.
Boosted 4G LTE and 3G for any IoT or M2M device.
Up to +15 dB of gain.
Designed to be directly attached to a machine.
Most popular M2M signal booster kits
Better & faster signal guaranteed
The WilsonPro IoT 5-Band Signal Boosters are pure M2M units that can be attached directly to your smart devices. They require decent cell signal in the area, but can speed up the responsiveness of an individual machine dramatically. If your business relies on multiple IoT devices, installing a booster on each can drastically reduce your downtime.
Different IoT 5-Band signal booster kits are available to boost the performance of different smart devices, such as ATMs, vending machines, LTE modem hotspots, cellular-based security equipment, fleet management, and other two-way communication electronics. For additional power, outdoor antennas with more gain can be purchased separately.
It should be noted that these boosters WILL NOT improve the signal received by your cell phone, or amplify the signal in a general area. If you're looking to stop dropped calls and improve your data in your business as a whole, start with a signal booster for offices.
Should I Choose an M2M Booster or a Signal Booster?
Well, that depends on your situation.
If you're looking to enhance cellular coverage throughout your home, business, or vehicle for multiple cellular devices to enjoy, consider a regular cellular signal booster.
On the other hand, if you're looking to only improve the performance of your IoT devices, you'll want to look into an M2M booster.
Remember, you must have somewhat of a cellular signal for a signal booster to work.
Contact Us
Wilson Amplifiers is the leading provider of cellular boosters - including M2M signal boosters. Our signal amplifiers boost cellular signals across the 4G, LTE, and 5G spectrum for any IoT device across all cellular carriers.
We seriously hate poor coverage, so it's our goal in life to totally eliminate spotty signal:
Free consultation (ask us anything) with our US-based customer support (sales@wilsonamplifiers.com) or call us at 1-800-568-2723
Free shipping.
Better signal or industry-leading 90 money-back guaranteed. No questions asked.
We want everyone to be satisfied, so we provide lifetime technical support and a 2-year warranty for all products.
If your business wants to keep up with the Internet of Things and new technologies, you need to have the infrastructure to handle the future. Call us for more information, we'll be glad to help.
Interested in Learning More? Check Out Our Signal Boosting Info Center
THE WILSON AMPLIFIERS ADVANTAGE
FREE SHIPPING No Minumum Purchase
90-DAY
Money Back Guarantee
LIFETIME
Technical Support