Femtocell vs. Signal Booster: Which is Better?
---
Do you struggle with poor cell reception, dropped calls, and unsent text messages? If you do, you've probably heard that femtocells and signal boosters can help solve those problems. Fortunately, they can, but they do so in different ways.
What is a Femtocell?
To fully understand femtocells (also known as microcells), let's start with the big boys – macrocells. Macrocells provide radio coverage for cellular networks. They are served by high-power cell sites, such as towers, antennas, or masts. Basically, macrocells can provide cellular network coverage for large areas. But, many people still struggle with unreliable cell phone signal in their homes and office buildings. Things like building material, tall buildings, and terrain, can interfere with the signal.
Small cells are similar to macrocells, but smaller in size. Essentially, they take care of the small areas that macrocells struggle to reach. They consist of small low-powered antennas to improve the cellular coverage and capacity in smaller areas. There are three types of small cells: metrocells, picocells, and femtocells. Femtocells are the smallest type of small cell and operate on licensed frequency bands. They are low-power cellular base stations that require a high-speed broadband connection to improve cell phone signal in homes and small businesses.
They look similar to wireless access points (routers), but they work very differently. Routers create a local wireless network and femtocells create a local cellular network. Unlike routers, femtocells use your internet connection and convert it into a reliable cellular signal.
---
How do Femtocells Work?
Many people are able to get internet in their homes but struggle with poor cell phone signal and dead spots. Femtocells are designed to solve those problems.
They are typically provided by your cellular carrier. To create a cellular network, the femtocell will need to establish a connection with your cellular provider through a broadband internet connection. Most femtocell systems are compatible with cable, DSL, and fiber internet. They will not work with satellite or wireless internet.
An ethernet backhaul will be required to connect the femtocell to your router. After the device has been installed, you will have to register the phone numbers of the subscribers (mobile phones) that will be connecting to it. Many devices can be registered, but only 4-8 handset devices will be able to use the femtocell simultaneously. The other subscribers will have to wait for their turn.
When you make a phone call or send a text message, the signal travels through your internet connection, into a FEMTO gateway, and then it's sent out to its destination. Essentially, femtocells are your personal mini cell towers. As a result, you will no longer have to rely on WiFi calling to avoid dropped calls and unsent SMS messages. But, like with all connectivity devices, you have to be within the femtocells range to maintain a reliable network connection. Typically, they provide a coverage area of 10 meters (32 feet), but it can vary based on the make and model. If 10 meters is not enough, you might need additional units to cover large indoor spaces.
The registered devices should experience a seamless handover when transitioning from the femtocell to macrocell, assuming reliable cellular signal is available. On the other hand, transitions from macrocells to femtocells can be challenging. If you're on a call, your cellular signal will not transfer from the cell tower to your femtocell, potentially causing the call to drop.
However, there are two drawbacks to femtocells. Since they use your internet connection's bandwidth to create a cellular signal, you can experience speed slowdowns when the internet is in use and phone calls are being made simultaneously. Lastly, femtocells are carrier-specific. If you have the AT&T microcell and your family uses T-Mobile, they will not be able to benefit from the improved cellular signal.
---
Where can I Get a Femtocell?
Most femtocells are provided by your cellular carrier. To get one, you might need to go through a qualification process to make sure the device will work in your area.
Check out the different femtocells provided by major cell phone carriers:
---
Femtocell Advantages and Disadvantages
Advantages
Improves the quality of service in homes and small offices
Will work even if there is no cellular signal available
Can monitor the connected mobile devices through the femtocell's online account (if the option is available)
Can improve battery life since the phone is not constantly searching for a cellular signal
Disadvantages
Are carrier-specific
Only work indoors
Can slow down your internet speeds
Calls do not transition from cell towers to the femtocell
They require DSL, cable, or fiber internet which is not available everywhere
Cell service providers may charge additional monthly fees for the device on top of an initial payment
---
What is a Signal Booster?
Signal boosters (sometimes referred to as cell phone repeaters) are FCC approved gadgets that work with any cellular carrier to improve voice calls, phone signal, and data speeds. They enhance 2G, 3G, 4G, and 4G LTE signals for better use. These devices are designed for homes, offices, and vehicles.
---
Rather than requiring an internet connection, signal boosters use antennas to boost existing signal. They are made up of four components:
An Amplifier
An Indoor Antenna
In short, they use the outside antenna to capture the weak outside signal, an amplifier to boost the signal, and an inside antenna to broadcast the boosted signal into the desired areas. In addition, they also work in reverse to improve the communication between your cellular devices and the cell towers.
To work their magic, booster systems require an existing cellular signal outside your home, office, or vehicle - even if it's just one bar. They can enhance the signal, not create it.
The location of the outside antenna is extremely important. Whether you have good or poor signal outside, you will need to set up the antenna on the side of your home or office that has the best signal. It's recommended to install the antenna on the roof of your home, building, or vehicle. This way you can reduce the number of obstructions blocking you from the nearest cell towers.
With the help of coaxial cables, the outside antenna can route the weak signal to the amplifier for boosting. There are a variety of different amplifiers available; they differ in the amount of power they are capable of producing and how much area they can cover. Residential boosters can cover areas from 250 to 7,500 square feet and commercial boosters can cover areas up to 100,000 square feet.
After the amplifier has boosted the weak signal, it will pass it onto the indoor antenna. The indoor antenna will broadcast the amplified signal into the desired areas. As a result, mobile signal boosters will help improve dropped calls, slow data speeds, and unsent text messages.
After the installation has taken place, you don't need to register the devices that will be using the booster. Also, phone calls and data streaming will seamlessly transition from the booster to cellular towers, and vice versa.
---
Signal Booster Advantages and Disadvantages
Improves 5G, 4G, and LTE signals
Eliminate dropped calls, unsent text messages, and sluggish internet
Does not need a WiFi connection to work
Seamless transition between the signal booster and cell towers
One-time purchase, there are no monthly or reoccurring charges
Work with multiple cell carriers
Support multiple devices at once
Compatible with all cellular devices (iPhone, Samsung, LG, and more)
Are available for vehicles, homes, and offices
Can improve battery life since the phone is not constantly searching for a cellular signal
Standard two-to-three-year warranty on most signal boosters from reputable manufacturers.
Disadvantages
They don't work in areas that have absolutely no signal
Installation can take some level of handiness
---
Should I get A Femtocell or a Signal Booster?
Deciding between a femtocell and a signal booster can be very difficult. After all, they both improve your mobile network.
Femtocells are highly recommended in situations where an internet connection is possible, but there is no signal outside. In situations where cellular signal is available, a cell phone booster will be the best option for multiple reasons.
Rather than being carrier-specific, signal boosters can be used by multiple carriers.
Multiple devices can use the signal booster simultaneously.
Signal boosters are not restricted for indoor use; vehicle boosters are available to improve signal on the road.
Phone calls will seamlessly transition from the cell towers to the booster, you won't have to worry about dropping the call.
Here is a list of some of the best cell phone signal boosters for homes, offices, and vehicles:
Best Professionally Installed Signal Booster for Homes and Offices
weBoost Installed Home Complete Signal Booster Kit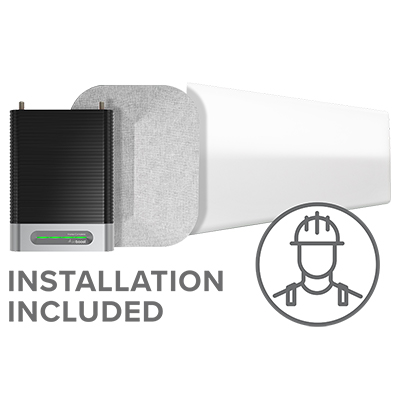 Overview:
Superior cell phone service for your entire home
Up to 7,500 sq. ft. of coverage under best conditions
Up to +72 dB gain, with 24 dBm uplink and 12 dBm downlink
Multiple accessories for maximum coverage and customization (sold separately)
Complete home coverage for all carriers across multiple devices
View Details
SKU: 474445
The weBoost Installed Home Complete is the most powerful home booster we have. It can cover a large home with decent outside signal or a midsize home with weak outdoor signal. It can cover areas up to 7,500 sq ft with perfect outside signal. Most people will probably see a coverage area between 3,500 and 5,500 sq ft. However, if you live in an area with a very weak signal, you might get about 2,000 sq ft of coverage from it.
The best part of the weBoost Installed Home is that it offers professional residential installation. You won't have to stress about installing the signal booster yourself, nor trying to figure out what the best location for it is.
View Details
Best Signal Booster for Medium Sized Homes and Offices
Best Signal Booster for One or Two Rooms
Most Powerful Multi-User Signal Booster for Vehicles
Best Value Signal Booster For Vehicles
Most Powerfull Signal Booster for RVs, Trailers, and Campers
---
Contact Us
Wilson Amplifiers is a leading provider of cell phone signal boosters, devices that amplify 4G & 3G LTE for any phone with any carrier for home, office, or car. We've boosted over 10,000,000 sq ft of signal for homes, buildings, and vehicles across America and Canada.
Free consultation (ask us anything) with our US-based customer support. Email: (sales@wilsonamplifiers.com). Phone: 1-800-568-2723.
Free shipping. Usually ships same day.
90-day (seriously) money back guarantee. You want to make sure you're satisfied.
Our goal is simple: keep people connected. Ask us anything and we'll be glad to help.
The Wilson Amplifiers Advantage
FREE SHIPPING
No Minimum Purchase
90-Day
Money-Back Guarantee
LIFETIME
Technical Support
Get Better Signal Contact Our Experts