Panel vs Dome Antennas: Which Inside Antenna is Right for You?
Cell phone signal boosters are designed to amplify 3G, 4G LTE, and 5G signals in poor coverage areas. Especially in buildings where dense walls and building material block cellular signal from reaching your phone, and in areas where cell tower distance is the main reason behind poor cellular service.
The end result? Better talk, text, and faster internet for your connectivity needs. You know, the stuff that you pay for and rightfully deserve.
See complete cell signal booster kits for your situation:

Home / Small Office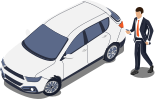 Car / Truck / RV / Boat

Commercial Building
The majority of cell signal boosters come in three major parts:
Outside Antenna, usually an omni-directional or yagi antenna, pulls in your existing outside signal.
Amplifier (or Repeater) receives the signal from the outdoor antenna and boosts the signal depending on the quality of the outside signal.
Inside Antenna rebroadcasts the enhanced signal in the area in need: an office, home, commercial building, or vehicle (depending on the unit you're using).
While each component plays a major role in getting the absolute best signal, the inside antenna is what ultimately delivers the final goods. So today, we look at the two types of inside antennas that come with most signal boosters: domes and panels.
What are Dome and Panel Antennas?
Both dome and panel antennas are indoor antennas designed to blanket one room, multiple rooms, or a whole building with a reliable cellular connection, depending on the strength of the outside signal and power of the system.
They get their name from their shape, which plays a role in how they operate. The dome shape allows the antenna to broadcast the boosted signal in every direction, making it a type of omni-directional antenna. On the other hand, because of its flat surface, a panel antenna only broadcasts signals in one direction, making it a directional antenna.
Let's discuss each antenna in more detail.
Indoor Panel Antennas
The majority of weBoost signal booster kits by Wilson Electronics use panel antennas. They are wall-mounted and send signals in a directional cone ranging from 45 to 70 degrees. Having such a narrow focus allows for stronger signal at the source (i.e. the closer to the panel antenna, the better the signal).
On average, they can give you 75 feet of coverage. But it all depends on how strong or weak your outside signal is. If you have a strong connection outside your home, you can expect more coverage. However, weak signal areas will experience much less.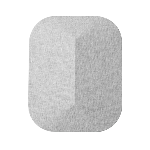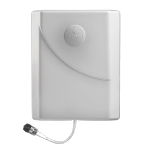 The reason why panel antennas are generally recommended first is because of inside interference, and their higher gain.
What exactly does inside interference mean?
Building materials such as metal, concrete, and energy-efficient barriers can disrupt signals from penetrating the building. Once inside with the help of a signal booster, dense walls and other RF-disrupting material (metal, glass, sheetrock, etc) can equally disturb the signal coming from the inside antenna.
With a panel antenna, you're able to focus the signal within a specific location in your home or commercial building that needs better signal, such as your living room, home office, or conference room. As a result, the signal being broadcasted in that area will face minimal interference. Every device in that room will receive better signal and faster data first before the signal spreads to lower priority areas.
To improve the signal in the rooms with limited to nonexistent coverage, the panel antenna can be installed right side up or upside down on a wall, and in some cases on a high ceiling. If installed on the ceiling, due to its beamwidth and strength, it can also improve the signal in the lower levels of your house or commercial building. However, the signal won't be as strong in the lower levels as it is in the room where the antenna is located because the building materials it has to travel through interferes with the signal's strength.
Indoor Dome Antennas
Our dome antennas are most commonly paired with WilsonPro booster kits, such as the WilsonPro 1100.
Dome antennas are generally ceiling-mounted and broadcast amplified signal 360 degrees horizontally - think of its broadcasting beam as half a sphere. This provides a wide horizontal spread of coverage to deliver equal signal in every direction.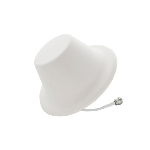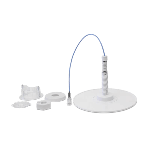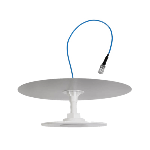 Depending on your outside signal strength, on average you'll get about 50 feet of coverage with a dome antenna. Areas with poor cellular service will probably receive much less coverage.
When considering a dome antenna, keep in mind that you'll need access to a crawl space or attic for proper installation. Thus, they tend to be better for commercial use, one-story homes, or multi-level homes with drop ceilings.
When installed under perfect conditions, meaning low ceilings and zero to minimal inside interference, dome antennas are phenomenal at broadcasting improved 3G, 4G LTE, and 5G signals in large areas.
However, if you have high ceilings (usually 20-30 feet or higher) and thick, or numerous walls, then a dome antenna isn't be recommended, since the signal will weaken the further it travels.
Dome and Panel Antenna Gain
Every type of antenna has a certain amount of gain associated with them, measured in dB (decibels). Simply put, gain represents an antenna's ability to direct the signal it's broadcasting and how far the signal can travel. Antennas with high gain usually mean they are more directional, which results in more reach. On the other hand, lower gain antennas tend to be the opposite.
Panel antennas, since they are directional, will have more gain and reach than a dome antenna. Our regular dome antennas feature up to +5.1 dB of gain and the low-profile dome antennas feature up to +6 or +7 dB of gain, while the panel antennas tend to feature up to +7.6 dB or up to +10.6 dB of gain.
If you live in an area with weak signal, a higher gain antenna will probably be your best option. This will allow the broadcasted signal to be a tad bit stronger and travel a tad bit further in your home or commercial building than it would with a dome antenna.
Are Those the Only Type of Indoor Antennas?
Dome and panel antennas are not the only types of indoor antennas available; they are just the most common. There are two other types of indoor antennas that are most commonly paired with booster systems designed to cover one to two rooms, such as the weBoost Home Studio and the weBoost Home Room.
Terminal Antennas or Whip Antennas attach directly to the signal amplifier - similar to a WiFi router's rubber ducky antenna. They're omni-directional just like the dome antenna but not as powerful.
Desktop Antennas have a nice, discreet design. They are omni-directional and can be placed on any flat surface for better signal wherever you need it most.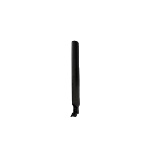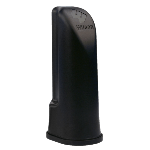 So, Which Inside Antenna is Right for You?
It all depends on your situation. There are many factors to consider when deciding between dome and panel antennas.
A good rule of thumb when trying to choose between dome and panel antennas is to think about:
The shape of the area in which you want to boost the signal
What inside interference exists in the area
How much of a priority is that area
Do you have lots of inside interference - thick walls, metal, and glass - around your home or building? Is there a specific area you want priority service, such as a closed off room or corridor? If you answered yes to any of those questions, then go with a panel antenna.
On the other hand…
Do you have open spaces with virtually no walls, thin walls, or minimal inside interference? Do you want to broadcast an equal amount of signal throughout your home or building? Do you have low ceilings and access to a crawl space or attic? If yes, then go with a dome antenna.
Depending on your outside signal strength and the size of your building, it's entirely possible one antenna will not be enough to provide the coverage you want, especially in multi-level residential or commercial buildings. To maximize your coverage area, you may want to consider getting splitters and a combination of panel and dome antennas. If you decide to purchase additional antennas, make sure their impedance rating of 50 Ohms or 75 Ohms matches that of your signal booster, otherwise, you'll need additional connectors and adapters.
Still Unsure of Which Antenna to Choose? Let Us Help You
Wilson Amplifiers is the leading provider of FCC approved cellular signal boosters. Our home, office, and vehicle cell phone boosters amplify 3G, 4G LTE, & 5G for all cellular devices (smartphones, tablets, hotspots, etc.) across all carriers (AT&T, Verizon, T-Mobile, Sprint, US Cellular, etc.).
We seriously hate dropped calls and poor coverage, so it's our goal in life to stomp on spotty signal like the little roaches they are:
Free consultation (ask us anything) with our US-based customer support (sales@wilsonamplifiers.com) or call us at 1-800-568-2723.
Free shipping.
Better signal or industry-leading 90 money-back guaranteed. No questions asked.
We want everyone to be satisfied, so we provide lifetime technical support and a 2-year warranty for all products.
Ask us anything and we'll be glad to help.
THE WILSON AMPLIFIERS ADVANTAGE
FREE SHIPPING No Minumum Purchase
90-DAY
Money Back Guarantee
LIFETIME
Technical Support