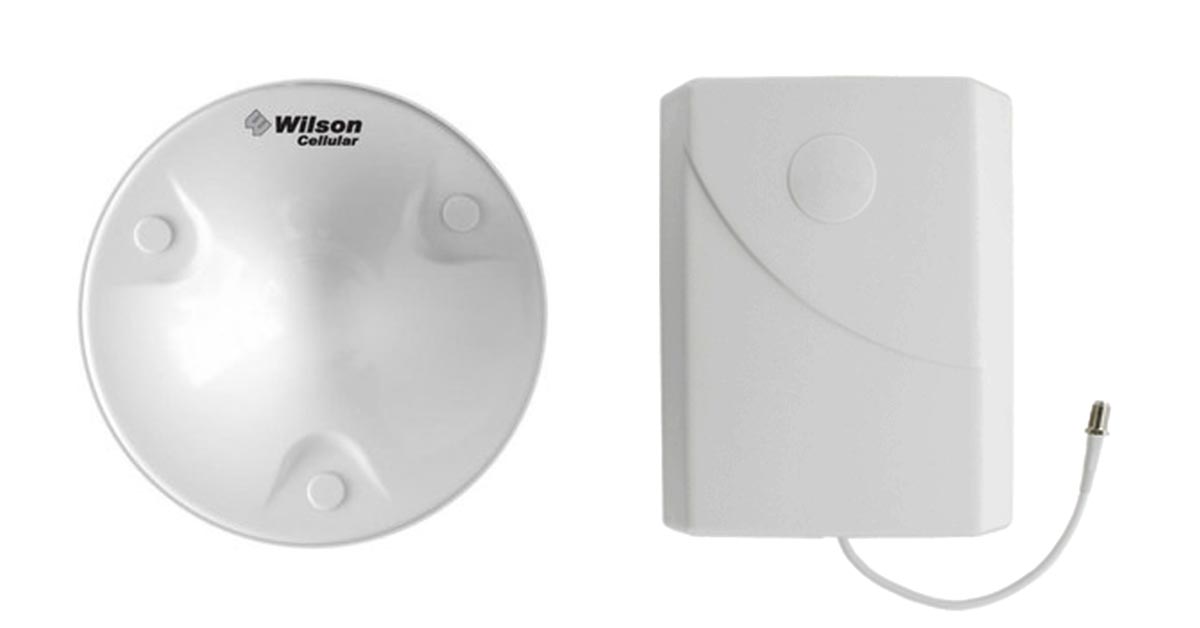 Cell phone signal boosters amplify 2G, 3G, and 4G LTE cell signals in poor coverage areas. Especially in buildings where dense walls and building material can absolutely block out cellular signal from reaching to your phone.
But with a signal booster that amplifies radio frequency (RF) signals like 3G & 4G, getting better reception and service is a virtually guaranteed.
The end result? Better talk & text. Faster internet and data. You know, the stuff that you paid for and rightfully deserve.
The majority of cell phone boosters come in three major parts:
The Outside Antenna pulls in the signal.
The Amplifier (or Repeater) boosts the signal up to 32X depending on the quality of the outside signal.
The Inside Antenna then rebroadcasts the enhanced signal in the area in need: an office, the home, or a building depending on the unit you're using.
While each component plays a major role in getting the absolute best signal, the Inside Antenna is what ultimately delivers the final goods. So today, we look at the two types of Inside Antennas that comes with most signal boosters: dome and panel.
So which one works best for you?
Panel Antennas
The majority of weBoost signal boosters by Wilson Electronics use panel antennas. They are typically wall-mounted and send signal in a directional cone ranging from 45 to 70 degrees.
Having such a narrow focus allows for stronger signal at the source (i.e. the closer to the panel antenna, the better the signal).
So panel antennas in general are good for spot locations where certain parts of the home, office, or building need better signal like a living room or conference room.
The reason why panel antennas are generally recommended first is because of inside interference.
What exactly does inside interference mean?
Building material such as metal, concrete, and energy-efficient barriers can disrupt signal from the outside. Once inside, dense walls and other RF-disrupting material (metal, glass, sheetrock, etc) can equally disturb the signal coming from the inside antenna.
With the panel antenna, you have a choice of focusing on an area within your home or office to receive the best signal and faster data service first before it spreads to lower priority areas.
Dome Antennas
Dome Antennas are generally ceiling-mounted and broadcast amplified signal 360 degrees.
This provides a wide horizontal spread of signal deliver equal signal to every direction it broadcasts.
In a perfect condition with low ceilings and zero to limited inside interference like open rooms and office spaces, dome antennas are very good at sending improved signal.
However, if you have high ceilings (usually 20-30 feet or higher) and lots of walls or thick walls, then a dome antenna wouldn't be recommended since the signal might be potentially weakened before reaching your phone.
So Inside Antenna is right for you?
Do you have lots of inside interference like thick walls and metal and glass material all around? Go with the panel antenna.
Do you have open space with virtually no walls or thin walls? Go with the dome antenna.
How May We Help You?
Wilson Amplifiers is the leading provider of cell phone signal boosters. Cell phone boosters amplify 3G & 4G LTE for any phone with any carrier for home, office, or vehicle.
We seriously hate dropped calls and poor coverage, so it's our goal in life to stomp on spotty signal like the little roaches they are:
Free consultation (ask us anything) with our US-based customer support (sales@wilsonamplifiers.com) or call us at 1-800-568-2723.
Free shipping.
Better signal or industry-leading 90 money-back guaranteed. No questions asked.
We want everyone to be satisfied, so we provide lifetime technical support and a 2-year warranty for all products.
Ask us anything and we'll be glad to help.