What's The Difference Between The weBoost Drive 4G-M & Drive 4G-X?
IMPORTANT NOTE: The weBoost Drive 4G-M and the weBoost Drive 4G-X have been discontinued. The Drive 4G-M has been replaced by the weBoost Drive X (475021) and the Drive 4G-X has been replaced by the weBoost Drive Reach (470154). The upgraded versions outperform their predecessors. Check out our Drive X vs Drive Reach comparison, here
The new boosters still share similar specs as the discontinued ones, thus many of the same points in this comparison also apply to the new versions.
Almost The Same Name But With Very Different Games
The weBoost Drive 4G-M (Model: 470121, previously 470108) and weBoost Drive 4G-X (Model: 470510) are signal boosters for cars, trucks, RVs, and boats.
They amplify weak 3G & 4G LTE signals on the road, ending dropped calls, poor talk & text, and slow internet.
By boosting your signal, you get better coverage, reliable service, and faster data speeds, you get everything need your cell phone to do.
Both signal boosters are very popular units and are similar in terms of signal boosting performance.
We fix poor cell phone signal! Find the right signal booster for you:

For Home

For Vehicle

For Business

For Commercial
How They're The Same:
Boosts talk, text, internet, 3G and 4G LTE Data
For vehicles: car, truck, RV, or boat
For multiple users (up to 4 cellular devices)
Up to +50 dB gain
However, there is one MAJOR difference between the two models.
How They're Different: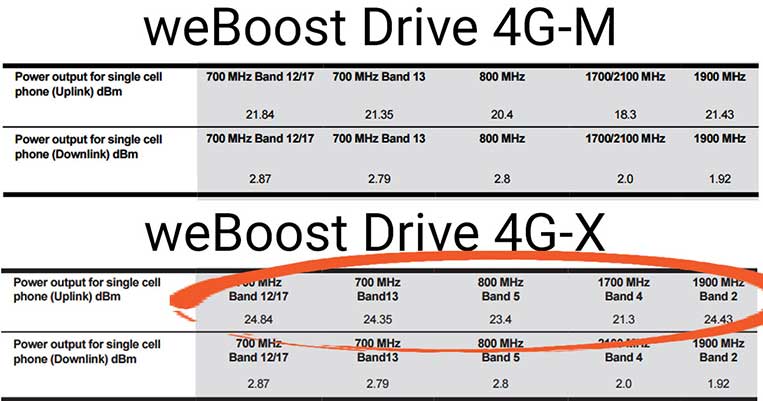 If you look at the power output (downlink), you notice they have the exact same downlink (download) speeds. However if you look at power output (uplink), the Drive 4G-X has a +3 dB (decibel) gain on all 5 cellular frequency bands.
What does this mean?
Cell phone boosters reach in the distance in search of existing cell signal, pull them in, amplify them, then rebroadcast the enhanced signal inside your car.
The Drive 4G-X has double the uplink output compared to the Drive 4G-M.
In theory, it means it should have 2x the reach from outside antenna to the nearest cell tower. Real world results put it somewhere between 30-60% more reach than the Drive 4G-M. But remember, all results vary depending on outside signal and other outside factors.
Although both models download & amplify at the same power, if nearby cell towers are scarce in your area, then the Drive 4G-X is the better performer.
FYI, decibels are measured exponentially. So a +/- 1 dB gain or loss is quite a big deal. Here's a quick chart showing dB & power increase:
| dB | Power Amplified |
| --- | --- |
| +1 | 1.3x |
| +2 | 1.6x |
| +3 | 2.0x |
| +4 | 2.5x |
| +5 | 3.1x |
| +6 | 4.0x |
In Conclusion
While both models are very good performers, the weBoost Drive 4G-X (Model: 470510) is best used for people living in the countryside, remote, rural or fringe areas, because cell tower distance is usually the biggest problem out there.
For people in the city and other urban & developed areas, the weBoost Drive 4G-M is more than enough to get a boosted signal.
Remember, the Drive 4G-X and Drive 4G-M have been discontinued and replaced. Learn more about both products below:
How May We Help You?
Wilson Amplifiers is the leading provider of cell phone signal boosters. Cell phone boosters amplify 5G/4G/LTE for any phone with any carrier for home, office, or vehicle.
We seriously hate dropped calls and poor coverage, so it's our goal in life to stomp on spotty signal like the little roaches they are:
Free consultation (ask us anything) with our US-based customer support ( sales@wilsonamplifiers.com ) or call us at 1-800-568-2723 .
Free shipping.
Better signal or industry-leading 90 money-back guaranteed. No questions asked.
We want everyone to be satisfied, so we provide lifetime technical support and a 2-year warranty for all products.
Ask us anything and we'll be glad to help.
Interested in Learning More? Check Out Our Signal Boosting Info Center
THE WILSON AMPLIFIERS ADVANTAGE
FREE SHIPPING No Minumum Purchase
90-DAY
Money Back Guarantee
LIFETIME
Technical Support