WilsonPro 1100: Next Generation of Cell Phone Signal Boosters
The Future of Signal Booster Technology Has Arrived
Introducing the WilsonPro 1100 from Wilson Electronics, the industrial booster at a small business price point of just $1599.99, covering up to 35,000 square feet.
We fix poor cell phone signal! Find the right signal booster for you:

For Home

For Vehicle

For Business

For Commercial
It's no secret that the WilsonPro line is the leader in the commercial signal booster space, a gap that continues to widen with the new 1100. Like its cousins, the Pro 70 Line, it provides significantly enhanced 4G LTE voice and data coverage inside commercial buildings, industrial installations, and large homes for all phones and all carriers. It's also 5G ready. However, where it differentiates itself is with its versatility and power.
The WilsonPro 1100's maximum gain of +70 dB, +25 dBm uplink and +15 dBm downlink power, and XDR (eXtended Dynamic Range) technology make it ideal for both extremely rural and extremely urban environments. With that kind of upload power, it has greater reach than any other booster, allowing it to bring in critical signal from far-away cell towers. Its XDR technology prevents signal overload conditions - in other words, it won't be overwhelmed by all the noise of a busy urban area. No other commercial booster on the market has this kind of versatility.
The amplifier's user-friendly touchscreen allows for easy customization. The WilsonPro 1100 covers five bandwidths (PCS, AWS, CELL, LTE-Lower, and LTE-Upper), with the option of removing coverage on one or more. This should only be done by a professional, but can be helpful if certain coverage is unnecessary, thereby focusing the amplifier's power on the selected bands.
Last but not least, the WilsonPro 1100 comes in either 50 or 75 ohm format. We recommend the 50 ohm version in most situations, but if your home is wired with strictly 75 ohm RG11 cable, it is available as an option. The 50 Ohm version is SKU#: 460147, and the 75 Ohm is SKU#: 461147.
Below are some astonishing results from a real-world application of the Wilson Pro 1100: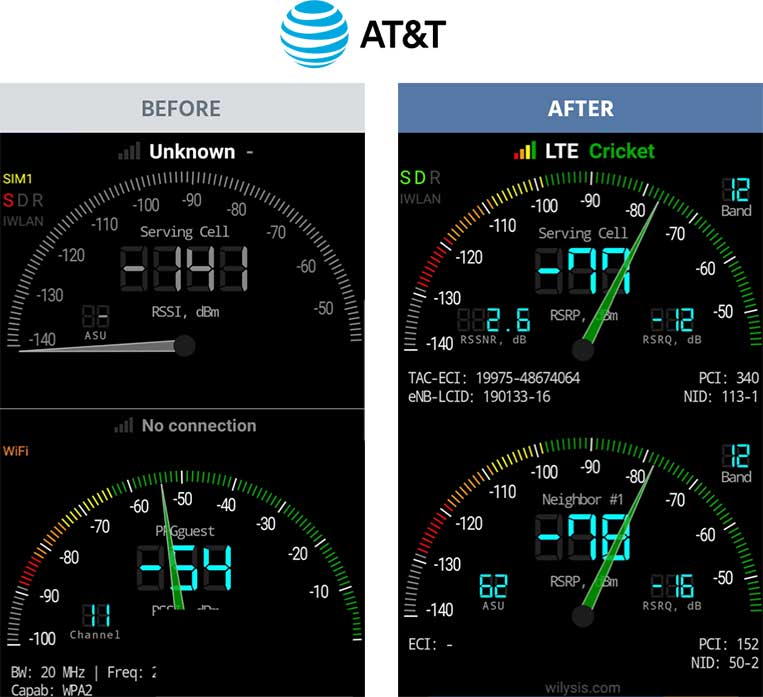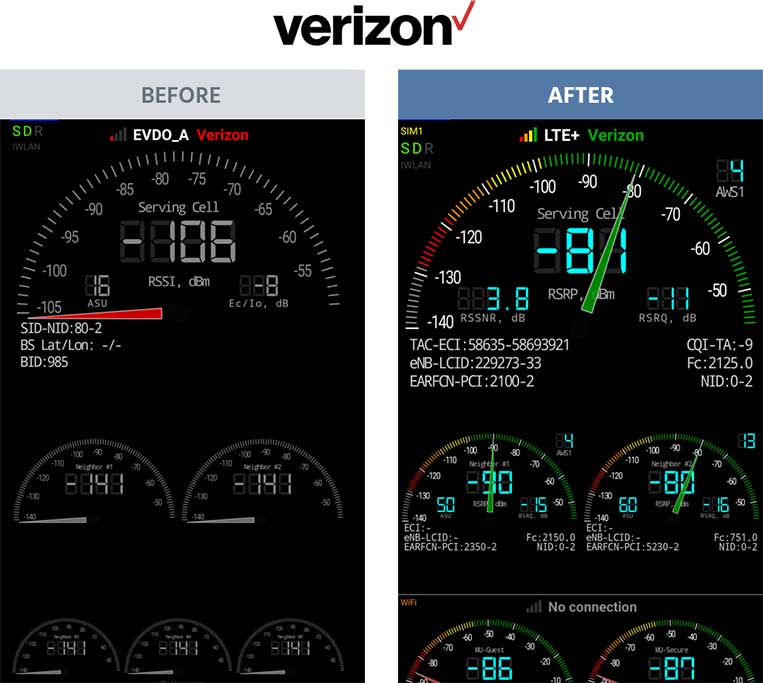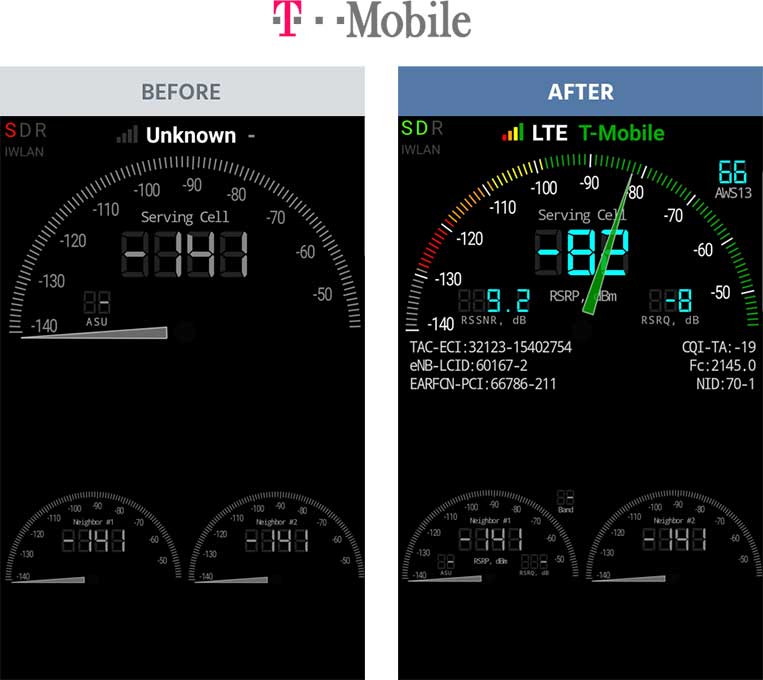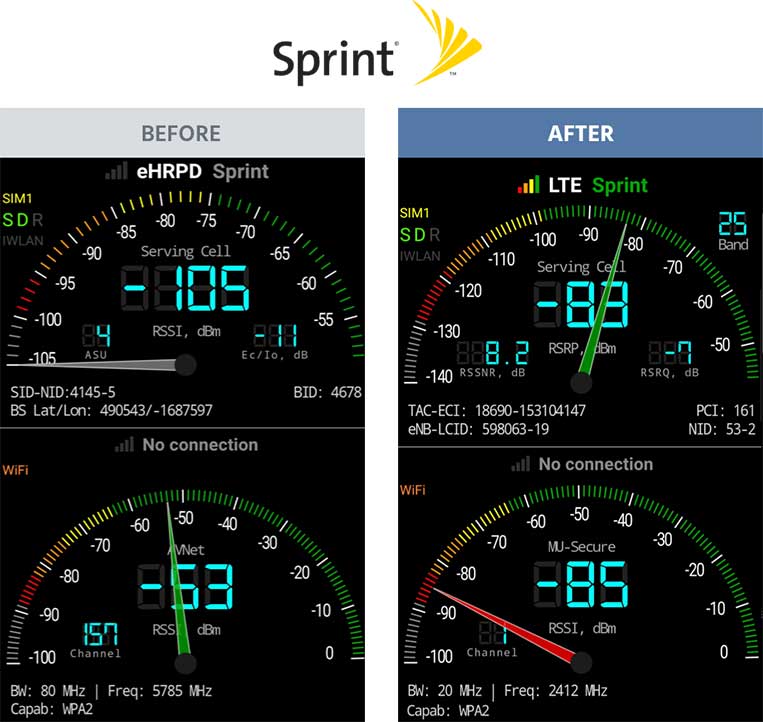 If you'd like to learn more about this incredible test, read about our installation at Marian University.
If all of this sounds a bit overwhelming, feel free to call us toll free at 1-800-919-7442 or send an email to pro@wilsonamplifiers.com
Product Features: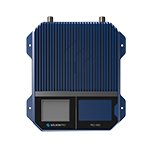 Up to +70 dB of gain
Works for all phones and all carriers
Boosts 698-716 MHz, 729-746 MHz, 777-787 MHz, 824-894 MHz, 1850-1995 MHz, 1710-1755/2110-2115 MHz cellular radio frequencies.
Extended Dynamic Range to ensure continuous connectivity
A simple wall-mount installation
Onboard adjustable software
Color LCD Touch Screen
50 or 75 Ohm variants
The WilsonPro 1100 is the most advanced commercial cell phone signal booster in the market.
With coverage up to 35,000 sq ft, it literally can change your ZERO signal to HERO signal.
Great option for hotels, office buildings, warehouses, manufacturing plants, and schools.
What Comes in the Box?
1x WilsonPro 1100 Cellular Repeater
1x Outdoor Yagi Directional Antenna
1x Indoor Dome Antenna
1x Lightning Surge Protector
1x 2' RG11 or Wilson400 Jumped (depending on ohmage of system)
2x RG11 or Wilson400 Cable (depending on ohmage of system)
FAQ
Do you offer Installation?
Yes! Wilson Amplifiers offers full turnkey installation of all commercial or enterprise signal boosters, and the 1100 definitely fits the bill.
We specialize in designing custom-built signal booster system plans and installing them nationwide. Our designs can cover up to 1,000,000+ square feet and be deployed within one to two weeks with correct approval.
The process starts with a call (1-800-919-7442) or filling out our Installation Request form.
Does WilsonPro 1100 Boost 5G?
Yes, but only on select frequencies. You can read more about it here.
Will the WilsonPro 1100 Work in my Country?
The WilsonPro 1100 is currently confirmed to work in both the United States and Canada, and is manufactured for those regions. You may find some overlap between the frequencies used by American and Canadian carriers, but its reliability is not guaranteed.
Interested in Learning More? Check Out Our Signal Boosting Info Center
THE WILSON AMPLIFIERS ADVANTAGE
FREE SHIPPING No Minumum Purchase
90-DAY
Money Back Guarantee
LIFETIME
Technical Support