A Basic But Neglected Hospitality Service to Keep Guests Happy
The best service, a great location, top-notch amenities, a renowned bar & restaurant, and extraordinary decor that looks like modern art.
You've got the five-star experience, right?
Despite hotel management and front-line staff exceeding customer expectations, there's often one important and ignored service that affects everyone from guests to the staff themselves.
How's your cell phone service indoors?
See complete cell signal booster kits for your situation:
Home
Vehicle
Business
Commercial
Most Hotels Have Terrible Cellular Connection
It's the 21st century and connectivity is the new necessity. Unfortunately, most hotels are still stuck with yesteryear's problems.
While 4G LTE signals from all carriers freely propagate in open areas, inside buildings, it's severely limited by heavy building material that blocks, absorbs, reflects, and degrades cell signal– thus limiting coverage and creating dead zones.
From thick concrete walls to various metals used in construction, it all disrupts cell phone from properly reaching inside. Modern energy-efficient hotels have it worse. Green material is known to bounce cell phone signal away.
The WORST Building Materials That Disrupt Cellular Service: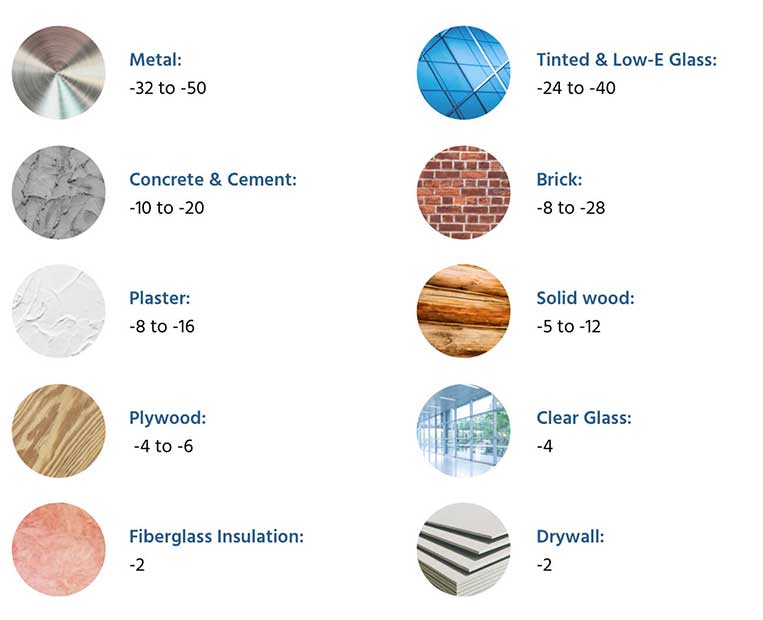 Do Guests Really Care About Having Cell Phone Reception Indoors?
Conference rooms. Banquet rooms. Ballrooms. Even to the comforts of their own bedroom. Think of the hundreds to thousands of guests staying overnight and dealing with spotty reception.
A missed call. Video buffering. Unable to upload or download important moments. These tiny frustrations add up. With the hospitality service all about the devil in the details, a dreaded loading screen on any phone is like a shower without clean towels.
Even with guests who are looking to get away from it all and disconnect are still tied to their smartphones and daily online comforts. Whether it's for leisure or emergency, at some point, everyone is dependent on having a STRONG wireless connection for their devices.
But Doesn't WiFi Cover Everything I Need for Indoor Coverage?
WiFi is the standard for wireless communication. There's no doubt about it. However, it does have its drawbacks.
First is congestion. With hundreds to thousands of guests and staff connecting to one single network at the same time, it leads to overloaded networks, slow speeds, and unreliable & unsecure connections.
Since nearly every person has a smartphone and paid plan, why not offload congestion and improve security by providing better use of their own network?
Second, in the case of a downed WiFi network, coverage across every room would have no access.
Third, cellular networks are varied with AT&T, Verizon, T-Mobile, and Sprint having independent frequencies and networks to provide alternate connections. More options are always a good thing.
Solutions for Getting STRONGER Cell Phone Signal Inside
With the rise of faster 4G speeds and the incoming 5G that will rival today's WiFi networks, IT managers and hospitality managers are now selecting cell phone signal boosters to improve their indoor cellular connectivity. Whereas building material weaken signal, cell phone signal boosters amplify signal inside.
Let's look at the top options:
Active DAS (Distributed Antenna System)
DAS stands for distributed antenna system. It's a system of antennas and remote nodes that improve cellular coverage inside any hotel building.
Active DAS uses fiber optic cables and converts analog RF signal to digital for longer cable runs and wider coverage. It also connects directly to the carrier network thus providing the best coverage especially for large complexes like resorts.
However, it's expensive, with up to $5 per square foot covered and deployment time is long due to getting carrier permission and necessary requirements. Also, permission is limited to only ONE carrier at a time, so having a multi-carrier active DAS system requires 4 independent requests for permission to connect to AT&T, Verizon, T-Mobile, and Sprint.
Pros:
Basically adding a mini cell tower inside the building
Strongest indoor coverage for cellular
Good for big campuses and buildings
Cons:
Expensive
Requires permission from each carrier
Long installation time.
Need to talk about a DAS Solution? Contact us at [email protected] for a free quote.
Passive DAS (Distributed Antenna System)
Passive DAS pulls in off-the-air cellular signal and amplifies it to and from the cell tower. Because it is already using existing carrier signal, it does not require permission and is cheaper and faster to install–about $1 per square foot.
Passive DAS is also known as a cell phone signal booster. It's commonly popular for home use; however, stronger commercial signal boosters are now entering the small medium enterprise market.
It's not as powerful as Active DAS and is 110% dependent on the quality of outside signal. Yet it's a cheaper option for smaller metal buildings.
This is the option most mid-sized hotels are choosing to improve their cellular connection and speeds.
Pros:
Amplifies outside signal and brings it inside
Cheaper than active DAS & fast installation time
Good for small buildings up to 250,000 sq ft
Cons:
Not as powerful as active DAS
Dependent on outside signal
Best Passive DAS (Commercial Cell Phone Signal Booster) Solutions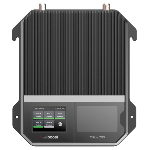 Up to 35,000 sq ft of coverage
Up to +72 dB of gain
Works for all cellular devices across all carriers.
Extended Dynamic Range to ensure continuous connectivity
A simple wall-mount installation
Color LCD Touch Screen
Scalable for maximum coverage
75 Ohm variant
The weBoost for Business Office 200 Installed is weBoost's new professionally installed unit for small to mid-size restaurants, hotels, bars, and other hospitality facilities. Building material will no longer be the thing holding your business back from providing 5-star service. And if cell tower distance is also an issue, the Office 200 is capable of reaching faraway towers to send and receive the strongest cell signal possible.
Customers and staff will all be able to enjoy quality cell signal, uninterrupted text messages, and fast data speeds where it matters most – their rooms, the lobby, corridors, throughout the restaurant, and even in the bathroom.
Not to mention, with the Office 200's sleek design and low-profile indoor dome antennas, it's guaranteed to blend in with your restaurant or hotel's unique décor.
If you value aesthetics, power, and a professional installation, you can't do better than this for your business. However, if your hospitality building is pre-wired with 50 Ohm cables, the self-install weBoost Office 200 may be a better option.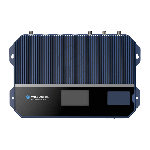 Indoor 4G & 3G coverage up to 100,000 sq ft. 5G Ready.
Works for all cellular devices across all carriers
Stronger & more reliable calls, text, email, and internet data
Up to 3 outdoor antennas to maximize coverage
Up to +70 dB gain, +26 dBm uplink power and +17 dBm downlink power.
Without a doubt, the most powerful cellular signal booster ever made. The secret to the WilsonPro 4300 is the revolutionary design. Instead of 1 signal booster, the unit houses four (yes, FOUR) independent signal boosters in a rack-mount unit for IT closets or wall-mount unit.
It can use up to 3 outdoor antennas, each dedicated to a specific frequency band to collectively amplify signals from multiple towers, and up to 4 indoor antennas to maximizing coverage indoors. Under perfect conditions, it can cover areas up to 100,000 sq ft, but areas with fair to poor signal will get between 20,000 to 80,000 sq ft of coverage. Not to mention, it features XDR technology, which automatically adjusts the booster for maximum gain no matter how strong or poor the signal.
Further Reading:
Wilson Amplifiers: The Trusted Name in Boosting Signal
Active or passive DAS, which is the best solution for you? Wilson Amplifiers always has the answer. Depending on the size, scope, and situation, the experts at Wilson Amplifiers can tailor a custom solution for you in time, under budget, and professionally installed.
Services we provide:
FREE floor plan analysis with detailed heatmaps & coverage expectations.
FREE consultation adhering to your requirements and budgets.
Equipment selection from only the best.
Site survey from certified wireless technicians.
Professional turnkey installation & expert project management.
Contact us today to get the best solution for improving your 4G LTE cellular signal indoors.
THE WILSON AMPLIFIERS ADVANTAGE
FREE SHIPPING No Minumum Purchase
90-DAY
Money Back Guarantee
LIFETIME
Technical Support