Cell Signal Boosters for Rural Areas and Farms: The Complete Guide
What is the Best Cell Phone Signal Booster for Rural Areas?
This is the life.
You're in your deep woods cabin or mountain cottage, off the grid, away from the noise, and surrounded by that peace only Mother Nature can provide.
Or maybe you're tilling the earth, working hard on your farm all day, making an honest living.
But, as they say, every rose has its thorns.
We fix poor cell phone signal! Find the right signal booster for you:

For Home

For Vehicle

For Business

For Commercial
The Problem: How to Get Better Cell Coverage in Areas with Weak Reception?
Living in a remote, rural area also means having limited cell phone signal. Dead zones are commonplace. Dropping calls, unable to use the internet, and at best, having spotty service isn't quite the ultimate convenience you're hoping for.
And let's not forget about emergencies, too. Being able to connect becomes the only thing that matters then.
The Solution: Cell Phone Signal Boosters for Rural Areas and Farms
It's simple: Boost your 4G and 4G LTE signal!
A cell phone signal booster for rural areas takes existing weak signal, amplifies it, and rebroadcasts the enhanced signal inside your remote cabin, cottage, or off-the-grid home:
Better 4G, LTE, and 3G coverage, reliable reception, and faster internet service.
Works for all phones & cellular devices (tablet, hotspot, laptop, etc.)
FCC approved cellular signal extenders
5G Ready - Will work for the next decade and beyond
Works for all regional & US carriers (Verizon, AT&T, T-Mobile, Sprint, US Cellular, and more!)
Complete kits, easy to install.
No monthly fees, no need to connect to WiFi.
Strong signal or 90 Money Back Guarantee!
With over 150,000 signal boosters (also called repeaters) provided across every state and province in the USA and Canada for almost every type of building, we've compiled a list of the best signal boosters for rural homes, cabins, cottages, and bungalows. It's simple: more bars / decibels = better service.
With commercial buildings in the countryside, we also have a dedicated team of installers and planners to get the absolute best service.
There are many great reasons to own a signal amplifier, especially if you live in a rural area with poor outside signal strength.
Why be a servant to the cell tower? Bring the cell tower inside your home!
A Note on Antennas
There are generally two types of outdoor antennas used with home boosters: omnidirectional and directional. If you live in a rural area, don't bother with an omnidirectional antenna, as, even though it is easier to install, it will provide less gain for your system. This is critical when you live far away from a cell tower.
In terms of directional antennas, there are two main types: yagi, and LPDA. LPDA antennas are much more powerful than yagi antennas and should be used in extremely rural areas to provide more powerful signal. They are, however, expensive, and significantly harder to install. Yagi antennas, on the other hand, are easier to use and tend to work well if you live within 3 miles of a tower. Yagi antennas are included in all of our recommended kits, but if you are still having trouble getting signal, we recommend upgrading to an LPDA.
For indoor antennas, avoid whips. Try and get a panel antenna or a dome antenna if possible.
Below are our cell phone booster for rural area top recommendations:
Best Cell Phone Boosters For Rural Homes
The Best Professionally Installed Signal Booster for Home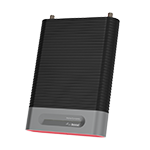 weBoost Installed Home Complete Overview:
Superior cell phone service for your entire home. 5G Ready
Up to 7,500 sq. ft. of coverage under best conditions
Up to +72 dB of gain, with 24 dBm uplink and 12 dBm downlink
Multiple accessories for maximum coverage and customization (sold separately)
Complete coverage for entire home for all carriers across multiple devices
Outdoor yagi antenna and indoor panel antenna, with stylish fabric front
Needs no WiFi connection or monthly fees. One time purchase.
Designed, as you might expect, to cover an entire home. The weBoost Installed Home Complete certainly has that power, fully capable of covering a large home with decent outside signal or a midsize home with weak outdoor signal. Expect up to 7,500 square feet of coverage with flawless outside signal, but a more reasonable estimate would be somewhere between 3,500 and 5,500 square feet. In addition, in order to really maximize your coverage, additional antennas are required, especially if you're trying to cover more than one floor. If you live in a very weak signal rural area, this is your best option for decent coverage - you'll probably be getting about 2,500 square feet from it.
There are two major considerations on whether or not to buy the weBoost Installed Home Complete . This booster works best for large residential homes, suburban or rural areas, and more. The effective coverage area will vary depending on the strength of your OUTSIDE signal, so it's important to understand – if you're expecting 7,500 square feet of coverage but have only one bar outside your home, you won't get it. Realistic expectations of coverage in that scenario are more like 2,500-4,000 square feet.
The other major consideration is whether or not you'd prefer to install it yourself, or have someone do it for you. The weBoost Installed Home Complete is the only consumer booster currently on the market that allows for a complete, professional installation at no extra cost to you.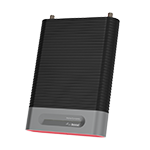 Note that the installation is only available for residential buildings. For more information on weBoost Installed Home Complete installation, click here
Professional Grade Signal Booster for Extremely Rural Homes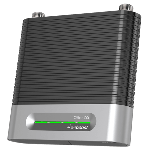 weBoost for Business Office 100 Overview:
Boosts Talk, Text, and 4G/LTE/3G Data. 5G Ready
Commercial signal booster
Up to 25,000 sq. ft. of coverage under best conditions
Up to +72 dB Gain
Expansion kits available to extend coverage
Automatic gain control to prevent overload
Great for urban and rural areas
Works with all cellular devices across all carriers
Expansion kits available to maximize coverage
This isn't a consumer unit.
This is a commercial pro-grade signal booster. However, for people with large cabins, farm complexes, or those who live in an extremely fringe "I can't get any internet or signal" area, the weBoost for Business line of commercial boosters should do the trick.
Commercial options range from 15,000 to 100,000 square feet. The weBoost Office 100 hits right in the middle, providing coverage up to 25,000 square feet; for the most part, it averages around 10,000 to 20,000 square feet depending on the configuration and outside signal.
To maximize coverage and performance in areas with extremely weak outside signal, the right antenna configuration is highly important. The kit includes an omnidirectional antenna and a drop-tile ceiling indoor dome antenna. However, for rural applications, we strongly suggest you consider a powerful exterior directional antenna for additional gain, and if you don't have drop-ceilings, then panel indoor antennas may be a better option.
The Office 100 is the best option for a whole large home solution if you're struggling with extremely weak outdoor cell signal.
Budget-Friendly Signal Booster for Rural Homes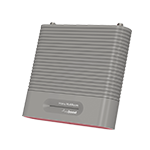 weBoost Home MultiRoom Overview:
Up to 5,000 sq. ft. of coverage under best conditions
Works for all phones and carriers
5G Ready - Will work for the next decade and beyond
Complete kit; all parts included. No monthly fees.
Outdoor yagi antenna and indoor panel antenna configuration, with stylish fabric front
The weBoost Home MultiRoom, while widely considered to be the standard, most basic signal booster of the weBoost line, is a budget option for anyone living in a very rural area. It replaced the old weBoost Connect 4G model, and is an upgrade in both aesthetics and power.
We'll lay it out as simply as possible: if you live in a fringe area with extremely weak signal, don't consider buying a booster with less reach or power than this one. You will see minimal results.
That being said, the weBoost Home MultiRoom was designed with rural areas in mind and will boost your signal for several rooms, even in weak signal areas. If you have stronger signal, expect better coverage.
If you live in an extremely weak signal area, or have a really big house you want to cover, consider its sister product, the weBoost Installed Home Complete. This comes with professional installation.
The weBoost Home MultiRoom features a nice, clean look, with an indoor antenna that won't stand out amid your existing home decor.
The weBoost Home MultiRoom boosts signal for all major North American carriers. Should you ever change carrier, the weBoost Home MultiRoom will still work.
Other home signal boosters we offer include the weBoost Home Room (formerly the Home 4G) and the weBoost Home Studio. However, we don't recommend this for rural areas, as their external antennas are generally not strong enough to provide a significant enough boost.
Best Cell Phone Signal Booster For Vehicles in Rural Areas
The Best Cell Phone Signal Booster for Cars, Trucks, and Other Vehicles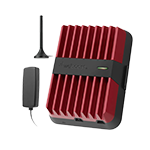 weBoost Drive Reach Overview:
5G ready booster - Improved talk, text, and data guaranteed
Up to +50 dB of gain - the max allowed for a mobile signal booster in North America
Highest uplink output of any vehicle booster
Works for all phones and all carriers
Boosts 698-716 MHz, 729-746 MHz, 777-787 MHz, 824-894 MHz, 1850-1995 MHz, 1710-1755/2110-2115 MHz cellular radio frequencies.
Sleek, metallic exterior designed to displace excess heat for peak performance
Custom bracket for under seat or in-truck mounting options
Easy to use SMB connectors
The weBoost Drive Reach is the newest, most powerful vehicle booster from Wilson Electronics.
A slim outside antenna picks up signal. An indiscreet inside antenna (usually Velcroed to the driver seat) broadcasts signal inside. You have to be about an arm's length to get the boosted signal, so it's best for your typical sedan, truck, or SUV.
This is the best booster no matter where you live, but especially for rural areas. Not only does it reach farther to the cell towers for rural areas, but it does a better job handling more noisy, urban environments than other signal boosters on the market. Highly recommended.
Budget-Friendly Cell Phone Signal Booster for Vehicles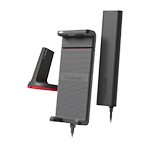 weBoost Drive Sleek Overview:
Boosts Voice, Text Messages, 4G, LTE & 3G Data. 5G Ready.
For a single smartphone
Cradle signal booster
Up to +23 dB Gain
The weBoost Drive Sleek is about price and performance for a single device.
The kit includes a magnet mount antenna that can be easily installed on the roof of any vehicle and an adjustable cradle vent mount designed to hold any size smartphone or small tablet. To benefit from the boosted signal, your cellular device has to be in the cradle. And when paired with a Bluetooth headset, it really shines for hands-free calling and navigation.
It'll work best in urban and suburban areas but is not the strongest performer in extremely remote locations. However, as long as you have a sliver of signal, the Drive Sleek won't let you down.
FAQ:
1. How well do cell phone boosters work in rural areas?
Pretty well.
Cell phone signal boosters were made for people in low-service areas where AT&T, Verizon, T-Mobile, Sprint, and other regional carriers didn't really extend their coverage area.
So instead of heading into town or begging for a bar, a cell phone booster reaches to AND from the cell tower to deliver reliable reception.
2. How does it boost cell phone reception in remote areas?
A cell phone signal booster works by doing 3 main things:
The Outside Antenna pulls in existing 4G, LTE, and 3G signal.
The Amplifier boosts signal up to 32X.
The Inside Antenna broadcasts the boosted signal inside your cabin or cottage.
It's important to note that a cell phone booster ENHANCES signal but does not create it. Think of it as healing the injured and not raising the dead.
Usually, if you can get some signal near your home but not inside, a cell phone booster will work for you.
Besides, we provide a 90 Day Better Signal or Money Back Guarantee, because we want people to be completely happy with their boosters.
There are some known areas where cell signal does not exist or is incredibly spotty, including:
The Ozark Plateau
Frozen Head State Park, Tennessee
White Pocket, Arizona
Certain Areas in Upstate New York
No Return Wilderness, Idaho
Steens Mountain, Oregon
Wasatch Mountains, Utah
Haleakala National Park, Hawaii
Texas Hill Country
The Great American Southwest
If you live or travel to one of these areas, you might see very limited results even with a booster - but something is still better than nothing.
3. I have a farm out in the country, will this work for me?
The best cell phone signal booster for farms depends on a few factors.
How far away you are from your nearest cell tower
The building material of the building you want cell signal in (i.e. if you have a metal barn, you will have worse signal than if you have a wooden one).
The strength of your outside signal
Again, if you have incredibly weak outside signal, you'll need to invest in a stronger booster to get any decent results.
As a general rule, you should buy the strongest booster possible if you live far away from a cell tower, but if you live pretty close to one, you can get away with a weaker booster.
4. Does a cell phone signal booster work for camping?
It depends what you mean by camping.
If you're talking about campgrounds, inside a building with electricity, then yes, a booster will improve signal.
If you're talking about being outside and not having access to wall outlet, then, no a booster will not work.
5. Does a cell phone booster work for mountains?
Yessir.
If signal can reach to the mountain or close enough to it, a cell phone booster will pull it in, unless you're on something like Mount Everest.
6. Will a cell phone booster work with my phone?
Yes, yes, and yes.
Whether it's an iPhone, Galaxy, Pixel, or any phone, if you've got paid service, then a signal booster will also improve reception to your phone.
7. What if I switch carriers in the future?
Our signal boosters from Wilson Electronics (weBoost & WilsonPro) are multi-carrier systems. This means they are also compatible with Verizon, T-Mobile, Sprint, US Cellular, and other major and local carriers.
They are future-proof!
8. What about 5G service?
Yeah... about that.
The 5G standard has not been officially set by the 3GPP. Therefore carriers like AT&T and Verizon are pre-building our their 5G services by upgrading their current 4G LTE and giving it names like 5G Evolution, First on 5G, 5G+,etc.
But no, it's not the real 5G. It's pre-5G, fake 5G– it's literally 4G LTE on steroids.
The real 5G should launch by the end of 2020.
9. Will 5G make my signal booster obsolete?
Nope.
4G LTE is still being built out across North America. If fact, 4G LTE is the backbone of the nation's wireless service. It's not going anywhere anytime soon, AND it's getting faster.
4G LTE is expected to peak in 2030-2035. So...come back in a decade and ask the same question and we might hava a different answer by then.
How May We Help You?
Wilson Amplifiers is the leading provider of cell phone signal boosters. Cell phone boosters amplify 3G & 4G LTE for any phone with any carrier for home, office, or vehicle.
We seriously hate dropped calls and poor coverage, so it's our goal in life to stomp on spotty signal like the little roaches they are:
Free consultation (ask us anything) with our US-based customer support (sales@wilsonamplifiers.com) or call us at 1-800-568-2723.
Free shipping.
Better signal or industry-leading 90 money-back guaranteed. No questions asked.
We want everyone to be satisfied, so we provide lifetime technical support and a 2-year warranty for all products.
Ask us anything and we'll be glad to help.
THE WILSON AMPLIFIERS ADVANTAGE
FREE SHIPPING No Minumum Purchase
90-DAY
Money Back Guarantee
LIFETIME
Technical Support