We Attended an Installation of the New weBoost Installed Home Complete
Signal Booster Installation Made Easy
The weBoost Installed Home Complete claims to be the first signal booster to come with a professional installation. In the past, we've offered our DISH Home Install service, which performed a similar function. However, that service was limited by ZIP Code, and with many of our customers living out in the countryside, they were unable to receive it.
We fix poor cell phone signal! Find the right signal booster for you:

For Home

For Vehicle

For Business

For Commercial
That's all changed with the Installed Home Complete. Here's what to expect.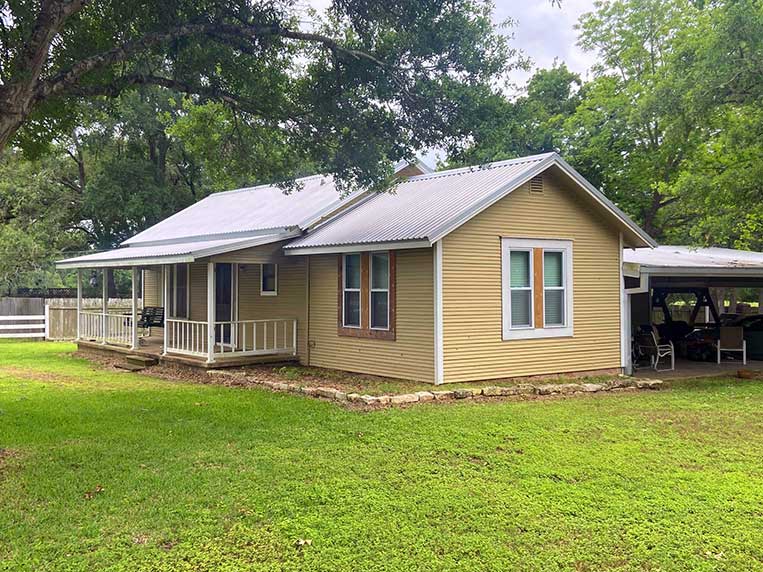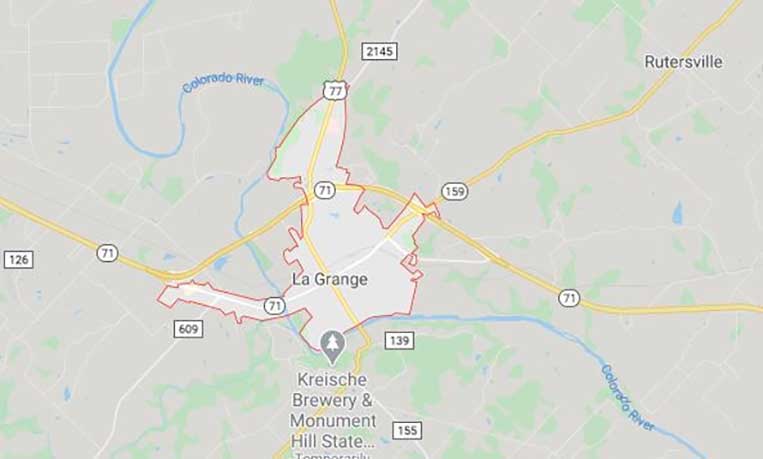 For Rural and Suburban Areas Alike
This is the home of Harvey Wessels, a resident of La Grange, TX. La Grange is in rural East Texas, between Austin and Houston. On a good day, Harvey had –115 dBm of cell signal in his home – barely more than a dead zone. Millions of rural Americans have similar issues, as long distances from their nearest cell tower combined with the building material from their homes leave them with extremely weak signal no matter where they are. If you've ever had to go outside to make a call, or have frequent drops or slow data even outside, I'm sure you can relate. In order to talk to his daughter or grandchildren, Harvey had to stand outdoors - not exactly fun in hot or cold weather.
A Simple Process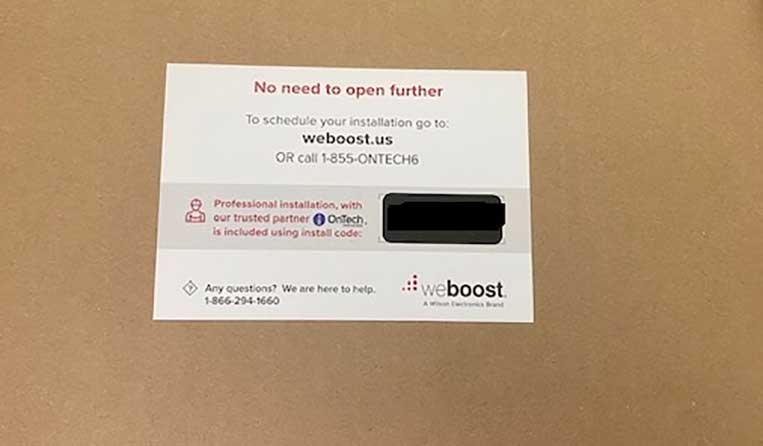 When Harvey received his Installed Home Complete, he was greeted with the above message. When he called the number, he spoke to a representative of OnTech, the company that will be handling all installations of this product nationwide. They are a branch of DISH Network, so your installer may arrive in a DISH van, but they are all the same company.
The conversation was short and pleasant. Harvey provided the code provided (blacked out in the earlier picture), and the installation was scheduled for the next day, which happened to be a Friday. The installers are available 7 days a week, and can schedule anywhere from next day to a week after your call. They do require you to be present during the installation, so bear that in mind.
The installation was scheduled between 10 A.M. and noon, and the installer arrived close to noon. He arrived wearing gloves, masks, and with an ample supply of hand sanitizer and wipes. OnTech appears to be taking the current pandemic seriously, trying to protect both their installer and vulnerable customers from the COVID-19 virus.
The box Harvey received only contained the signal booster itself, as well as a yagi antenna, single panel antenna, power supply, and brackets. The RG6 coaxial cables were provided by the installers.
The yagi antenna was placed on the roof, with the panel antenna placed in the living room.
Dramatic Results
As you can see, a dramatic difference. The power of the booster combined with the professional installation turned a near dead-zone into a reliable signal area with the flick of a switch. Harvey was very pleased!
The weBoost Installed Home Complete worked as hoped for. The Home Complete amplifier has always been the preferred signal booster for rural homes due to its power. The primary customer complaints it often received were due to the complexity of its installation – finding your nearest cell tower, reading your signal strength the right way, and many other reasons. However, the professional installation removes the guesswork and busywork, providing the cellular signal you need.
Potential Downsides
The biggest downside we saw was the amount of time the installation took. While they claimed it might be two hours, in our experience it was more like four. If your house is much larger than Harvey's, it might take even longer. As this is a just launched product and service, there were some minor slowdowns as the installer was still learning the product. As more of these are sold and the services become more widespread, both these problems are likely to become less impactful. However, they bear mentioning.
Another is that this is only available for residential units with the permission of the property owner. So, if you rent your home and can't get permissions from your landlord, getting this installed won't be possible. If you're a commercial business, we do offer nationwide commercial installation, but it's through our own Wilson Amplifiers in-house team.
Regardless, if you need better cell signal at your home, this is the simplest, most pain-free option out there. You won't have to worry about the booster being powerful enough - it should be powerful enough for nearly any home - and the installation makes sure it's optimized for your exact home layout.
Check out the weBoost Home Installed here.
How May We Help You?
Wilson Amplifiers is the leading provider of cell phone signal boosters. Cell phone boosters amplify 5G, 4G, and LTE for any phone with any carrier for home, office, or vehicle.
We seriously hate dropped calls and poor coverage, so it's our goal in life to stomp on spotty signal:
Free consultation (ask us anything) with our US-based customer support (sales@wilsonamplifiers.com) or call us at 1-800-568-2723.
Free shipping.
Better signal or industry-leading 90 money-back guaranteed. No questions asked.
We want everyone to be satisfied, so we provide lifetime technical support and a 2-year warranty for all products.
Ask us anything and we'll be glad to help.
Interested in Learning More? Check Out Our Signal Boosting Info Center
THE WILSON AMPLIFIERS ADVANTAGE
FREE SHIPPING No Minumum Purchase
90-DAY
Money Back Guarantee
LIFETIME
Technical Support