Road Trips Items You Should Never Forget
Road tripping can be extremely fun. However, there are some prior preparations required to guarantee a successful and enjoyable road trip. Packing is one of them…
If you're like me, then you're a total packing procrastinator. The night before your trip you are scrambling around trying to figure out what are the most important things you need to remember to take. What to pack depends on what kind of activities you're going to do: camping, hiking, swimming, visiting tourist attractions, or all of the above. In the end, you might still end up forgetting one of the most important items.
Here you will find road trip essentials that will help you save money, time, minimize unnecessary stops, and let's not forget… keep you SAFE.
See complete cell signal booster kits for your situation:

Home / Small Office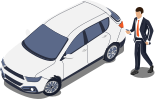 Car / Truck / RV / Boat

Commercial Building
---
Electronics:
Cell Phone
This one is obvious…
Camera
Most of us have really good quality smartphone cameras. But, there's nothing quite like taking high-quality shots, especially when the view is breathtaking and deserves more than a selfie.
Portable Charger
You will most likely be using your phone – searching for different destinations to visit, maps, camera, and music. Sometimes, you don't have access to a plug or there aren't any plugs available because everybody else is using them. A good USB power bank should be able to charge up your phone 6-9 times on a single charge.
Cell Phone Signal Booster
This item is one that not many websites/blogs list as an essential item. Think about this… How much of your time will be spent on the road? There are many stretches of highways, roads, and sparse areas that get limited cell service. This leads to slow internet and even worse, unresponsive map and direction services on your phone and other internet-related services. Cellphone Signal Boosters pull in existing tower signal in the area and amplify it for better use. That's why we recommend a car cell phone signal booster (for trucks or vans too!) like the weBoost Drive Reach Cell Phone Booster to get reliable signal.
The Drive Reach is weBoost's most powerful, in-vehicle cell phone signal booster. With its increased uplink power, users are able to access towers that are 2X farther for twice the signal strength—signifying an increase of almost 5dB in uplink output power. It's designed for cars, SUVs, trucks, semi-trucks, RVs, and trailers.
It offers 4G Coverage for the entire vehicle, and it's 5G ready. Plus, it works for all phones and cellular devices. Everybody involved in the road trip can enjoy great service, and you can use your car as an oasis of great signal, no matter where you are.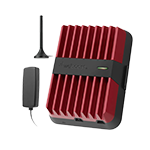 Boosts Talk, Text, and 3G & 4G LTE data
5G Ready
Amplifies multiple cellular devices across all major US carriers
Works in extremely rural and remote areas
Up to 50 dB Gain
Complete Kit: Mini Magnet Mount Antenna, Low Profile Inside Antenna, and a DC Power Supply
FREE shipping, no minimum purchase.
90 Day money back guarantee.
Lifetime support.
If you're planning on driving long distances through remote roads, this is a no-brainer investment.
---
Safety:
First Aid Kit
You never know what is going to happen to you, a friend, or family member while on these adventures. Ensure your First Aid Kit includes:
Medication
Gauze
Bandages
Anti-Biotic Cream
Aspirin
Disinfectant Wipes
Emergency Car Kit
You should never go on a road trip without an emergency car repair kit. Similar to the first aid kit, you never know what can happen to your car on the road. Items in a car kit may include:
Jumper cables
Screwdriver
Flashlight
Duct tape
Hydraulic jack
Cash
Not every place accepts credit cards. Having cash handy can be a lifesaver.
---
Comfort:
Snacks
Snacks are a must, that way you don't have to deal with hangry passengers. Having them helps you save some money while on the road (which is always a plus).
Ice chest/Cooler
Most road trips happen during the summer, so air conditioning and cold drinks are always welcomed. Similar to snacks, it will also help you save some money.
Blanket
Regardless of which season you're road tripping in, you will at some point appreciate a blanket. Sooner or later you'll find yourself at a chilly pit stop at night. Even if you never have to endure any cold temperatures, a blanket can also double as a pillow or emergency bag.
---
How May We Help You?
Wilson Amplifiers is the leading provider of weBoost vehicle cell phone signal boosters. Cell phone signal boosters amplify 3G & 4G LTE for any phone with any carrier for home, office, or vehicle.
We seriously hate dropped calls and poor coverage, so it's our goal in life to rid the world of spotty signal, one happy customer at a time. We provide:
Free consultation (ask us anything) with our US-based customer support (sales@wilsonamplifiers.com) or call us at 1-800-568-2723
Free shipping
Better signal or industry-leading 90 money-back guarantee
We want everyone to be satisfied, so we provide lifetime technical support and a 2-year warranty for all products
Ask us anything and we'll be glad to help.
THE WILSON AMPLIFIERS ADVANTAGE
FREE SHIPPING No Minumum Purchase
90-DAY
Money Back Guarantee
LIFETIME
Technical Support