RV Signal Boosters: Getting Better Signal Anytime, Anywhere
How to Boost Cell Signal in RVs or Campers
Nothing beats the freedom of traveling in your RV, motorhome, camper van, or trailer to explore all places in North America.
To make the most out of your vacation, reliable cellular reception on the go is a must, especially for emergencies. Unfortunately, weak signal and poor cell coverage plague most recreational vehicles.
Luckily, solutions do exist. They're called cell phone boosters. They take your weak cellular signal and significantly improve it. With a cell signal booster for RVs, you won't have to worry about dropped calls, unreliable GPS, or snail-like data.
We fix poor cell phone signal! Find the right signal booster for you:

For Home

For Vehicle

For Business

For Commercial
A weBoost RV Cellular Signal Booster is Your Ticket to Better Service and Battery Life
weBoost RV signal boosters boost existing 4G LTE and low-band 5G signals.
Think of them as giant megaphones. They take the spotty signal you're receiving, amplify it, and rebroadcast it throughout your RV, turning it from spotty to strong inside that space.
Depending on your signal strength and the booster's power, you can improve reception in a small area or the entire RV. Either way, you'll see a marked improvement in your signal strength.
Here's what to expect:
Crystal-clear calls
Constant connection
Fast internet
Quickly deliver and receive text messages
Wider coverage area
Longer battery life
More bars
...and more, all from the comfort of your RV
Do RV Signal Boosters Work?
If there's a sliver of existing signal outside, RV boosters will improve your reception and coverage. They amplify cell signals, not create them.
However, there are a lot of junk boosters out in the market. Our weBoost RV boosters are tested, FCC-certified, and backed by our 90-day money-back guarantee. If you find it doesn't work for you, there's no pressure.
To read some reviews, click here.
What to Look for When Buying an RV Cell Phone Booster
There are tons of RV signal boosters out on the market. It's easy to get overwhelmed with all the techy and boilerplate mumbo jumbo. Here are the top things to consider when looking for an RV cellular amplifier:
1. RV Signal Booster Type
There are two types of RV cell phone boosters: stationary and mobile. The difference between the two boils down to external antennas and power.
Stationary RV boosters are the most powerful option but can't be used while moving. They make use of a strong, directional Yagi antenna. Because the vehicle is not in motion, the antenna can consistently point towards your nearest cell tower. The amplifiers themselves are also more powerful. As a result, you get stronger signal and more coverage almost anywhere you camp. The only drawback is that once you're ready to move, you'll have to take down the Yagi, and when you camp again, you'll have to set it up again.
Mobile RV signal boosters are the jack of all trades. Their versatile omni or OTR outdoor antenna can send and receive cell signals from every direction. This allows them to quickly adapt to signal changes and connect to nearby towers while in motion. However, mobile RV booster kits are not optimized for end-to-end coverage of a large RV. Thus, if you have a large RV or spend most of your time at a campsite, you might find its coverage lacking.
If you spend most of your time parked, we recommend a stationary unit. If you spend more time on the road and care about reliable signal at that time, opt for a mobile unit.
2. Supported Carriers
Boosters can either amplify multiple carriers at the same time or a single carrier. The latter tend to be more powerful.
If your family subscribes to different carriers, go with a multi-carrier amplifier. You'll receive enhanced AT&T, T-Mobile, and Verizon signals with a single unit. On the other hand, if you only need to boost one carrier, a single carrier amplifier may be a better option for you.
3. Amplification Power
Your existing outside signal's strength plays a role in the signal booster's performance. If your signal ranges from weak to very spotty, consider a unit with high gain, uplink power, and downlink power.
Gain – Up to how much the signal booster can improve your signal strength. Expressed in dB (decibels). The higher it is, the better results you'll see.
Uplink Power – Up to how much power the booster uses to connect to a cell tower. Expressed in dBm (decibel-milliwatts). The higher it is, the better it can communicate with distant towers.
Downlink Power – Up to how much power the booster uses to connect to cellular devices inside the RV. Also expressed in dBm. The higher it is, the stronger the signal and better the coverage.
Systems with high amplification power are pricier. If your signal tends to be usable but still lacking, you can probably get away with a more affordable unit.
4. Power Source
RV cellular boosters need a power supply to work. They come with either an AC-adapter or hardwire power supply that'll fit any RV. Consider which one is best for your setup.
With all that in mind, let's look at our top recommended models and our customers' favorites:
Best Cell Signal Boosters for RVs
Best RV Signal Booster for Stationary Use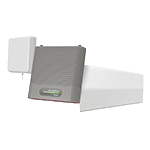 For stationary use ONLY
Boosts 4G LTE & 5G signals
Multi-carrier unit
Up to +65 dB gain, up to 25.3 dBm uplink, & up to 12.8 dBm downlink
Works with all cellular devices across all US carriers
Ideal for extremely rural and remote areas
If you're planning to stay at a campsite for a long time, the weBoost Destination RV is your best option for reliable signal.
While designed for large recreational vehicles, it can be used by any camper, trailer, or RV, of any size. Featuring up to +65 dB gain and powerful directional antennas, it can keep you connected in areas with extremely poor cell reception. Its high output powers allow for further reach and greater coverage. You'll be able to enjoy your vacation or work from almost anywhere. When you're ready to move, the included 25' telescoping mast makes setting up and taking down the Yagi antenna fast and easy.
Most Powerful Mobile Signal Booster for RVs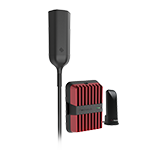 For stationary and mobile use
Boosts talk, text, and 4G/5G data
Multi-carrier unit
Up to +50 dB gain, up to 29.5 dBm uplink, & up to 5.2 dBm downlink
Works with all cellular devices across all US carriers
Ideal for rural and remote areas
The weBoost Drive Reach RV is an all-time favorite amongst the RV community. If you want reliable cell service while driving and at a campsite, this is the most powerful option. Though, it's not as powerful as the weBoost Destination RV.
When compared to other multi-carrier RV amplifiers, the Drive Reach provides the highest uplink output. It can communicate with farther cell towers and deliver a stronger signal. You can expect improved voice quality and data speed in even remote campgrounds and rural roads.
Most Affordable Mobile Signal Booster for RVs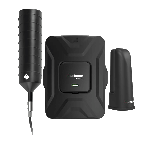 For stationary and mobile use
Boosts talk, text, and 4G/5G data
Multi-carrier unit
Up to +50 dB gain, up to 24.84 dBm uplink, & up to 2.87 dBm downlink
Works with all cellular devices across all US carriers
Ideal for suburban and semi-rural areas
The weBoost Drive X RV is a more budget-friendly option for those who want improved cell signal while camped or in motion. The main difference between the Drive X and Drive Reach is output powers. While it can still reach distant cell towers and provide considerable coverage, it'll perform best in areas with moderate to weak signal. Whether it's for an RV, trailer, or camper, this is the least powerful RV unit you should consider if you have weak outside signal.
RV Signal Booster FAQs
Are RV Cell Boosters Worth It?
If you want a surefire way of staying connected while camping or traveling to your next destination, they are worth it.
How do RV Signal Boosters Work?
For an RV signal booster to work, there must be existing cell signal outside the RV. These systems amplify 4G, LTE, and 5G signals, they don't create them. To improve your RV's cell coverage, they use:
An outside antenna to capture existing cell signal
A signal amplifier to boost the signal
An interior antenna to broadcast the boosted signal inside your RV, towable, or camper
Coaxial cable to connect everything together
Either a hardwire or AC-adapter power supply to power the system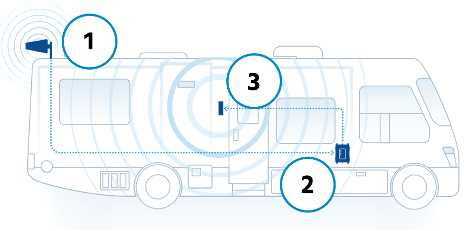 You'll be able to receive calls, use the GPS, send texts, check your email, and stream movies almost everywhere you go.
What is the Best RV Cell Phone Booster for Me?
The best booster for you depends on whether you prefer reliable signal while camped or on the road.
Stationary RV boosters are much more powerful and can provide more coverage. However, they only work while stationary. Mobile RV boosters, on the other hand, work while driving or stationary but are less powerful.
How to Install an RV Signal Booster?
Installation will vary based on the type of RV amplifier you get. We recommend referencing the installation guide included. You can also use the weBoost App for detailed instructions and how-to videos. It's available in the Google Play Store and Apple App Store.
Do RV Signal Boosters Work With 5G?
All weBoost RV signal boosters support the 700 MHz (Band 12/17/13), 850 MHz (Band 5), 1700/1200 MHz (Band 4), and 1900MHz (Band 25/2) cellular frequency bands in the US and Canada. 5G frequencies deployed within these bands will be supported. Any 5G frequencies outside of said bands will not. You can read more about signal boosters and 5G here.
How Many Devices can an RV Booster Support?
RV cellular boosters don't necessarily have a limit to the number of devices they can support. However, performance will fluctuate based on the number of connected devices and signal strength.
Do RV Boosters Boost WiFi?
Signal boosters enhance cellular signals. Thus, they can improve WiFi provided by a cellular router or hotspot.
Do RV Boosters Work with Mobile Hotspots?
Yes. Mobile hotspots use 4G and 5G cellular signals to broadcast fast, reliable WiFi. An RV cellular booster will improve the signal your mobile hotspot receives for better results.
Why weBoost RV Signal Boosters from Wilson Amplifiers?
Wilson Amplifiers is the leading provider of weBoost RV Signal Boosters.
weBoost has been perfecting their RV signal booster technology since they were known as Wilson Electronics in the early 1990s. Our top recommended boosters have decades of engineering behind them. Thus, they've significantly improved our customers' experiences.
They work with all cellular devices (cell phones, tablets, hotspots, etc.) for all carriers in the USA and Canada. No monthly fees. No WiFi required. They simply boost your existing weak 4G LTE and 5G signals.
Contact us today to help you find the right booster for your RV.
We provide:
Free consultations with our US-based customer support. Call us 1-800-568-2723 or email us at sales@wilsonamplifiers.com.
Better signal or industry-leading 90 money-back guarantee.
Free shipping.
Lifetime technical support and a 2-year warranty for all products.
Ask us anything, and we'll be glad to help.
Interested in Learning More? Check Out Our Signal Boosting Info Center
THE WILSON AMPLIFIERS ADVANTAGE
FREE SHIPPING No Minumum Purchase
90-DAY
Money Back Guarantee
LIFETIME
Technical Support