RV Signal Boosters: Getting Better Signal Anytime, Anywhere
Don't Get Caught Without Great Cell Signal in Your RV or Camper
Freedom.
It has always been and always will be the American dream.
Especially when in your RV, motorhome, camper van, trailer or other recreational vehicles, the freedom to travel and explore all places in North America is living that dream.
Nothing beats the views of the Grand Canyon, Yellowstone, and the Smoky Mountains. And there are no city experiences quite like Portland, Maine; Boulder, Colorado; and Santa Clara, California.
But for all that freedom, RVers still need reliable services. Your cell phone service, whether it's from Verizon, AT&T, T-Mobile, Sprint, or any other major American carrier, needs to be dependable day in and day out for RVing to really be a viable escape from the world. Like WiFi, reliable cellular signal, battery life, and data speed has become every bit as critical a utility as running water and power - and more and more people are figuring that out by the day.
However, weak signal and poor cellular coverage area still plagues most motor homes or campers, even in 2020, and you have to ask yourself - are you getting what you're paying for?
See complete cell signal booster kits for your situation:
Home
Vehicle
Business
Commercial
A weBoost RV Signal Booster is Your Ticket to Better 4G LTE Service and Battery Life
An RV signal booster boosts your existing 4G LTE signals and 3G network.
Think of an RV cell phone booster as a giant megaphone. It takes whatever weak or spotty signal you're currently receiving then significantly amplifies the signal, rebroadcasting the boosted signal throughout your RV.
An RV cell signal booster kit consists of an outside antenna to capture existing cell signal, a signal amplifier to boost the signal, and an interior antenna to broadcast within your RV, towable, or camper. They come with either a hardwire or AC-adapter power supply and will fit in any RV.
Depending on the power of your weBoost RV cell signal booster, you'll boost just a desktop or small area up to the entire RV. Either way, you'll see a marked improvement to your signal strength.
Here's what to expect:
Crystal-clear calls
Constant connection
Fast internet
Quickly deliver and receive text messages
Wider coverage area
Longer battery life
More bars
...and more, all from the comfort of your RV
weBoost RV signal boosters work for all cellular devices (cell phones, tablets, hotspots, etc.) for all carriers in USA & Canada. No monthly fees. No need to connect to the internet. It simply boosts your existing weak 4G LTE signal. It even boosts 3G network signal, if you're really off-the-grid. weBoost has been perfectingg their RV signal booster technology since they were known as Wilson Electronics in the early 1990s, so these recommended boosters have decades of engineering behind them. They require no WiFi, and no monthly fees, so they are a one-time investment in peace of mind.
RV signal boosters generally come in two varieties: one for stationary use while parked on the road or at the campsite and one for driving and being on the go. The FCC has mandated this, which you can read more about here.
RV cellular signal boosters for stationary use are more powerful, but cannot be used while moving.
RV signal boosters while driving are the jack of all trades, because its versatile omni or OTR antenna constantly searches for cell towers, resulting in good signal at all times, whether parked or on the go. However, the amplifiers used by mobile boosters are not optimized for covering the entire interior of a large RV or trailer.
With that in mind, let's look at our recommended models:
Best Signal Boosters for RVs:
Best for Stationary Use: Class A, Campsites, and Towables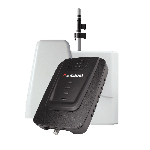 Boosts Talk, Text, Internet, 5G network or 4G LTE voice and data
Amplifies multiple cellular devices across all major US carriers
Works even in extremely rural and remote areas
Up to +65 dB Gain
A powerful home cellular signal booster kit optimized for RV use. Designed for towable RVs or large Class A behemoths, but can be used by any RV of any size. Comes with a telescoping 25' mast, secure mounting brackets, and powerful yagi exterior and interior antennas guaranteed to cover your whole RV, even with very weak outdoor signal. The yagi antenna also be placed on a tripod for easy roll on roll off install.
+15 dB gain compared to other mobile signal boosters means it will greatly boost your RV's cell phone signal, even in remote areas with limited coverage.
If you're planning on staying away from cities or at a campsite for a long period of time, this is a no-brainer investment.
The Most Powerful Signal Booster for RVs in Motion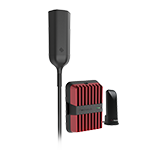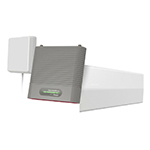 Boosts talk, text, and data - 5G ready
Amplifies multiple cellular devices
Up to +50 dB gain.
Works with ALL cellular devices across ALL carriers
Extremely customizable, with variants for any type of vehicle and situation
The weBoost Drive Reach RV is the most powerful in-vehicle signal amplifier while driving and/or at a campsite, but it's not as powerful as the weBoost Connect RV 65, which features +15 dB gain.
With its increased uplink output power, the Drive Reach RV can reach far distanced towers to deliver twice the signal strength. And with up to +50 dB of gain, it's capable of covering the entire cabin of any RV, excluding the largest of RVs, and boosting up to 4 cellular devices at the same time. Therefore, it's perfect for people who frequently drive through the most rural of roads and highways, as well as those who camp in the most rural of campsites. However, the amount of coverage it delivers is determined by the strength of the outside signal. In remote areas with extremely poor reception, the amplified signal will be localized closer to the inside antenna.
So, if you prefer to have a consistent cellular signal while driving, relaxing on the passenger seat, and resting at a campsite, the weBoost Drive Reach RV is the best option for you.
Best Signl Booster for Class B RVs in Motion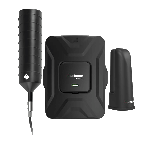 Boosts talk, text, and data
5G ready
Amplifies multiple cellular devices simultaneously (up to 4)
Up to +50 dB Gain
Works with all cellular devices across all carriers (Verizon, AT&T, T-Mobile, Sprint, US Cellular, and more)
The weBoost Drive X RV is a great multi-user vehicle booster for RVs, trailers, and campers.
This kit pairs the weBoost Drive X with the best-in-class indoor and outdoor OTR (over-the-road) antennas for improved coverage while moving.
Great for those who have a Class B camper as it should cover most of the interior space boosting signal up to 4 phones, but can be used for Class A, Class C, and towable trailers as well. Keep in mind that the location of the inside antenna, whether you put it in the living area or the driver's cabin, can impact which areas are being boosted. On average, the Drive X RV can provide a coverage area up to 10 ft from the inside antenna, depending on the strength of your outside signal.
This amplifier will also work while stationary, but it's not as powerful as the weBoost Connect RV 65.
How May We Help You?
Wilson Amplifiers is the leading provider of weBoost RV signal boosters. Cell phone signal boosters amplify 3G & 4G LTE for any phone with any carrier for home, office, or vehicle.
We seriously hate dropped calls and poor coverage, so it's our goal in life to rid the world of spotty signal, one happy customer at a time. We provide:
Free consultation (ask us anything) with our US-based customer support (sales@wilsonamplifiers.com) or call us at 1-800-568-2723
Free shipping
Better signal or industry-leading 90 money-back guarantee
We want everyone to be satisfied, so we provide lifetime technical support and a 2-year warranty for all products
Ask us anything and we'll be glad to help.
THE WILSON AMPLIFIERS ADVANTAGE
FREE SHIPPING No Minumum Purchase
90-DAY
Money Back Guarantee
LIFETIME
Technical Support