The NEW weBoost App Makes Signal Booster Installations Easy
Introducing the weBoost Mobile App
Finding your closest cell tower, measuring your signal strength, and installing a signal booster can be tricky. Wilson Electronics, a leading cell phone signal booster manufacturer, launched an app that simplifies these tasks. Everything you need for better talk, text, and data is centralized in the weBoost app. Available in the Google Play Store and Apple App Store.
We fix poor cell phone signal! Find the right signal booster for you:

For Home

For Vehicle

For Business

For Commercial
Key weBoost App Features
weBoost Signal Booster Installation Instructions
Maximum signal amplification starts with optimal installation. If you need help setting up your weBoost signal booster, the app has you covered. Find detailed instructions and how-to videos specific to your vehicle or home unit.
Tap Install My Booster on the Home screen, scan the QR code on your amplifier, and follow the steps.
Once you've completed the installation, the app shows you before and after signal readings. You'll be able to instantly see how much your signal improved.
*Installation feature only works with weBoost devices. All other features can be used by anybody.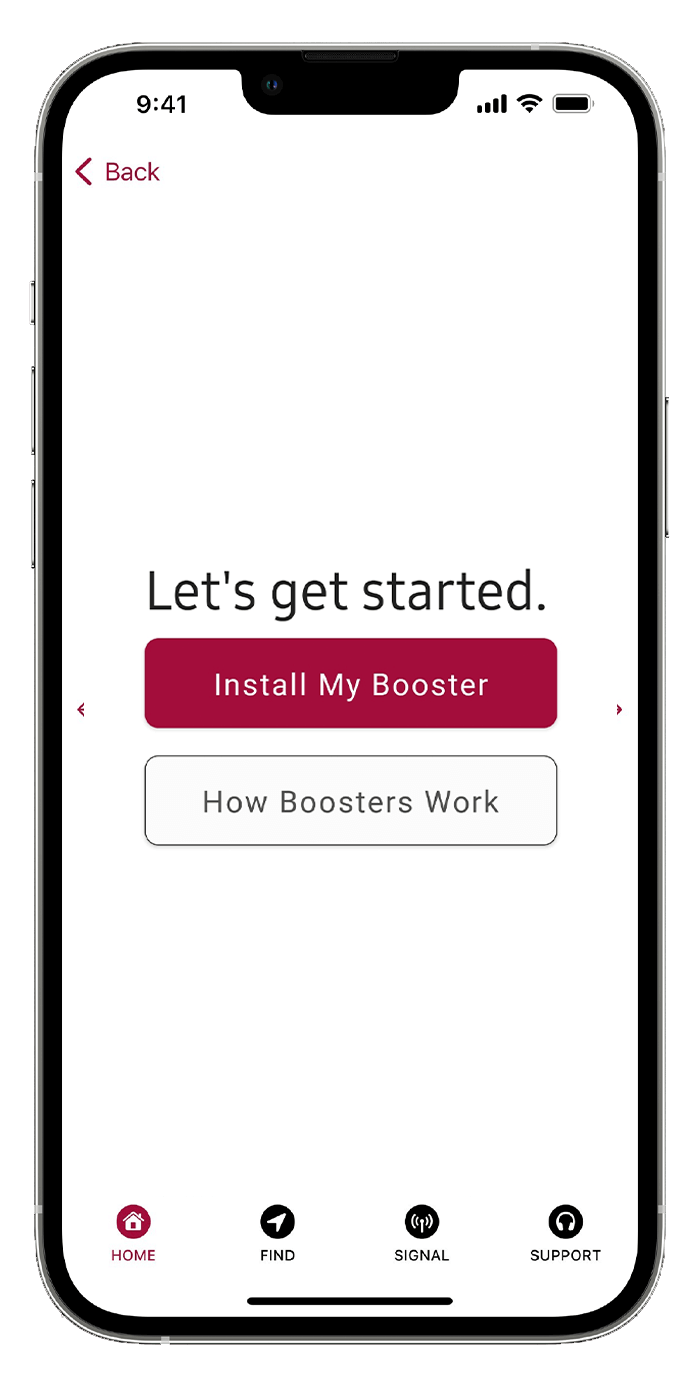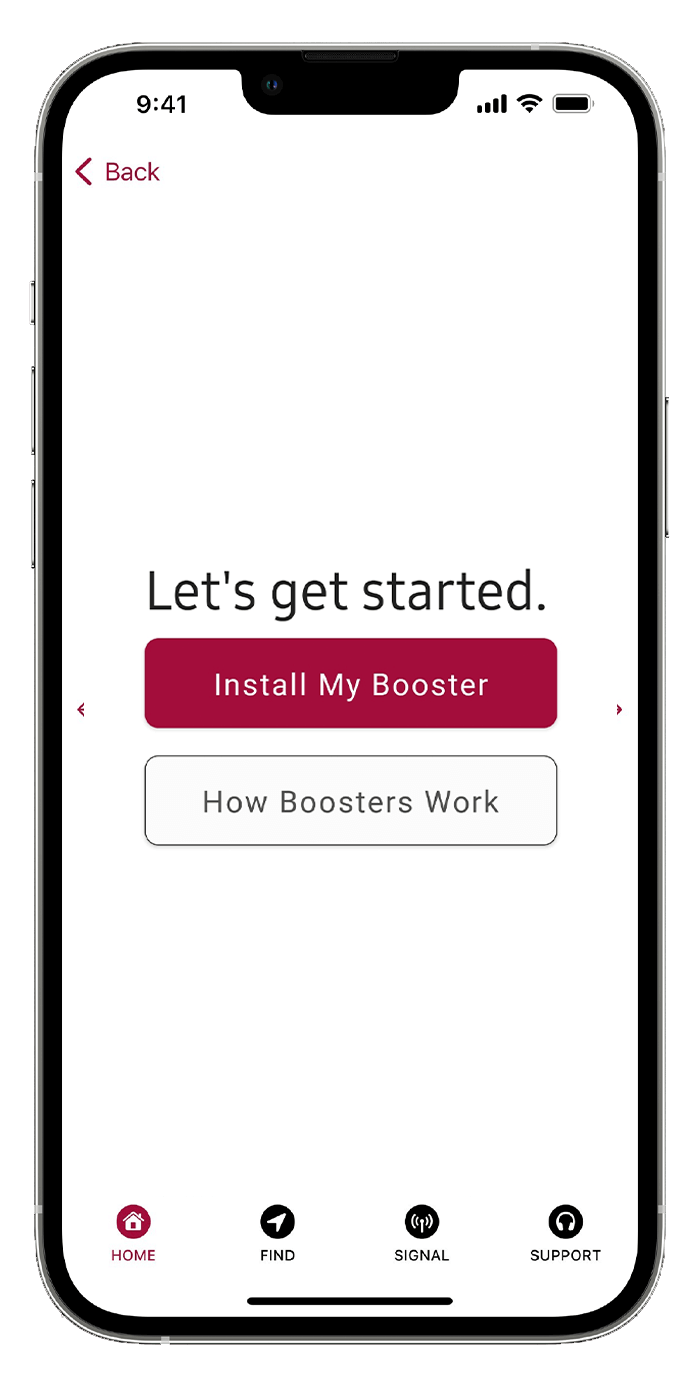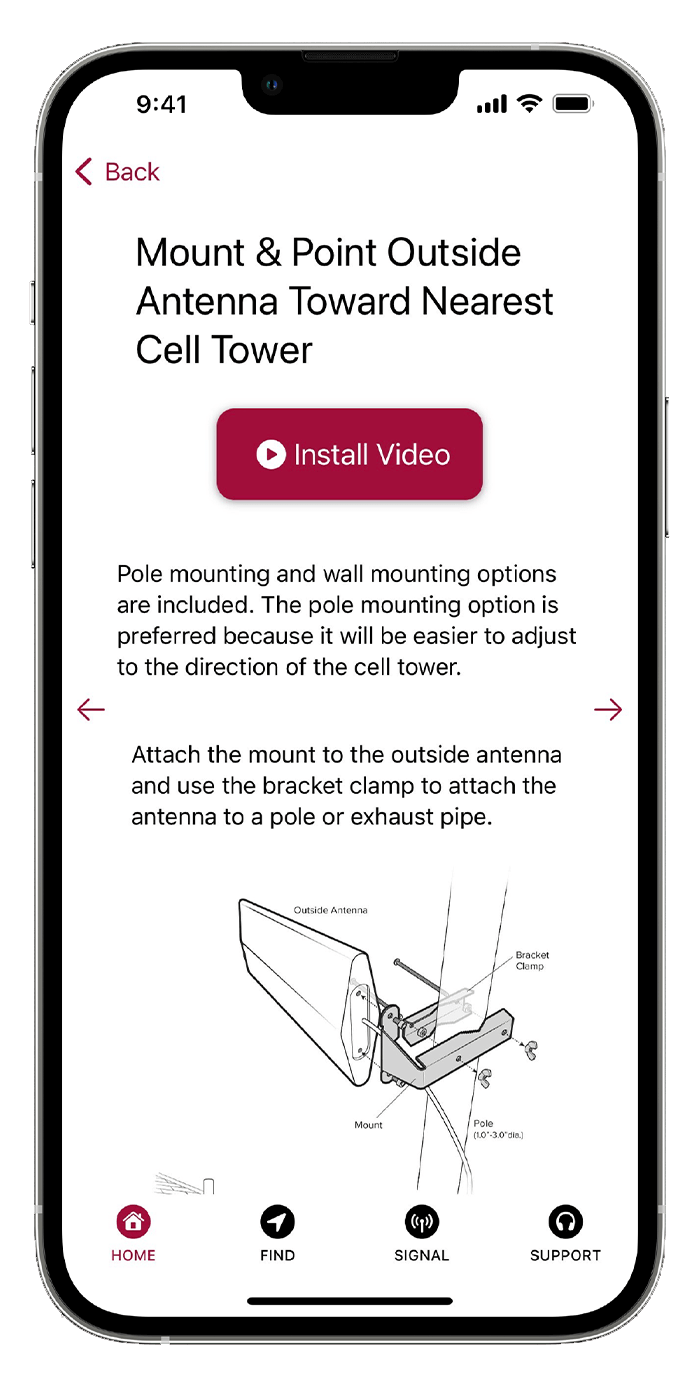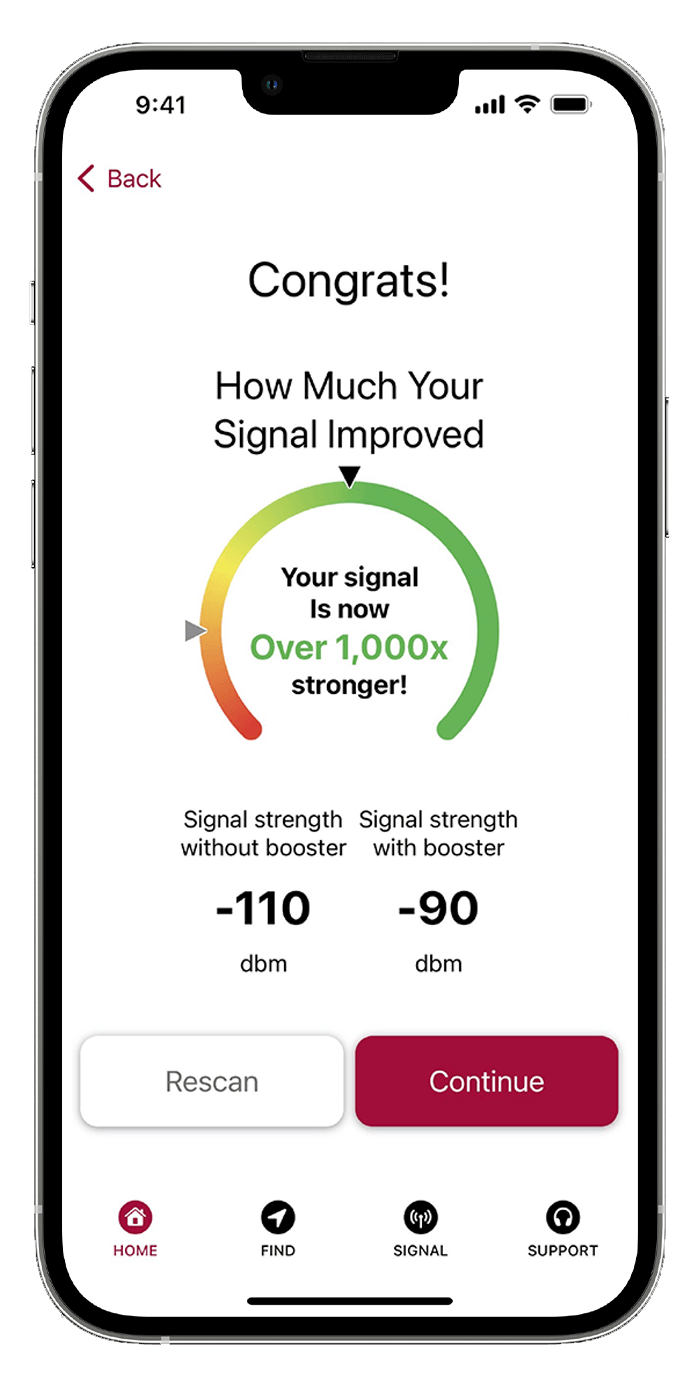 ---
Find Your Closest Cell Tower
Rather than displaying a map with all nearby cell towers, the weBoost app features an easy-to-use signal compass.
Tap Find on the bottom menu and allow the app to access to your locations.
The app pings your carrier's cell towers and points to the closest one with the strongest signal. This feature shows you the best direction to aim your outdoor cellular antenna for best results.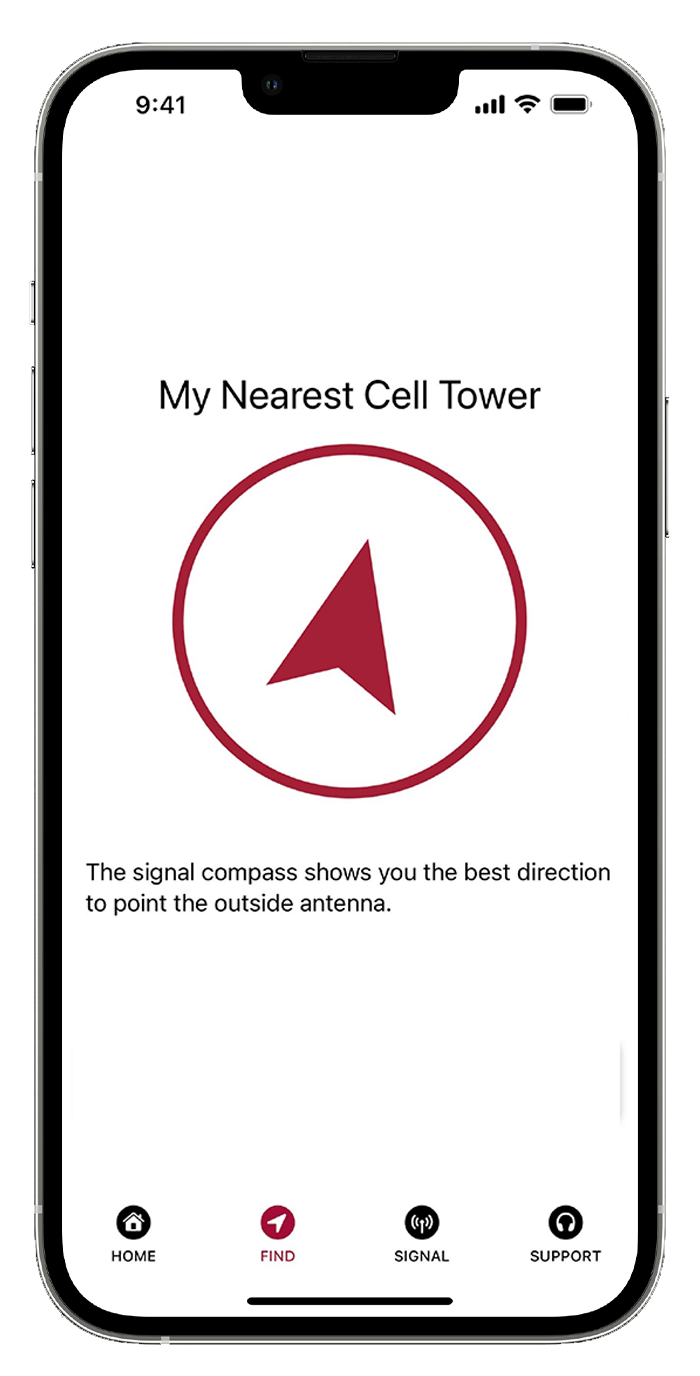 Measure Your Signal Strength
The most accurate way to measure cellular signal strength is in dBm (decibel-milliwatts). Not bars. To learn why visit our blog on How to Read Cell Phone Signal.
Signal strength tends to range from -50 dBm (great signal) to -120 dBm (unreliable signal). The closer you are to -50 dBm, the better.
Knowing your signal strength can help you:
Determine why you experience dropped calls and slow data even though you have decent bars.
Find areas in your home or office with the strongest or weakest cell signal.
Compare your signal strength readings before and after instilling a signal booster.
Measuring signal strength with the weBoost app differs between Android and Apple devices.
For Android: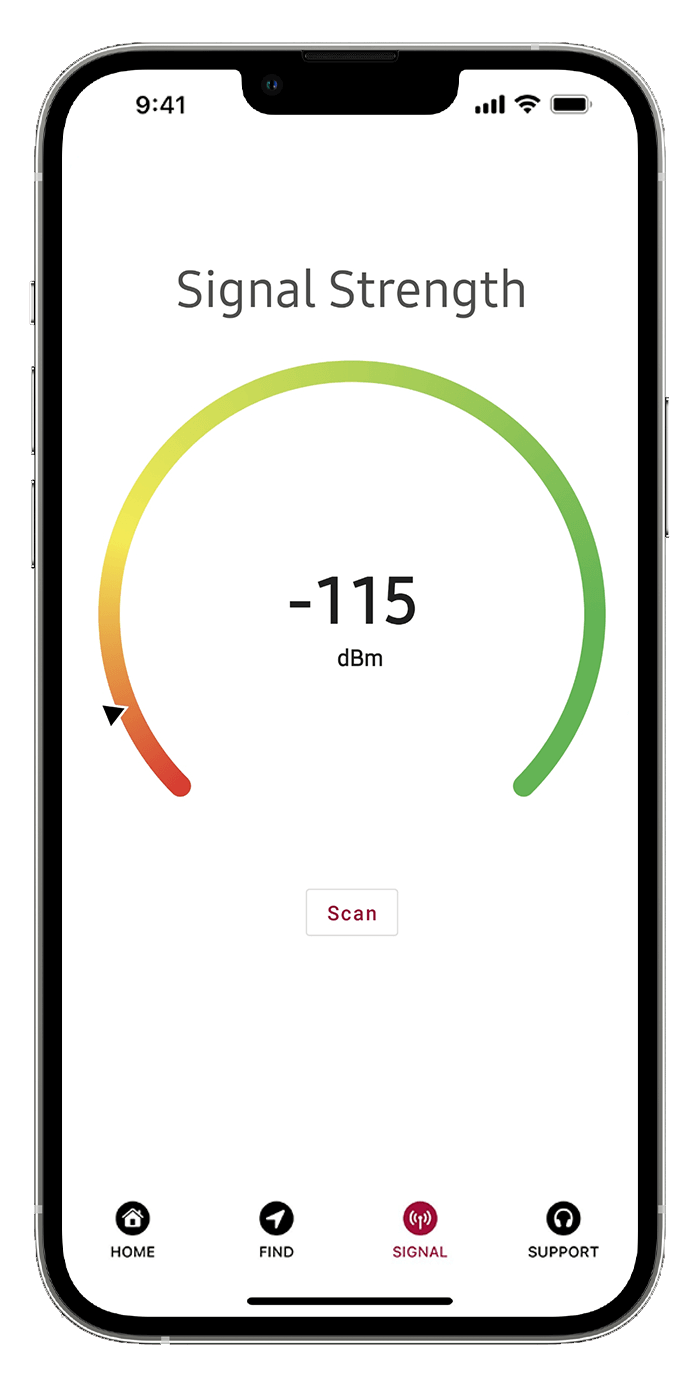 Measuring signal strength on Android devices is very easy.
How to:
Tap Signal on the bottom menu.
Tap Scan.
You'll have your signal strength results in dBm within seconds.
The colorful meter displays your signal's performance. Dark green means excellent signal, while red means poor signal.
For Apple: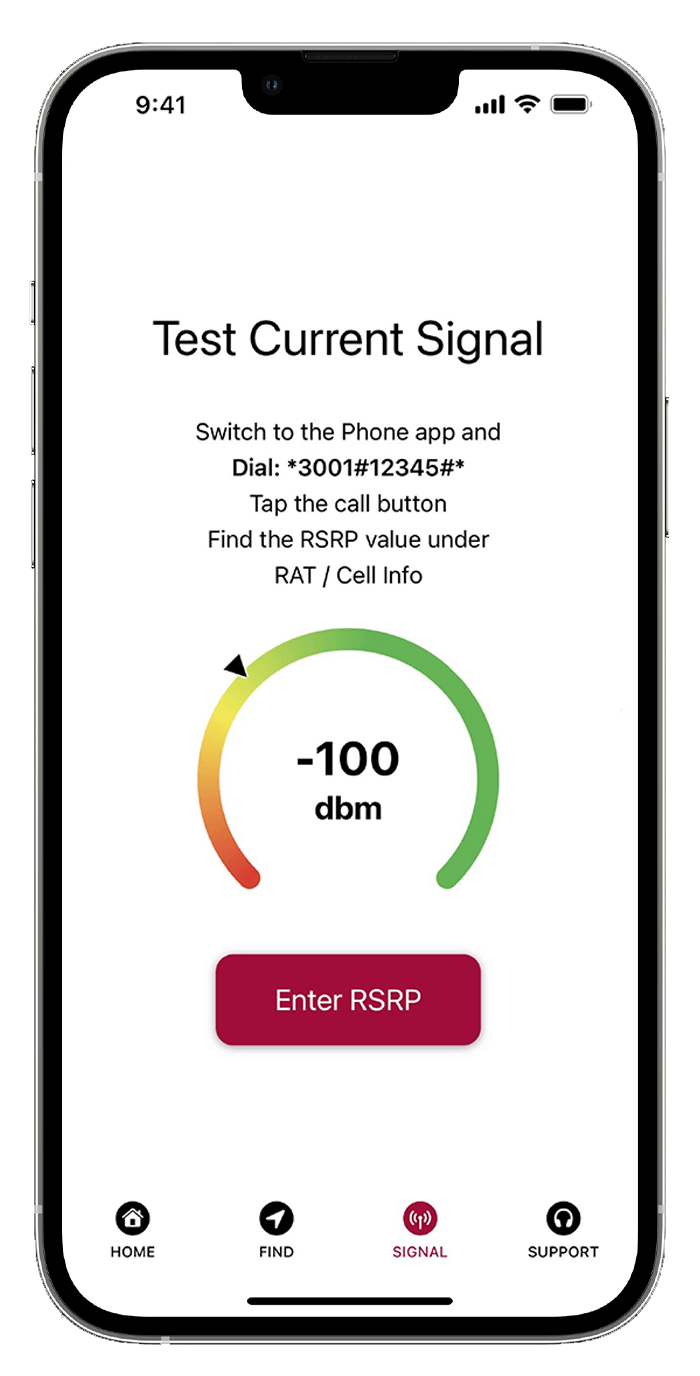 Measuring signal strength on iPhones is more challenging than on Androids. The only way to get your dBm measurement is through Field Test Mode, which the app will walk you through.
How to:
Tap Signal.
Follow the instructions to access Field Test Mode.
Find your RSRP number (aka signal reading). If you can't find your RSRP, it means your iPhone has an incompatible chipset.
Enter the number into the blank box.
The colorful meter uses your RSRP number to display your signal's performance. The closer you are to red, the weaker the signal.
For those with incompatible chipsets, there are other apps you can try to measure your signal. Visit Best Apps to Find and Test Mobile Signal Strength for suggestions.
Contact Support
If you have a general question or need installation help, the customer support button gives you the option to:
Call Wilson Electronics' U.S. customer support team.
Visit the customer support page to view additional resources.
Send customer support your questions and concerns.

You won't have to waste your time Googling your questions or the customer support number.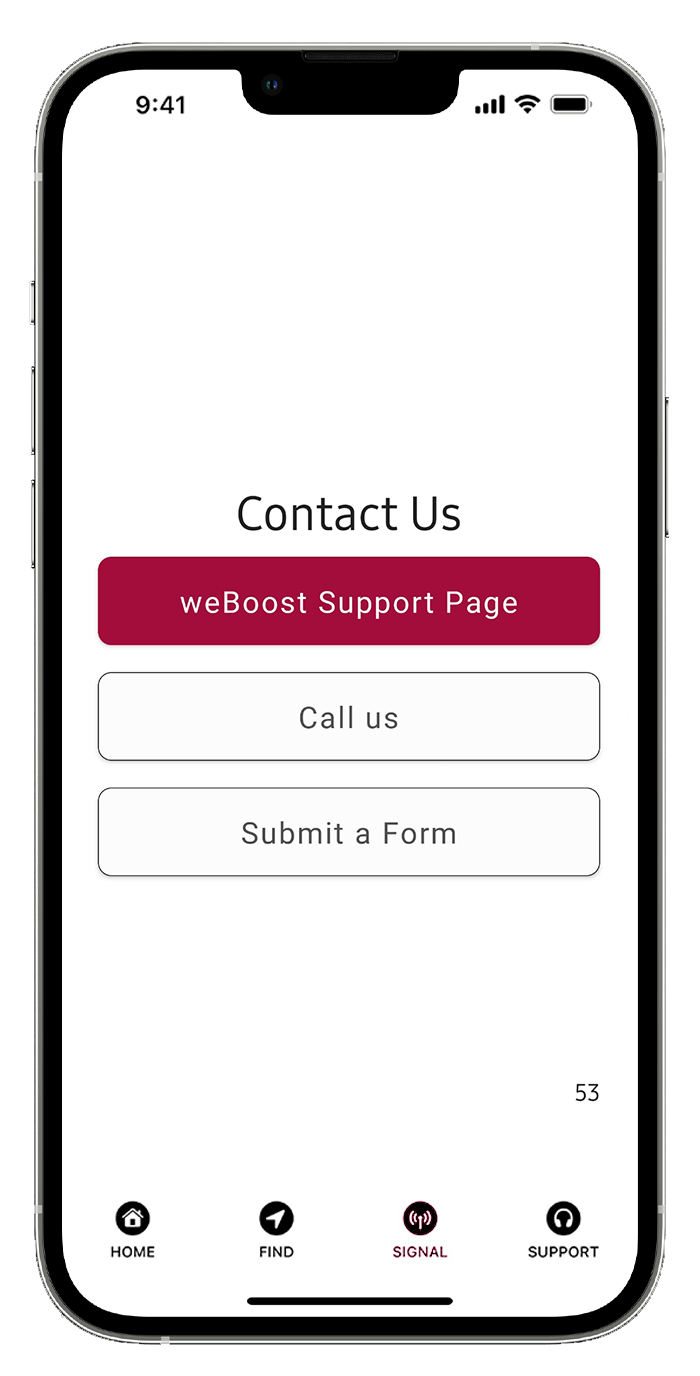 Is the weBoost App a Requirement for Self-Install weBoost Boosters?
Absolutely not. As stated by Wilson Electronics' CEO, Bruce Lancaster, "The weBoost app is simply an additional resource for our customers who appreciate a more detailed tutorial to ensure that their products are running optimally." If you prefer to use the in-box installation guide, feel free to do so.
Download the weBoost Mobile App
The weBoost app is available for free in the Google Play Store and Apple App Store. Download it to maximize your >weBoost signal booster installation.
Don't worry about your cell reception being too weak to download this app. Wilson Electronics understands that many booster installations take place in poor signal areas. Thus, they've designed the app to be downloadable and usable even with very weak signal.
Contact Us
Wilson Amplifiers is the leading provider of weBoost and WilsonPro cell phone boosters. Our signal boosters are 5G ready and amplify 4G and LTE for any phone on any carrier. Get one for your home, office, or vehicle to enjoy better talk, text, and data.
We seriously hate dropped calls and poor coverage, so it's our goal to eliminate weak cellular signal from your life:
Free consultation (ask us anything) with our US-based customer support (sales@wilsonamplifiers.com) or call us at 1-800-568-2723.
Free shipping.
Better signal or industry-leading 90 money-back guaranteed. No questions asked.
We want everyone to be satisfied, so we provide lifetime technical support and a 2-year warranty for all products.
Ask us anything and we'll be glad to help.
Interested in Learning More? Check Out Our Signal Boosting Info Center
THE WILSON AMPLIFIERS ADVANTAGE
FREE SHIPPING No Minumum Purchase
90-DAY
Money Back Guarantee
LIFETIME
Technical Support