Best Smartphone Apps to Find and Test Your Mobile Signal Strength in 2021
Is There an App to Boost Cell Phone Signal Strength?
We've already covered finding your nearest cell phone tower. Now you want to know: Are there any cell phone signal strength apps? Preferably ones that can boost my signal strength all on their own?
Sadly, the answer is no.
However, there are legitimate cell signal analyzer apps that can tell you exactly how poor your signal is and even show you your nearest cell tower's location.
First, a little lesson.
See complete cell signal booster kits for your situation:
Home
Vehicle
Business
Commercial
The Truth About Cell Phone Bars
They're subjective across all carriers and networks.
One bar on T-Mobile might be three bars on Verizon, two bars on Sprint, or full bars on AT&T - despite having the EXACT same signal and performing at the EXACT same speeds. Plus, using 3G or 4G LTE makes no difference, either.
As you can see, there's no standard. Each carrier or phone manufacturer can determine what one, two, three, or full bars represent for their service or device. Who's telling the truth? Can these phone manufacturers be trusted?
So, How Can I Get Accurate Cell Signal Readings?
Fortunately, there's a better way to measure your cell phone signal and that's by looking at decibels (dB) – a logarithmic signal unit used to quantify the ratio between two power levels. More specifically, decibel milliwatts (dBm) – a value used to denote an exact power level unit expressed in decibels with respect to one milliwatt
Cell phone signals are measured in dB. They're AM/FM radio waves, the kind that are great at traveling long distances but are easily interrupted, leading to spotty service – that's where a cell phone signal booster or repeater can come to your rescue. The signal strength of those cellular waves in a specific location, such as outside your house, inside your apartment, or on your commute to work, are measured in dBm, which are always displayed as negative numbers. Many smartphones have the ability to display dBm readings, or they can be obtained through cell signal analyzer apps.
All cellular devices operate within this strength range: -50 dBm to -120 dBm. -50 dBm is considered full strength (full bars), while -120 dBm is considered a dead zone (no service).
Here are the cell signal ranges in more detail:
-50 to -79 dBm = great signal, basically full bars (4 to 5 bars).
-80 to -89 dBm = good signal (3 to 4 bars).
-90 to -99 dBm = average signal (2 to 3 bars).
-100 to -109 dBm = poor signal (1 to 2 bars).
-110 to -120 dBm = very poor signal or a dead zone (0 to 1 bar).
dBm readings are not subjective – they don't fluctuate based on carrier or manufacture. All cell phone signals in the US and Canada need to operate within this range to work. The closer you are to -50 dBm, the better your signal. The closer to -120 dBm, the worse your signal.
Recommended Cell Phone Signal Strength Apps for iPhone
Unfortunately, recent iPhone models have removed the ability to view dBm levels. In addition, the App Store doesn't offer apps designed to show you live dBm values. Therefore, there is no perfectly accurate way to obtain your signal strength with an iPhone. The best apps we've found for this purpose measure your data speeds, which are slightly better than relying on signal bars but may not represent the best results. For accurate data speed readings, make sure your WiFi connection is turned off, otherwise, you'll be measuring your WiFi's signal strength.
SpeedTest by Ookla is amongst the most popular, user-friendly, network speed analyzer apps. With the tap of a button, you'll get your mobile data's download and upload speeds within seconds. They have one of the largest global networks to help provide you with the best results. Also available on the Google Play Store.
OpenSignal is another free app designed to test your data speeds and provide insight on mobile connectivity in your area. You'll also have access to a cell coverage heat map to identify how good any carrier's coverage is in your area, as well as an arrow widget that helps you find your closest tower (comes in handy when installing a signal booster). Also available on the Google Play Store.
Cell Phone Coverage Map by RootMetrics uses your locations to show you cell performance and dBm readings in your area. The data in the app is gathered by RootMetrics' professional findings, as well as regular people who use the app to test their signal quality. This app is probably the only app that gives iPhone users an actual dBm value. However, it only provides average dBm measurements, so you aren't getting your exact dBm reading. In addition, the app also allows you to test your data speeds. Doing so lets you know how fast your network is in your home, as well as helps RootMetrics gather more data to create a more reliable and accurate database. Also available on the Google Play Store.
How to Find Accurate dBm Readings on your iPhone – Field Test Mode
Starting with iOS 11 and continuing to the present iOS 14, Apple has hidden dBm readings in iPhone field test mode. However, depending on your iPhone chipset (Intel or Qualcomm) and your carrier (Verizon, AT&T, T-Mobile, or Sprint), there's a slim chance to find your dBm readings through this workaround.
Here's how:
iPhone with Intel chipset (iOS 11, 12, 13, and 14)
iOS 14 pictured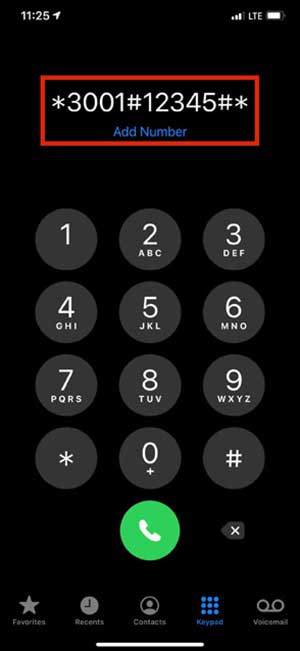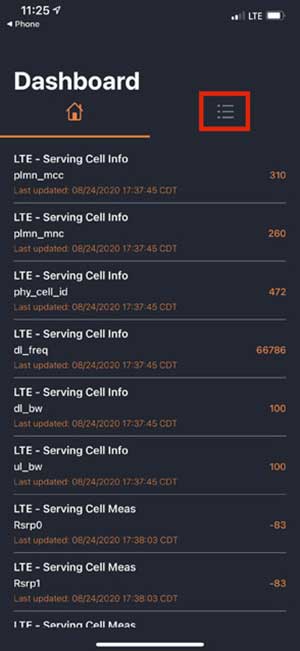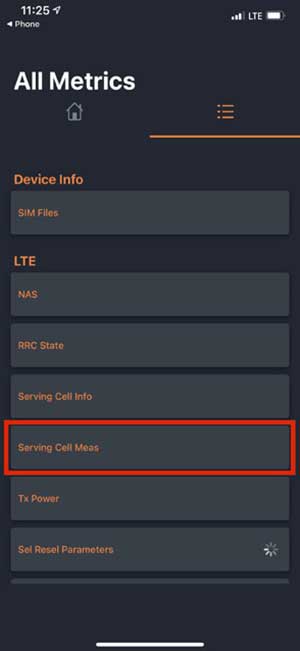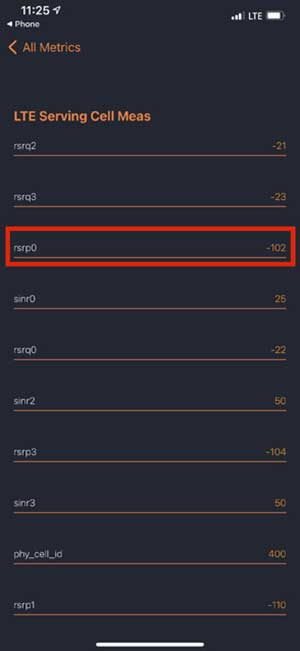 Dial *3001#12345#*
Tap LTE.
Tap Serving Cell Meas.
Your dBm is read as rsrp0.
iPhone with Qualcomm chipset (iOS 11, 12, 13, and 14)
Dial *3001#12345#*
Tap 1xEV-DO.
Your dBm is read as RX AGC0.
For any iPhone pre-iOS 11
Dial *3001#12345#*
Swipe down notifications bar.
Your dBm is in the upper left-hand corner of the screen.
If you're unable to find any of these options during your field test mode process, you most likely have an incompatible carrier and chipset. The next best method is performing a speed test around areas inside and outside your home.
However, if you truly want to find out what your exact dBm readings are, you can use an Android device to obtain your dBm readings. This can be achieved either by purchasing an inexpensive Android phone or borrowing one from a friend. You can remove your iPhone's SIM card and pop it into the Android device if it doesn't have an active SIM card. To get accurate dBm readings, you can download one of the apps mentioned in the Android section.
But once we crack the code on iPhone dBm readings, we'll update you guys as soon as possible.
Recommended Cell Phone Signal Strength Apps for Android:
There are several excellent apps available to measure cell phone signal strength on Android devices.
LTE Discoveryis a free signal discovery and analysis app for Android devices only. It provides information on which frequency band your device is using, your signal strength in dBm, the approximate direction of the tower you are connected to, a detailed automated signal logger, and so much more. When you open the app all of the information you need is displayed on the screen, there is no need to tap buttons or look for it. Plus, it works with multiple mobile networks, such as Advance LTE, 5G, 4G, 3G, GSM, and CDMA.
Network Cell Info Lite is another great app exclusive for Android devices. It can test any cellular network: LTE, GSM, CDMA, WCDMA, UMTS, HSPA, HSPA+, and EVDO. Upon opening the app, you'll be met with a colorful meter calculating your signal strength in dBm - it provides almost real-time results. Green means a strong signal, while orange, red, and white represent poor to no signal. In addition, it gives you the ability to test your mobile data speed, view detailed tables that are constantly recording your signal strength, and view a map indicating where your cellular signal is coming from.
Network Signal Info is an Android app designed to provide detailed and accurate signal strength information. Similar to the Network Cell Info Lite app, upon opening the app, you'll be met with a meter indicating your cellular signal strength. The closer the needle gets to -120, the weaker your signal is. Below the gauge, you'll see information about the network you are connected to. If you tap the cell location tab, you can view your cell tower's location. The PRO version uses a better online tower database and features a signal tracker log.
The main two apps we highly recommend are LTE Discovery and Network Cell Info Lite. These cell signal analyzers are used even by professional signal booster installers in addition to signal meters, and those we've talked to swear by them.
As an Android user, you can also read your cell signal in dBm even without an app.
How to Find Accurate dBm Readings on your Android - Field Test Mode
Field test mode on Android varies by phone model and Android OS versions. However, it's generally found under the Settings menu.
Typical sequence:
Tap Settings
Tap About Phone
Tap Status or Network
Tap SIM Status
Your dBm is under Signal strength
Once you have your dBm reading through field test mode or app, walk around inside and outside the perimeter of your home. Make note which areas get the best dBm reading. This shows you the general direction of your cell tower and which rooms inside your home have the best reception.
Now that I Know my Signal's dBm, What's Next?
Now that you understand how to read and find dBm values on your mobile phone, walk around your house to find the places that get the best signal.
iPhone users will need to conduct multiple speed tests in different rooms – the more tests, the more knowledge you have on your cellular signal. The most important value is the download speed since it's what identifies your data speed. Android users, on the other hand, must give the signal meter a few seconds to register the change in signal as you walk around.
Once you have your dBm readings, then you know just how good, average, or bad your cell signal strength is. -50 dBm to - 79 dBm is very good signal. -80 dBm to - 99 dBm is an average signal. -100 dBm to -120 dBm is below average or poor signal.
And if you walk around the perimeter of your house, you can generally tell the location of your cell tower because your dBm reading will dip towards -50 dBm. How's that for two birds and one stone?
For more reading, check out our guide on finding cell towers and for people suffering from poor signal, our ultimate guide on cellular signal boosters is a great place to start.
How May We Help You?
Wilson Amplifiers is the leading provider of cell boosters. Cell phone boosters amplify 4G, LTE, and 3G for any phone with any carrier for home, office, or vehicle. They are 5G ready and will be able to be used until 2030 and beyond.
We seriously hate dropped calls and poor coverage, so it's our goal in life to stomp out spotty signal:
Free consultation (ask us anything) with our US-based customer support (sales@wilsonamplifiers.com) or call us at 1-800-568-2723.
Free shipping.
Better signal or industry-leading 90 money-back guaranteed. No questions asked.
We want everyone to be satisfied, so we provide lifetime technical support and a 2-year warranty for all products.
Ask us anything and we'll be glad to help.
THE WILSON AMPLIFIERS ADVANTAGE
FREE SHIPPING No Minumum Purchase
90-DAY
Money Back Guarantee
LIFETIME
Technical Support