Cell Phone Repeaters: The Complete Guide (2021 Edition)
What is a Cell Phone Repeater?
A cell phone repeater (also known as a cellular repeater, cell phone signal booster, or cellular amplifier) is a device used to improve cellular signal in an indoor or outdoor setting. Most common types of cell phone repeater work in confined, indoor areas such as buildings or vehicles. They are usually made of three primary components:
A donor antenna – also called an "outdoor" antenna
A bi-directional signal amplifier
A rebroadcast antenna – also called an "indoor" antenna
We fix poor cell phone signal! Find the right signal booster for you:

For Home

For Vehicle

For Business

For Commercial
A cell phone repeater is used to bring signal from outdoors inside a structure or vehicle, bypassing building material that harms radio frequency (RF) waves. These can be scaled from low-power units covering the inside of a car to large active distributed antenna systems (DAS) covering large stadiums.
The outdoor antenna(s) is connected via coaxial cable and connectors to a repeater (or amplifier) unit, which amplifies the signal. The rebroadcast antenna(s) then retransmit this amplified signal locally. These three components are installed in order to maximize coverage indoors. These components have numerous arrangements based on the power of the amplifier and the desired result. More powerful systems can have numerous donor and rebroadcast antennas depending on the need of the building they are installed in.
How Cell Phone Repeaters Work
The most important part of a cell phone repeater is the bi-directional amplifier. This is the centerpiece of every system, and what provides the increased reception you are after. There are several types of amplifiers, each of which function slightly differently:
Single-carrier amplifiers
Dual-band amplifiers
Wideband amplifiers
Each of these are designed for a different purpose. Single-carrier amplifiers boost all bands used by a given carrier. Dual-band amplifiers focus either on two specific bands used by a carrier, or across all 3G bands (these are being phased out of production rapidly). Finally, wideband amplifiers boost all 4G and LTE signal as well as some 5G signals in an area at a slight cost to overall power. They are generally the best choice, as they are guaranteed to work with your setup.
A bi-directional amplifier generally contains components of its own:
Diplexers to split the signal into multiple bands, the number and strength of which are determined by whether it's a single, dual, or wideband amplifier,
Duplexer filters to separate uplink and downlink blocks within bands
Amplifiers to actually increase the power of the incoming signal
What are the Requirements for a Cell Phone Repeater to Operate?
There are only two factors to determine core functionality for a cell phone repeater system:
Existing donor signal
Proper isolation between donor and rebroadcast antennas
There are other factors which will determine the strength and breadth of improved cellular coverage, but without these two, the cell phone repeater cannot function at all.
Existing Donor Signal for a Cell Phone Repeater Signal
A cell phone repeater signal adds radio frequency noise to the existing noise floor. In layman's terms, this means it increases what signal is already there, but cannot create its own. If there is no signal to amplify, the cell phone repeater system will be nothing but an expensive trinket. The weaker the incoming signal, the more difficult it is to amplify, and the more systems you will need to adequately cover a large space.
The additional noise added by an amplifier is called the "noise figure." This is typically between 6 dB and 8 dB (dB being short for decibel, the standard RF metric). In order to be used, the signal-to-noise ratio (SNR) must be greater than the noise figure.
Important Note: when shopping for a cell phone repeater or signal booster, you will frequently see such claims as "up to 5,000 sq ft of coverage." Bear in mind, this applies only to strong signal conditions, and such coverage will be dramatically reduced with weak donor signal. Understanding your signal strength is critical to making the right choice of cellular repeater.
Isolation Between Antennas
Placing the outside antenna and indoor antennas too close together will cause them to oscillate. This occurs when the isolation of the antennas is less than the gain of the amplifier. Generally, vertical separation of the antennas is preferable than horizontal, which is one reason we typically suggest placing donor antennas on the roof. We typically suggest a minimum of 20 feet of vertical separation or 50 feet of horizontal separation between the external antenna and internal antennas.
In the United States, the FCC has an additional mandate for cell phone repeaters: all consumer-rated boosters much have "automatic gain control." This means a repeater cannot surpass a certain amount of gain without either automatically attenuating or shutting down. Most cell phone repeater kits are put together with the goal to stay within this gain limit.
I Need a Cell Phone Repeater. What are your Recommendations?
We've got a few recommendations depending on your use case. All these cell phone repeaters:
Amplify 5G/4G/LTE data and voice for all cellular devices. This includes iPhones, Android, 5G phones, other smartphones, tablets and iPads, and cellular hotspots.
Work for all major North American carriers. This includes AT&T, Verizon, T-Mobile, US Cellular, Cricket, Boost Mobile, TracFone, and more.
Boosts all signal within the 800-2500 mHz bands.
Have no monthly fees.
Increase cellular connectivity, provide faster data speeds, and eliminate dead zones in a building
Do not need WiFi or a landline connection.
Are completely legal FCC-approved cellular extenders.
Are compatible with all 5G ready mobile phones, and will work for the next decade and beyond.
Come with a two-year warranty and an industry-leading 90-day money back guarantee.
So, let's check out the best cell phone repeaters for a variety of uses.
The weBoost Home MultiRoom is the bestselling do-it-yourself cellular repeater. It is the signal repeater that works for most people. It can cover up to 5,000 square feet if your outside signal is perfect. Most people will probably see a coverage area of 2,000 to 3,000 sq ft. If you live in a rural area with very weak outdoor signal, expect much less coverage. This is the weakest cell repeater you should buy if you have bad signal outdoors.
It has a nice, clean look. Its indoor panel antenna has a fabric front and looks like a part of the house. With its powerful yagi directional antenna and high downlink, it can reach far away cell towers to provide more powerful signal amplification. Its LCD lights tell you whether it is working properly.
5G ready, the weBoost Home MultiRoom boosts 5G (on select frequencies), 4G, and LTE signal for all major North American carriers, incluidng AT&T, Verizon, T-Mobile, and more. Should you ever change carrier, the weBoost Home MultiRoom will still work.
If you have strong cellular signal and are looking to cover a small home, check out the weBoost Home Room.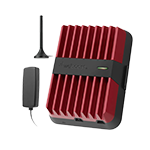 The weBoost Drive Reach is the strongest cellular repeater for vehicles. It works in cars, SUVs, trucks, semi-trucks, RVs, fleet vehicles, boats, yachts, and more. This mobile signal booster has a lot of options. You can get a hardwire or AC power supply. It can use an OTR antenna for trucks and RVs, or an inside antenna for a boat. It boosts up to four cell devices at once. It has high uplink power, so it will work on very rural roads and highways. It's the single most versatile vehicle signal booster on the market.
For one cell phone, get the weBoost Drive Sleek.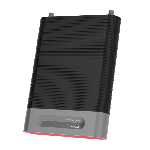 The weBoost Installed Home Complete is made to cover an entire home. It comes with free professional installation. It can cover a large home with decent outside signal or a midsize home with weak outdoor signal. It can give up to 7,500 square feet of coverage with perfect outside signal. Most people will probably see a coverage area of between 3,500 and 5,500 square feet. If you want to cover more than one floor, you should buy more antennas. If you live in a very weak signal rural area you might get about 2,000 square feet of coverage from it.
The weBoost Installed Home Complete is the only residential booster we have that comes with free installation right now. If you do not think you can install a cellular repeater, buy this one.
The installation is only available for residential buildings.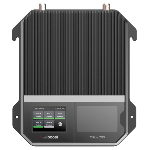 The weBoost Office 200 Installed is a strong commercial-grade cell phone repeater. It's the first repeater in its class to include a professional installation (only available for commercial buildings). It's designed for commercial buildings but can be used in very large homes or weak signal areas. It has many features, including automatic gain control and an LCD touch screen for greater usability. It can cover up to 35,000 square feet if you have perfect outside signal. Most people will see about 25,000 to 14,000 square feet of coverage. If you live in a rural area with very weak outdoor signal, expect less coverage.
The Office 200 Installed comes with an omnidirectional antenna to boost multiple carriers simultaneously, and two low-profile indoor dome antennas for wider coverage. It's also compatible with yagi and panel antennas for enhanced performance in rural areas with weak outside signal. This is an amazing option if your home or office has several floors or a complicated layout. It's also ideal for those who can't install the unit themselves. For a DIY installation, the weBoost Office 200 may be a better option.
To view how the Office 200 compares to our other commercial booster offerings, visit our comprehensive review.
What is the Difference Between a Cell Phone Booster and Repeater?
A cell phone repeater and a cell phone booster are essentially the same thing. It's one of numerous terms for a signal amplification system. These include:
Cell phone repeater
Cellular repeater
Cell phone signal booster
Cellular signal booster
Cell booster
Cellular amplifier
Etc.
If you hear any of these terms, if you know what they're referring to, you can begin the conversation.
Are Cell Phone Repeaters Legal?
Yes! However, there is a legal process all cellular repeaters must go through to become FCC-approved for legal sale in the United States. Different countries have different regulations, so if you're outside the US, it's best to check the rules in your region.
However, for the US, there are a few critical points:
All signal booster systems must be sold as complete kits
All signal boosters must be registered with the relevant carrier. This is a simple process that takes about five minutes. Click to find links to all major US carrier registration pages.
All cell phone signal repeater kits must conform to a minimum gain standard so as not to interfere with cellular networks.
As a consumer, one thing to watch out for is illegal cell phone repeaters. These are not FCC approved and can cause problems on a cellular network.
For more info, click here.
Will a Cell Phone Repeater Work for My Phone and Carrier?
All our recommendations will, as will any other wideband cell phone repeater. Every cellular signal booster we provide will work across all carriers and phones (whether that be iPhone or Samsung). If you're looking at a single carrier or single band signal booster, these will sometimes have additional limitations.
What if I Switch Carriers in the Future?
The cell phone repeaters we recommended above are multi-carrier systems. This means they are also compatible with AT&T, Verizon, T-Mobile, US Cellular, and other major and local carriers. They cover 5G, 4G, and LTE signals.
They are future-proof!
What Do You Know About Cell Phone Repeaters?
Wilson Amplifiers is the leading provider of Wilson Electronics cellular signal repeaters. Cell phone boosters amplify 5G, 4G, LTE, and more for any phone with any carrier for home, office, or vehicle.
We seriously hate dropped calls and poor coverage, so it's our goal in life to rid the world of spotty signal, one happy customer at a time:
Free consultation (ask us anything) with our US-based customer support ( sales@wilsonamplifiers.com ) or call us at 1-800-568-2723 .
Free shipping.
Better signal or your money back within 90 days.
We want everyone to be satisfied, so we provide lifetime technical support and a 2-year warranty for all products.
Ask us anything and we'll be glad to help.
Interested in Learning More? Check Out Our Signal Boosting Info Center
THE WILSON AMPLIFIERS ADVANTAGE
FREE SHIPPING No Minumum Purchase
90-DAY
Money Back Guarantee
LIFETIME
Technical Support