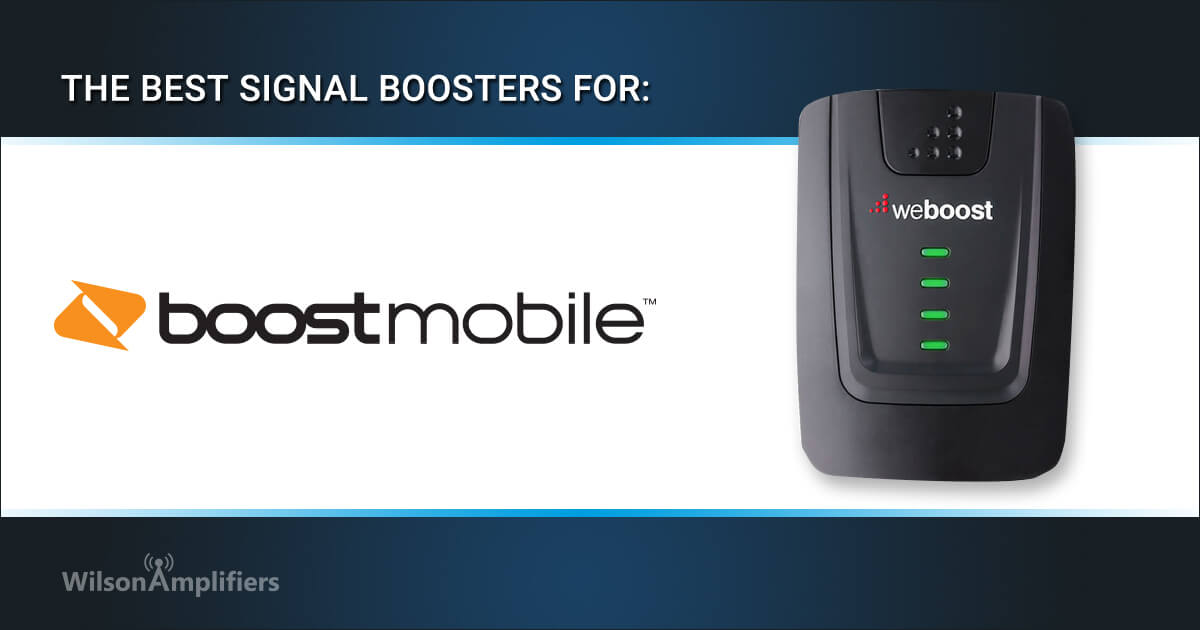 Boost Mobile is a pre-paid cell phone service using Sprint's nationwide 4G LTE to power their popular no-contract plans.
Despite boasting a 99% nationwide coverage on the 4G LTE and enhanced LTE networks, there are times when poor reception affects your area & service.
But why does this happen?
The Problem:
It's a general issue for all cell phones, poor cell phone reception is caused by weak incoming cell phone signal. And cell phone signals are radio frequency waves, the AM-FM kind. And like all waves, they're easily manipulated and distracted.
Almost every thing under the sun can alter, absorb, and block cellular signal waves. Here are the biggest reasons:
Cell tower distance
Outside obstructions: Trees, hills, mountains, valleys, and tall structures.
Building construction material: Metal, glass, concrete, brick, radiant barrier, and other conductive material (electrical or magnetic).
Inside building interference: Thick walls, plaster, drywall, concrete and other electrical devices & clutter, etc.
Weather.
Yup. All it takes is just one or any combination and your Boost Mobile coverage is next to nothing.
So the solution comes down to three options: waiting & complaining, changing carriers, or boosting your signal. You're a go-getter, aren't you?
The Solution:
Everything changes with Boost Mobile Signal Booster.
It takes any existing 3G & 4G signal and amplifies up to 32X and then rebroadcasts the boosted signal into the home, office, or car.
More bars, better coverage guaranteed.
And it does this with 3 components:
The Outside Antenna pulls in cellular signal.
The Amplifiers boosts 3G & 4G LTE signal up to 32x.
The Inside Antenna rebroadcasts the stronger signal to an area in need.
And when comes to signal boosting, no brand is more regarded than weBoost by Wilson Electronics.
For over decades, hundreds of thousands of poor-signal customers have depended on Wilson to improve their poor cellular service.
Better connections, calls, reception, and high-speed internet.
And here's the real winner, they work for all cell phones & all cellular devices AND they are carrier-proof. This means you can use a signal booster on Boost Mobile but also other carriers as well should you change plans & services. They're one time-purchases with no monthly fees.
Below are our top choices for Boost Mobile ranging from home to car to commercial use.
Get better signal for your Boost Mobile service today:
Boost Mobile Cell Phone Signal Booster For Home
Boost Mobile Cell Phone Signal Booster For Car
Boost Mobile Cell Phone Signal Booster For Commercial Buildings
How May We Help You?
Wilson Amplifiers is the leading provider of cell phone signal boosters. Cell phone boosters amplify 3G & 4G LTE for any phone with any carrier for home, office, or vehicle.
We seriously hate dropped calls and poor coverage, so it's our goal in life to stomp on spotty signal like the little roaches they are:
Free consultation (ask us anything) with our US-based customer support (sales@wilsonamplifiers.com) or call us at 1-800-568-2723.
Free shipping.
Better signal or industry-leading 90 money-back guaranteed. No questions asked.
We want everyone to be satisfied, so we provide lifetime technical support and a 2-year warranty for all products.
Ask us anything and we'll be glad to help.