on December 29, 2016 Donna Capodelupo
Cricket Wireless provides monthly, pay-as-you-go cell phone service to 5 million subscribers in America.
If you're one of them, you benefit from being on the AT&T network, the nation's strongest 4G LTE network. That's because Cricket Wireless is a wholly owned subsidiary of AT&T. We know what you're thinking … if your network is the strongest in the U.S., why does your phone occasionally drop calls or lose reception?
Even though your network covers about 98 percent of the U.S., there's a lot of stuff that can interfere with the signal you receive from the nearest cell tower. If you're lucky enough to live in a flat area with no weather, no buildings, no power lines, no satellites flying overhead, no neighbors with their own cell phones, no vehicle traffic … well, you get the idea.
There's ALWAYS something that has the potential to interfere with your 4G or 3G signal, but there is a way to boost your signal, no matter the obstacles that may be in your path.
The Problem:
Why are your bars disappearing and your signal cutting in and out? Here's an explanation:
What you know as a cell phone signal is really radio waves that travel through the air. The problem is, they are susceptible to interference from all kinds of things, including hills, valleys, trees, walls, buildings, natural phenomena such as lightning, and solar flares.
A bus driving past you could interrupt your signal, as could too many people in the same area using their cell phones, too. Even the way you hold your phone (did you know you can block the antenna?) and how much battery power you have can affect your reception.
No wonder you can have a weak and erratic signal even when you have one of the nation's leading networks.
The Solution:
You can change all that with a Cricket Wireless Signal Booster.
A Cricket Wireless Signal Booster will take the existing weak signal and amplify it up to 32 times, rebroadcasting it to an area where it's needed in your home or car. Watch those bars grow tall and enjoy uninterrupted voice, text and data.
A boosted signal means:
Better coverage. You know that spot in the kitchen where if you stand just a few feet to the right of the fridge the signal is perfect? Yeah, now your whole house or apartment is like that. Reliable reception. You won't drop calls or repeat conversations. And your best friend won't sound like a robot talking underwater.
Consistent service. You'll connect to the Internet faster, and data uploads and downloads will be quicker.
Fewer charge-ups. Your phone won't have to work as hard, giving you as much as two hours more talk time on a single battery charge.
There's no landline required to use a Cricket Wireless cell phone booster. There's no internet or monthly landline internet fees. The booster simply takes the signal you're getting, multiplies it up to 32 times, and then extends the signal inside your home or car.
See the Top 6 Cricket cell phone signal boosters right now right now.
Where to find help:
Wilson Amplifiers, an American manufacturer with headquarters in the state of Texas, is a leader among companies that provide cell phone signal boosters.
The company's flagship products are weBoost (for consumers) & WilsonPro (for enterprise).
These signal boosters are all-in-one solutions providing constant connection and improved service for residential and commercial properties as well as on-the-go options for cars, trucks and even boats.
Wilson Electronics weBoost products are guaranteed to work, meaning they will improve voice quality, reduce dropped calls, and increase internet speed, or you get your money back.
All weBoost cell phone boosters are Cricket Wireless-approved. But if you decide someday to switch carriers, they are compatible with Verizon, Sprint, T-Mobile, and other major carriers. As an added bonus, your friends and family who use other carriers can benefit from your signal booster while visiting.
And weBoost works on ALL phones (iPhone, Android, Samsung, LG, Blackberry etc.).
All Wilson Amplifiers products are designed to work in a variety of circumstances, whether you're in an off-the-grid cabin or cottage or a signal-blocking big-city apartment. They'll extend your Cricket Wireless network signal with low-cost options for one or two rooms, a whole house, or provide commercial coverage (10,000 square feet) depending on your model and outside signal.
A vehicle signal booster works for cars, trucks, RVs, even boats.
Wilson Amplifiers stands by its products & service, with a two-year manufacturer's warranty and a money-back guarantee if your signal doesn't improve.
If, after reviewing the options below, you still can't decide which Cricket Wireless-approved signal booster is right for you, Wilson Amplifiers' customer support staff can help you select the right option with our free consultation ( sales@wilsonamplifiers.com).
With your purchase you receive:
Free shipping.
30-day trial.
Call-in installation assistance.
Lifetime technical support.
Thanks to more than 40,000 satisfied customers (a number that's growing every day!), Wilson Amplifiers has reached No. 424 on the Inc 5000 Fastest Growing Companies List in 2015.
Check out real reviews from our customers. They know a good thing when they see (or hear) it.
Below are the six most popular Cricket Wireless boosters, ranked good, better, and best. We've separated them into two categories, cell phone boosters for home and cell phone boosters for your car:
---
Cricket Cell Phone Signal Boosters For Home & Office
GOOD
weBoost Home 3G for Cricket Wireless (473105)
Boosts Voice and 3G Data.
One-Room Coverage
Up to +60 dB Gain
$269.99
Our Review:
This is the most affordable Cricket Wireless signal booster for home use. Depending on the outside signal, you may get one- or two-room coverage under optimal conditions.
Since you're looking for a signal booster, it's likely you're not dealing with top conditions, so it's more realistic to expect you'll experience coverage no greater than one room. Great option for single office, home office, and small areas like cabins and apartments.
---
BETTER
weBoost Connect 4G for Cricket Wireless (470103)
Boosts Voice, Internet, 3G & 4G LTE Data.
Coverage up to 5,000 sq ft
Up to +65 dB Gain
$549.99

Our Review:
This is a very popular Cricket Wireless booster. Some customers report 5,000-square-foot coverage, but on average a range of 2,500 to 3,000 square feet is more likely. This is enough to cover most single-family homes and small offices. If your building is 5,000 square feet wide or less, this booster should do the trick.
---
BEST
weBoost Connect 4G-X for Cricket Wireless (471104)
Boosts Voice, Text Messages, Internet, 3G & 4G LTE Data.
For Large Building Coverage.
Up to +70 dB Gain
$899.99
Our review:
When it comes to US Cellular 3G &4G signal boosters, it doesn't get any more powerful than this.
The most powerful home signal booster sold by Wilson Amplifiers, this model extends coverage and service range up to 7,500 square feet. Users with poor to mediocre outside signal can at least expect 5,000 square feet of coverage. A caveat: if you're on the fringe of a dead zone, you could expect less. If you have extremely poor signal (remote area) or need wide coverage (building), the weBoost Connect 4G-X is the solution you need.
---
Cricket Wireless Cell Phone Signal Booster For Car
GOOD
weBoost Drive 3G-M for Cricket Wireless (470102)
Boosts Voice, Text Messages, and 3G Data
For phones, tablets or laptops
Up to +50 dB Gain
$299.99
Our take:
This versatile product is our most popular 3G booster. Can be used with a cell phone, tablet or laptop. Multiple users can use this booster at the same time, so it's great for families. If all your friends bring their devices everywhere they go, get ready to be the designated driver if you buy this booster.
---
BETTER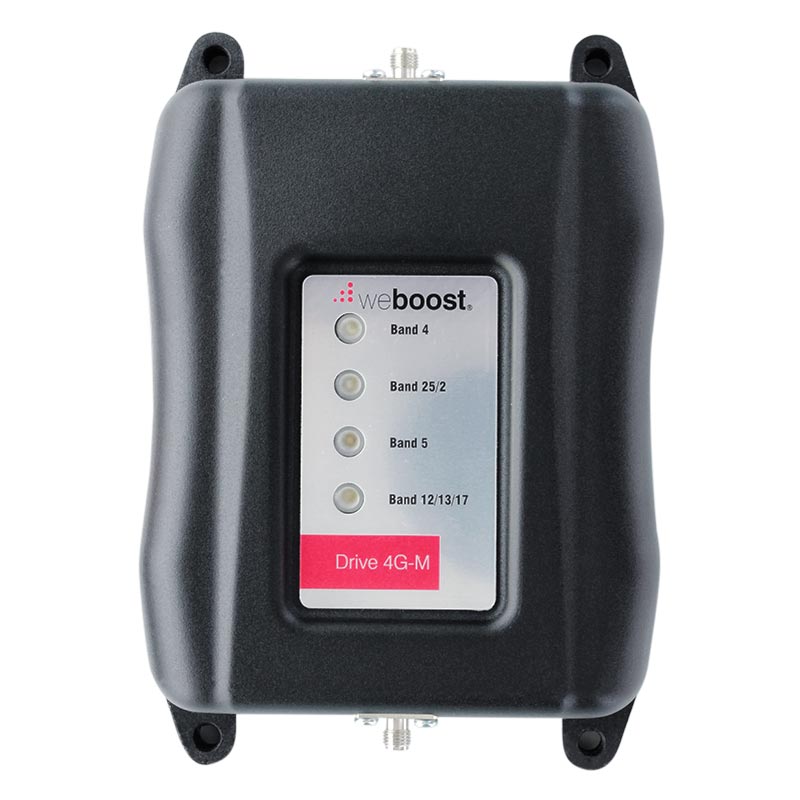 weBoost Drive 4G-M for Cricket Wireless (470108)
Boosts Voice, Text, 3G & 4G LTE Data.
Multiple devices including phones and tablets
Up to +50 dB Gain
$379.99
Our Review:
This is among our most popular boosters. Slim outside antenna to pick up signal. Discreet inside antenna to broadcast signal. Majority of customers report an extra two or three bars; some reported having to move close to the inside antenna for optimal amplification.
---
BEST
weBoost Drive 4G-X for Cricket Wireless (470510)
Boosts Voice, Text Message, 3G & 4G LTE Data.
For multiple cell devices.
Up to +50 dB Gain
Pro Model provides 60 percent more reach from and to cell tower
$479.99
Our Review:
This is the most powerful vehicle signal booster sold. The weBoost Drive 4G-X has optimal output power. In fact, it's right at the edge legally allowed by the FCC. This results in more reach from the outside antenna to the cell tower. If you're in "the middle of nowhere" with little cellular signal, this will get you connected to the outside world.
---
Need to learn more? Check out our Definitive Guide to Signal Boosters:
---