TracFone Cell Phone Signal Booster
TracFone is the top prepaid wireless service provider in country. With no contracts, unlimited minutes and data carryover, and the ability to use your own smartphone with the plan, TracFone offers a level of flexibility and customization to over 23 million subscribers that other carriers can't.
And although TracFone uses coverage networks from some of the top providers like AT&T, T-Mobile, and Verizon, some users might find themselves having a hard time taking full advantage of top 4G, LTE, and 5G speeds.
If this sounds a little too familiar, the problem may not actually be your phone or your network. Instead, the solution may lie in strengthening your cell signal.
We fix poor cell phone signal! Find the right signal booster for you:

For Home

For Vehicle

For Business

For Commercial
The Problem: Bad Cell Signal
If your TracFone usage is plagued with spotty coverage, unimpressive reception, or you just can't seem to get your cell phone to connect to the faster 4G, LTE, and 5G networks, you might have a weak signal.
For most people, diagnosing a weak signal comes down to three main things: distance from a transmitter, outside interference, and building material.
And unfortunately for anyone who uses a cell phone, the list of objects that end up causing interference is practically endless. For those of us in urban areas, the typically dense materials used to construct buildings such as rebar, concrete, and metal are pretty common deflectors of cellular signals.
What's more, if the tunnels and subways that you use every day aren't outfitted with signal amplifiers then a good portion of your day might be spent with an especially weak signal.
People outside city limits aren't safe from signal interference either as natural phenomena can be just as troublesome. Landscapes that feature mountains and forests have been known to warp signals as well as weather patterns like clouds and precipitation. Even simple changes in temperature can throw off your reception.
It's clear, then, that in addition to distance from a transmission tower, interference is also to blame for low bars, dropped calls, and poor reception.
The Answer: TracFone Signal Booster
If Distance + Interference = Poor Reception and you can't do anything to change either of these factors, what options do you have?
The answer is simple: use a TracFone Signal Booster.
The TracFone signal boosters work like this: they take in the transmitter signal, improve its strength, and then deliver it to your phone. So, instead of being left with the damaged signal from a tower, your cell phone now has access to a signal up to 32X stronger than before! Plus, these boosters can work from home or on the move in a car or boat.
A strong and steady signal comes with a variety of benefits:
Dependable reception – dropped calls, choppy conversations, and annoying static are a thing of the past
Reliable service – quicker downloads and uploads means improved internet speeds
Extended coverage – say goodbye to "dead zones"
To some of you, this might sound like a device known as a MicroCell or Femtocell. These devices will typically come with a host of additional fees and also need to be constantly connected to the internet using a landline. Sounds like a hassle, right? Fortunately, these are not femtocells!
The TracFone cell phone signal boosters mentioned here take the signal you are already getting and amplify it up to 32X so you can get better coverage. No landline connection and no monthly fees required.
So, if you're looking to improve your signal without having to negotiate with a carrier, a signal booster is for you.
Best TracFone Signal Boosters:
The market for FCC-certified signal boosters is fraught with mediocre products sold by reputable brands. Some of them may follow through with their claims, while others tend to fall short.
And when it comes to figuring out which is which, customers generally go with a company that has crafted quality products year after year; they go with a company they can trust.
That's why weBoost by Wilson Electronics, with high-quality signal boosters backed up by a money-back guarantee, has proven to be an industry leader for years.
Whether you are using your signal for gaming, business, surfing the internet, or for emergencies only, weBoost TracFone signal boosters will give you the power you need in any situation, and then some.
What's more, weBoost signal boosters from Wilson Electronics are carrier-proof. That means if you switch over to plans on Verizon, AT&T, or T-Mobile, these boosters will work just as well as with your TracFone.
Worried if your phone is compatible? No need! weBoost signal boosters provide the same signal boosting power across the board so any phone (iPhone, Android, Samsung, LG, Blackberry, etc.) will all receive the same amplified signal.
Plus, weBoost offers a variety of low-cost options to match any situation & coverage:
1-2 room solutions
Entire homes
Vehicles: cars, sedans, trucks, RVs, and boats
Commercial buildings up to an impressive 100,000 sq ft.
Below are seven of the most popular TracFone wireless signal boosters ranked from good to better to best. They're also split into home, car, and commercial cell phone boosters. Take a look at the boosters below and start your journey to a stronger signal today:
Good: weBoost Home Studio - 470166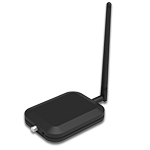 weBoost Home Studio Overview:
5G Ready. Boosts 5G, 4G, and LTE signals for areas up to 2,000 sq ft.
Works with all cellular devices across all carriers.
Up to +60 dB gain for 32x stronger signal
The weBoost Home Studio is an affordable option for those who want to improve their cell signal in one large room or multiple small ones.
Your outside signal strength and internal building materials determine how much area the booster can cover. Under perfect conditions, the Home Studio can cover areas up to 2,000 sq ft, such as a small home, large home office, or apartment. In areas with fair to poor outside signal, expect about 200 - 500 sq ft of coverage – enough for 1-2 rooms.
Good starter kit if you have decent outside signal but struggle with a reliable connection throughout your home. It's not the strongest performer in rural areas, but as long as you have a sliver of signal, the Home Studio won't let you down.
Better: weBoost Home MultiRoom - 470144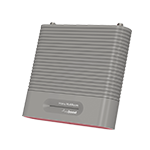 weBoost Home MultiRoom Overview:
5G Ready. Boosts 5G, 4G, and LTE signal for areas up to 5,000 sq ft (most homes). 5G Ready.
Trusted by hundreds of thousands of people across rural and urban America.
Works with all cellular devices across all carriers.
Up to +65 dB gain for 32X stronger signal.
The weBoost Home MultiRoom has been the most recommended home cell phone booster, and for good reason. It's a dependable performer that covers most homes for better service.
The average home size in North America is around 2,500 sq ft. Under absolute best conditions, the Home MultiRoom can cover areas up to 5,000 sq ft. Real world results and customer reviews put it at around 2,500 to 3,000 sq ft, a little less for rural areas.
Great option for most homes, small offices, farmhouses, and buildings under 5,000 sq ft. If you're experiencing spotty reception, we'd recommend starting with this model since this tends to be the Goldilocks or "just right" model.
Best: weBoost Home Complete – 470145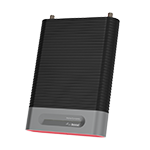 weBoost Home Complete Overview
5G Ready. Boosts 5G, 4G, and LTE signals for areas up to 7,500 sq ft (large buildings).
Trusted by hundreds of thousands of people across rural and urban America.
Works with all cellular devices across all carriers.
Up to +72 dB gain for 32X stronger signal.
The weBoost Home Complete is the most powerful signal booster for consumers. It features a maximum gain of +72 dB, which is the highest of any multi-carrier home unit. The gain represents the amplification power of the booster. And with its powerful uplink and downlink outputs, the Home Complete can reach far distanced towers to provide you with superior service in large spaces.
Under perfect conditions, it can cover large homes and offices up to 7,500 sq ft. However, depending on your outside signal strength, most people will get between 4,000 – 6,000 sq ft, even with below average outside signal. Again, fringe zones can expect a little less.
If you live in a large home with strong outside signal or a mid-size home with extremely poor outside reception, the Home Complete will be your new best friend.
The Home Complete is a Do-It-Yourself unit. If you would rather have a professional install the signal booster for FREE (only available for residential buildings), the weBoost Installed Home Complete is the way to go.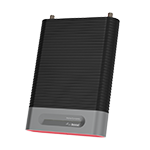 Tracfone Cell Phone Signal Booster For Car
Good: weBoost Drive Sleek – 470135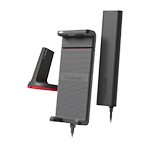 weBoost Drive Sleek Overview:
5G Ready. Boosts 5G, 4G, and LTE signals for better voice, text, and data.
For a single smartphone
Up to +23 dB Gain
The weBoost Drive Sleek is an affordable cell phone signal booster for a single user.
It uses a magnetic vent mount, and when paired with a Bluetooth headset, it really shines for regular talk, text, and hands-free navigation. To work, your mobile device must be sitting in the adjustable cradle. The cradle is compatible with any sized smartphone or small tablet.
Perfect for those driving in urban and suburban areas, but not the strongest performer in rural locations. However, just as long as there is a sliver of signal outside your vehicle, your smartphone will continue to receive boosted service regardless of where you are.
Better: weBoost Drive X – 475021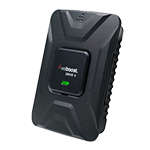 weBoost Drive X Overview
5G Ready. Boosts 5G, 4G, and LTE signals for better voice, text, and data.
For multiple cell devices
Up to +50 dB Gain
The weBoost Drive X is one of the most popular and recommended car signal boosters. It's relatively inexpensive and ideal for drivers in urban, suburban, and some rural areas. Designed to work with multiple carriers for up to 4 devices so that you and your passengers can enjoy consistent service on the go.
With its +50 dB of gain and more range than its predecessor, it can communicate with far distanced towers to provide you and your passengers with enhanced 5G and 4G LTE signals.
Many of our customers have reported an increase of 2-3 more bars. In rural areas with poor signal, few customers mentioned that they had to be closer to the inside antenna than anticipated to benefit from the amplified signal.
Best: weBoost Drive Reach – 470154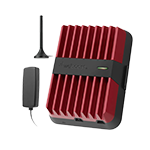 weBoost Drive Reach Overview:
5G Ready. Boosts 5G, 4G, and LTE signals for better voice, text, and data.
For multiple cell devices
Up to +50 dB Gain
The weBoost Drive Reach is the most powerful multi-carrier vehicle cell phone signal booster. When compared to other vehicle boosters, the Drive Reach offers double the uplink and downlink output power to reach cell towers that are 2x further for superior signal strength. As a result, it will work in the most rural of roads and highways.
The amplifier's sleek metallic design not only makes the booster look cool but also displaces excess heat to keep the booster working at optimal performance.
Overall, the Drive Reach is a great investment for people who frequently drive through rural areas with weak outside signal. Due to all of its features, you and your passengers will experience better call quality, fewer dropped calls, reliable navigation services, and faster data speeds almost anywhere.
TracFone Cell Phone Signal Booster For Commercial Buildings
Most Popular: weBoost for Business Office 100 – 472060/473060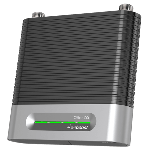 weBoost for Business Office 100 Overview:
5G-Capable. Boosts 5G/4G/LTE signals for areas up to 25,000 sq ft.
Works with all cell phone and cellular devices across all carriers.
Up to +72 dB gain
Great for urban and rural areas
The weBoost for Business Office 100 is our best-selling pro-grade TracFone signal booster. Whether you're experiencing poor TracFone service due to cell tower distance, rugged terrain, or tough building material, the Office 100 has you covered.
It features maximum gain of +72 dB, with up to +25 dBm uplink and +15 dBm downlink output powers. This means the system can communicate with distant cell towers to send and receive the strongest TracFone signal available and broadcast it throughout your office or home. That's right, even though the Office 100 is categorized as a Signal Booster for Small Businesses, it's also a phenomenal option for TracFone subscribers with large homes that simply need something more robust. As a result, everybody inside your business or residence will enjoy quality TracFone reception, fewer dropped calls, uninterrupted text messages, and faster data speeds.
If your small business or large home is located in an area with weak or strong outside signal, the Office 100 will be sure to overcome any obstacles preventing you from receiving reliable in-building TracFone service.
How May We Help You?
Wilson Amplifiers is the leading provider of cell phone signal boosters. Cell phone boosters amplify 5G (on select frequencies), 4G, and LTE for any phone with any carrier for home, office, or vehicle.
We seriously hate dropped calls and poor coverage, so it's our goal in life to stomp on spotty signal like the little roaches they are:
Free consultation (ask us anything) with our US-based customer support (sales@wilsonamplifiers.com) or call us at 1-800-568-2723.
Free shipping.
Better signal or industry-leading 90 money-back guaranteed. No questions asked.
We want everyone to be satisfied, so we provide lifetime technical support and a 2-year warranty for all products.
Ask us anything and we'll be glad to help.
Interested in Learning More? Check Out Our Signal Boosting Info Center
THE WILSON AMPLIFIERS ADVANTAGE
FREE SHIPPING No Minumum Purchase
90-DAY
Money Back Guarantee
LIFETIME
Technical Support