Best Samsung Signal Booster Methods that Actually Work
Samsung Cell Phone Signal Boosters
Our Top Tested Samsung Signal Boosters
We fix poor cell phone signal! Find the right signal booster for you:

For Home

For Vehicle

For Business

For Commercial
Is your Samsung smartphone dropping calls and taking forever to load? You're not alone. Many Samsung users experience poor cell signal at home, in the office, and on the road. Contrary to popular belief, most of the time, bad reception has nothing to do with your Samsung phone or your carrier. So, if you're looking to boost your Samsung's signal, we can help. There is no better way to do so than with a Samsung signal booster. Keep reading to learn more.
Why Your Samsung Has Poor Cell Signal
Bad Samsung signal isn't always your carrier's fault. There are multiple things that disrupt cellular signals outside of your carrier's control. The most common cell signal disrupters are:
Heavy Network Traffic – Multiple devices connecting to a cell site at the same time can slow down or overload the network.
Distance from Cell Towers – The further away your Samsung is from your nearest cell tower, the weaker the signal it receives.
Building Material – Samsung reception often suffers indoors due to the metal, concrete, low-e glass, and other materials that make up your home or business building.
Topography – Thick foliage, hills, mountains, valleys, and the like can block or degrade the signal reaching your Samsung.
Weather Conditions – Rain, fog, snow, and humidity interfere with radio waves, resulting in weaker Samsung signal.
How You Can Boost Your Samsung Signal
Improving your Samsung's reception can sometimes be as easy as troubleshooting. You can try:
Toggle Airplane Mode
Restarting your Samsung
Updating your operating system
Removing your Samsung case
Switching to 4G only
For more tips and tricks, here is our complete list of ways to boost cell signal. Other times, however, it's not so simple or free. In those cases, the best way to boost your Samsung signal is with a cell phone signal booster or network extender.
Samsung Cell Phone Signal Boosters
Samsung signal boosters, also known as repeaters, amplifiers, or extenders (not to be confused with network extenders), are the #1 recommended way to improve cell reception across any Samsung using any carrier. That includes the Samsung Galaxy S series, Galaxy Z Fold series, Galaxy Z Flip series, Galaxy A series, and all other Samsung phones released after 2012.
Cell phone boosters capture existing 5G/4G/LTE signals, amplify them, and rebroadcast them inside your home, office, or vehicle. They're able to communicate with distant cell towers, bypass signal-blocking material, and fine-tune received signals. This is done using an outdoor antenna, an amplifier, an indoor antenna, and coaxial cable.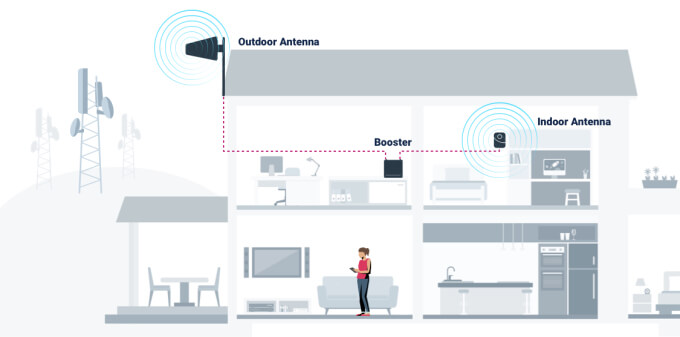 All Samsung signal boosters need is a power source and existing signal to work. No monthly fees or WiFi is needed. Within minutes you can flip your home, office, or vehicle from a dead zone to a reliable multi-carrier networking hub.
Here is a short video showing the results of a Samsung signal booster in a rural area with weak outdoor signal:
Our customer's signal strength significantly improved from -119 dBm to -75 dBm. Typically, cell phone signal strength ranges from -50 dBm (perfect signal) to -120 dBm (no signal). The closer you are to -50 dBm, the more reliable your connection. With a signal booster, our customer is now receiving almost perfect signal. You could too!
Below are our top Samsung signal booster recommendations:
For Small to Mid-Size Homes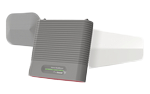 5G Ready
Up to 5,000 Sq Ft Coverage
Up to +65 dB Gain
Up to 21 dBm Uplink & 12 dBm Downlink
Compatible with all Samsung Phones and Carriers
The weBoost Home MultiRoom is our most popular Samsung signal booster. Featuring high uplink and gain, it can reach distant cell towers and deliver a stronger signal directly to your Samsung devices. Capable of covering up to 5,000 sq ft, it's ideal for most homes. Depending on your outside signal strength, that's enough for whole-home to multiple-room coverage. It's a great option for people needing a signal boost in the city or the countryside.
For Medium to Large Homes
5G Ready
Up to 7,500 Sq Ft Coverage
Up to +72 dB Gain
Up to 24 dBm Uplink & 12 dBm Downlink
Compatible with all Samsung Phones and Carriers
The weBoost Installed Home Complete is the most powerful amplifier you can get to boost your Samsung's cell signal. Featuring max gain of +72 dB, it's roughly 3x more powerful than the weBoost Home MultiRoom. With its high output powers, it can reach distant towers and deliver superior service indoors. It can provide whole-home coverage for a large home with strong outside signal or midsize homes with weak outside signal.
While most Samsung boosters are self-installed, this one comes with a professional installation. Optimal antenna placement for best Samsung signal boost is guaranteed. If you'd rather install the booster yourself, we also offer a Do-It-Yourself version.
For Small Homes
5G Ready
Up to 1,500 Sq Ft Coverage
Up to +60 dB Gain
Up to 24 dBm Uplink & 12 dBm Downlink
Compatible with all Samsung Phones and Carriers
The weBoost Home Room is a great starter kit for those who only need to boost Samsung signal in small areas. It'll keep your Samsung phones connected in the rooms where it matters. Offering up to 1,500 sq ft of coverage, it's ideal for a small home, apartment, dorm, or condo. It delivers best results in areas with decent outside signal. Those with poor outdoor cell reception should consider the weBoost Home MultiRoom for greater boost and coverage.
For Vehicles of Any Type
5G Ready
Up to +50 dB Gain
Up to 26 dBm Uplink & 4 dBm Downlink
Extremely Customizable for Any Application
Compatible with all Samsung Phones and Carriers
The weBoost Drive Reach is our most powerful in-vehicle Samsung signal amplifier. It features the highest uplink output power of any multi-carrier vehicle booster. This allows it to reach cell towers that are 2x further to deliver twice the signal strength. It's much more powerful than its competitors and a great performer in the most rural of roads and highways. Thus, it's the Samsung booster we highly recommend for most mobile situations. Though, it can also be used while stationary with reliable power. Customizable, there is a Drive Reach for cars, trucks, semis, RVs, boats, and overlanders.
For Stationary RVs and Mobile Homes
5G Ready
For Stationary Use ONLY
Up to +65 dB Gain
Up to 25 dBm Uplink & 12 dBm Downlink
Compatible with all Samsung Phones and Carriers
The weBoost Destination RV is the most powerful booster for stationary RVs, trailers, and campers. It consists of the popular weBoost Home MultiRoom, but optimized for RV use. When compared to other mobile signal boosters, like the Drive Reach, the Destination RV offers an additional +15 dB of gain. This means it will significantly boost your Samsung's signal at any campsite, even in rural areas with limited coverage. Setting up and taking down the unit is made easy and painless with the included 25' telescoping mast.
For Small Businesses
5G Ready
Up to 25,000 Sq Ft Coverage
Up to +72 dB Gain
Up to 25 dBm Uplink & 13 dBm Downlink
Compatible with all Samsung Phones and Carriers
The weBoost Office 100 is our best-selling commercial-grade Samsung amplifier for small businesses anywhere. It's also a great option for large homes in remote areas where residential boosters may not be strong enough to deliver desired results. High gain and output power ensure all Samsung devices receive superior signal throughout. Under perfect conditions, this Samsung repeater can cover up to 25,000 sq ft. Multiple variants are available to fit different building layouts and signal environments.
For more power and coverage, consider the weBoost Office 200. To see how the Office 100 and 200 compare, click here.
Samsung Network Extenders aka Femtocells
A femtocell, also known as a network extender, is a small base station that broadcasts cell signal using broadband internet. It's like having a mini cell tower inside your home or office. Existing cellular signal isn't needed for a femtocell to work. All you need is access to broadband internet with minimum speeds of 10 Mbps download and 5 Mbps upload.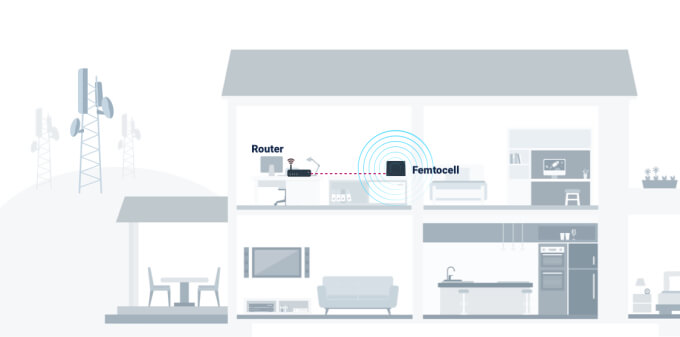 Some carriers sell branded femtocells, while others, like T-Mobile, have discontinued their version. AT&T sells the Cell Booster and Verizon the LTE Network Extender.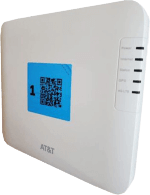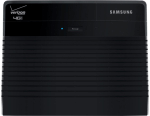 Both AT&T Cell Booster and Verizon LTE Network Extender are carrier specific, though. They will not provide better talk, text, and data for Samsung's connected to other carriers. In addition, since they need internet to work, users may experience slower speeds. Carriers may charge a one-time fee plus monthly fees for a femtocell.
While femtocells are good options, they are no match for a Samsung signal booster when it comes to consistent coverage and price.
Difference between Samsung Signal Boosters and Samsung Network Extenders
Simply put:
Samsung Signal Boosters

Samsung Network Extenders

Work with multiple carriers
Boost LTE, 4G, and some 5G signals
Support multiple devices simultaneously
Need cellular reception to work
One-time purchase, no monthly fees

Are carrier specific
Only broadcast 4G and LTE signals
Support a limited number of devices
Need broadband internet to work
One-time purchase plus monthly fees
Samsung Signal Boosting FAQs
Do Samsung Signal Booster Apps Work?
Sort of, but not in the way you might think.
Samsung signal boosting apps don't actually amplify your signal like a Samsung signal booster would. They're simply performance enhancers. With your permission, they can refresh your connection, free up storage, manage background apps, and more. As a result, your Samsung's performance may improve.
If you have poor cell reception, a "boosting" app won't get you more bars.
Will Boosting Stickers Improve Samsung Signal?
Signal boosting stickers claim they're able to improve your phone's reception. We've tested signal boosting stickers and concluded that they don't work as advertised. Read our Cell Phone Signal Booster Sticker Review for the full scoop.
If you still want to give signal boosting stickers a go, you can purchase them via Amazon.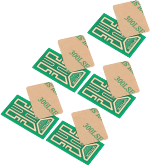 Can the 3370 Secret Code Boost Samsung Signal?
Dialing the secret*3370# or #3370# code on Samsungs supposedly boosts cell phone signal. However, it doesn't work. It's actually a number sequence used to activate Enhanced Full Rate Codec, which improved sound quality for specific devices. Visit Does the *3370# Secret Code Boost Cell Phone Reception for more info.
Your best bet at enhanced cellular reception for your Samsung devices is a Samsung signal booster.
Which Samsung Signal Booster Should I Get?
If you struggle with poor WiFi for your iPad, a cellular router can help you get a better connection anywhere you go. When paired with a signal booster, your connectivity experience increases.
The first step is to choose between a Samsung Cell Phone Signal Booster and a Samsung Femtocell (aka Network Extender). Most people go for the Samsung cell phone booster. It provides much more consistent coverage, works with multiple carriers, and costs less in the long run.
The next step is to figure out the type of Samsung booster you need for your specific situation.
Do you want to boost cell phone reception in your house or vehicle? Maybe both?
If for home, how much area are you trying to cover? One room, two rooms, the whole house?
If for vehicle, what type of vehicle do you have? Car, truck, semi, RV, camper?
Reference our top recommended Samsung signal boosters for guidancs
If you need assistance selecting the right unit, don't hesitate to call (1-800-568-2723), email (sales@wilsonamplifiers.com), or chat with us. We're Wilson Amplifiers, a leading provider of cell phone signal amplifiers for Samsung devices. Regardless of your carrier, our units will get you the speed and reception you need to stay connected. Available for boats, buildings, and vehicles, there is a signal booster for every situation.
Interested in Learning More? Check Out Our Signal Boosting Info Center
Disclaimer: The products discussed here were independently chosen by our editors. WilsonAmplifiers may get a share of the revenue if you buy anything featured on our site.
THE WILSON AMPLIFIERS ADVANTAGE
FREE SHIPPING No Minumum Purchase
90-DAY
Money Back Guarantee
LIFETIME
Technical Support