Top 11 Essential Gear for Road Trips
Road Trips Items You Should Never Forget
Whether you're going on a short or long road trip, you should always have some essential gear on hand. Some are for comfort, others are for backup, but all should be considered when venturing on the road. They will help you save money, time, minimize unnecessary stops, and let's not forget… keep you SAFE. So, gear up and get ready for some great memories.
We fix poor cell phone signal! Find the right signal booster for you:

For Home

For Vehicle

For Business

For Commercial
Electronics:
1. Navigation System
Before you begin your road trip, it is a good idea to have a planned, detailed route. While on the road, having a navigation system of some sort is imperative. Many new cars have built-in navigation systems, and most phones have a GPS app. If your vehicle or device lacks a navigation system, there is also a wide variety of portable GPS units with special features for a range of prices. But still, even with modern and innovative technology, it's recommended that you bring actual printed maps in case there is no cellular service, your phone runs out of battery, or you face an unexpected detour.
2. Cell Phone and Accessories
Cell phones are an essential part of our lives on and off the road. They offer numerous functions to be taken advantage of on a road trip – from handy GPS access to an immense array of entertaining applications. It is not only important to bring your cell phone, but also any accessories you may need, such as headphones, charger adapters, USB connection cords, and portable chargers just in case you don't have access to a plug. A good USB power bank should be able to charge up your phone 6-9 times on a single charge. Satechi provides some quality smartphone power banks.
3. Camera
Although the vast majority of cell phones come with good quality built-in cameras these days, they still don't compare to the shots Polaroid and digital cameras can capture. Most cell phone cameras don't match the number of megapixels as that of a digital camera. Plus, in some instances, when printing or exporting an image from your cell phone, the resolution may change. If you're going to effectively collect and preserve your memories, a high-quality camera is the best choice. Along with the actual camera, be sure to bring all the accessories you will need, such as a spare battery, charger, and extra film if you have a more traditional camera. We're a fan of the Fuji X-100 series.
4. Cellular Signal Amplifiers
Let's be honest. Not only is your cell phone the most important gadget you possess every day, but it's also the most vital for road trips. Whether for navigation, email, texting, calling, or streaming, you're going to need it while in the big city or the woods. Unfortunately, there are many stretches of highways, roads, and off-the-grid areas that get limited cell service. This leads to slow internet, dropped calls, and unresponsive navigation apps for all cellular devices. For better signal while traveling, consider a cell signal amplifier for your car, truck, RV, or boat. They pull in existing cellular signals (5G/4G/LTE) and amplify them for better use.
Take the weBoost Drive Reach as an example. It's weBoost's most powerful in-vehicle signal amplifier. It's designed to provide 4G coverage throughout your entire vehicle under perfect conditions, and it's even 5G ready. Plus, with its increased uplink power, users are able to access towers that are 2X farther for twice the signal strength for all cellular devices from any carrier. The unit is extremely versatile and can be used with any type of vehicle.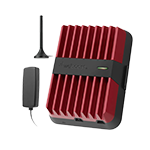 As a result, you and your passengers will no longer have to worry about getting lost or losing the ability to make a call in the event of an emergency. Everybody involved in the road trip can enjoy great service, and you can use your car as an oasis of great signal, no matter where you are. So, unless you're okay with the dreaded no-service dead zone, this is a no-brainer investment.
Safety:
5. First Aid Kit
Accidents happen. A first aid kit is a convenient way to treat a variety of ailments and accidents, from cuts and scrapes to burns and blisters. A well-equipped first aid kit will have different sizes of bandages, basic medications such as aspirin and allergy medicines, and ointments for infections and burns. Other useful items to include are tissue, hand sanitizer, and anti-itch cream for bug bites or other unexpected rashes. Purchasing a complete first aid kit is the simplest way to go, however, you can make your own travel kit using the items in your medicine cabinet.
6. Vehicle Maintenance Items
Possibly the most important gear to have when embarking on an exciting road trip is the vehicle maintenance items. If your trip is going to be rather lengthy, it is highly recommended to have your vehicle serviced ahead of time to be sure it is in tip-top condition. A flat or damaged tire can happen to even the best of vehicles, so it's important to check that your spare tire is in good condition and the tire iron and jack are nearby.
We highly recommend an emergency car repair kit. Depending on the kit, it can include things like a flashlight, air compressor, tire pressure gauge, window breaker, first aid kit, jumper cables, and more. Another product we recommend is the Fix-a-Flat tire inflator. If it's a light puncture, you can fill up your tire and seal the cut at the same time.
Other useful items to bring on your road trip are a spare set of keys and additional vehicle fluids, such as windshield wiper fluid.
7. Small Tool Kit
Having a small collection of practical tools can save the day if an unexpected incident occurs. All kits should include at least one flashlight and/or headlamp. Headlamps are extremely helpful if you need to do things in the dark such as setting up a tent or unpack the car. Other items to include are a pocketknife, duct tape, and a multi-tool. There are many small tool kits that come complete with a hammer, screwdriver, pliers, and wrenches all in a small portable toolbox.
Comfort:
8. Entertainment
Stay entertained during your road trip with an excellent music collection to make the trip more enjoyable and comfortable. Get a collection of CDs ready before you start your trip; keep all passengers in mind and bring a variety of genres to suit everyone's tastes. Most vehicles come with Bluetooth capabilities enabling you to listen to music from your smartphone, which is what most people do nowadays. If your car doesn't have Bluetooth capabilities, consider a Bluetooth FM radio adapter or an aux cord. Make sure to download your road trip playlist beforehand to preserve battery life and to keep the music going in the event cell signal is lost. If you are traveling with children, you can download movies on Netflix or Hulu from their iPad or smartphone to keep them entertained for hours.
9. Comfort Items
When driving long distances, it is important to be comfortable. Instead of tight jeans and cute new shoes, you'll want to wear loose comfy clothing and shoes that easily slip on and off. Although they're primarily known as running shoes, the Asics Gel-Kayano are great all-around shoes for walking, hiking, and are very comfortable. When you're the driver, keep your shoes on at all times, but when you get to relax as the passenger, feel free to let your feet breathe for a bit. Wearing layers works well for varying temperatures and situations. Also, remember to bring along blankets and pillows for napping and to add a bit of familiarity when you're in unknown places. Plus, blankets can also double up as an emergency bag.
10. Nourishment
Before you begin your journey, it's best to take a trip to the grocery store; convenience stores tend to be more expensive. It's always a good idea to bring plenty of bottled water kept in a good-sized cooler. An ample selection of snacks is a must, such as granola bars, pretzels, and a variety of nuts. Fruit like strawberries, grapes, and blueberries are also good choices. Preparing sandwiches before your trip will save you time and money while on the road. For extreme hiking and roughing-it enthusiasts, you can't go wrong with a water bottle that filters.
11. Personal Items
Toiletries and other personal items should be kept nearby where they can be easily accessed if needed. Items such as sunglasses, cleansing wipes, and sunscreen will all come in handy while on your road trip. Be sure to bring enough of your prescription medications to last the duration of the trip. Don't forget toilet paper, facial tissue, and paper towels. Depending on the journey, it may be a good idea to keep medications such as antacids and motion sickness remedies close by.
How May We Help You?
Wilson Amplifiers is a leading provider of home, office, and vehicle cellular signal boosters - devices that amplify 4G, LTE, and 5G (on certain frequencies) for all cellular devices across all cellular carriers. We've boosted cellular signals in countless of homes, buildings, and vehicles across America and Canada.
We seriously hate dropped calls and poor coverage, so it's our goal in life to rid the world of spotty signal, one happy customer at a time. We provide:
Free consultation (ask us anything) with our US-based customer support. Email: (sales@wilsonamplifiers.com). Phone: 1-800-568-2723.
Free shipping. Usually ships the same day.
90-day (seriously) money back guarantee. You want to make sure you're satisfied.
Ask us anything and we'll be glad to help.
Interested in Learning More? Check Out Our Signal Boosting Info Center
THE WILSON AMPLIFIERS ADVANTAGE
FREE SHIPPING No Minumum Purchase
90-DAY
Money Back Guarantee
LIFETIME
Technical Support