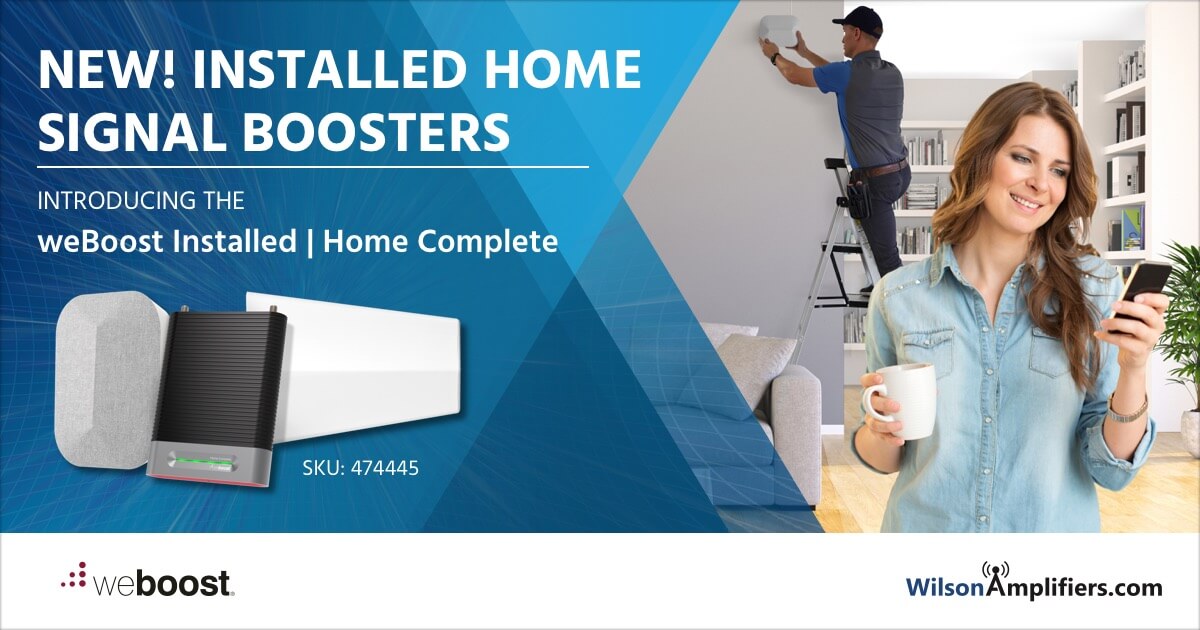 ---
Free Installation with Every Purchase
weBoost has repackaged the weBoost Home Complete as the weBoost INSTALLED Home Complete, the very first cell phone signal booster for residences to come with a free home installation.
The installation is handled by DISH Network and OnTech, and serves every zip code nationwide. Simply call the number on your box and provide your individual code to make your appointment.
These are professional, white-glove, no contact installations, with customer safety as the top priority.
The weBoost Installed Home Complete is priced at $1199.99, including the installation.
---
What Else is There to the weBoost Installed Home Complete?
The weBoost Installed Home Complete features:
Superior cell phone service for your entire home. 5G Ready
Up to 7,500 sq. ft. of coverage under best conditions
Up to +72 dB of gain, with 24 dBm uplink and 12 dBm downlink
Multiple accessories for maximum coverage and customization (sold separately)
Complete coverage for entire home for all carriers across multiple devices
Outdoor yagi antenna and indoor panel antenna, with stylish fabric front
Needs no WiFi connection or monthly fees. One time purchase.
Designed, as you might expect, to cover an entire home. The weBoost Installed Home Complete certainly has that power, fully capable of covering a large home with decent outside signal or a midsize home with weak outdoor signal. Expect up to 7,500 square feet of coverage with flawless outside signal, but a more reasonable estimate would be somewhere between 3,500 and 5,500 square feet. In addition, in order to really maximize your coverage, additional antennas are required, especially if you're trying to cover more than one floor. If you live in a very weak signal rural area, this is your best option for decent coverage - you'll probably be getting about 2,000 square feet from it.
---
FAQ
---
How May We Help You?
Wilson Amplifiers is the leading provider of cell phone signal boosters. Cell phone boosters amplify 4G, LTE, and 3G for any phone with any carrier for home, office, or vehicle.
We seriously hate dropped calls and poor coverage, so it's our goal in life to stomp on spotty signal:
Free consultation (ask us anything) with our US-based customer support (sales@wilsonamplifiers.com) or call us at 1-800-568-2723.
Free shipping.
Better signal or industry-leading 90 money-back guaranteed. No questions asked.
We want everyone to be satisfied, so we provide lifetime technical support and a 2-year warranty for all products.
Ask us anything and we'll be glad to help.