What You Need if You're Forced to Work From Home
Let's face it: sometimes circumstances spiral out of control. With the recent news of coronavirus outbreaks worldwide, it's looking more and more likely that self-quarantining and working from home for an extended period is in our near future.
For those of us not used to it, though, what does that mean? What, exactly, do we take for granted at our workplaces that we don't have as ready access to at work? And, just as important, how can I get them when I'm under quarantine?
We fix poor cell phone signal! Find the right signal booster for you:

For Home

For Vehicle

For Business

For Commercial
Reliable Network Coverage and Speeds: WiFi Alone Won't Be Enough
Having reliable network coverage is a bigger deal than you might realize. If you're being asked to work from home, the expectation is that you'll be able to be reachable at any time during your work hours. This comes in all forms: via email, via Teams or Skype, and via your cell phone.
One of the biggest challenges people face when working from home is connectivity issues. Whether it's a technical problem with the app you're using or a network hiccup, your boss isn't going to like having to listen to a jumbled mess, or, worse, not being able to connect to you at all.
What you might not even realize is - most workplaces have several reliable networks in place, just in case one goes down. Your home likely isn't set up that way. Should your basic WiFi router fail, you're in trouble.
What about your cell phone? Can you really rely on it connecting at all times? That dropped call to your mother last week wasn't a big deal, but what if you're on with a particularly irascible client? You might be upset and wonder: why is my cell phone service getting worse?
You might not realize it, but the phone calls you take and texts you send are part of a similar network to WiFi, called the cellular network. The great thing about the cellular network is it can accomplish all the same things WiFi does while running parallel to it, allowing you to use it as a great contingency - as long as it works well.
If you're being forced to work from home, it's likely your neighbor is, too. And their neighbor. And their 4 kids are out of school, all using their cell phones to send texts, Snapchats, etc. to their bored friends. In other words, the cellular network in your area could be stretched to breaking, all while you're trying to get work done.
Fortunately, there's a way for you to maximize your cellular network, in much the same way you do for WiFi. They're called cell phone signal boosters, also known as repeaters and amplifiers.
Cellular Signal Boosters for Home Office
Home boosters take existing cell signal, amplify it, and rebroadcast it throughout a defined space. They're a fantastic, simple accessory for your home office as they can completely eliminate dropped calls and weak cellular signal from your life. Any cellular device can be made into a powerhouse when near a signal booster, with faster data speeds than even some wired connections.
These boosters are FCC-approved, perfectly safe, and can be delivered anywhere in the country with free, two-day shipping. They can be easily installed anywhere from 5 minutes to a couple of hours. They need cell signal to work, but allow you to send and receive that signal more efficiently than you otherwise would be able to unassisted.
They:
Boost all types of cellular signal across all major carriers
Require no WiFi signal or monthly fees to work
Are sold as complete kits, and are DIY boxes
Amplify cell phone signal to AND from the cell tower
There are three types of signal boosters we recommend for people working from home, depending on the amount of coverage you need:
The Most Popular Booster for Home Offices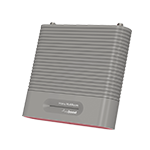 The Home MultiRoom is the standard bearer for cellular amplifiers, being made for midsize homes. The main reason we recommend this booster first is that it ought to provide ample coverage for your entire home.
This is important, since you're trying to set up a parallel network. If you live with other people who are also trying to use some bandwidth, you'll be competing for that bandwidth on a single network. With the Home MultiRoom, you'll have stronger cell signal for your entire home, and you can juggle both cellular and WiFi to maintain connection no matter what.
Budget Friendly Booster for Home Offices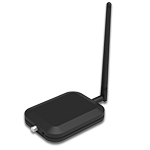 The Home Studio exists for a home office setup, it features a compact amplifier with an attached indoor antenna for easy installation. The simple design allows for simple placement on an office desk, bookshelf, file cabinet, or any flat surface. It provides less coverage than the MultiRoom or the Complete, but it's more affordable and designed to cover 1-2 rooms. If you live alone, only need better cell signal in a very localized area, or just need that better signal ASAP, the Home Studio is your best option.
Upgraded Booster for Home Offices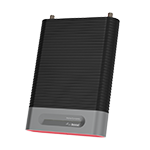 Think of the Home Complete as a Home MultiRoom, but with even more power - enough power to cover a very large home. If you have one and you want the same benefits of full home coverage, or particularly weak outside cellular signal, you'll want to upgrade to the Home Complete.
For more on cell phone signal repeaters, here are a few articles:
---
Office Supplies
People might be going paperless at a remarkable rate, but standard office supplies are still important for many. We're talking about the basics: a printer, blank letter sized paper, Post-It notes, paperclips, pens, notebooks...the standard stuff.
Make a list of the office supplies you use at work most often, and buy a few packs of them. Get yourself a printer, too. Even better, ask your HR department if you can take some supplies from your office before you start your extended work from home stint.
---
A Reliable Computer
Another one that seems obvious, but if you haven't worked from home for awhile, this bears consideration. Most of us have a computer at home, but it might not be optimized for work. Maybe your kids use it. Maybe it's very old. Maybe it doesn't have the processing power necessary for what you usually do at your office.
Make sure the computer:
Has enough memory
Runs well while using the typical programs you will need to do your job
Can reliably connect to the internet, whether that's over WiFi or your new cellular network
Has a working microphone for conferences, and a camera if needed
---
A Conferencing App or Program
You know those meetings at the office that are sometimes important, and sometimes a waste of time? Yeah, they won't go away just because you and your colleagues are working from home. Your clients and bosses will expect you to conference in. Luckily, you don't need a conferencing phone or anything too fancy these days to do so. It boils down to what your office decides to use, but there are many good options these days.
A few of the more common are:
Critically, these can be used from either your computer or phone, so it's easy enough to use whichever network or device you need to get the best connectivity possible.
---
A Dedicated Work Area
By dedicated work area, we really mean room. You're going to need peace and quiet in order to get work done, and if your job involves networking or conferencing, no one wants to hear noisy kids or deal with constant interruptions when speaking to you.
Grab some noise cancelling headphones, put on your favorite podcast or song, and isolate yourself. You might actually be surprised at how much you get done.
An ideal work area should:
Have a comfortable chair and desk
Have reliable internet and cellular signal
Be free of distractions of all kinds.
---
Having Things Delivered
Finally, let's bust a myth: there's a very low risk of spread from packaging. So, it's perfectly safe to have anything you might need delivered to your home - just be sure to wash your hands after handling the package. That said, it might be best to get all these things taken care of before you decide to self-quarantine, just in case.
---
Who Are You, and How Can You Help Me?
Wilson Amplifiers is the leading provider of cell phone signal amplifiers, devices that boost cellular networks for any phone with any carrier for home, office, or car. We've boosted over 10,000,000 sq ft of signal for homes, buildings, and vehicles across America and Canada.
Free consultation (ask us anything) with our US-based customer support. Email: (sales@wilsonamplifiers.com). Phone: 1-800-568-2723.
Free shipping. Ships same day, with two day shipping time
90-day money back guarantee. We want to make sure you're satisfied.
Our goal is simple: keep people connected. Ask us anything and we'll be glad to help.
Interested in Learning More? Check Out Our Signal Boosting Info Center
THE WILSON AMPLIFIERS ADVANTAGE
FREE SHIPPING No Minumum Purchase
90-DAY
Money Back Guarantee
LIFETIME
Technical Support