Which Cell Phone Gets the Best Reception
Is it True that Android Phones get Better Reception than iPhones?
We've taken our fair share of deep dives into what makes cell phone reception go bad, how you can improve your signal, and which carrier has the best coverage in your area.
But what about your smartphone itself? Do different brands get different signals? And which type of smartphone gets the best reception?
The answer may be surprising, but perhaps to be taken with a grain of salt.
We fix poor cell phone signal! Find the right signal booster for you:

For Home

For Vehicle

For Business

For Commercial
Android vs. iPhone Cellular Reception Study
PCMag tested the iPhone XS, iPhone XS Max, iPhone XR, Samsung Galaxy Note 9, Google Pixel 3, LG V40, and OnePlus 6T in 2018. They found that the Samsung Galaxy offered better reception than iPhones. However, the overall best performer was the LG V40.
All tested Apple phones used Intel modems, while all Androids used Qualcomm modems. In general, Qualcomm phones maintained faster speeds longer and managed to work faster than Intel-powered iPhones in very low-signal conditions. Due to Qualcomm's LTE-Advanced technology, and Apple's hesitancy to roll out new technology the second it becomes available, Android phones pulled ahead in the reception race.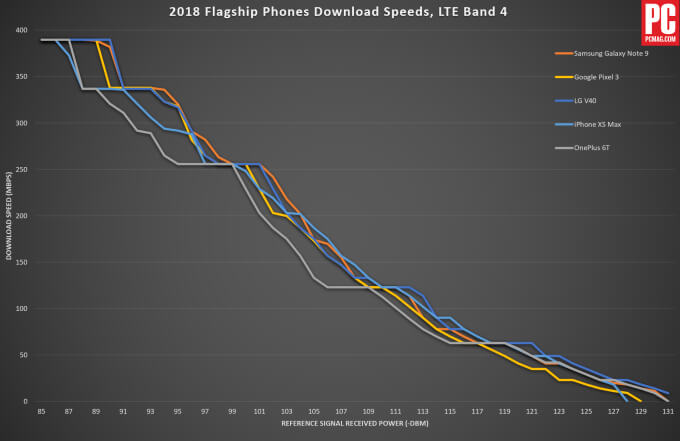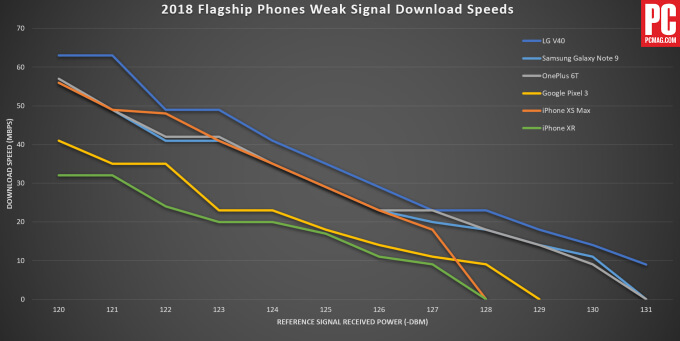 Does this mean Android phones get better reception than iPhones? According to the 2018 study, depending on the device used and signal strength, yes, Android phones have faster cell speeds than iPhones. While the difference is not significant, it can make a difference when trying to stay connected in rural areas.
Unfortunately, there hasn't been a similar study since to test the cellular reception of new flagship devices. However, while we don't have the resources to conduct a thorough analysis, we performed a basic cellular reception test. We compared the iPhone 14 Pro Max and Samsung S22+ using Speed Test by Ookla. Both devices are equipped with Qualcomm's Snapdragon X65 modem.
| | | |
| --- | --- | --- |
| | iPhone 14 Pro Max | Samsung S22+ |
| Signal Strength in dBm | -108 dBm | -108 dBm |
| Average Download Speed | 66.56 Mbps | 65.66 Mbps |
| Average Upload Speed | 1.86 Mbps | 1.56 Mbps |
| Average Ping | 44.4ms | 50.8ms |
Complete Test Results
Samsung Galaxy S22+
iPhone 14 Pro Max
Download Speeds
Upload Speeds
Ping
Download Speeds
Upload Speeds
Ping
51.5 Mbps
1.95 Mbps
37ms
72.1 Mbps
1.46 Mbps
47ms
65.4 Mbps
2.49 Mbps
36ms
66 Mbps
1.09 Mbps
31ms
71.1 Mbps
1.66 Mbps
37ms
76.5 Mbps
2.05 Mbps
44ms
94.5 Mbps
2.2 Mbps
38ms
45.2 Mbps
3 Mbps
76ms
23.7 Mbps
0.82 Mbps
40ms
107 Mbps
1.29 Mbps
46ms
84 Mbps
2.03 Mbps
43ms
41.7 Mbps
1.62 Mbps
47ms
62.4 Mbps
1.49 Mbps
39ms
51.2 Mbps
0.69 Mbps
30ms
53.5 Mbps
1.3 Mbps
39ms
100 Mbps
0.46 Mbps
93ms
61.4 Mbps
1.9 Mbps
76ms
68.5 Mbps
0.88 Mbps
61ms
98.1 Mbps
2.72 Mbps
59ms
28.4 Mbps
3.02 Mbps
33ms
Results were close. On average, though, the Samsung phone performed slightly better than the iPhone in a -108 dBm (weak) signal environment. Looking at the individual tests, there were many instances where the iPhone beat the Samsung, and vice versa.
Many other comparisons between the devices state the iPhone is better. Since the new iPhone couples a Qualcomm modem with Apple's new A15 Bionic processor, it's possible. However, those tests as well as ours were conducted in controlled signal environments. Results will vary out in the wild.
So, Should I Switch to An Android Phone? Which Android Has the Best Reception?
For most smartphone users with a decent signal, the discrepancy in reception is not terribly noticeable. If you're a heavy gamer with dreams of VR, then yes, it might be in your best interest to investigate Androids.
According to another PCMag study, the Android with the best reception is the Samsung Galaxy S22 series. When tested, the S22 devices outperformed its predecessors and Google's latest Pixel. PCMag dubbed the S22 a low-signal beast.
For casual phone owners looking to talk, text, stream a little, and check in to social media here and there, it's fine to choose your phone based on preference.
Nine times out of ten, if you're experiencing sluggish service, it's probably not your phone that's to blame. Unless, of course, you're still clinging to a model that's more than five years old. Newer phones are equipped with the latest and greatest technology, so go for the upgrade if you need more speed. The issue is simply weak cell reception.
Regardless if you have an iPhone or an Android, a cell phone signal booster can help you get the reception you deserve.
Most Popular Home Signal Booster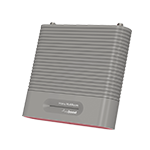 Amplifies 5G, 4G, and LTE Signals
Up to 5,000 Sq Ft Coverage
Up to 65 dB Gain
Up to 21 dBm Uplink and 12 dBm Downlink
Easy Do-It-Yourself Installation
Compatible With All Devices and Carriers
The weBoost Home MultiRoom is the ideal booster for most homes in both rural and suburban areas. Featuring great power, it can reach distant cell towers and cover up to 5,000 sq ft with strong cell signal. iPhones and Androids will both be able to maintain calls, send texts, and enjoy fast data without a problem throughout. There's no need to switch to a device you don't like for the sake of getting slightly stronger reception. For an even more powerful unit that offers more coverage, consider the weBoost Home Complete.
Most Popular Vehicle Signal Booster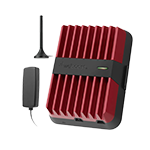 Amplifies 5G, 4G, and LTE Signals
Up to 50 dB Gain
Easy to Install
Up to 26.9 dBm Uplink and 4.8 dBm Downlink
Extremely Customizable
Compatible With All Devices and Carriers
The weBoost Drive Reach will keep your devices, iPhone or Android, connected almost anywhere. It's one of the most powerful vehicle signal boosters on the market. Users get signal up to 2X farther from towers with over twice the signal strength. Whether commuting to work, traveling, or cruising around town, all cellular devices in your vehicle will enjoy superior cell reception. Extremely versatile, there is a Drive Reach for all vehicle types.
Why Don't All Cell Phones Offer the Same Signal Reception?
Simply put, not all cell phones are created equal. Some manufacturers prioritize performance, others prioritize aesthetics, and some prioritize cost. The quality of your reception comes down to the antennas, radios, and other components used. Another important factor that plays into cellular reception is your signal environment.
Which Cell Phone Has the Best Reception in Areas with Weak Signal?
Referencing the 2018 PCMag study, Android devices tend to perform better in areas with weak signal. Currently, the best Android on the market is the Samsung S22 series. When compared to other Androids, they were able to maintain a better connection in poor coverage areas.
However, without an up-to-date cell reception analysis, we cannot say for certain which phone performs best in weak signal areas.
Does a 5G Phone Get Better Reception?
5G uses new technologies and frequencies making it much more efficient than 4G. It offers faster speeds, lower latency, and insane capacity. Thus, in areas where 5G is available, 5G phones can experience better connectivity than 4G phones. Equipped with the latest tech, they may also get better reception in 4G/LTE areas.
Is My Phone Slowing Down My Cell Service?
First things first, you need to rule out the signal-busting factors that might be interfering with your signal. If it's not natural phenomena, building materials, or congestion, you may just be too far away from your nearest cell tower. You can locate your nearest cell tower using our handy guide. And, like we mentioned above, if your signal is weak, Android reception does tend to hang on a little longer.
No matter how powerful your Android phone or iPhone may be, if the signal strength isn't there to begin with, your speed won't matter.
Should I Switch to a Different Cell Phone Service Provider?
Cell coverage varies across the country. Before you place all the blame on your iPhone or Android, it's best to do a little research using coverage maps. You can have the best phone, but without a strong signal, your lightning-fast devices can't reach their top speeds.
Do Newer Phones Have Better Reception?
Newer phones do tend to have better reception than older phones. They're built to tap into more of the spectrum as new cellular frequencies are made available. Being able to access more networks (4G, LTE, and 5G) allows cellular devices to capture the best and fastest signals. Designed with the latest technology, they're also able to maintain a better signal for longer in more places than older models.
So, which smartphone would give you the best cell signal? Technically, any newer phone will provide you with the best signal reception. It doesn't matter if it's from Samsung, Apple, Google, or LG.
Can Cell Phone Antennas Hurt Cellular Reception?
The antenna is crucial to your phone's hardware. If the phone manufacturer integrates a poor-quality antenna, you'll experience poor cell reception.
Way back in the day, mobile phones had long exterior antennas to help capture the best cell phone signal possible. Now, they have small internal antennas. The evolution of cell phone antennas has helped phones shrink to pocket size and have an aesthetically pleasing design. Unfortunately, sometimes manufacturers sacrifice a good quality antenna for a better design.
What's more, with RF antennas being a lot smaller and internal, they are more susceptible to external interferences. This is especially true for antennas not optimally placed in the cell phone's chassis.
The iPhone 4 antenna issue is the most widely known case regarding poor signal caused by the design and placement of the antenna. It caused many users to experience weak signal when the phone was held in a specific way.
If Antennas Are So Important, Then Which Phone Has the Best Antenna?
There aren't many phone antenna manufacturers. The main ones are Qualcomm and Intel. Historically, devices using Qualcomm have performed slightly better than those using Intel, especially in rural areas. With Apple incorporating Qualcomm into their designs, it's difficult to choose a device based only on antenna make.
Thanks to Professor Gert Frølund from Aalborg University there is another way. He conducted a study that proved that there is a link between mobile radiation (SAR-value) from cell phones and antenna quality. The higher the mobile radiation, the lower the quality of the antenna. In other words, phones with lower radiation have better antennas.
Smartphone Revealed tested over a hundred phones (Android and IOS) using Professor Gert Frølund's findings. Results are easy to understand but a bit outdated. The devices with the best-performing antennas were the Samsung Galaxy S20 FE and the Samsung Galaxy S22+.
Can My Phone's Software/Firmware Affect Cell Reception?
It's always recommended to make sure your operating system is up to date. Often, the purpose of software updates is to improve performance, patch security gaps, remove bugs, and more. Unfortunately, when updating the software, you run the risk of the new version being worse than the last.
Mobile phones communicate with cell towers through frequency bands. Your phone's hardware helps you connect to those frequencies, but the software guides the hardware and how it performs. If the new updates boost that line of communication between the phone and the cell towers, then you'll experience better reception. On the other hand, if the update prioritizes other features at the cost of your signal quality, your reception will suffer.
Do Unlocked Phones Get Worse Reception?
Unlocked phones are devices that aren't tied to a specific carrier. Locked phones have a specific software code that prevents you from using them under a different network. Locked phones are specifically configured to work perfectly under their specific carrier's networks. You're able to take advantage of HD voice, faster download speeds, and a strong signal.
Unlocked phones aren't configured to a specific network, meaning they are not guaranteed good signal nor fast data speeds. Click here to find out if your phone is unlocked.
So, How Do I Make the Most of My Cell Phone Signal?
Regardless of your device or carrier, a cell phone signal booster from Wilson Amplifiers is the best way to get the speeds and reception you need.
Our industry-leading signal boosters capture the nearest signal, amplify it, and broadcast it back to your 5G/4G/LTE devices.
Available for boats, buildings, and vehicles, there is a signal booster for every adventure. Signal boosters make it easy to stay connected—at top-of-the-line speeds.
If you have any questions, call (1-800-568-2723), email (sales@wilsonamplifiers.com), or chat with us. We're happy to help!
Interested in Learning More? Check Out Our Signal Boosting Info Center
THE WILSON AMPLIFIERS ADVANTAGE
FREE SHIPPING No Minumum Purchase
90-DAY
Money Back Guarantee
LIFETIME
Technical Support