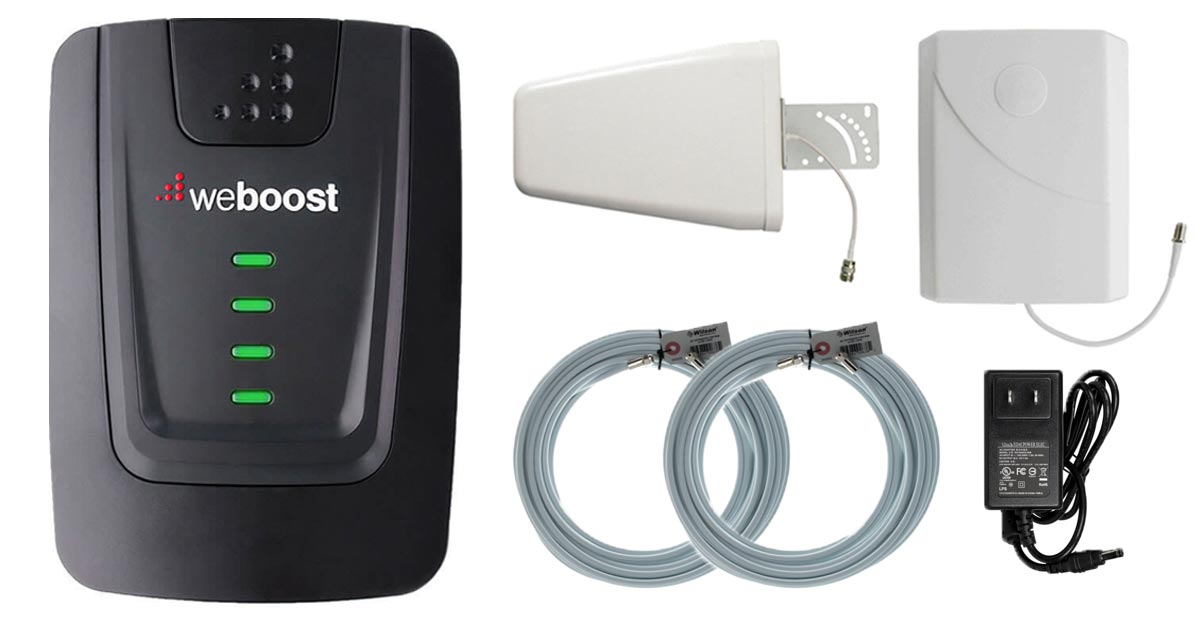 So why can't you buy the amplifier by itself?
Here's the story:
In 2013, the FCC pass new regulation mandating that all cell phone signal boosters be certified with improved designs to avoid interference with carrier networks.
Back in the wild west days of cell phone boosters, some unregulated third-party boosters had caused numerous interference to carrier cell towers which led to overloading the tower, causing network shutdowns and other harmful performance issues.
Because of a few of these bad eggs, the four major carriers (AT&T, Verizon, T-mobile, and Sprint) and reputable signal booster manufacturers requested for tougher regulations & accountability, thus creating a standard for 3G & 4G LTE signal boosters and leading to better performing & carrier-compliant boosters.
So beginning in 2013 and moving forward, all cell phone signal boosters have been and must be FCC-certified.
By becoming FCC-certified, regulations do a bit of give and take when it comes to owning and operating a booster. So let's look into them.
The 5 Major Takeaways Regarding to Cellular Signal Boosters Regulation
1) All cell phone signal boosters must be sold in kits
From the horse's mouth:
20. Currently, the antenna kitting rule for Wideband Consumer Signal Boosters provides that "[a]ll consumer boosters must be sold together with antennas, cables, and/or coupling devices that meet the requirements of this section," while the rule for Provider-Specific Consumer Signal Boosters states that "[m]obile consumer boosters must be sold together with antennas, cables, and/or coupling devices that meet the requirements of this section."
Source: Paragraph 20 of FCC Document: FCC-14-138A1: Signal Boosters Order on Reconsideration and FNPRM
In plain English, amplifiers cannot be sold separately. Nor can parts be swapped in & out, mixed & matched since all three specific major components (amplifier, inside antenna, and outside antenna) are considered one unit only given consent by the FCC as a whole.
This is why it is impossible for retailers and online sellers to only sell you an amplifier since the FCC considers the complete kit as approved and not individual parts, especially the amplifier.
However, this doesn't limit customers to purchase additional antennas, splitters, and other parts to tailor their coverage.
2) All cell phone signal boosters must be labeled & registered with your carrier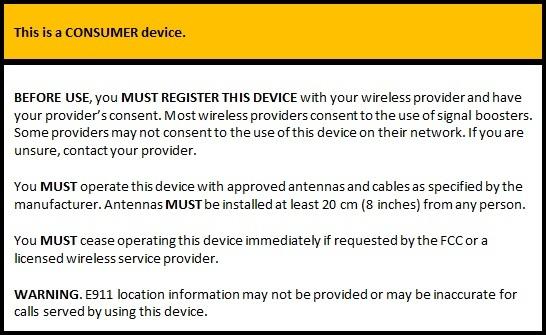 FCC-certified signal boosters have been given blanket consent by all the major carriers in USA (over 90+ national and regional carriers). So they are legal to use and operate as long as they've been FCC-certified (usually identifiable by the sticker pictured above labeled on the amplifier).
While they can be used immediately without registering with your carrier, it's highly recommended to do for following reasons:
Courtesy: you simply let your carrier know you have a booster. 99.999% of the times that's all that happens, nothing else. No fees, no finger-wagging, no downgrade in performance, no interrogation. Nothing, just a simple by-the-way notice.

Liability: In the very, very small chance your booster does cause interference, having a registered booster allows the carrier to remedy the situation without any liability to you. Not registering, however, may produce different outcomes.
So best to let your carrier know through the links below or a simple email to your carrier to register your booster:
Some other notes:
You only have to register with your active carrier, so no need to register with all carriers. Booster works out of the box and does not need "carrier activation." And you're registering the booster, not the number of phones or visitors using the amplified signal.
3) All consumer cell phone signal boosters are allowed a maximum gain of +65 dB
For home signal boosters, the limit is +65 dB and for vehicle signal boosters, the limit is +50 dB. This standard was agreed upon by the FCC, carriers, and manufacturers to provide adequate power for signal boosters while not interfering with carrier towers and networks.
Learn more about what dB means and how it effects your cell phone signal strength.
More importantly, automatic oscillation prevention helps avoid overly strong inbound and outbound signals. This was mostly an issue in urban areas since building material and not cell tower distance was the main cause of poor inside a home or building.
With too much incoming or outgoing signal, it could lead to harming the cell tower or amplifier. But with automatic oscillation controls, it prevents overloading the cell tower or amplifier while providing efficient coverage.
4) All in-building cell phone signal boosters cannot be retrofitted for vehicle use
Before regulation, vehicle and RV owners often tried to use home signal booster in their cars or large vehicles. This would cause performance issues for vehicle owners since home boosters are made to be stationary and not used on the go.
Secondly, it also caused interference and overwhelmed the cell towers.
Now home signal boosters are lawfully stated for in-building use only. However, mobile units like the weBoost Connect RV 65 are essentially home units revised for stationary use.
5) All pre-FCC-certified boosters are grandfathered in but need carrier permission
It would be unfair for the 2 million signal boosters purchased before 2013 to suddenly be outlawed. So technically they are still valid and legal to use as long as they are registered with your respective carrier.
How May We Help You?
Wilson Amplifiers is the leading provider of cell phone signal boosters. Cell phone boosters amplify 3G & 4G LTE for any phone with any carrier for home, office, or vehicle.
We seriously hate dropped calls and poor coverage, so it's our goal in life to stomp on spotty signal like the little roaches they are:
Free consultation (ask us anything) with our US-based customer support (sales@wilsonamplifiers.com) or call us at 1-800-568-2723.
Free shipping.
Better signal or industry-leading 90 money-back guaranteed. No questions asked.
We want everyone to be satisfied, so we provide lifetime technical support and a 2-year warranty for all products.
Ask us anything and we'll be glad to help.