AirVoice Wireless Signal Booster
One of the most straightforward prepaid wireless service options available, AirVoice exclusively utilizes AT&T's network when providing coverage. After purchasing an AirVoice SIM, all you need to do is activate it and choose your preferred plan to get started.
Although AirVoice works on the AT&T network, you may still encounter moments of spotty 5G/4G/LTE coverage. When more DIY methods of signal boosting don't yield the results you want, it might be time to invest in a signal amplifier, most commonly known as a signal booster, for more reliable reception.
We fix poor cell phone signal! Find the right signal booster for you:

For Home

For Vehicle

For Business

For Commercial
---
The Problem:
When calls drop and loading screens crawl, it isn't always your carrier's fault. Sometimes factors beyond anyone's ability to immediately fix can interfere with your signal, such as:
Interference from trees, hills, valleys, mountains, and tall structures
Building materials in your vicinity
Internal building obstructions
Or some combination thereof
Luckily, there exists many options available to help you get the most out of your AirVoice service.
---
The Solution:
Signal amplifiers bypasses the obstructions mentioned above to amplify existing 4G, LTE, and select 5G signals by up to 32x, then rebroadcasts it into your home, office, or car; this applies to signals coming to and from the cell tower.
In addition to improved AirVoice Wireless service, and faster talk, text, and internet, signal boosting equipment also provides the following features and benefits:
Compatible with all cell phones and cellular devices
Works for all carriers in the United States and Canada (AT&T, T-Mobile, Verizon, US Cellular, Cricket, Boost Mobile, Bell, Rogers, etc.)
A one-time purchase with no monthly fees
No need for any WiFi or broadband connection
We've compiled a list of our favorite signal boosters so you can make the right choice for your cellular access needs.
---
AirVoice Signal Booster For Home
Our Pick: weBoost Home MultiRoom - 470144
The weBoost Home MultiRoom is one of the most recommended home cellular amplifier, and for good reason. It's a dependable performer that covers most homes for better AirVoice service.
The average home size in North America is around 2,500 sq ft. Under the absolute best conditions, the Home MultiRoom can cover areas up to 5,000 sq ft. Real world results and customer reviews put it around 2,500 to 3,000 sq ft, a little less for rural areas.
Perfect for mid-size homes with a strong outside signal, or small homes with poor outside signal. So, if you're getting spotty AirVoice reception, we would recommend starting with this first since it tends to be the Goldilocks or "just right" model.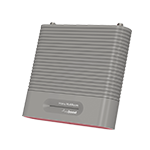 Upgrade: weBoost Home Complete - 470145
The weBoost Home Complete is the most powerful signal booster for consumers weBoost has to offer. What makes it the most powerful? It features a maximum gain of +72 dB - the highest of any multi-carrier home unit. And with its powerful uplink and downlink output powers, it can communicate with far distanced towers to provide you superior AirVoice service, making it roughly 3x more powerful than the Home MultiRoom.
Under perfect conditions, it's capable of covering areas up to 7,500 sq ft. Homes and offices with fair to poor outside signal, however, will most likely get 4,000 to 6,000 sq ft of coverage. Though, fringe zones can expect a little less.
Overall, the Home Complete is ideal for large homes with great outside signal, as well as mid-size homes and offices with weak outdoor reception.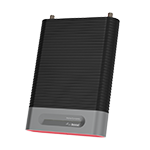 If installing the booster unit yourself will be a challenge, check out the weBoost Installed Home Complete – the only booster that includes a residential installation.
Budget: weBoost Home Studio - 470166
The weBoost Home Studio is the newest addition to the weBoost family and the most affordable. Its simple design allows it to be placed on any flat surface without it clashing with your home décor. It uses a directional antenna, allowing it to reach far distanced towers. As a result, you will experience better 4G LTE, and 5G signals inside your home. Under perfect conditions, it can cover areas up to 2,000 sq ft, like a large room, multiple small rooms, or a small house/office. However, depending on your outside signal strength, it's probable you'll get about 200 to 500 sq ft of coverage.
It's ideal for those who have decent outside signal without a reliable connection throughout their entire home, but not the strongest performer in rural areas.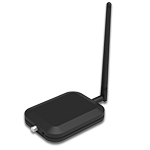 ---
AirVoice Signal Booster For Car
Our Pick: weBoost Drive X - 475021
The weBoost Drive X is one of the most popular and recommended car signal boosters. It's equipped with a strong magnet mount antenna and a small low-profile inside antenna to pick up and broadcast the signal. For optimal results, you'll have to be about an arm's length from the inside antenna to benefit from the boosted signal, so it's best for your typical sedan, truck or SUV, but will work with almost any vehicle. As long as you have a sliver of signal, the Drive X will amplify any US carrier's signal for up to 4 devices.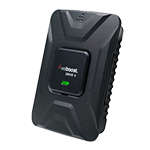 Upgrade: weBoost Drive Reach - 470154
The weBoost Drive Reach is the most powerful multi-carrier vehicle cell phone signal amplifier. Similar to the Drive X, it can boost up to 4 devices at the same time. But, unlike the Drive X, it can reach towers that are 2x further for twice the signal strength. The result? Better AirVoice service in urban, suburban, and especially rural areas. Check out our Drive Reach vs Drive X review for a complete comparison.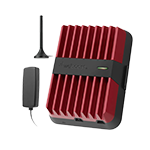 Budget: weBoost Drive Sleek - 470135
The weBoost Drive Sleek is about price and performance for a single user. It uses a magnetic vent mount, and when paired with a Bluetooth headset, it really shines for regular talk, text, and hands-free navigation. For optimal results, your smartphone has to be nested in the cradle. The adjustable cradle is compatible with most smartphones and small tablets. It's perfect for urban and suburban areas, though not the strongest performer in remote locations. However, as long as you have a usable signal, the Drive Sleek will not disappoint.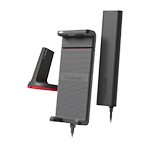 ---
AirVoice Signal Booster For Commercial Buildings
weBoost for Business Office 100 – 472060/473060
The weBoost for Business Office 100 is the most popular AirVoice Wireless signal booster for small businesses in rural or urban environments. Its pro-grade technology allows the booster to communicate with distant cell towers, bypass signal blocking building material, and overcome other obstacles that prevent you from receiving quality AirVoice service inside your building. Though categorized as a small business unit, it's also a great option for large homes in areas with strong or extremely poor AirVoice service.
If you want to significantly increase data speeds, reduce dropped calls, and enjoy uninterrupted text messages while in the office or relaxing in your home, the Office 100 can definitely make that happen.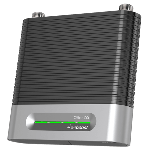 How May We Help You?
Wilson Amplifiers is the leading provider of cellular amplifiers. Cell phone amplifiers boost 4G, LTE, and select 5G signals for any phone with any carrier for home, office, or vehicle.
We seriously hate dropped calls and poor coverage, so it's our goal in life to stomp on spotty signal like the little roaches they are:
Free consultation (ask us anything) with our US-based customer support ( sales@wilsonamplifiers.com ) or call us at 1-800-568-2723 .
Free shipping.
Better signal or industry-leading 90 money-back guaranteed. No questions asked.
We want everyone to be satisfied, so we provide lifetime technical support and a 2-year warranty for all products.
Ask us anything and we'll be glad to help.
Interested in Learning More? Check Out Our Signal Boosting Info Center
THE WILSON AMPLIFIERS ADVANTAGE
FREE SHIPPING No Minumum Purchase
90-DAY
Money Back Guarantee
LIFETIME
Technical Support