How RV Parks and Campgrounds can Improve Cellular Coverage
Beyond location, price, hookups, showers, and other amenities, more and more RVers are looking for RV parks and campgrounds with reliable cellular reception for their personal and professional connectivity needs. Whether you're the owner or manager of a modern or rustic RV park located next to a highway or surrounded by trees, distributed antenna systems (DAS) can definitely enhance cell service in key areas of your RV park.
We fix poor cell phone signal! Find the right signal booster for you:

For Home

For Vehicle

For Business

For Commercial
How DAS Help Enhance Cellular Coverage in RV Parks & Campgrounds
The top three reasons why your park may have poor cell coverage are cell tower distance, surrounding terrain (mountains, hills, trees, etc.), and building material. Depending on the location of your RV park or campground, you could be affected by one or any combination of these three. Distributed antennas systems help overcome those challenges.
What is a DAS, you ask? A distributed antenna system is a unit composed of one or more signal amplifiers and multiple antennas strategically placed in large areas to dramatically improve cellular coverage. There are different types of DAS – some are designed for outdoor use, while others work best indoors. The two systems that'll work best for your business are:
Cellular Signal Boosters (A.K.A Passive DAS)
Cell signal boosters can significantly improve cellular coverage inside your RV park's office, meeting room, cafeteria, on-site cabins, clubhouse, and any other indoor common area.
They use powerful exterior cellular antennas to reach distant cell towers and capture the strongest signal available. The external antenna relays the signal to the amplifier via professional grade coaxial cable, bypassing any building material that weakens or blocks incoming cell signal. The amplifier works its magic and sends the significantly boosted signal to the indoor antenna(s) for broadcasting. Naturally, they take advantage of the walls in the building to further help the signal bounce around. Thus, they're not recommended for outside use.
With the newly boosted signal, your customers can work, talk, text, and post on their mobile devices while relaxing in their cabin, enjoying the pool house, eating inside common areas, washing clothes, or playing in the game room. Plus, you and your staff will have a reliable way of communicating with each other, which improves park management and productivity.
As mentioned, since these units can't propagate boosted signal throughout your campground, a creative way to help improve the customer experience further could be by investing in multiple RV signal boosters and renting them out as an added feature for their stay. This gives customers the opportunity to enjoy quality signal right on their RV pad. Many RVers go out of their way to avoid staying in parks with poor cell reception, so having this as an option may result in more traffic. The key to all booster systems is that there must be an existing outside signal available (even if it's just a sliver).
Outdoor Active DAS
As the name suggests, these are specifically designed for outdoor use, and depending on your budget and needs, they help guarantee every RV site will receive superior coverage for all of your customers to enjoy.
Full disclosure, installing an Active DAS is definitely worth it, though there will be some price consideration. On average, Active DAS cost between $5 to $10 per sq ft, vs $0.50 to $1 per sq ft for a passive DAS (A.K.A a signal booster). Also, installation will take longer, given how an Active DAS works.
Outdoor Active DAS are directly connected to a cellular network (Verizon, AT&T, or T-Mobile), making them much more powerful. One DAS amplifier will be needed per carrier's coverage you want to improve on your campground. In other words, if you want to boost every carrier's signal, you'll need multiple DAS amplifiers. They use fiber optic cables (or a combination of coaxial and fiber optic) to relay the signal to the distributed antennas. Fiber optic cables are superior at retaining signal quality, allowing for longer cable runs in larger areas.
Another install requirement for Outdoor Active DAS are approvals from each carrier whose signal you are trying to enhance. On average, this step can take a minimum of 6 months.
Properly installed, and Outdoor Active DAS can provide strong cellular connectivity throughout all or most (depending on your unique design) of your RV park or campground. Customers can stream music while sitting at the campfire, have a family movie night with a projector outside their RV, check emails, post on social media, and so much more – significantly enhancing the campground experience.

Benefits of Better Cellular Coverage in RV Parks & Campgrounds
There are multiple reasons as to why cellular coverage is vital, not just for customers, but for property owners as well. Let's go over a few:
#1. Safety
Anything can happen at a park or campground – medical emergencies, motorhome accidents, you name it. With a reliable cellular connection, first responders can be notified quickly without customers having to look for a landline or frantically search for a signal.
#2. Better Reviews = More Traffic
As mentioned earlier, many RVers plan their trips around cellular connectivity. They tend to do heavy research – which predominantly consists of looking at crowdsourced coverage maps, reading reviews, asking questions on forum boards, and checking Yelp – and one thing they will look for is reliable cellular coverage on your campground. In this day and age, the power of reviews is undeniable; they can make or break a business.
Satisfying your customers' connectivity needs can yield great "5-Star" reviews, and this will make it easier for others to find your park and drop in.
#3. Increase Stay Times
Reliable cellular connectivity may lead to longer stays. Customers who are device-dependent won't immediately leave after realizing coverage is extremely spotty, and many may stay past the weekend since they'll have a strong connection to work remotely.
#4. Higher Return on Investment
With more people wanting to stay in your park, and some staying for longer periods of time, your investment will pay for itself, and your business will become more profitable.
#5. Better IoT Management
If your park or campground has any IoT applications, such as (but not limited to) vending machines, ATMs, credit card operated laundry machines, or smart sensors on hookups, a quality cellular router with a strong internet connection is critical. Quality signal ensures all applications are running smoothly without interruptions.
A reliable cellular signal can offload congestion from the WiFi network for faster data transmission for all of your IoT applications. Also, IoT signal boosters can ensure that any machine relying on these connections are receiving constant signal for real-time data transfer and monitoring.
Wait, Isn't WiFi Enough?
Sorry to break it to you, but no.
While it's great to offer WiFi as an amenity, they have a limited range. Under perfect conditions, routers operating on the 2.4 GHz frequency can reach up to 300 ft outdoors(varies across manufacturers and models). On the other hand, routers operating on the 5 GHz band offer faster speeds at the expense of a shorter range. And much like cellular signal, WiFi can easily be obstructed by trees, buildings, RVs, and anything blocking the transmitter's line of sight to the connected devices – which can significantly decrease those 300 ft. Even with multiple transmitters, your WiFi network may not be strong enough to provide a reliable connection throughout your park or campground.
In addition, WiFi networks often have much less capacity than cellular networks. In other words, when there are several devices connected to the internet, it's easier for the WiFi network to get overloaded, resulting in reduced speeds for all IoT machines and other devices. For this reason, many RVers prefer to have a consistent cellular connection since it's much more reliable, faster, and secure.
Distributed antenna systems, whether an Outdoor DAS or a signal booster, can work alongside your broadband network. This helps offload congestion, as well as provide a backup network in the event your broadband internet goes out.
Cell Signal Boosters for RV Parks & Campgrounds
Best Entry-Level Professional Signal Booster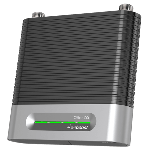 The weBoost for Business Office 100 is perfect for improving coverage inside small clubhouses and offices located in weak or strong signal areas.
This unit features up to +72 dB gain, the maximum amount of amplification allowed by the FCC, with up to +24 dBm uplink and +12 dBm downlink. This allows the booster to have more reach when sending and receiving cellular signal for superior indoor coverage. Customers enjoying the amenities offered in your clubhouse will experience faster data speeds, a stronger hotspot signal for their laptops, and little to no dropped calls.
Under perfect conditions, the Office 100 can cover common areas up to 25,000 sq ft with multiple indoor antennas (sold separately). Coverage will vary depending on your outside signal strength, so if your RV park is located in a weak signal area, you'll likely get about 5,000 to 10,000 sq ft.
The kit includes omni/dome and yagi/panel antenna configurations. Omni antennas are best for decent signal areas, while yagis will deliver better results in weak signal areas.
If you own or manage a small RV park, or even a rest stop, with little indoor floor space, the Office 100 is for you.
Most Powerful Professional Signal Booster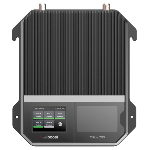 The weBoost for Business Office 200 is the most powerful 5G-compatible unit for small to mid-size RV park clubhouses and indoor common areas. Regardless of which amenities your customers are enjoying in the clubhouse (indoor pool area, laundromat, rec room, etc.), they will all receive a strong, consistent cellular connection – making their stay 10x more enjoyable. In addition, employees supervising the RV park's common areas will have an easier time communicating with one another and contacting emergency personnel if needed.
This unit can cover common spaces up to 35,000 sq ft under perfect conditions. However, if you and your customers are getting 1-3 bars of service throughout the campsite, expect to see about 7,000 to 14,000 sq ft of coverage. For maximum coverage, additional indoor antennas (sold separately) may be needed.
The Office 200 kit is equipped with an outdoor omnidirectional antenna and a low-profile indoor antenna. The low-profile antenna is more discreet and aesthetically pleasing, as well as slightly more powerful than the regular dome antenna paired with the Office 100, resulting in stronger reception and wider coverage inside your RV park's main office or mid-size clubhouse.
If you're looking for a powerful unit that can be customized to blanket your entire clubhouse, features a sleek design, and can simultaneously boost multiple carriers, the Office 200 is a no-brainer. Keep in mind that the Office 200 is a self-install system. For a professional installation (and an additional indoor antenna), consider the weBoost Office 200 Installed.
Most Powerful Commercial Grade Signal Booster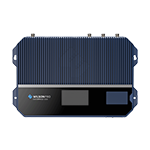 The WilsonPro Enterprise 1300 is one of the most powerful commercial-grade signal amplifiers for large clubhouses, rec rooms, cafeterias, meeting facilities, and other large common areas.
This commercial unit is an all-round great performer for rural and urban RV parks and campgrounds. If you think enhancing talk, text, and data speeds throughout common areas for your customers and staff is an impossible task due to spotty coverage, think again. It features maximum gain of up to +70 dB and can cover areas up to 40,000 sq ft. If your park is located in an extremely weak signal area, you may get 10,000 – 15,000 sq ft of coverage.
To maximize coverage for all cellular devices and carriers, the amplifier also features three outdoor antenna ports. Each antenna (should be directional antennas) can be installed to communicate with cell towers from different carriers to simultaneously amplify multiple carriers. Since directional antennas have narrow beam widths, using one antenna will likely result in only boosting one or two carriers, which wouldn't be ideal for your customers.
If your RV park or campground is located in an area with extremely spotty coverage, this unit will definitely deliver.
Best Signal Booster for Rental Cabins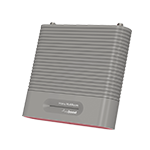 The weBoost Home MultiRoom is a powerful home signal booster with a coverage range that usually works for most situations, making it perfect for on-site cabins. With its powerful uplink and downlink outputs, the unit will work in remote areas with very weak signal.
.
Customers won't have to walk to the clubhouse or nearby common areas for a reliable connection. They'll be able to make phone calls, stream movies, work, and send uninterrupted text messages all from the comfort of their cabin. This is the type of convenience many campground vacationers are looking for.
Given the location, topography, and building material of your on-site cabins, the booster may provide a coverage area that ranges between 1,000 to 3,000 sq ft – enough to cover an entire small cabin with a reliable cellular connection. However, under perfect conditions, this device is powerful enough to cover up to 5,000 sq ft.
This kit is equipped with a Yagi directional antenna. For optimal results and a great customer experience, the antenna will have to point in the direction of the closest cell tower powered by the carrier your renters use. In between renters, you may have to adjust the antenna to point at AT&T, T-Mobile, or Verizon towers to ensure your customers have quality signal for faster data and fewer dropped calls.
If your rental properties consist of on-site RVs, consider the weBoost Destination RV. It's very similar to the Home MultiRoom in terms of power, but redesigned for stationary RV use.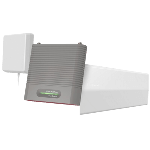 IoT & M2M Signal Boosters for RV Parks & Campgrounds
Best IoT Direct-Connect Signal Booster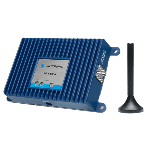 The WilsonPro IoT 5-Band signal booster is designed to improve the performance of cellular modem-powered IoT machines on-site. The unit will directly connect to the cellular modem located inside your vending machines, ATMs, payment kiosks, or other IoT applications to enhance performance. As a result, you'll stop experiencing slow data response times and interrupted transactions.
Best Hotspot M2M Signal Booster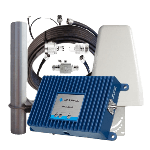 The Hotspot M2M Signal Booster bundles are designed to enhance the performance of TS9 or SMA cellular modems you're using to provide your customers and wireless IoT applications with a reliable internet connection. Like the WilsonPro IoT, it directly connects to your cellular modem for improved performance.
We recommend the Hotspot M2M Yagi bundle for RV parks and campgrounds because they have more range and power. Your cellular modem will receive superior reception and broadcast a stronger wireless signal for all wireless IoT applications and mobile devices within its proximity.
Who Are You, and How Can You Help Me?
We're Wilson Amplifiers, and we've been improving cellular signals in buildings since 2011. Depending on the size, scope, and situation, our experts can tailor a custom solution for you.
Services we provide:
FREE consultation adhering to your requirements and budgets.
Floor plan analysis with detailed heatmaps & coverage expectations.
Equipment selection from only the best.
Site survey from certified wireless technicians & system design.
Professional cell booster installation & expert project management.
Better signal or industry-leading 90 money-back guaranteed. No questions asked.
Lifetime technical support and a 2-year warranty for all products.
For more information on how our services have helped other businesses, check out our case studies.
Call us at 1-800-919-7442 or email us at (pro@wilsonamplifiers.com) today to get the best solution for superior cellular signal in your RV park or campground.
Interested in Learning More? Check Out Our Signal Boosting Info Center
THE WILSON AMPLIFIERS ADVANTAGE
FREE SHIPPING No Minumum Purchase
90-DAY
Money Back Guarantee
LIFETIME
Technical Support