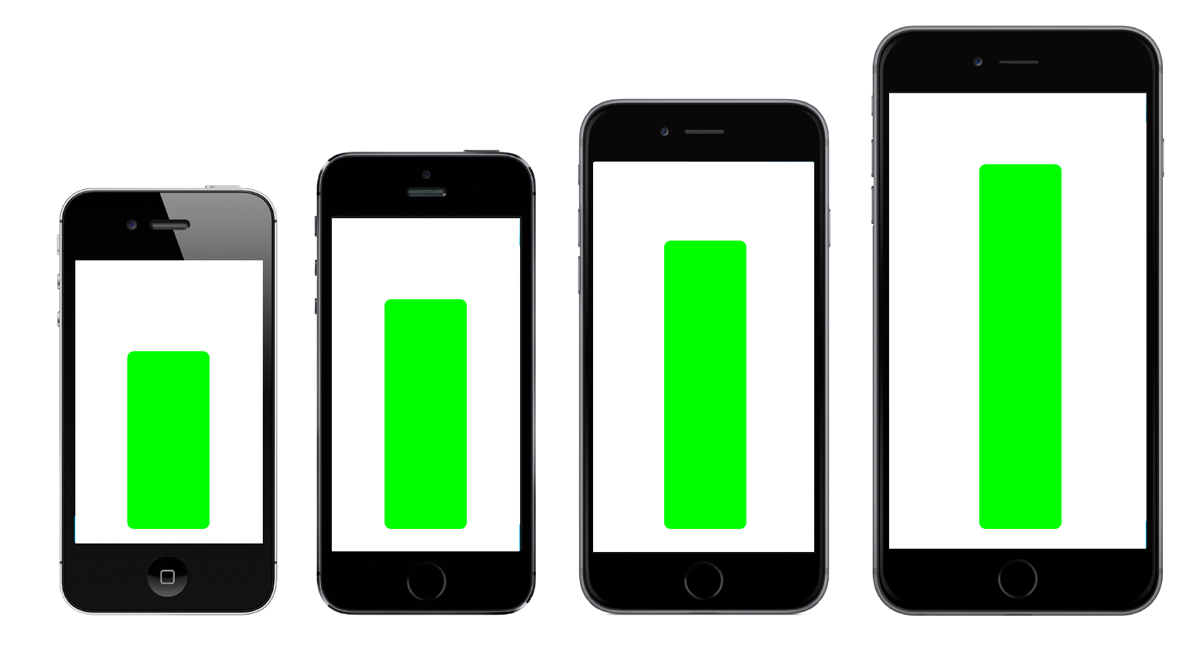 Bar None: Not All Bars are Created Equal
The number of bars on your iPhone?
It's a good indicator of cell phone signal strength, but it's also subjective and not exactly accurate. Why?
That's because there is no industry standard for the number of bars on our phones and signal strength. In fact, it's different across all carriers (& even different iPhone models).
What's 1 bar of 4G LTE on Verizon might be 2 bars on AT&T, 3 bars on Sprint or 4 bars on T-Mobile DESPITE receiving the exact same signal and performing at the exact same speeds.
So what's the most accurate way to know your true signal strength on your iPhone?
Field Test Mode
Field Test Mode (or field service mode) is the most accurate & scientific way to read signal.
Cell phone frequencies are basically radio waves that are measured in decibels (dB).
-50 dB is great signal (full bars). -120 is very poor signal (a dead zone).
This is true for all phones & all cellular devices for ALL carriers in North America. No ifs, ands, or buts.
So let's look at enabling Field Test Mode and finding your dB value on your iPhone with these 5 easy steps:
iPhone Devices
Starting with iOS 11 and 12, Apple has hidden dBm readings in iPhone field test mode. However, depending on your iPhone chipset (Intel or Qualcomm) and your carrier (Verizon, AT&T, T-Mobile, or Sprint), there's a slim chance to find your dBm readings through this workaround.
Here's how:
iPhone with Intel chipset (iOS 11-14)
iOS 14 pictured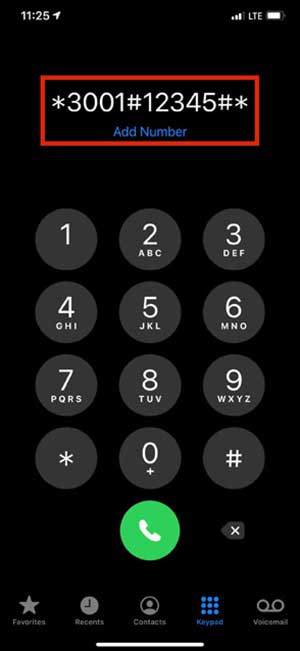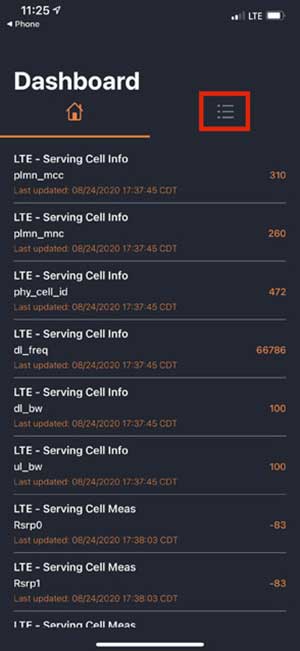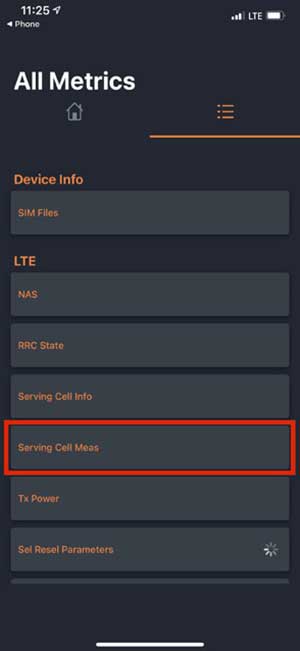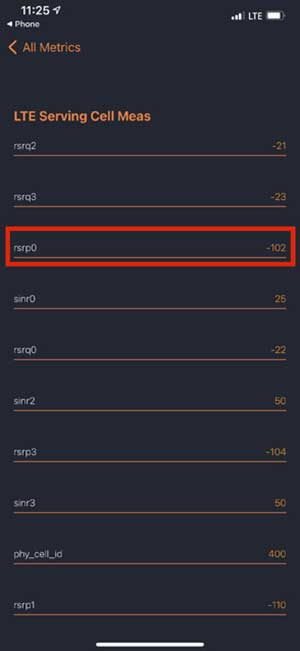 Dial *3001#12345#*
Tap LTE on iOS 11-14, or the Menu on iOS 14.
Tap Serving Cell Meas.
Your dBm is read as rsrp0.
iPhone with Qualcomm chipset (iOS 11-14)
Dial *3001#12345#*
Tap 1xEV-DO.
Your dBm is read as RX AGC0.
For any iPhone pre-iOS 11
Dial *3001#12345#*
Swipe down notifications bar.
Your dBm is in the upper left-hand corner of the screen.
If you're unable to find any of these options during your field test mode process, you most likely have an incompatible chipset. The next best method is performing a speed test around areas inside and outside your home. But once we crack the code on dBm readings on your iPhone, we'll update as soon as possible.
Remember -50 dB is great signal and -120 dB is poor signal. Readings take a few seconds (from 15 to 45 seconds depending on the carrier) to update the dB values, so walk slowly and take your time.
See which areas get closest to -50 dB. Once you find that one location that gets consistently better dB reading, it means you've also located the general location of your cell tower. Bonus!
Decoding your dB Reading
This is a loose interpretation of dB reading & signal strength on your iPhone since all carriers and models are different :
-50 dB to -79 dB: Very good signal (4-5 bars)
-80 dB to -89 dB: Good signal (3-4 bars)
-90 dB to -99 dB: Ok signal (2-3 bars)
-100 db to -109 dB: Poor signal (1-2 bars)
-110 db to -120 dB: Very poor signal (0-1 bar)
Congrats, now you accurately know the scientific signal strength of your 2G, 3G, 4G LTE frequency on your iPhone. If your signal is great, then enjoy your fast streaming internet and crystal clear talk & text. If your signal is poor, then it's either one of these problems or a combination of them listed below.
5 Biggest Reasons Why Your iPhone Has Poor Signal
1. Distance from Cell Tower
This is usually the biggest factor of poor iPhone signal, especially in the countryside in remote rural areas when you're off-the-grid. As for city folks, not much of a problem unless you're living in a fringe area.
2. Building Material & Construction (Inside Interference)
Another big reason why signal is poor. With homes built with any type of metal (steel, iron, etc), concrete, energy-efficient material and/or designed with thick walls and other modern construction, they greatly impact signal from coming in.
Even with great signal outside, building material has the ability to weaken or even block signal from reaching your iPhone.
3. Outside Interference
Cell phone signals have to travel a great distance from the cell tower to your iPhone. And there are many things in between that can easily disrupt cell signal. In the countryside, that would be trees, mountains, and valleys. In the city, it would be other buildings, tall structures, and other urban developments.
4. Overloaded Network
Cell towers are able to service hundreds even thousands of users. But if everyone is on at the same time? Slow service.
5. Weather
Even weather can affect cellular frequency. Rain, thunderstorms, snow, and even wind can impact the strength of your signal.
So is there a solution to get better signal on your iPhone?
Best Solutions
First, we'd recommend finding the location of your nearest cell tower. Because it would guide you in understanding which carrier might potentially serve you best.
Second, other than changing carriers or waiting for a new cell tower to be installed (good luck with that), we'd recommend learning about cellular signal boosters. They're legal, all-carrier-approved devices that boost weak 3G & 4G LTE signal for your iPhone. We wrote The Definitive Guide to Cell Phone Boosters:
How May We Help You?
Wilson Amplifiers is the leading provider of cell signal boosters. Cell phone boosters amplify 3G & 4G LTE for any phone with any carrier for home, office, or vehicle.
We seriously hate dropped calls and poor coverage, so it's our goal in life to stomp on spotty signal like the little roaches they are:
Free consultation (ask us anything) with our US-based customer support (sales@wilsonamplifiers.com) or call us at 1-800-568-2723.
Free shipping.
Better signal or industry-leading 90 money-back guaranteed. No questions asked.
We want everyone to be satisfied, so we provide lifetime technical support and a 2-year warranty for all products.
Ask us anything and we'll be glad to help.