RV Cell Phone Boosters: Enjoy the Road. Stay Connected
Are You Sick of Bad Signal on the Road or Campsite?
RV living comes with the curse of poor cellular service. While people have managed to make power and water supplies remarkably reliable while out on the road, cellular service is often overlooked.
Solutions do exist. They're called cell phone signal boosters for RVs, and they can be installed in any RV model, whether it's a fancy Winnebago, a humble Keystone travel trailer, or a big old Grand Design Fifth Wheel. They work with every North American carrier (AT&T, Verizon, T-Mobile, Sprint, and more), as well as every phone model (iPhone, Android, Samsung Galaxy, you name it).
Unfortunately, their use isn't as simple as your water system. You need three things to set up an RV cell phone booster:
Existing outside signal
Basic cable exit and entry points for installation
Knowledge of whether you want to use it while stationary or moving
See complete cell signal booster kits for your situation:

Home / Small Office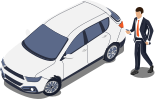 Car / Truck / RV / Boat

Commercial Building
The first of these is just a matter of where you are. If you've weak signal in your campground, you'll get only a little bit of amplification, mostly localized in the area around your indoor antenna. This will allow you to make calls, though, which is still better than not being able to at all. If your campground has great signal outdoors, but you're struggling for anything inside, a booster will completely solve that issue.
The second one is completely based on your RV. In order to make use of a signal booster, you'll need to run some cable from the outside in. Depending on your RV model, this can be a challenge. However, most RV models make this relatively painless, and it isn't much different than setting up an RV TV antenna.
How Do I Select the Right RV Cell Phone Booster for Me?
There are two types of signal booster for RV: ones for use when stationary, and others to be used while driving. The difference between these boils down to antenna options and power.
Stationary RV signal boosters can make use of stronger, more directional antennas, because they aren't in motion and can point toward your nearest cell tower. The amplifiers themselves are also more powerful, and the interior antennas bundled with them are, too. The problem is, once you pack up and move again, you'll have to remove the outdoor antenna.
Signal boosters for RVs in motion is great for its set-it-and-forget-it installation, and the fact that you can get better signal while driving, but if you have a large RV or spend most of your time at a campsite (or, better, value a boosted signal more while at a campsite), you might find its coverage lacking.
So, unfortunately, there is no perfect solution. You'll need to decide: do you spend more time at a campsite or otherwise stationary, or do you spend more time on the road and care about reliable signal at that time? One thing we can guarantee: you will see a difference, no matter which you choose.
Stationary RV Signal Booster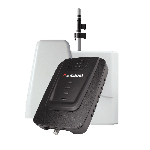 Boosts Talk, Text, Internet, 3G & 4G LTE Data. 5G Ready.
Stationary ONLY booster
Amplifies multiple cellular devices
Up to +65 dB Gain
Works with ALL cellular devices across ALL carriers
Works even in extremely rural and remote areas
The most popular home cell phone signal booster is now retrofitted and optimized for RV use. The weBoost Connect RV 65 is the most powerful stationary vehicle signal booster designed for Class A, B, C, or any type of RV.
The kit includes a 25' telescoping mast, secure mounting brackets, and powerful interior and exterior antennas guaranteed to cover your whole RV, even with very weak outdoor signal.
The majority of RV boosters utilize omnidirectional outdoor antennas to capture incoming signals from every direction, making it possible to amplify signals while moving. The Connect RV 65, however, uses a directional antenna to provide superior communication to and from cell towers, ensuring you always have a reliable connection. The only thing about the directional antenna is that it must be pointed in the direction of the closest cell tower for optimal results.
When compared to other mobile signal boosters, the Connect RV 65 has +15 dB of additional gain, meaning it will greatly boost your RV's cell phone signal, even in rural areas with limited coverage.
Mobile RV Signal Booster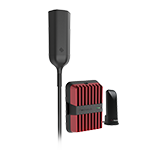 Boosts Talk, Text, and 3G & 4G LTE Data. 5G Ready.
Amplifies multiple cellular devices
Up to +50 dB Gain
Works with ALL cellular devices across ALL carriers
Extremely customizable, with variants for any type of vehicle and situation
The weBoost Drive Reach RV is the most powerful in-vehicle cell phone signal booster while driving and/or at a campsite, though it might not be as powerful as the Connect RV 65 while stationary.
With its increased uplink output power, the Drive Reach RV can reach far distanced towers to deliver twice the signal strength. And with up to +50 dB of gain, it's capable of covering the entire cabin of any RV and boosting up to 4 cellular devices at the same time. Therefore, it's perfect for people who frequently drive through the most rural of roads and highways, as well as those who camp in the most rural of campsites. However, the amount of coverage it delivers is determined by the strength of the outside signal. In remote areas with extremely poor reception, the amplified signal will be localized closer to the inside antenna.
So, if you prefer to have a consistent cellular signal while driving, relaxing on the passenger seat, or resting at a campsite, the weBoost Drive Reach is a no brainer.
Budget Friendly RV Signal Booster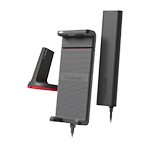 Boosts Talk, Text, and 3G & 4G LTE Data. 5G Ready.
Amplifies one cellular device
Cradle booster
Up to +23 dB Gain
Works with ALL cellular devices across ALL carriers
The weBoost Drive Sleek is the most affordable vehicle cell phone signal booster designed to amplify one cellular device at a time.
The kit includes a magnetic vent mount for easy installation and an adjustable cradle that can fit any size phone or small tablet. To receive boosted service, your smartphone must be nested in the cradle. Perfect for hands-free calling and navigation.
It'll work best in urban and suburban areas but is not the strongest performer in extremely rural areas. However, as long as you have a sliver of signal, the Drive Sleek will not let you down.
What are my RV Antenna Options?
There are two types of RV antennas: omni-directional, and yagi.
If you're wanting boosted signal while in motion, your only option is an omni antenna, for obvious reasons. This is reliable and simple-to-use, but doesn't provide the power or reach of a yagi antenna, which is part of the reason a stationary RV booster provides better interior coverage. You can also use an omni antenna with a stationary RV booster, and it has the same advantages and disadvantages.
What might not be as obvious as this antenna business is the mount you use with your antenna. Another consideration you need to make when installing your booster is oscillation: that is, the interaction between antennas. This can cause reduced performance, and in the worst case, can cause your booster to shut down completely. It's something often overlooked in booster installation, and accounts for a lot of the problems we hear about when dealing with those using an RV booster.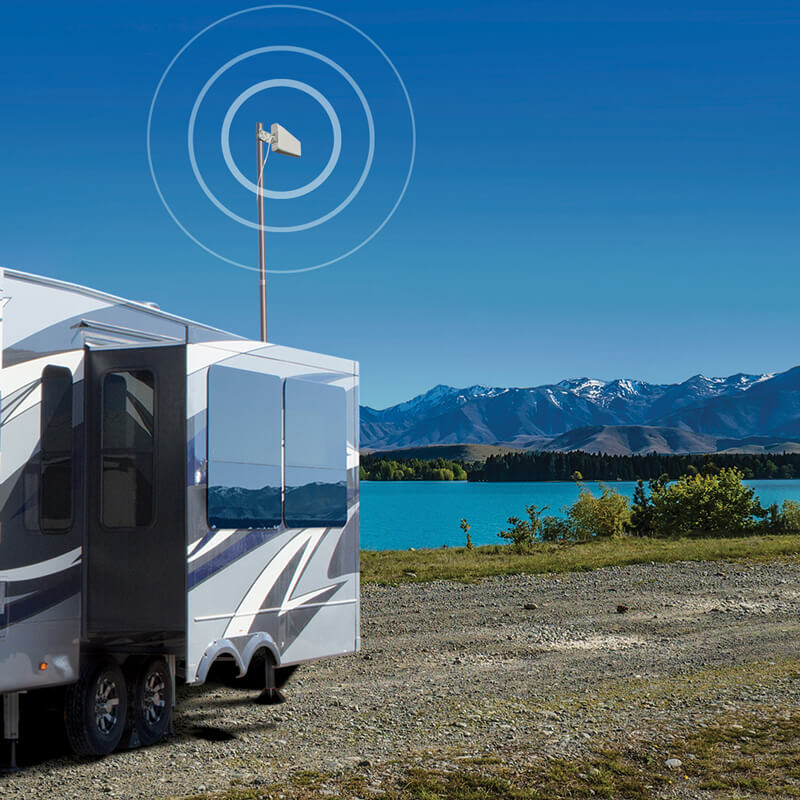 The weBoost Connect RV 65 for Stationary RVs comes with a telescoping pole mount. This is designed to be set up on the back of your RV or trailer, with the directional antenna pointed toward your nearest cell tower. This means that the amplifier should be placed toward the front of the vehicle to avoid oscillation.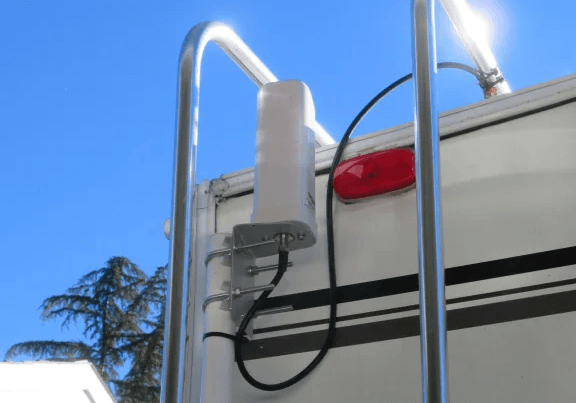 Finally, the weBoost Drive 4G-X RV has an omni antenna designed to be installed on the back of your RV, with a retractable mount. This means the desktop antenna should be placed toward the front of your RV, away from the antenna.
How Does an RV Cell Phone Booster Work?
As touched on, an RV cell phone signal booster snatches the existing outside signal, amplifies it up to 32x, and then broadcasts the boosted signal within a confined space. This is why your RV is perfect for these devices. They typically consist of an outside antenna to snatch signal, the amplifier (or cellular repeater) itself, an interior antenna to broadcast the signal indoors, and cable to attach them all together.
The amplifier also needs access to a power supply, and can't be attached directly to a generator any other alternate power means except a simple AV connector. Use your generator to power your RV, then plug it into the wall within.
Hope this helps with your signal boosting search!
How May We Help You?
Wilson Amplifiers is the leading provider of cell phone signal boosters. Cell phone boosters amplify 3G & 4G LTE for any phone with any carrier for home, office, or vehicle.
We seriously hate dropped calls and poor coverage, so it's our goal in life to stomp on spotty signal like the little roaches they are:
Free consultation (ask us anything) with our US-based customer support (sales@wilsonamplifiers.com) or call us at 1-800-568-2723.
Free shipping.
Better signal or industry-leading 90 money-back guaranteed. No questions asked.
We want everyone to be satisfied, so we provide lifetime technical support and a 2-year warranty for all products.
Ask us anything and we'll be glad to help.
THE WILSON AMPLIFIERS ADVANTAGE
FREE SHIPPING No Minumum Purchase
90-DAY
Money Back Guarantee
LIFETIME
Technical Support