Cell Phone Signal Boosters for the Mining Industry
Many mining companies face cellular connectivity challenges throughout the entire mining process – from city-based corporate offices, to extracting minerals from the earth. This leads to flawed communication, which not only affects productivity, efficiency, and the bottom line, but also employee safety.
Cell phone signal boosters, also known as cell phone repeaters or amplifiers, can help boost cellular signals through much of the mining process, improve the use of mobile technologies, and work alongside other communication systems, like WiFi and radios, to further enhance communication and productivity across all channels.
Our amplifier systems are FCC-approved RF enhancing devices designed to augment 5G (on select frequencies), 4G, and LTE signals inside commercial buildings and vehicles, as well as improve IoT & M2M communication. They also work with ALL cellular-compatible mobile devices (iPhones, Androids, iPads, tablets, mobile hotspots, etc.) across ALL US carriers (AT&T, Verizon, T-Mobile, US Cellular, etc.). With that being said, let's take a look at how signal boosters can benefit your company.
We fix poor cell phone signal! Find the right signal booster for you:

For Home

For Vehicle

For Business

For Commercial
How Better Cellular Benefits the Mining Industry
City-Based Mining Corporate Offices
One would think that in the city, where there are plenty of cell towers nearby, mobile communication would be a breeze. Most of the time, that's the case outside, but once you step foot inside headquarters, coverage is limited to non-existent. This is because of building material blocking signal waves from entering and tall structures interfering with the signal.
Cellular coverage is vital inside corporate offices to remain in constant communication with engineers, geoscientists, coordinators, finance specialists, supervisors, and managers. You and your team will know everything there is to know about all current and future mining projects without delay in communication.
Cellular amplifiers are designed to bypass cell signal challenges to enhance in-building coverage – significantly reducing or eliminating dropped calls, unsent text messages, and slow data speeds in specific areas or the whole building. As a result, the productivity of every department increases, and projects can be executed effectively and efficiently.
Surface and Underground Mines
Reliable cellular signal on the mines is especially important. Employees need to have a reliable way of contacting their families, as well as co-workers. Managers and supervisors need a strong connection to send and receive updates. Site visitors need consistent reception to contact corporate (if needed) and use work-based mobile applications. But most importantly, cell signal is 100% essential during emergencies.
Since mining projects are usually carried out in areas with rugged terrain and quite a distance away from cell towers, reliable cellular reception can be challenging at times. Signal boosters use powerful outdoor antennas (Omni or Yagi antennas) that can communicate with distant cell towers and powerful signal amplifiers designed to boost weak signal. Keep in mind, though, that signal boosters DO NOT work outdoors, only in enclosed spaces.
On the surface, signal boosters can be installed on any building, such as processing facilities, employee housing facilities, machine garages, cafeterias, warehouses, offices, and anywhere you need improved coverage. The problem with these facilities is that they tend to be signal dead zones because of the high-grade metal used to build them for the protection of employees and assets. Via coaxial cables, signal boosters can bypass any building material blocking the signal without affecting the integrity of the building. A system of indoor antennas will broadcast the boosted signal throughout for employees to use while performing their daily operations or taking a break.
Cellular service is difficult to achieve underground because of the labyrinthian layout and strict regulations. Depending on what is being extracted (coal, copper, iron, etc.), electromagnetic static caused by cell phones can be a safety risk. In these situations, signal boosters cannot be used to improve coverage through the whole mine, just isolated areas that don't impose a risk.
Plus, improved cellular coverage on the surface and underground allows mining companies to have additional two-way communication methods, in addition to radios and WiFi, in the event of an accident – giving your company an edge when it comes to MSHA required accident-response plans.
Mobile Technologies
With more mining companies turning to mobile phones and mobile applications to mitigate safety risks, improve strategy and productivity, lower operational costs, and for better ore recovery, WiFi and cellular are needed on-site to achieve desired results. Smartphones help all employees relay information quickly, and apps digitalize mining processing operations, thus improving productivity and maximizing every employees' time.
It's no secret these mobile technologies work offline and could work in environments with poor quality or non-existent signal. However, certain features require mobile data to download and upload crucial information. When recording information in areas with poor cell coverage, the data will not be available on the cloud till cellular signal is available, preventing corporate, supervisors, and co-workers from seeing real-time data. With cell phone signal boosters, everybody on the site will have access to reliable cell coverage wherever needed for the constant uptime of data sharing.
Personal and Company Vehicles, including Heavy-Duty Machinery
Cellular and WiFi signals can only travel so far, meaning mobile communication and application access can be limited while driving company vehicles or heavy-duty vehicles on the field where cell service may be poor. Phone calls are likely to be missed or dropped and important data tools will not be accessible, potentially decreasing daily workflow.
In addition, many mining companies are starting to utilize fleet tracking tools on heavy equipment for early maintenance detection and productivity tracking. It helps to promptly schedule services and repairs before the machines break down, which interferes with productivity. In the long run, they also cut costs. These tools need a wireless connection to provide the drivers and maintenance department real-time data. In areas with poor coverage, the tracking device will store data but will be unable to send it to the cloud.
Vehicle signal boosters can be installed on company vehicles, personal trucks, backhoes, bulldozers, excavators, and any vehicle on-site to improve cellular coverage inside the cabin for all mobile devices. They use powerful, heavy-duty, OTR (Over the Road) outdoor antennas to capture the existing weak outside signal. The signal is sent to the amplifier for boosting and broadcasted into the cabin by a low profile, out of the way, inside antenna.
With enhanced 5G, 4G, and LTE signals, all drivers will have a reliable way of staying connected, up-to-date information can easily be downloaded and uploaded from work-based applications whenever needed, and machine tracking devices will constantly upload real-time statistics to the cloud. As a result, daily workflow productivity will increase dramatically.
Recommended Cellular Signal Amplifiers for the Mining Industry
All cell phone signal amplifiers are scalable, meaning that they can be professionally designed to meet your unique needs - every mining site is different with multiple facilities of different sizes. We will help you determine how many antennas you'll need, and which amplifier will provide you with the best results for spot coverage or whole-building coverage. In general, the following tend to be the best building and vehicle amplifiers by Wilson Electronics for the mining industry.
Best Professional Signal Booster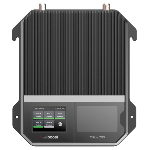 5G-Capable
Up to 35,000 square feet of coverage
Up to +72 dB gain
Up to 25 dBm uplink & 15 dBm downlink
LCD touch screen for greater usability
Works with all cellular devices across all carriers
Available in 50 Ohm and 75 Ohm variants
The weBoost Office 200 is the next generation of business amplifiers with enhanced amplification capabilities. It's ideal for small to medium indoor facilities on mining sites, as well as corporate offices.
The amplifier features maximum gain of up to +72 dB (2 dB more than its predecessor, the WilsonPro 1100), and with the right configuration, it can significantly reduce dropped calls and enhanced data speeds in your multi-story corporate office, machine garages, sleeping quarters, and other buildings up to 35,000 sq ft (under perfect conditions). Extremely weak signal areas will receive much less coverage.
As you can see, this sleek unit packs quite a punch, but to maximize power and performance for enhanced communication and productivity on the field or in the office, the right antenna configuration is needed. The standard kit includes an omnidirectional outdoor antenna, which is perfect for facilities with decent outside signal (like most offices in the city), but not the most ideal in mining sites with extremely weak cellular reception. For those situations, we highly recommend upgrading to a high-gain directional antenna for optimal results.
The Office 200 is a great investment for small buildings on mining sites with weak outside signal or mid-size corporate offices in the city with decent outside signal.
Best Commercial Grade Signal Amplifier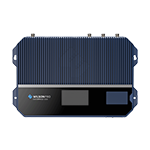 5G Ready
Covers up to 40,000 square feet
Up to +70 dB of gain, with +26 dBm uplink and 17 dBm downlink
Works with multiple cellular devices across all carriers
LCD touch screen for an enhanced user experience
Monitor system through the WilsonPro Cloud via LTE or WiFi
50 Ohm N-Connector system
Expansion kits available to extend coverage
The WilsonPro Enterprise 1300 is amongst the most powerful commercial-grade signal amplifiers for medium to large facilities.
With its increased uplink and downlink outputs, it can reach faraway cell towers and provides wider coverage, making it ideal for buildings in extremely rural areas.
Under perfect conditions, it's capable of covering up to 40,000 sq ft. However, since coverage is determined by how strong or weak your outside signal is, a more realistic coverage estimate would be between 15,000 to 20,000 sq ft.
To help maximize coverage for every carrier, it features three outdoor antenna ports. Each directional antenna can pick up different frequency bands from different towers to collectively amplify cell signals for multiple carriers. And with XDR technology, you are guaranteed constant signal uptime without experiencing system shutdowns due to signal overload.
The booster's performance can be remotely monitored through the WilsonPro Cloud using WiFi or LTE. In addition, the color LCD screen offers information on outdoor antenna optimization, performance, and more.
The Wilson Pro Enterprise 1300 comes in either a wall-mount or rack-mount version and can be customized to fit your needs.
Most Powerful Commercial Signal Amplifier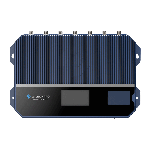 5G Ready
Covers up to 100,000 square feet
Up to +70 dB of gain, with +26 dBm uplink and 17 dBm downlink
Works with multiple cellular devices across all carriers
LCD touch screen for an enhanced user experience
Monitor system through the WilsonPro Cloud vis LTE or WiFi
Four independent indoor antenna ports
Three outdoor antenna ports to communicate with multiple carrier towers
50 Ohm N-Connector system
Expansion kits available to extend coverage
The Wilson Pro Enterprise 4300 is hands down the most powerful commercial signal booster kit in the market. Instead of one amplifier, the Enterprise 4300 houses four independent amplifiers in one unit.
It's capable of covering up to 100,000 sq ft. However, buildings with decent to poor outside signal will most likely get 40,000 – 60,000 sq ft of coverage.
Similar to the Enterprise 1300, this unit features up to three outdoor antennas. When installed properly, each antenna can pick up different frequency bands to amplify signals from multiple towers. Unlike the Enterprise 1300, the Enterprise 4300 also features up to four independent indoor antenna ports – each equipped with up to 17 dBm downlink. This allows for wider in-building signal coverage and decreases signal loss due to fewer cable runs.
Through the WilsonPro Cloud, you're able to remotely monitor the booster's performance, make adjustments to the system, receive updates on your phone, and so much more.
The Wilson Pro 4300 comes in either a rack-mount unit for IT closets or a wall-mount unit.
To choose the best booster, check out our Office 200 vs WislonPro 1300 vs WilsonPro 4300 review.
Best Vehicle & Heavy-Duty Machinery Amplifier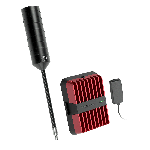 5G Ready
Up to +50 dB with +28.7 uplink and +5.1 downlink
Works with ALL cellular devices across All carriers
Amplifies up to 4 devices simultaneously
Heavy-duty OTR antenna
50 Ohm SMB-Connector system
The weBoost Drive Reach OTR is the most powerful over-the-road commercial truck cell phone signal booster. Perfect for fleet services needing quality reception in their vehicles.
This kit pairs the weBoost Drive Reach with the best-in-class durable and rugged outside omnidirectional antenna kit to withstand all elements while driving. The outside antenna requires a fixed installation to secure it in place, and the included 3-way mount allows you to easily install it on the fleet vehicle's roof edge or mirror bracket.
The Drive Reach OTR is capable of reaching far distanced towers to provide you with strong signal wherever work takes you. No more dropped calls, unsent text messages, or unresponsive applications while in the field.
Who are You, and How Can You Help Me?
We're Wilson Amplifiers, and we've been improving cellular signals in buildings since 2011. Depending on the size, scope, and situation, our experts can tailor a custom solution for you in time, under budget, and with a professional installation.
Services we provide:
FREE consultation adhering to your requirements and budgets.
Floor plan analysis with detailed heatmaps & coverage expectations.
Equipment selection from only the best.
Site survey from certified wireless technicians.
Professional cell phone signal booster installation & expert project management.
Better signal or industry-leading 90 money-back guaranteed. No questions asked.
Lifetime technical support and a 2-year warranty for all products.
For more information on how our services have helped other businesses, check out our case studies.
Call us at 1-800-919-7442 or email us at (pro@wilsonamplifiers.com) today to get the best solution for improving cellular signal on your mining sites.
Interested in Learning More? Check Out Our Signal Boosting Info Center
THE WILSON AMPLIFIERS ADVANTAGE
FREE SHIPPING No Minumum Purchase
90-DAY
Money Back Guarantee
LIFETIME
Technical Support