What Does it Cost to Switch Cell Phone Carriers? | Wilson Amplifiers
At Your Wits End? It Might Be Time to Change Carriers
As easy as it is to blame your carrier for spotty coverage and dropped signals, nine times out of ten, the culprit lies somewhere else. But, if you've executed all of your troubleshooting for dropped signal and narrowed it down to the signal itself, then it may be time to change cell carriers. The good news? Your cell phone signal booster is compatible with all carriers, so you don't need to worry about mixing and matching.
If you have yet to invest in a signal booster, it's a wise option to consider before pulling the plug on your current cell phone service provider. The right booster will capture the nearest signal, amplify it, and re-broadcast your new, superpowered signal directly to your data-driven devices, regardless of your cell carrier. Still wondering if it's worth the price? It's important to consider how much it costs to change carriers.
---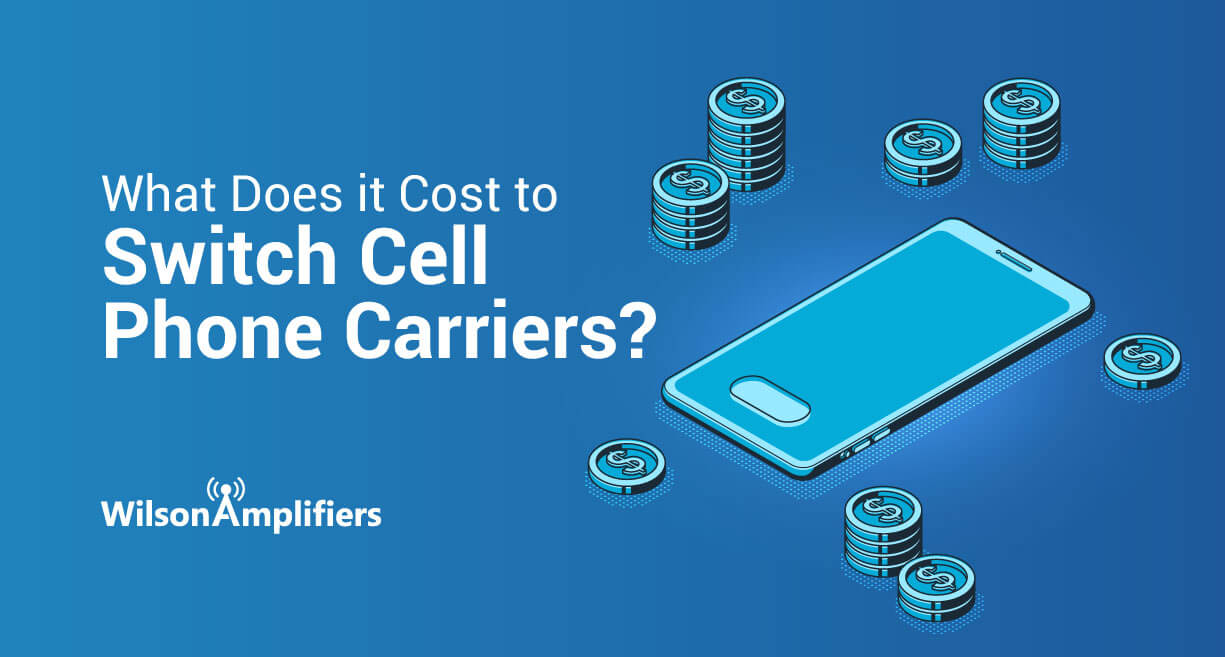 How Much to Change Cell Carriers?
Remember when you first locked eyes with your current cell carrier? The way they courted your business with sexy deals, shiny new devices, and too-good-to-be-true promotions? That's because they really, really want to lock you in to their service plans. But breaking up is hard to do, and your soon-to-be ex-carrier doesn't want to see you move on. So they will make that split as difficult—and expensive—as possible. Not that we can blame them...you're pretty great.
Part of this strategy involves fees, especially if you're in the midst of a contract. Early termination fees may apply if you signed up for a long term contract that you haven't yet fulfilled. These charges can cost you up to $350 (as of late 2020), depending how far along you are in your contract. Cell phone carriers also love to sneak in all kinds of miscellaneous charges—seriously, have you taken a look at your monthly cell phone bill?— so it's important to evaluate how much you're willing to spend to cut the cord, and what you stand to gain from a new service.
---
Do I Have to Pay Off My Phone Before I Change Carriers?
Part of that enticing introductory offer probably included a new phone. Many plans offer shiny new gadgets at sign-up, usually with the requirement of a monthly payment plan. If you've signed up for one of these plans, you can slowly chip away at the large price tag of the newest phones and tablets. If you plan on sticking around for the long term, great! If not, you still have to pay off your devices before you can switch to a different cell carrier. Depending on the balance you have left to pay off on your $1,000+ smartphone, this has the potential to be a pretty costly expense.
---
How Much Does it Cost to Switch Carriers?
The bulk of your fees will likely go toward cutting ties with your existing carrier. Because it's easier to maintain customers than entice new ones, your old carrier wants to keep you around, but your new carrier will likely jump through hoops to get you on board. Many of the larger carriers will even offer to pay off your early termination fees to help you break your old contract, which could be a big win for your wallet.
Keep in mind that many of the promotional offers that convince you to switch over come with a shelf life. Take this into account when making your decision, especially if your goal is to save money in the long term. Once your promotional term expires, you might not be saving as much money as you were hoping. Read that fine print to make sure you're not being penny smart and dollar not-so-smart.
New services can also come with activation fees, as well as a down payment on a new phone (assuming you didn't bring one with you). Check your new contract carefully to make sure you're willing to pay what they're asking, and getting what you really need in return.
---
Will I Get Better Coverage from a Different Cell Carrier?
Before you make the switch, it's important to consider all of the factors that are pushing you to change carriers. Is it bad coverage? High prices? Coverage issues can be resolved in a multitude of ways that have very little to do with your carrier. Plus, a cell phone signal booster is an easy, long-term fix that will keep you connected, whether the issue is a tree, a brick wall, or yes, even a weak signal that is 100% your carrier's fault. Definitely check out carrier coverage maps before you make the switch.
---
Can Changing Carriers Save Me Money?
If you're switching to a cheaper service to save money, it is important to consider not just the fees involved with switching, but also the cost of lower-quality service. Locator tools can help you find the nearest cell tower to your location, giving you a better idea of where your signal is coming from, and who is providing that access. A lower monthly bill can be appealing, but if the service isn't comparable to your current carrier, you can end up paying with dropped calls, unsent emails, and slow download speeds in the long run.
---
Should I Change Cell Phone Carriers?
The choice is very personal. It's important to weigh your options and make the decision that best suits your priorities. If you're only using your phone to call your grandkids and check the weather, then you might not be miserable with a data downgrade. But heavy duty gamers and remote workers (which, let's be honest, is most of us these days) might want to invest in the peace of mind that comes with a solid, reliable connection.
Should you stay or should you go now? Either way, a cell phone signal booster can help you get the most out of any carrier's signal. And if you do make the switch, your signal booster will happily make the move with you.
How We Can Help
Wilson Amplifiers is the leading provider of cell phone signal boosters. Cell phone boosters amplify 3G & 4G LTE for any phone with any carrier for home, office, or vehicle. If you're struggling with poor cell phone signal and are thinking of changing carriers, buying a signal booster could solve your problem and a lot of headaches.
We seriously hate dropped calls and poor coverage, so it's our goal in life to rid the world of spotty signal, one happy customer at a time:
Free consultation (ask us anything) with our US-based customer support (sales@wilsonamplifiers.com) or call us at 1-800-568-2723.
Free shipping.
Better signal or industry-leading 90 money-back guaranteed. No questions asked.
We want everyone to be satisfied, so we provide lifetime technical support and a 2-year warranty for all products.
Ask us anything and we'll be glad to help.
The Wilson Amplifiers Advantage
FREE SHIPPING
No Minimum Purchase
90-Day
Money-Back Guarantee
LIFETIME
Technical Support
Get Better Signal Contact Our Experts